• Bet Seahawks RB Kenneth Walker u10.5 receiving yards at Bucs: Seattle's stud rookie faces off in Germany against NFL's toughest defense through the air against backs.
• Walker has only gone over in 3/9 games, and with Shaq Barrett out for Tampa, the lack of pass rush should give Geno Smith time to work through his progressions downfield.
• Bet Steelers TE Pat Freiermuth u42.5 receiving yards vs Saints: Only 1 tight end, Seattle's Noah Fant, has 40+ receiving yards against Saints' coverage LB aces Demario Davis and Pete Werner.

Last updated: Nov. 12, 2:15 p.m.
Estimated reading time: 3 mins
---
Player Props have one of the most popular markets offered in sportsbooks right now. Because of its similarity to fantasy football, something most bettors grew up playing, it's easy to translate the thought process from fantasy football to player props. Here at PFF, you can utilize the Best Bets tab on the website to help sift through the most +EV props to bet on based on our model to help with your betting success. 
Bet Gameplan: Playable to 9.5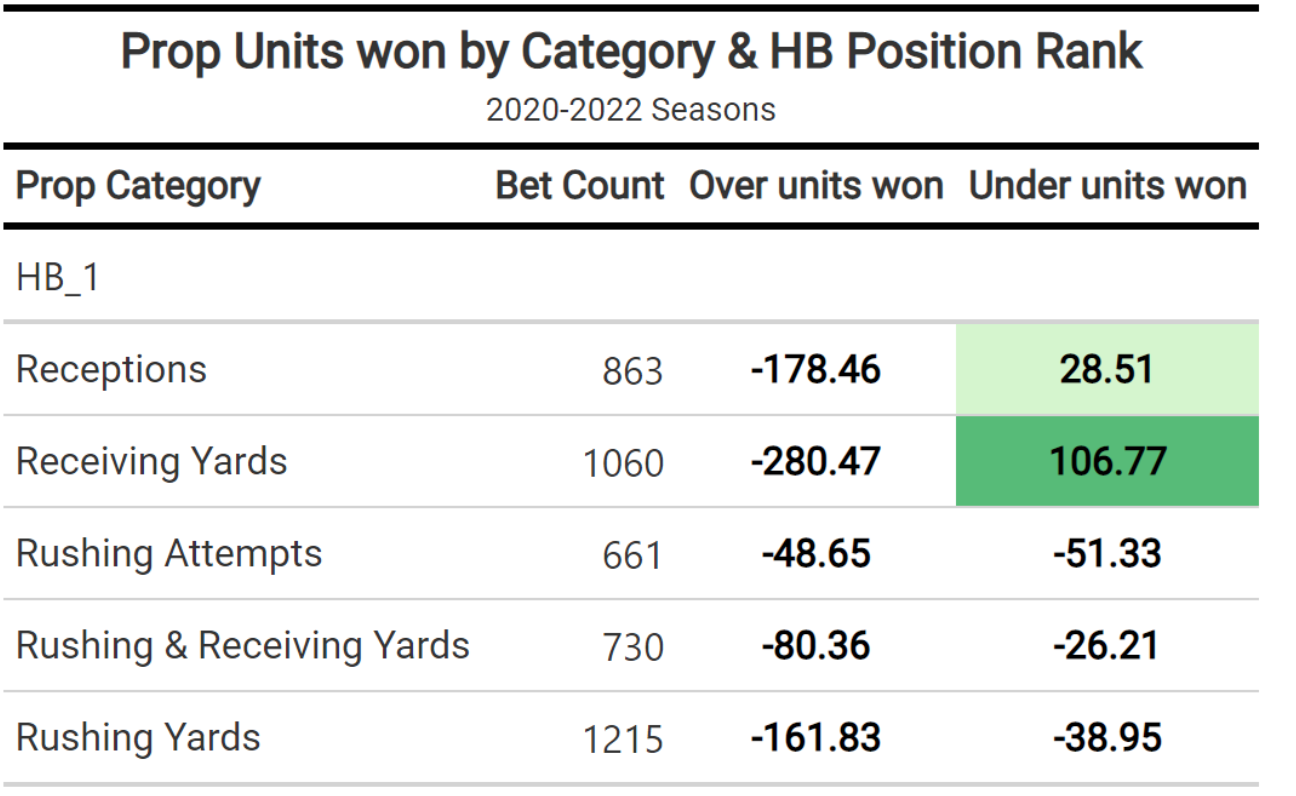 • Bucs defense is NFL's best at preventing receiving yards to running backs: They've only allowed 115 receiving yards in 9 games, equivalent to 12.7 yards per game, lowest by a pretty wide margin
• RB receiving-yardage unders have been the most profitable bet any bettor could be making this year: As PFF analyst Ben Brown's above graphic outlines, and this falls into a good spot for Walker.
• Walker has only gone over this number in 3/9 games this year: Without Shaq Barrett, the Bucs might not have sufficient pass rush to force Geno Smith to check the ball down, and this should help him go through his progressions and find guys down the field.
Bet Gameplan: Playable to 62.5

• Fields has at least 8 rushes in all but one game this season: And the Bears increasingly have featured Fields as a runner since Week 4, when he's had an uptick in designed rushes. Now, Fields goes up against a Lions defense that has allowed 225 rushing yards this year to QBs (4th-most in NFL).
• The Lions have NFL's third-highest man-coverage rate: Which is a good sign for our bet. Man coverage forces defenders to have their eyes on the receivers, and not the QB, which should allow Fields to scramble even when dropping back, with few defenders in the area.
Bet Gameplan: Playable to 46.5
• Depending on Dulcich: Since returning from injury, Dulcich has been among Russell Wilson's favorite targets. The rookie's receiving yardage has gone up each week (44, 51, 87), and so have his snap counts, as seen above in the snap count chart by Nathan Jahnke. 
• Tennessee has allowed 542 receiving yards to tight ends this year: That's 4th-most in the NFL, and are really banged up on defense missing starters like Amani Hooker and Zach Cunnningham at safety and linebacker respectively. 
Bet Gameplan: Playable to 40.5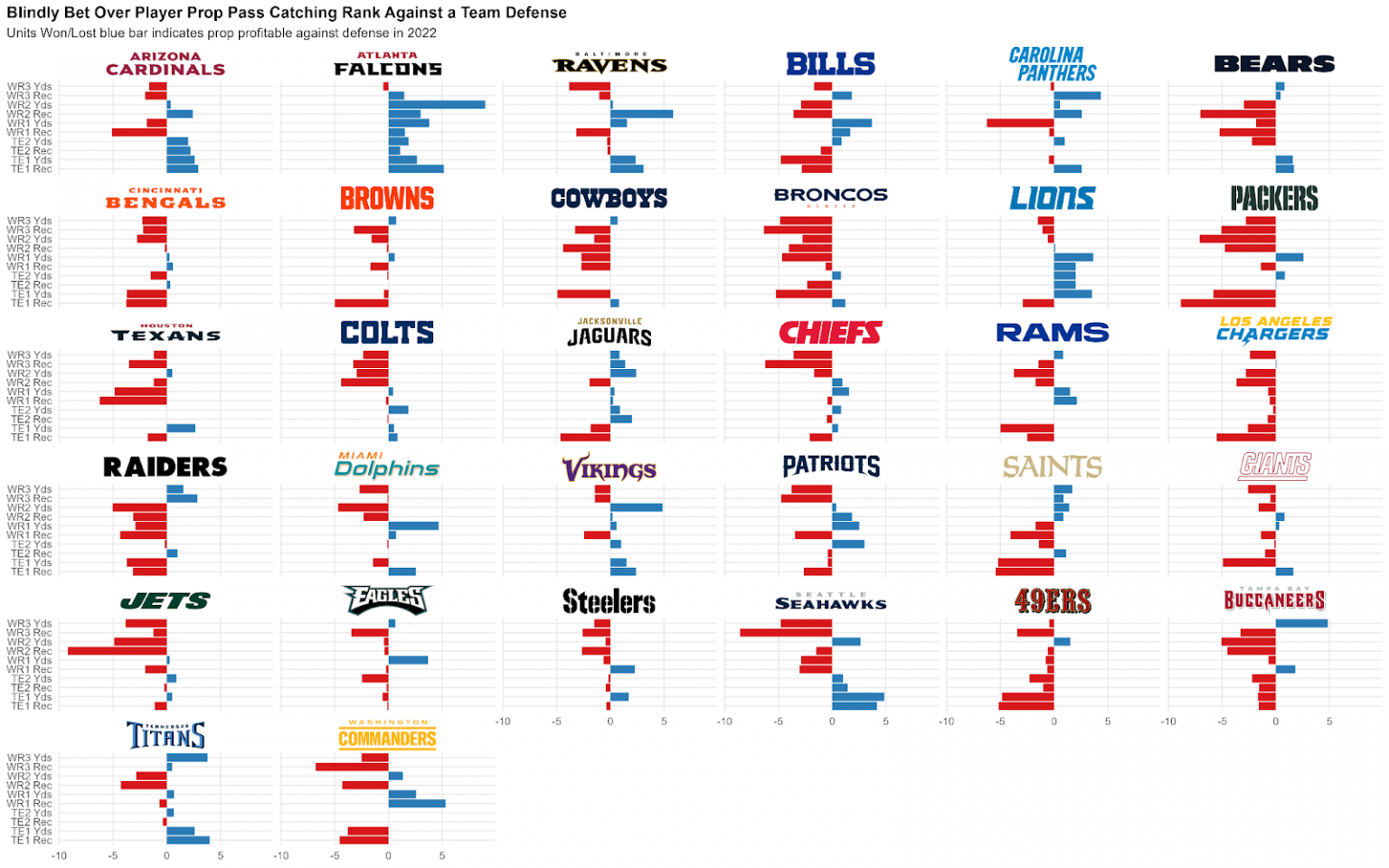 • TE1 receiving-yardage overs have not been a profitable bet vs the Saints defense: As Ben Brown's graphic above shows. It's in large part because Demario Davis and Pete Werner have been 2 of the better coverage LBs in the NFL this year, both performing above expectation in our Successful Coverage over Expected metric.
• Only 1 tight end has 40+ receiving yards this season vs the Saints: Ex-Broncos first-rounder Noah Fant. In a game where the spread is basically a pick 'em, the Steelers might not be throwing the ball as much as they have in weeks past, instead leaning on their run game — an area in which the Saints defense has struggled the past couple weeks.
---
Arjun's data driven prop bets went 1-3 (-2 units) last week, bringing his season record to 16-21 (-5.2 units) on article plays.