Bryce Hall isn't a freaky athlete with elite speed and a five-star recruiting background. He's not flashy, keeps trash-talk to a minimum, clocks in and clocks out with his hard hat on and lunchpail in hand — and he's the best returning defender college football has to offer.
The standout Virginia cornerback is a first-round pick making highlight-reel plays this preseason if he declares for the 2019 NFL Draft following his 2018 campaign. Instead, Hall is a returning senior that landed at No. 4 on PFF's list of the top college football players entering the 2019 season, leading all defensive players, to boot. Hall's standing on the list comes off a breakout junior season, where he led all returning FBS cornerbacks in overall grade (91.2) and coverage grade (91.4).
And he only plans to get better.
Hall returned to Charlottesville largely because he felt that he had "more to give" the University of Virginia and his teammates, but another reason he turned down the big stage was to add to his game and continue to develop his skillset at the collegiate level.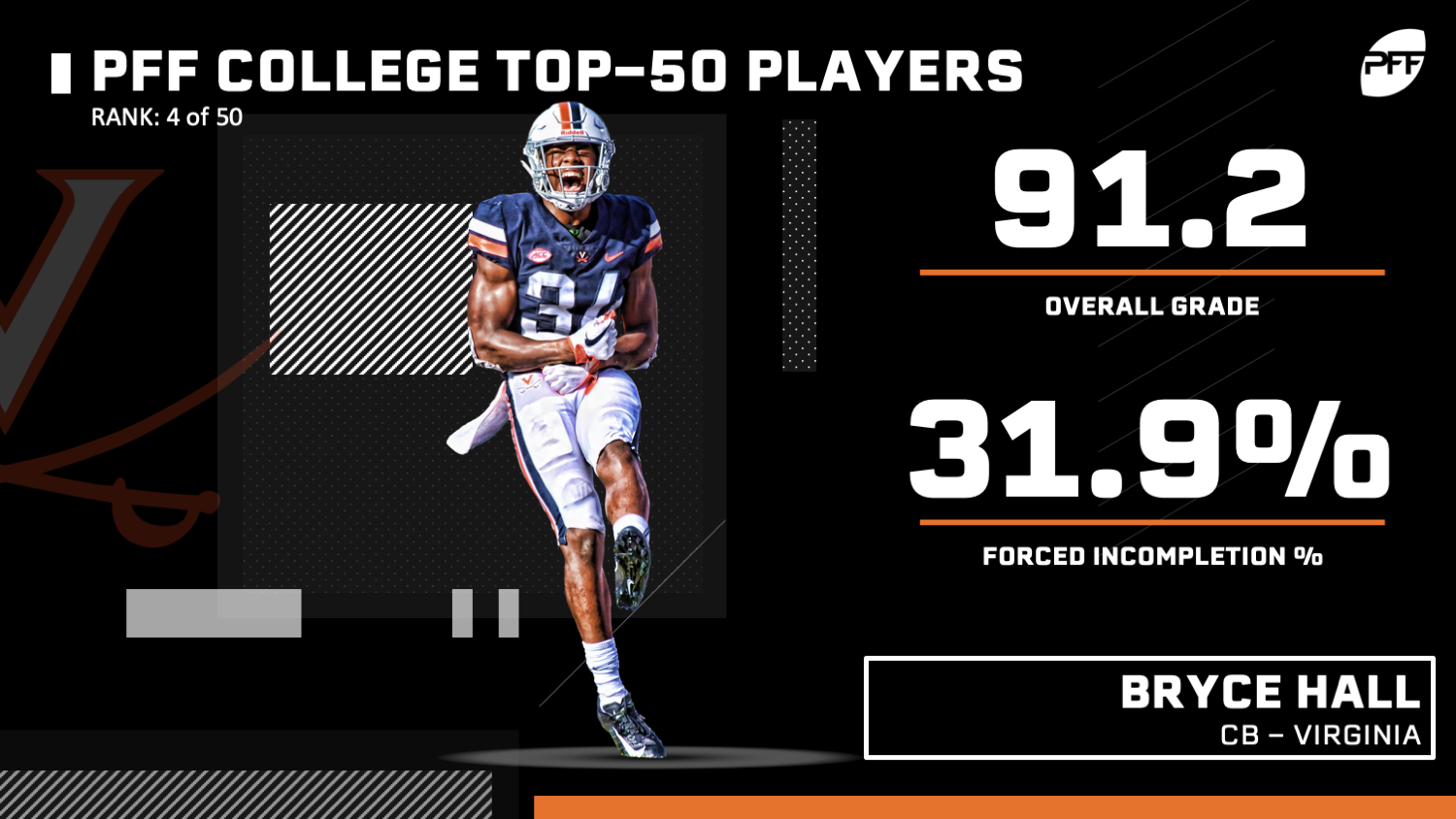 In a July interview with PFF, Hall didn't hesitate when asked how he wanted to improve this upcoming season; he sounded as if he was reading off a prepared grocery list.
"Translating pass breakups into interceptions, more turnovers, more physicality in the run game, making tackles, improving communication, movement skills, leadership off the field, how can I be a better leader, how can I help guys be the best they can be," Hall said. "Need to improve physically and mentally."
All of that coming from a guy who led all returning players at his position in overall grade and coverage grade a year ago. All of that coming from a guy who ranks tied for seventh in coverage grade (92.0) and sixth in forced incompletion percentage (23.5%) among the 135 Power 5 cornerbacks with at least 800 coverage snaps played in the PFF College era (2014-18).
Hall's commitment to refining his craft even after all of his success becomes less surprising after hearing just how much he prepares in a given week or offseason. He lives by what he calls the Five Ps: Proper preparation prevents poor performance. He said he "needs to be in a position to succeed" and watches his opponent to pick up tendencies, offensive alignment, personnel, formations, etc. He then matches what he finds in film study with Virginia's defensive calls to know what coverages he'll be in against the opposing offense.
"I spend a lot of time trying to get an understanding of them and what I'm up against," Hall said. "However long that takes me to figure that stuff out is what I'll spend on it. Sometimes, I might sit down one day for a few hours and get it. Or, maybe it will take me three or four days to break it down and figure it out."
And the time Hall spends studying his opponent is mirrored in his study of coverages. He said he can play any coverage responsibility and has proven that with his play at Virginia, but he especially loves playing press-man coverage.
"For press-man, you really have to be fundamentally sound," Hall said, "very technically disciplined at the line of scrimmage. That's something that we have to put in a lot of work into [to be successful]. I study guys. I study guys that are very successful [in press man] at the next level. I study a lot of [Patrick Peterson] because he's really consistent and good. I work that daily, especially during the offseason.
"I think the best press-man corners are people who are technically sound and disciplined at the line of scrimmage. And what I mean by that is they're patient and move laterally well."
Among the 75 Power 5 cornerbacks with 100 coverage snaps played in Cover-0 or Cover-1 in 2018, Hall ranked fourth in coverage grade (81.8), allowing just seven receptions from 18 targets for 114 yards, three first downs and zero touchdowns in the process. He also ranked tied for first in LSU's Kristian Fulton in forced incompletion percentage (38.9%) in Cover-0 and Cover-1 looks.
Hall was similarly successful in popular zone coverages, including Cover-3 and Quarters. He possesses elite instincts for the cornerback position. Some of his best plays on tape have come when playing zone coverage and playing the ball/man in front of him rather than having his back turned in man coverage. His 80.7 coverage grade from Cover-3 and Quarters looks in 2018 ranked 11th among 175 Power 5 cornerbacks with 100 or more coverage snaps played in either of the two coverages on the year. He also ranked second in forced incompletion percentage (32.3%).
"What helps you be a successful zone corner is your athleticism and instincts," Hall said. "And then just being able to read route patterns and taking high percentage risks on certain things. Because when you're in zone, there's more space and the coverage is not as tight. That comes from preparation and reading the quarterback and also being able to very instinctual and athletic."
Nowhere in Hall's game will you find pompous remarks or overconfidence. He leaves such things for those who aren't spending hours in the film room studying offenses and coverages — his weaker opponents.
"I'm not much of a talker," Hall said. "Honestly, I kind of just go about my business. I'm pretty locked in… I'm usually just kind of chill as a dude out there. I don't really see a need to try and throw somebody else off their game. I think the only way you would need to do that is if you're not as confident in your game and need some sort of advantage."
Don't expect that to change, either. Hall will continue to keep to himself and set up camp in the film room regardless of the praise and accolades thrown his way. And he'll do so as he – very quietly – solidifies himself as the best college cornerback in the country.