Expectations are sky high for the Virginia Cavaliers in Year 4 of the Bronco Mendenhall era in Charlottesville, Virginia. Mendenhall is fresh off his best season as head coach of the Cavaliers and returns one of the ACC's most complete set of offensive and defensive players in 2019.
A key cog in that returning cast of characters is none other than CB Bryce Hall, who returns as the nation's highest-graded cornerback after he dominated a season ago.
Hall finished with an overall grade of 91.2 that included a coverage grade of 91.4, both of which lead all returning FBS cornerbacks, a group of 349 players who logged at least 200 snaps a season ago. His ability in coverage was highlighted by multiple big moments but it's the fine details of his game that really set him apart as the Cavaliers look towards 2019.
This story is brought to you by Eckrich, the Official Smoked Sausage of the College Football Playoff.
Tracking passes downfield
There is perhaps no better returning cornerback from a season ago when it comes to tracking passes in the intermediate to deep range of the field, those passes targeted at least 10 yards downfield. Hall was targeted 44 times on throws in that range, allowing just 14 receptions while he came away with two interceptions and recorded 18 forced incompletions. In fact, his 40.9% forced incompletion percentage was the fourth-highest mark among returning cornerbacks who saw at least 25 such targets.
Hall possesses a keen ability to track the football in the air while maintaining position on his receiver and routinely ran the intended routes just as good, if not better than the intended receiver. Against Duke and first-round pick Daniel Jones, Hall runs a deep go route better than Jonathan Lloyd and comes down with what looked like an easy interception at the time.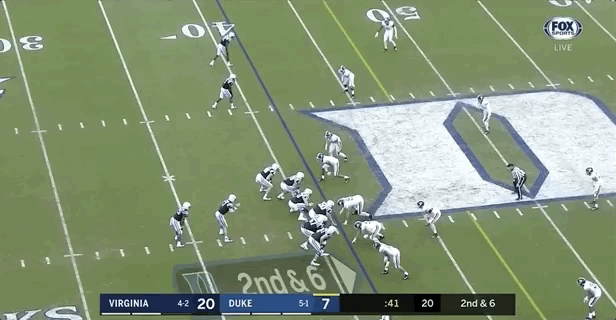 However, when the film is turned on, it's Hall's ability to read and react to the receiver's movement that puts him in such a position to make the interception look easy.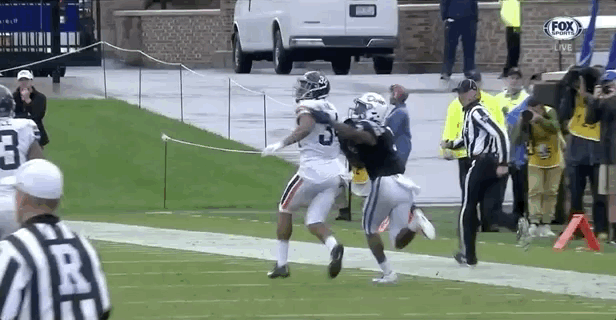 He reads the route, runs it for Lloyd and when it's time to snap his head back, he's able to quickly track the football in the air and make the play. Subsequently, he makes a difficult play look easy solely because of the position his instincts and reaction speed put him in.
Plays on the ball
Hall's same instincts and reaction speed have allowed him to be in the right place at the right time more than not and his 18 pass breakups rank as the second most among returning cornerbacks. Even better, his 23 forced incompletions are the most among that same group of returning FBS corners. It didn't matter whether he played press-man coverage or if he lined up off his receiver, Hall's ability allowed him to either stay with and track receivers just as easy as he could cover ground when a cushion was given.
He's quick to read the quarterback and bat passes down, and showed that multiple times in 2018. In a notable play against NC State, Hall quickly snaps off his backpedal in off coverage and drives to make a play against a deep in route.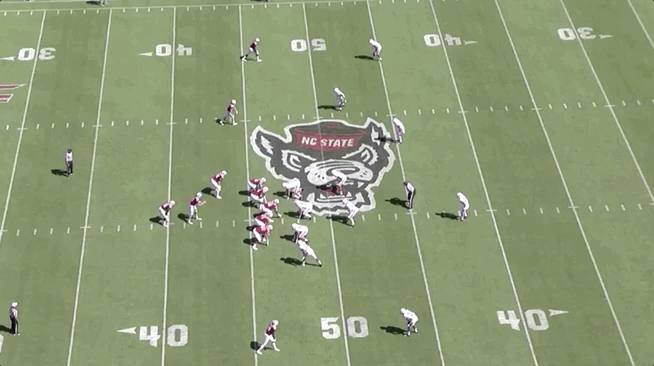 It's his read-and-react ability that allows him to play off and play off well.
Limiting the YAC
A true key to being considered one of the best in the nation at cornerback is limiting big plays, those chunk plays that make highlight reels for the opposition. Hall allowed just two receptions longer than 26 yards in 2018 and the most yards after the catch he allowed in a single game was against Virginia Tech, giving up just 29 yards after the reception was made. By limiting yards after the catch, and just receptions in general, Hall allowed a passer rating of 69.0 into his coverage last season. He allowed a career-low YAC per reception allowed as well, despite seeing 13 more targets than his previous career-high.
In total, he allowed just 2.9 yards after the catch, per reception and had eight performances in which he held opposing receivers in his coverage to just single-digit YAC numbers.
Overall, Hall enters the season as the highest-graded cornerback in the nation and the fifth highest-graded defensive player overall, agnostic to position. His play has trended upwards in each of his three seasons at UVA, and with his excellent ball skills, ability to track the football in the air, limit receivers after the catch and just downright stickiness in coverage, the sky is the limit in Year 4 for him.
College football fans will certainly be seeing his name on some hardware if this upward trajectory continues in 2019.