The NCAA's new transfer portal rule has led to a flurry of players changing teams this offseason, and tracking them down is no easy task. Players like Justin Fields, Jalen Hurts and Kelly Bryant were easy enough to pick out, but it's the players like Gage Gubrud, Quinten Dormady and Brett Kean who all left their respective teams a season ago and should likely see the field as their new team's starter in August or September.
This story is brought to you by Eckrich, the Official Smoked Sausage of the College Football Playoff.
The new transfer rule also may have made the casual fan completely forget about the 2018 transfer restrictions that made certain players forgo an entire college season as they had to sit out upon transferring before suiting up for their new team. A player like Jacob Eason, who had to wait through Jake Browning's final season at Washington, should finally be given his chance after returning home to the Pacific Northwest after the 2017 season.
All of that being said, today we look at the transfer quarterbacks who should be set up for the most success in 2019, their previous years of data and who their supporting cast will be in their new environment.
Jalen Hurts, Oklahoma
We kick things off with the reigning Heisman Trophy producing school, and actually back-to-back Heisman Trophy winners coming from the same position. Hurts heads to Norman on the heels of leading the Alabama Crimson Tide to a 26-2 record as a starter but losing the starting role upon Tua Tagovailoa's emergence in Tuscaloosa. Much better of a runner than a passer during his days under Nick Saban, if anyone can turn around Hurts' career trajectory in terms of throwing the football, it should be his new head coach Lincoln Riley.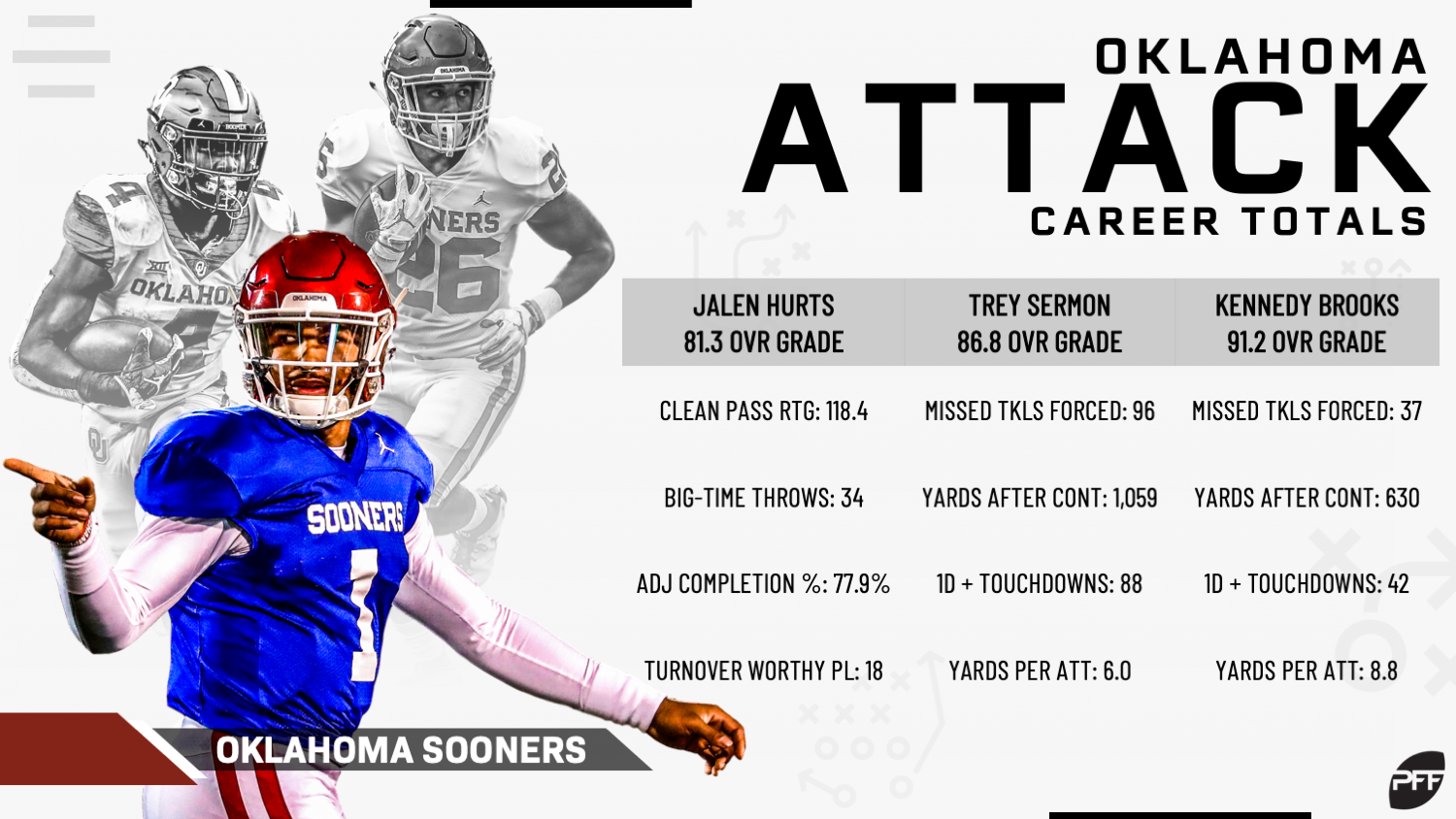 Riley has now produced back-to-back transfer quarterbacks into Heisman Trophy winners in Baker Mayfield (from Texas Tech) and Kyler Murray (from Texas A&M), and Hurts has to be firmly in the Heisman darkhorse conversation with the amount of talent he has around him. The Sooners return the conference's two highest-graded non-QB offensive players in Kennedy Brooks and Trey Sermon at running back while they also possess one of the nation's top receiving targets in Ceedee Lamb. Oklahoma did lose four starters on the offensive line in Ben Powers, Cody Ford, Dru Samia and Bobby Evans but their ability to reload along the o-line is documented.
Regardless, with his rushing ability (76 career missed tackles forced on 228 carries), the duo of Sermon and Brooks with Lamb's receiving ability along with some other talented members of a stout receiving corps, Hurts may have the best-supporting cast situation of any of the transfer quarterbacks.
Hurts landing on the top of this list is still fully in support of the claim made earlier this offseason that Texas could still very well have a better offense in 2019 based upon Sam Ehlinger and the cast of returning players for the Longhorns. Hurts may be set up for the most success among transfer quarterbacks, but he'll have to answer questions about his downfield throwing and overall play in the pocket for the Sooners to see the similar success they've had in the past years with the likes of Mayfield and Murray.
Justin Fields, Ohio State
One of two former Georgia Bulldogs mentioned on this list, Fields logged 173 snaps as a true freshman last season at UGA but transferred for greener pastures in Columbus after the departure of Dwayne Haskins to the NFL. Fields finished with an elite grade of 90.1, albeit on a small sample size, in the SEC, showcasing his ability mainly against lesser competition behind Jake Fromm. Still, he completed 70.0% of his passes and didn't make any costly mistakes by way of interceptions in the passing game, showing he's not just a runner, he's a more-than-capable thrower.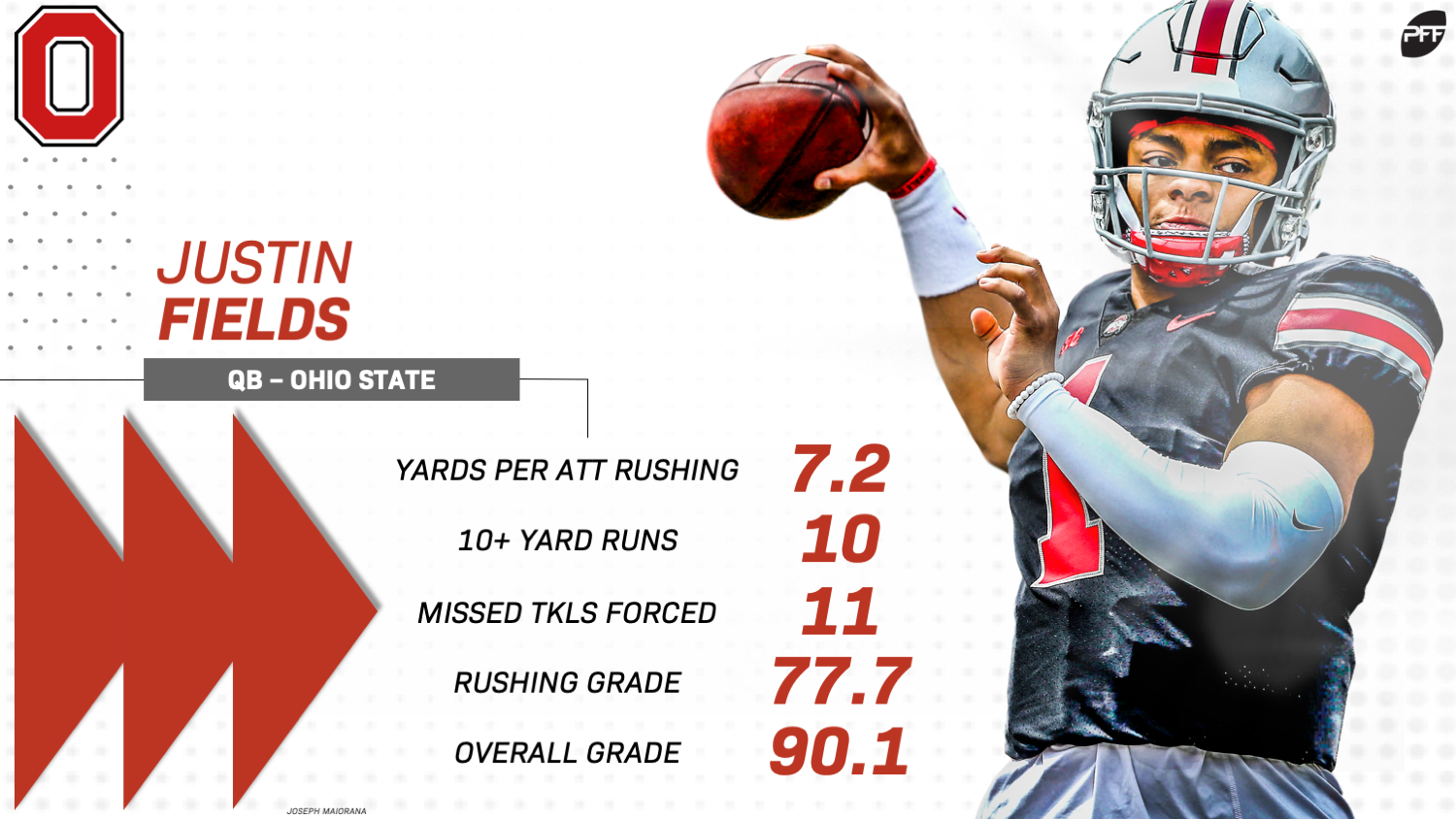 At Ohio State, Fields falls into the same situation as Hurts, as the Buckeyes lost four starters along the offensive line in Demetrius Knox, Michael Jordan, Malcolm Pridgeon and Isaiah Prince but still finds himself behind a unit that should reload. Also similar to that of Hurts at Oklahoma, Fields gets to throw the ball to some talented receivers, mainly to that of K.J. Hill, who is a true after-the-catch threat. Chris Olave, Austin Mack and Binjimen Victor flashed at times last season, but the running game is where the Fields and Hurts supporting cast situation differs.
J.K. Dobbins leads the backfield charge for Ohio State, but that's all the proven talent they have. Dobbins may be as good as they come in the Big Ten this season after Jonathan Taylor, however, despite just two seasons of collegiate play, has considerable wear. Still, Dobbins is a more-than-capable back and should get his fair share of touches both on carries and through the air from Fields before likely heading off to the NFL and Fields does have one of the top returning receivers in the conference to throw it to.
[Editor's Note: All of PFF's EDGE and ELITE subscribers will have access to the Preseason 2020 NFL Draft Guide, which is scheduled for release on August 12, 2019. Sign up today to ensure you get your copy!]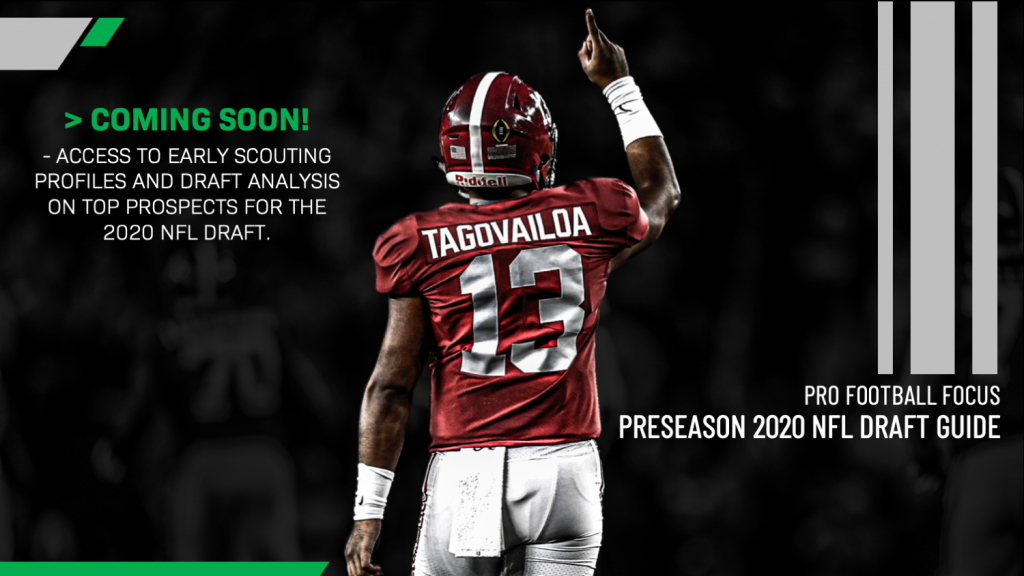 Jacob Eason, Washington
The other former Bulldog on the list, Eason hasn't played since logging just 55 snaps in 2017 after he led Georgia to an 8-5 record in 2016. That season, he completed 204 passes for 2,430 yards and 16 scores before he was beaten out by Jake Fromm after an injury in 2017. Returning home to the Pacific Northwest, Eason sat behind Jake Browning in 2018 and brings with him a 5-star pedigree from Lake Stevens High School.
His offensive line returns all five starters, and with his knowledge of the playbook derived from an extra year of being in the building, he should be able to lead the team seamlessly. Eason also has the benefit of three returning receivers who saw significant targets last year in Aaron Fuller, Andre Baccellia and Ty Jones. Where this team lacks is in the run game, where one of the returning backs will have to cement his place as the team's lead back after Myles Gaskin's departure. Salvon Ahmed leads the group in terms of attempts from a season ago and averaged 3.30 yards after contact per attempt on 104 carries last year. Eason will have to light up the field to contend with some of the offensive firepower in the Pac-12 and rely on an unproven rushing attack in the short-yardage situations.
Kelly Bryant, Missouri
Gone is Drew Lock and after Trevor Lawrence's rocket to stardom, Bryant is in for the Tigers in 2019. Underappreciated during his time at Clemson, Bryant churned out the nation's 35th-highest overall grade after taking over for Deshaun Watson in 2017 only to lose his job to Lawrence in 2018. He posted a 73.9% adjusted completion percentage that was tops in the ACC in 2017. He took care of the ball and flashed an ability to hit the deep shot when necessary, connecting on 13 attempts targeted at least 20 yards downfield. His 115.4 passer rating on deep passes in 2017 ranked 21st in the country and second in the ACC.
With Missouri in 2019, Bryant will play behind three returning starters on the offensive line, each who logged at least 950 snaps a season ago. Yasir Durant is the highest-graded of the trio at 72.7 while manning the left tackle spot and Tre'Vour Wallace-Simms finished the season with a 67.2 overall grade at right guard. The center position returns Trystan Colon-Castillo who has proven to be a stout pass protector in his time at Mizzou, allowing all of 21 total pressures across his 935 career pass-blocking snaps. With the offensive line in good enough shape, Bryant's spot on the list of transfer quarterbacks set up for success was hurt by the lack of proven returning talent at the skill position for Missouri. Short of Albert Okwuegbunam, only Johnathon Johnson had an overall PFF grade above 61.0 and saw significant time a season ago. Albert O, however, should be a mainstay on Bryant's radar, and on the NFL draft radar, after two great seasons with the Tigers. He hauled in 43 receptions on 56 targets and 197 yards after the catch last season that led to a 129.1 passer rating when targeted in 2018 and Bryant has had no trouble finding big targets over the middle during his career. He'll need more, but that duo certainly is set up for big things this season.
Gage Gubrud, Washington State
More projection than any others on this list, we actually have a full season's worth of data from Gubrud in 2016 from Eastern Washington, and it was something to behold. He lit up the field in EWU's championship run, tossing 48 touchdowns and 5,158 passing yards that including a 5-touchdown, 474-yard performance against Washington State. He had an 87.9 overall grade that season and if his raw statistics in his final two seasons at Eastern Washington are any indication, he should be in contention for some big numbers with Washington State this season.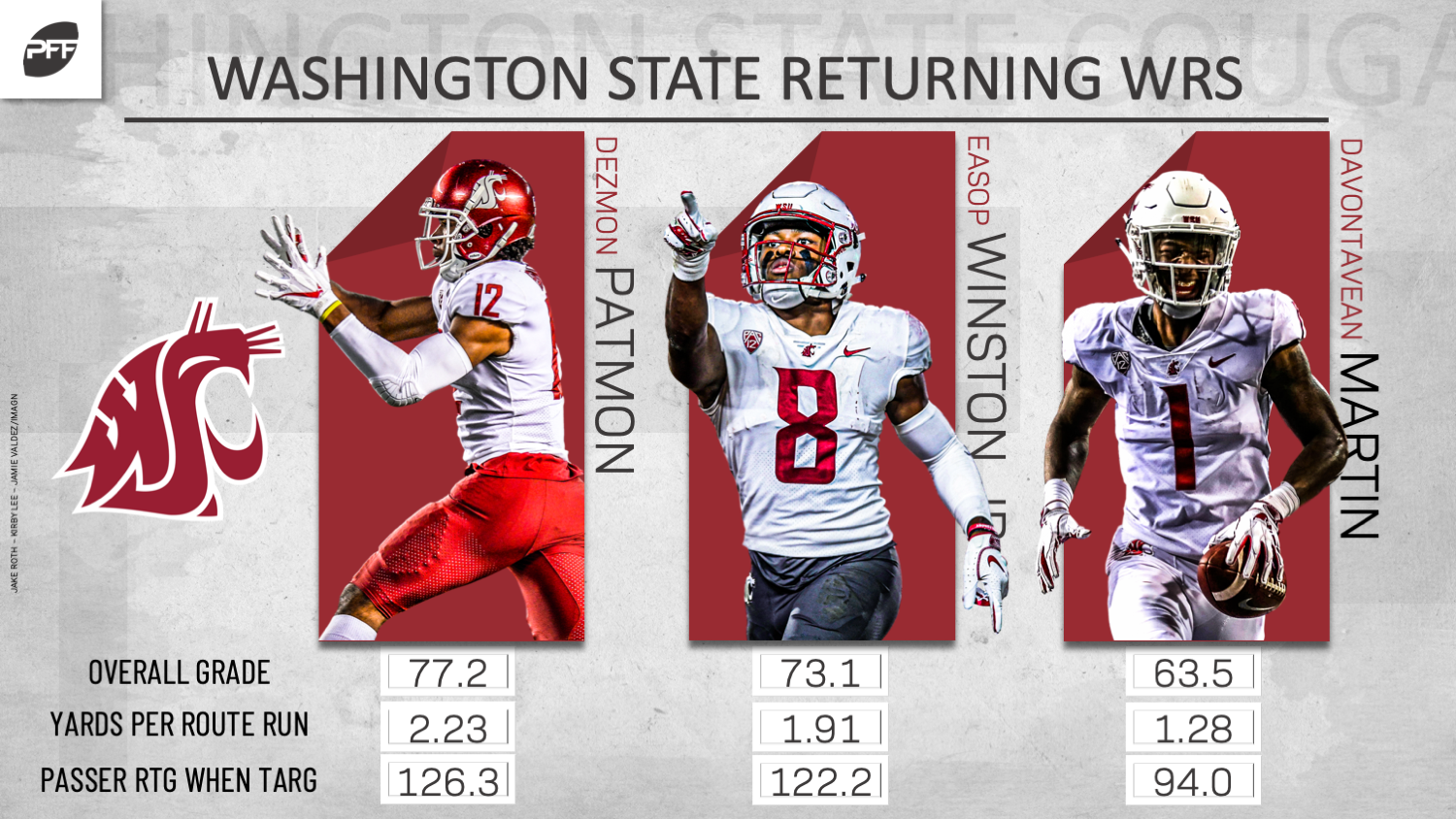 While head coach Mike Leach didn't release a starting quarterback until he trotted then-transfer QB Gardner Minshew out as the starter during the season opener, odds are the same situation happens again this year. Also, odds are he lists his quarterbacks as QB1A, QB1B, QB1C again all year but in all likelihood, Gubrud didn't transfer for his final year of eligibility just to sit out. Everything else aside, Gubrud has as good a chance as any FBS quarterback to really light up the grades and advanced statistics just like Minshew did last year and returns a star-studded list of wide receivers to get the ball to. Between Dezmon Patmon (77.2 overall grade), Easop Winston Jr. (73.1), Calvin Jackson Jr. (68.6), Tay Martin (63.5), Gubrud has a receiving corps who saw 283 targets and hauled in 208 receptions for 2,441 yards and 23 touchdowns a year ago. Gone is James Williams but Max Borghi proved in his true freshman season that he's ready for big things. Gubrud, if healthy and trotted out as the starter in August, should have one of the nation's most talented group of skill players to get the ball to, and that's not even mentioning Renard Bell or Travell Harris at wide receiver.
Crazy statistic alert: 5,000 passing yards is not out of the question.
Others set up well in 2019
Hunter Johnson, Northwestern
Alex Delton, TCU
Tommy Stevens, Mississippi State
Josh Jackson, Maryland
Transfer QBs with work to do
Tate Martell, Miami (Fla.)
Ben Hicks, Arkansas
Nick Starkel, Arkansas
Austin Kendall, West Virginia
Shane Buechele, SMU