With our release this week of how every 5-star recruit has graded to date, it got us thinking about how well other true freshmen that may not have received a 5-star billing coming out of high school have graded this season. Some true freshmen have dominated action this year when given the shot and today, after spending time looking on offense on Wednesday, we outline the top-graded true freshman at every offensive position through 11 weeks of action.
This list is brought to you by Eckrich, the Official Smoked Sausage of the College Football Playoff.
Defensive Interior
Will Choloh Jr., Troy – 82.0
On 225 snaps for the Trojans this season, Choloh has impressed in run defense (77.0 run-defense grade) and when rushing the passer (77.9 pass-rush grade). He's racked up 10 pressures including four sacks from the interior and five of his solo tackles in run defense have been credited as a defensive stop.
True Freshmen Interior D-Line Grades, Nos. 2-10:
C.J. Wright, Georgia Southern – 80.3
Travis Jones, UConn – 78.2
Jordan Davis, Georgia – 76.6
Dennis Osagiede, UMass – 74.1
Jaxon Player, Tulsa – 73.8
Blessman Ta'ala, Hawaii – 72.1
Akeem Smith, Georgia State – 71.4
LaQuan Johnson, Central Michigan – 71.0
Jayson Ademilola, Notre Dame – 70.7
Edge Defender
Xavier Thomas, Clemson – 87.0
Featured in our 5-star recruit grading roundup, Thomas has been extremely impressive in his debut season with the Tigers. With 17 pressures on just 85 pass-rushes, Thomas leads the true freshmen edge defenders in total pressures and sacks (3). He's been responsible for 17 defensive stops and only missed two tackles on 24 total attempts this year.
True Freshmen Edge Defender Grades, Nos. 2-10:
Dante Stills, West Virginia – 79.1
Jamal Hines, Toledo – 78.6
Ronnie Perkins, Oklahoma – 75.2
Matthew Tago, Oregon State – 71.7
Israel Antwine, Colorado – 71.5
Brenton Cox, Georgia – 70.8
Karl Brooks, Bowling Green – 69.4
Logan Hall, Houston – 69.3
Jermayne Lole, Arizona State – 68.4
Linebacker
James Patterson, Buffalo – 82.7
Patterson and the Bulls may have lost their first MAC game on Wednesday night but what they've been able to accomplish this season should not be understated. Patterson leads all true freshmen linebackers with 31 defensive stops, three forced fumbles and among those that have been targeted at least 12 times, has allowed the fewest yards (70) in coverage.
True Freshmen Linebacker Grades, Nos. 2-10:
Mike Rose, Iowa State – 79.4
Rocky Jacques-Louis, FIU – 78.2
Micah Baskerville, LSU – 77.6
Palaie Gaoteote IV, USC – 72.2
Cam Jones, Indiana – 71.3
Micah Parsons, Penn State – 70.8
Dwayne Boyles, USF – 70.3
Jaiden Woodbey, Florida State – 68.8
Bumper Pool, Arkansas – 68.7
Cornerback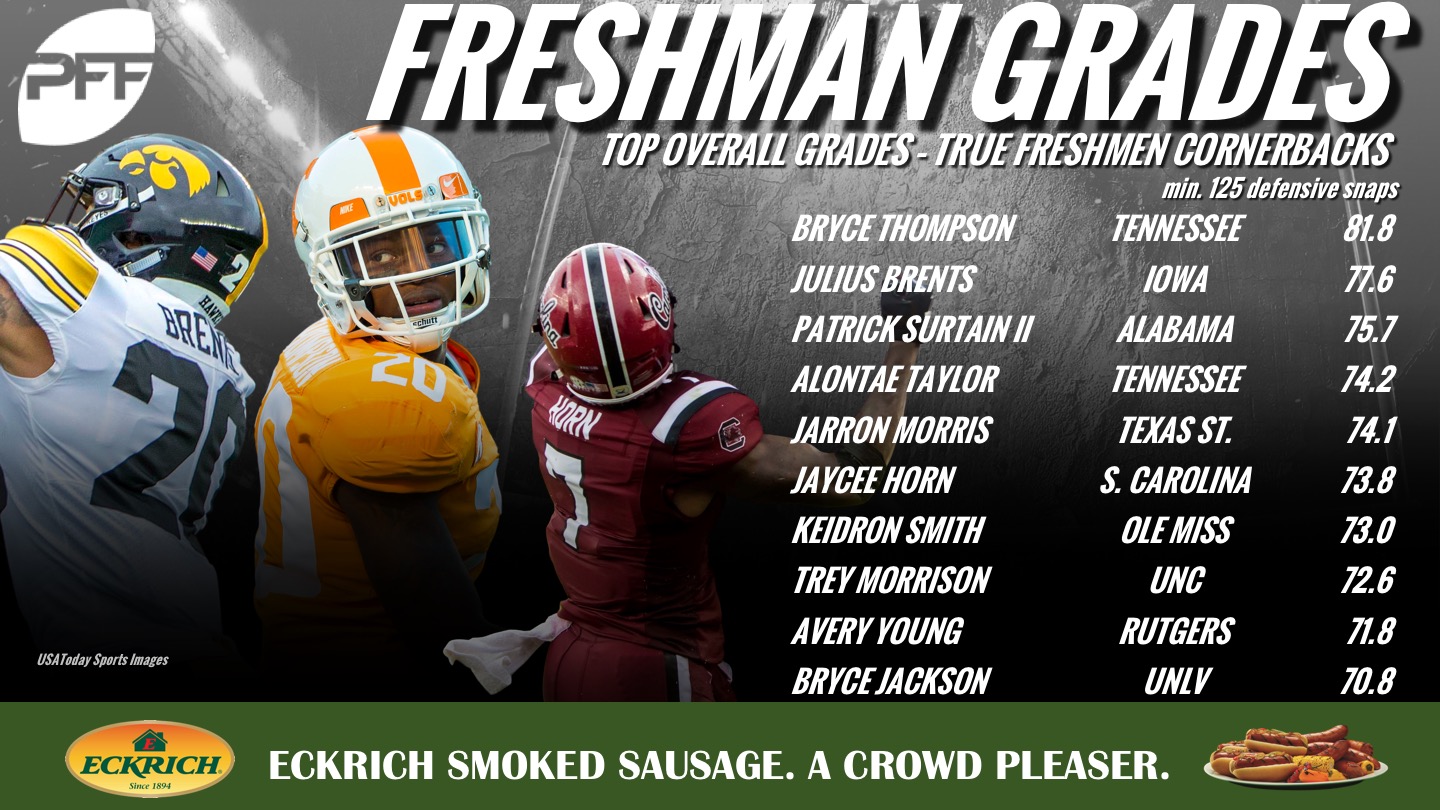 Bryce Thompson, Tennessee – 81.8
Thompson leads all true freshmen cornerbacks in overall grade, pass-rush grade and coverage grade this season as he's been incredibly efficient across the board. He has been sticky in coverage mainly, despite allowing four touchdowns, he has intercepted three passes and broken up another six to give him nine total plays on the ball on 44 targeted passes as the primary coverage defender. A sneaky good blitzer, Thompson has rushed the passer just eight times in 2018, yet brought home six total pressures (1 sack, 5 hurries).
True Freshmen Cornerback Grades, Nos. 2-10:
Julius Brents, Iowa – 77.6
Patrick Surtain II, Alabama – 75.7
Alontae Taylor, Tennessee – 74.2
Jarron Morris, Texas State – 74.1
Jaycee Horn, South Carolina – 73.8
Keidron Smith, Ole Miss – 73.0
Trey Morrison, North Carolina – 72.6
Avery Young, Rutgers – 71.8
Bryce Jackson, UNLV – 70.8
Safety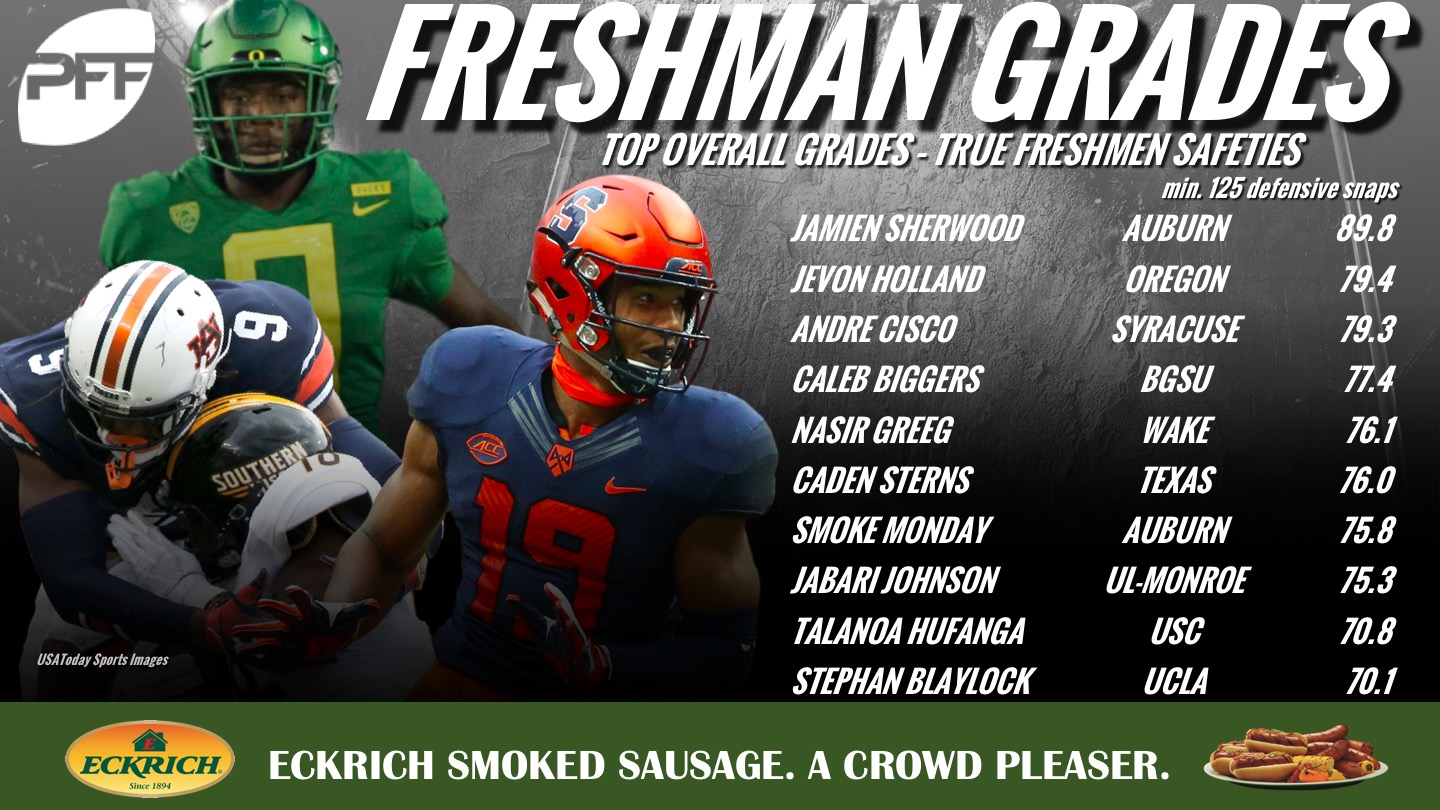 Jamien Sherwood, Auburn – 89.8
The nation's best safeties better watch out as a talented group of freshmen are making their names know. On just 174 snaps this season, Sherwood has been absolutely dominant. He's been targeted six times as the primary coverage defender and allowed just 12 yards while making an interception and a pass breakup. He's made 13 total tackles without missing one and Sherwood has recorded six defensive stops. In a group of true freshmen safeties that include names like Jevon Holland, Andre Cisco, Caden Sterns and Smoke Monday, leading this group is a feat in and of itself.
True Freshmen Safety Grades, Nos. 2-10:
Jevon Holland, Oregon – 79.4
Andre Cisco, Syracuse – 79.3
Caleb Biggers, Bowling Green – 77.4
Nasir Greer, Wake Forest – 76.1
Caden Sterns, Texas – 76.0
Smoke Monday, Auburn – 75.8
Jabari Johnson, UL-Monroe – 75.3
Talanoa Hufanga, USC – 70.8
Stephan Blaylock, UCLA – 70.1