We are now officially into Week 6 after Thursday night's action and while neither game pitted any Power-5 teams against one another, we figured now is the best time to unveil the highest-graded players from each Power-5 conference on both offense and on defense.
PFF grades every player on every play of every game – read more information on how the grades are compiled – at the NFL and FBS level. Our grades are compiled on a per-play basis and are converted to a 0-100 scale based on several factors.
This list of top grades by conference is brought to you by Eckrich, the Official Smoked Sausage of the College Football Playoff.
Before we get into the action of Week 6 with Friday Night Football – here are the top-five graded offensive players in every Power-5 conference through five weeks of football:
SEC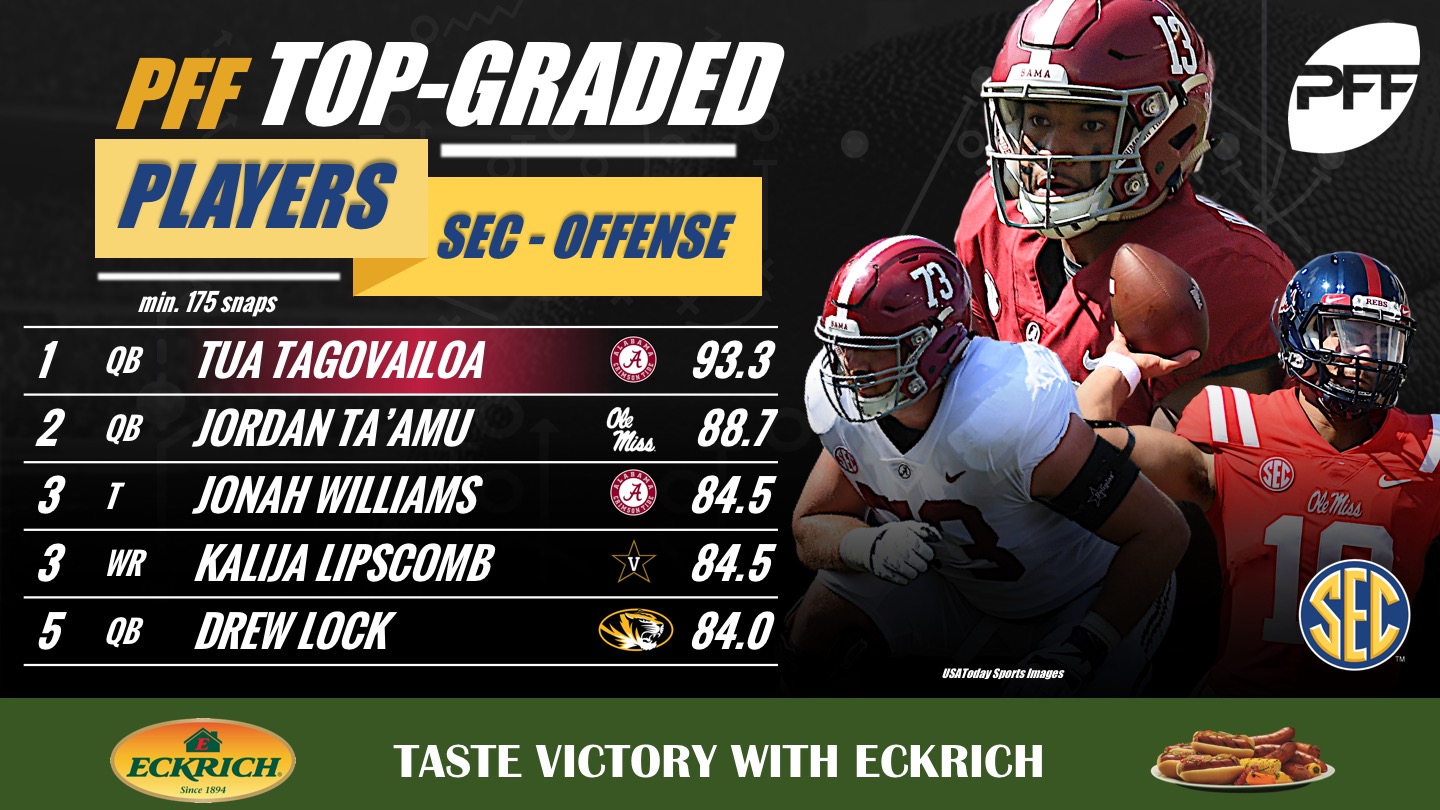 1. Tua Tagovailoa, QB, Alabama
2018 season grade: 93.3
Tagovailoa is the only quarterback in the country to currently hold a perfect passer rating (158.3) when kept clean from pressure.
2. Jordan Ta'amu, QB, Ole Miss
2018 season grade: 88.7
Ta'amu has had 10 passes dropped and five passes batted at the line of scrimmage so far this season – both are tied for the most in the conference.
3. Jonah Williams, OT, Alabama
2018 season grade: 84.5
Williams has allowed just two pressures from 130 pass-blocking snaps. His pass-blocking efficiency of 99.2 is the third-highest in the conference among tackles with at least 111 snaps in pass protection.
3. Kalija Lipscomb, WR, Vanderbilt
2018 season grade: 84.5
Lipscomb has dominated this season, leading the conference with a combined 25 first downs and touchdowns – the next closest SEC receiver has 16 combined 1D+TD,
5. Drew Lock, QB, Missouri
2018 season grade: 84.0
Of 21 deep pass attempts (20-plus yards), Lock has thrown a catchable pass 66.7% of the time – the third-highest rate among the SEC quarterbacks.
Big 12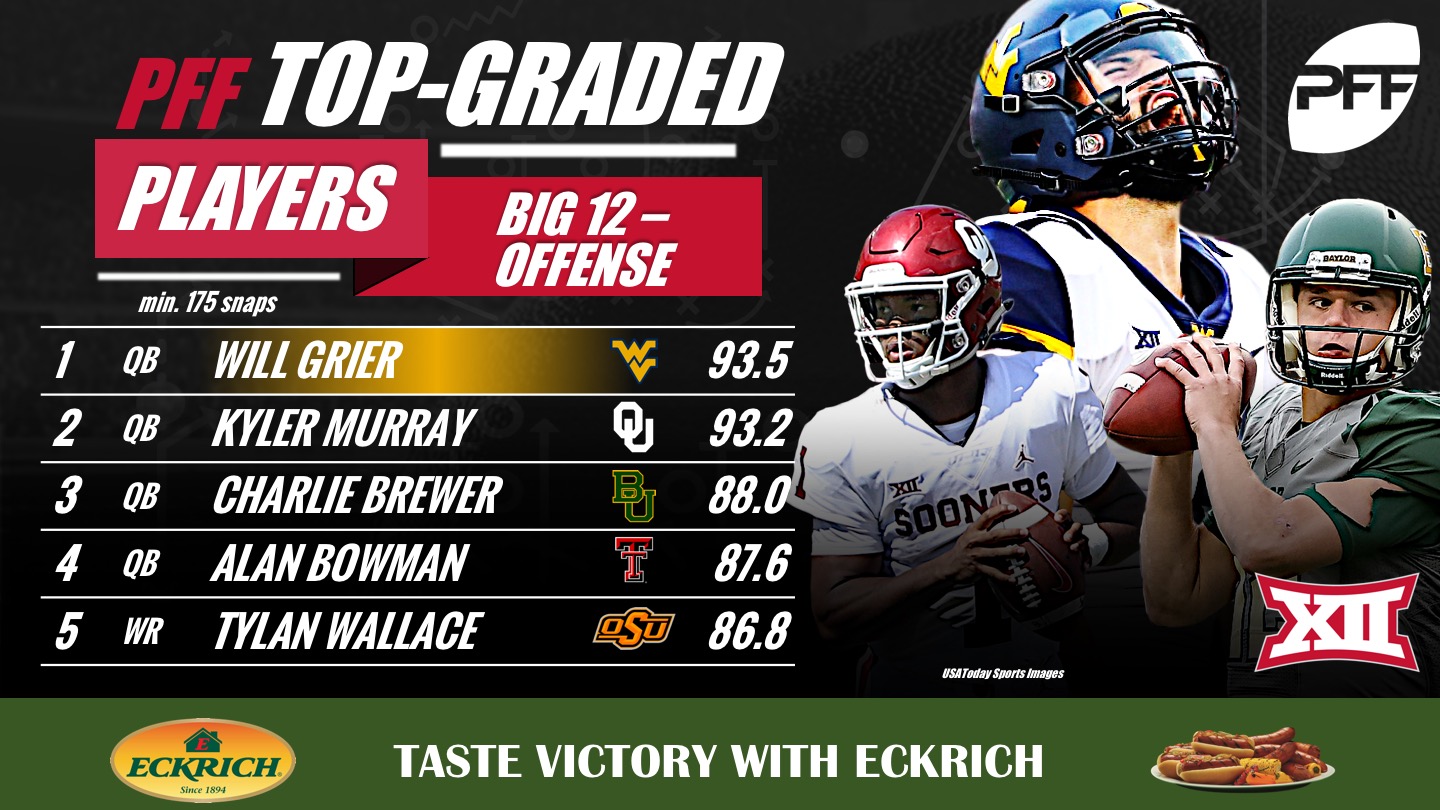 1. Will Grier, QB, West Virginia
2018 season grade: 93.5
Our top-graded quarterback overall, Grier is throwing passes at an incredibly accurate rate while also not afraid to take his shots downfield. His adjusted completion percentage is second in the conference while he's leading the Big 12 with his seven deep pass touchdowns.
2. Kyler Murray, QB, Oklahoma
2018 season grade: 93.2
Speaking of accuracy, Murray leads the conference with his 63.2% adjusted completion percentage on deep passes. He's thrown 12 catchable passes (with one drop) on his 19 deep attempts this season.
3. Charlie Brewer, QB, Baylor
2018 season grade: 88.0
You likely wouldn't have picked Brewer to be this high on this list but here he is. Brewer has no trouble from a clean pocket but has been under pressure the most of any Big 12 quarterback (79 pressured dropbacks) yet has the conference's second-highest adjusted completion percentage (70.0%) and third-highest passer rating (83.8) when under duress.
4. Alan Bowman, QB, Texas Tech
2018 season grade: 87.6
The conference's leader in not only adjusted completion percentage but also in attempts and completions on quick passes. He has completed 97-of-127 throws that were released within 2.5 seconds of the snap.
5. Tylan Wallace, WR, Oklahoma State
2018 season grade: 86.8
Wallace leads the nation in amount of catchable passes thrown his way (30) without a single drop all season long. He's turned in those 30 receptions for three touchdowns and an additional 22 first downs.
ACC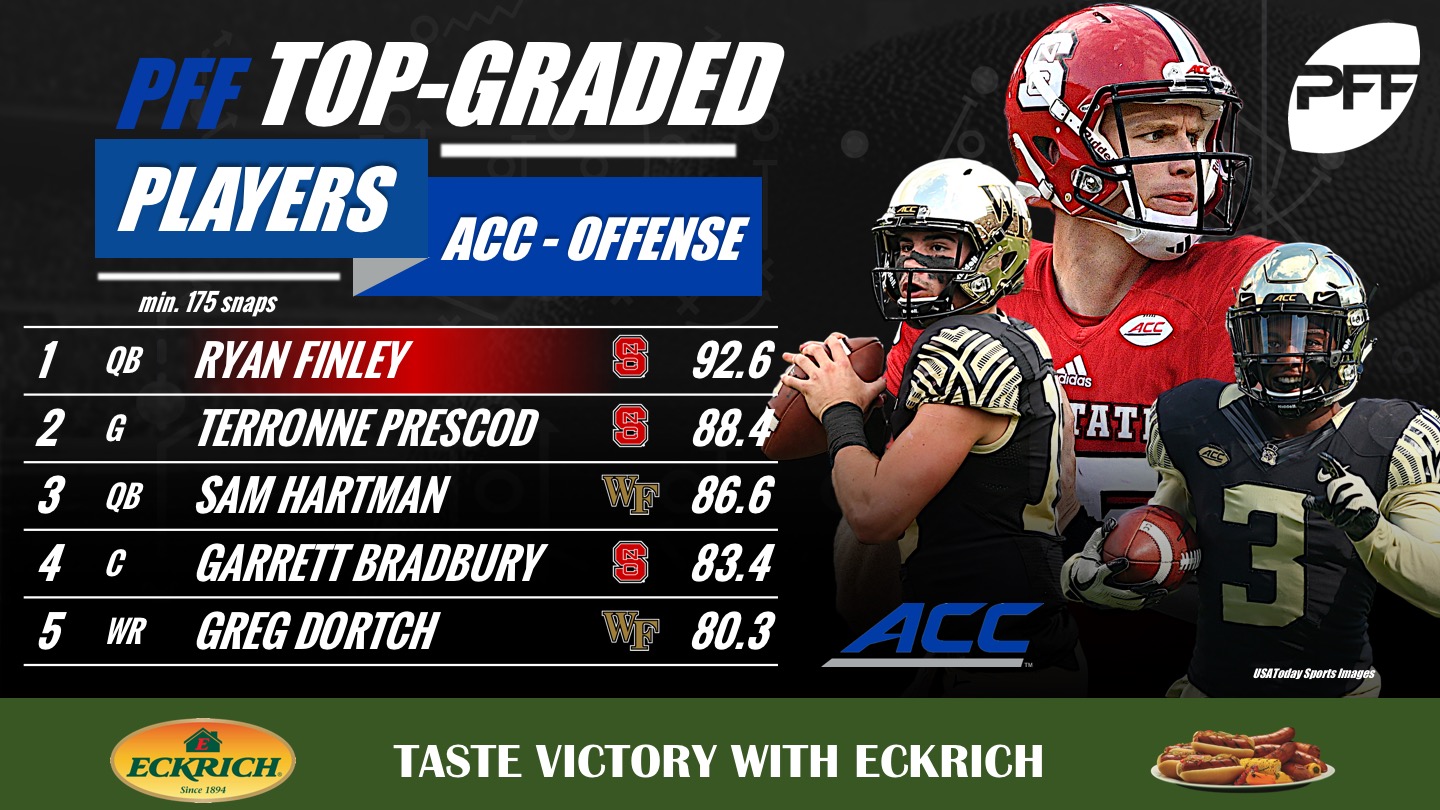 1. Ryan Finley, QB, NC State
2018 season grade: 92.6
While he may get it done differently than some of the other quarterbacks spotted throughout these lists, Finley avoids the negatively-graded plays while he has been extremely accurate this season. His 76.9% adjusted completion percentage is tops in the conference.
2. Terronne Prescod, OG, NC State
2018 season grade: 88.4
Prescod and his mates along the offensive line have kept Finley clean on 81.9% of his dropbacks,  the fifth-highest rate of any quarterback in the country and first in the ACC.
3. Sam Hartman, QB, Wake Forest
2018 season grade: 86.6
When the true freshman has been on this season, he's been seemingly unstoppable. He's fared very well under pressure for a young signal-caller, tossing three touchdowns compared to just one interception and has taken a sack on just 18.8% of his pressured dropbacks.
4. Garrett Bradbury, C, NC State
2018 season grade: 83.4
Like the aforementioned Prescod, Bradbury has also been a stalwart in pass protection. He has allowed just a single QB pressure (a hurry) on 161 pass-blocking snaps, tying for the conference-leading 99.7 pass-blocking efficiency.
5. Greg Dortch, WR, Wake Forest
2018 season grade: 80.3
The beneficiary of John Wolford a year ago, Dortch is having similar success with Hartman tossing him the ball this season. He has more receptions than all but one other ACC receiver has targets (45 receptions, only Olamide Zaccheaus has more than 45 targets) and done so to the tune of five touchdowns and 21 additional first downs.
Big Ten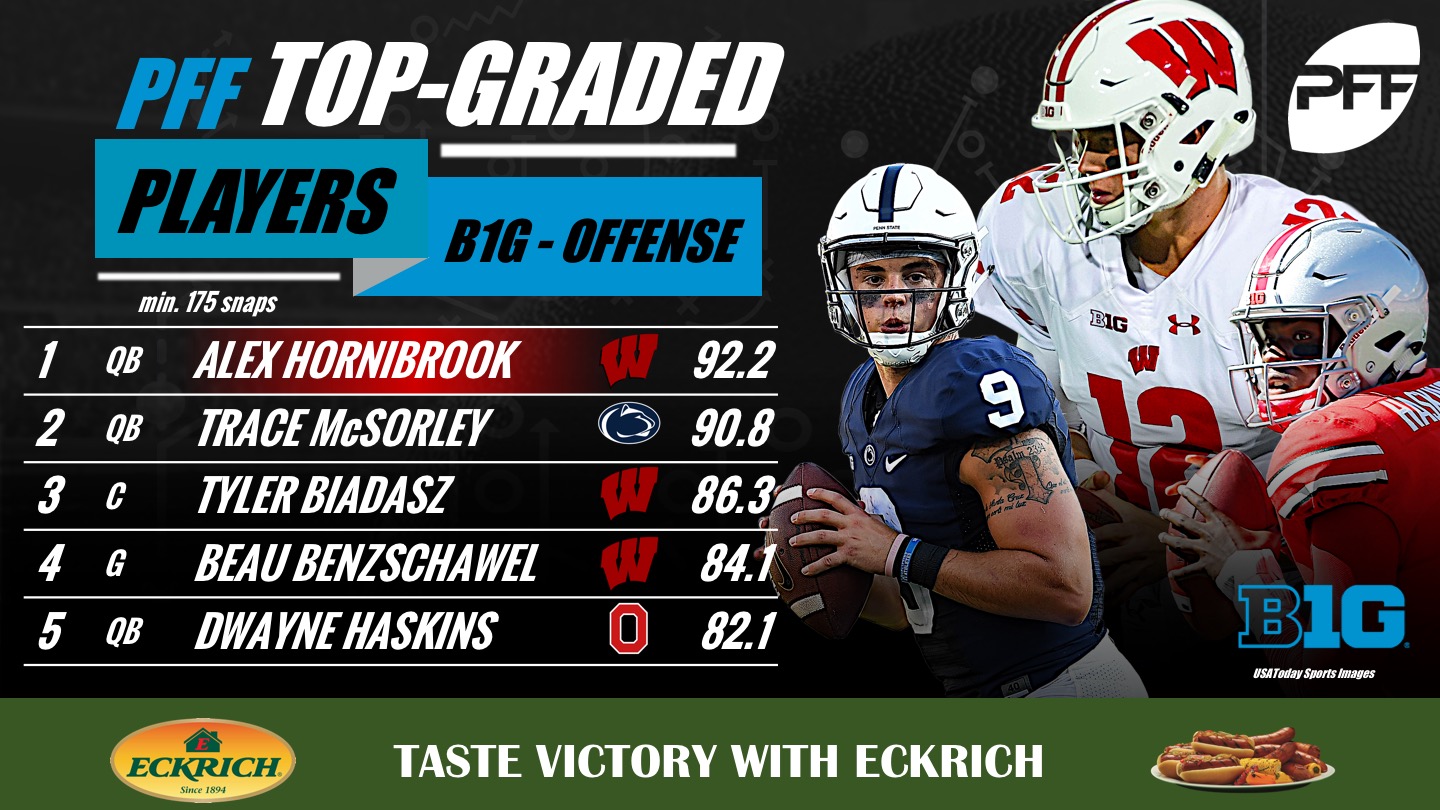 1. Alex Hornibrook, QB, Wisconsin
2018 season grade: 92.2
Yes, Hornibrook is the highest-graded player in the conference on offense. No, these grades are not wrong. Hornibrook avoids the mistakes and does everything you'd expect him to in the passing game. Such as: With the aid of a play-action fake, Hornibrook sports a conference-best 132.8 passer rating,
2. Trace McSorley, QB, Penn State
2018 season grade: 90.8
McSorley has already had a whopping 17 of his passes dropped this season, not only leading the conference but also leading the Power-5 quarterbacks and second only to Mason Fine of North Texas in the nation. McSorley's grade reflects his bad drop luck, as does his ability to throw the deep pass, completing 10 deep passes for a conference-leading four touchdowns.
3. Tyler Biadasz, C, Wisconsin
2018 season grade: 86.3
Leading to their top ranking in our Big Ten offensive line rankings, Biadasz has dominated with his overall run-blocking grade of 82.7. That figure is 13.0 grade points higher than the next closest Big Ten center.
4. Beau Benzschawel, OG, Wisconsin
2018 season grade: 84.1
Much like his counterpart above, Benzschawel has shone brightest with his 83.3 run-blocking grade that is 5.7 grade points higher than the next closest Big Ten guard.
5. Dwayne Haskins, QB, Ohio State
2018 season grade: 82.1
Haskins has the conference's highest passer rating when kept clean from pressure at 146.1. When kept clean, he has completed 97-of-127 passes for 1,342 yards and 18 touchdowns – all of which also lead the conference.
Pac 12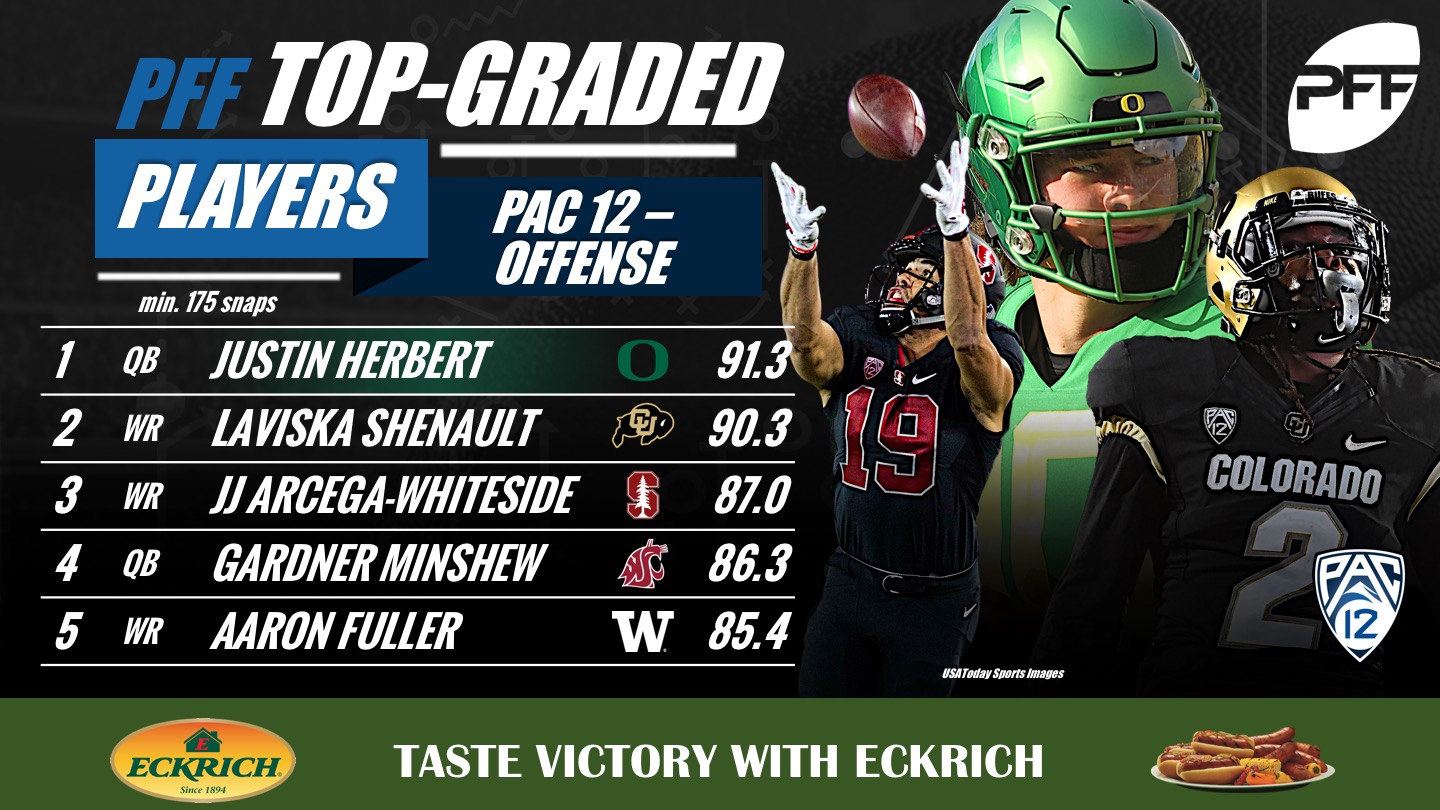 1. Justin Herbert, QB, Oregon
2018 season grade: 91.3
Subject to some bad luck on his deep shots, Herbert may be the nation's best deep-ball thrower. He has uncorked a catchable pass on 71.0% of his throws targeted 20 or more yards downfield, a figure that leads the conference by a comfortable margin. He's had five passes dropped yet still has an 8:0 touchdown-to-interception ratio on deep passes.
2. Laviska Shenault, WR, Colorado
2018 season grade: 90.3
Shenault's breakout year is nothing short of spectacular. He leads the conference in yards after the catch with 399 as he averages a whopping 10.2 YAC per reception. That's the best figure in the country among receivers with at least 30 catches.
3. JJ Arcega-Whiteside, WR, Stanford
2018 season grade: 87.0
Arcega-Whiteside is no stranger to boxing out cornerbacks as he leads the conference with eight touchdown receptions. Perhaps even more impressive, he has come down with nine contested catches this season, leading all Power-5 receivers.
4. Gardner Minshew, QB, Washington State
2018 season grade: 86.3
Playing in Mike Leach's offense is going to always be friendly to a quarterback. Minshew, a transfer from ECU, has flourished in his first year in the system. Despite the high volume of throws (274 attempts is 104 more than any other Pac-12 QB), he sports a 77.8% adjusted completion percentage, second in the conference.
5. Aaron Fuller, WR, Washington
2018 season grade: 85.4
Expecting someone else on this list? Think again. Fuller leads the Pac-12 receivers with 22 combined first downs or touchdowns as all he seems to do is move the chains this season.