Below is the Week 8 edition of our PFF ELO rankings for college football. Like all ELO systems (including our version for the NFL), PFF ELO is an iterative system that updates each team's rating after each game based on two things: how well they played against their opponent and how well they were expected to play against their opponent. The PFF ELO rating system measures the former using our unique offensive, defensive and special teams grades, while the latter is determined by the PFF ELO ratings leading up to the game and where the game is played.
For example, a heavy favorite playing at home is expected to outplay the visitor, so a victory would result in only a small rise in their PFF ELO rating and a similarly-small decrease in the defeated team's, but if an upset were to happen, the visiting team would see their PFF ELO rating rise substantially, and the home team's see a similarly-sized drop.
Georgia stumbled out of the current playoff picture with a bad offensive display on the road against LSU. Washington and Penn State also suffered slip-ups and must win out if they want to stay relevant. Notre Dame continues to prove they are for real with another impressive victory over a top 25 team that has them squarely in the playoff hunt. West Virginia, for which we've received plenty of flack for excluding in our top 25 ranking system, lost handily to Iowa State Saturday.
Sometimes in football, the best team does not win, and PFF ELO accounts for these oddities by using our grades. Hence there will be teams rated higher or lower in this system than their win-loss record would suggest. Since PFF began charting college football in 2014, the difference in PFF ELO values alone has been able to explain over three-fourths of the variance in the closing Vegas line. Check back to profootballfocus.com for weekly college spread picks using this model and check out PFF Greenline for our NFL version of the product.
The PFF ELO College Power Rankings are brought to you by Eckrich, the Official Smoked Sausage of the College Football Playoff.
1.

Alabama flashed their brilliance early on Saturday scoring an 81-yard touchdown pass and two plays later an interception of Drew Lock within the first minute of the game. Outside of one drive, the 'Bama defense completely shut down the Tiger offense. Their coverage unit doesn't get enough credit but when a quarterback has a clean pocket, Alabama has the lowest passer rating allowed among Power-5 schools. Tua Tagovailoa headlines our NCAA Midseason All-American team with good reason, he has a big-time throw percentage of 11.1%, first in all of college football.
2.

Notre Dame continues to climb, this week on the strength of a top-five defense. Quarterback Ian Book has struggled grading-wise the last two weeks and has been (dis)credited with allowing five sacks the last three. It's been under pressure where he's struggled the most, as his passer rating declines 54.0 points in such situations. When clean, he's completing over 82% of his passes and averaging 9.5 yards per pass attempt. After seeing two offensive linemen go in the first round of last year's draft, it will be interesting to see if their offensive line can improve down the stretch to allow Book to help them secure a spot in the playoffs.
3.

While they did not cover against the Gophers Saturday, the Buckeyes took care of business to remain undefeated and squarely in the race for a berth in the College Football Playoff. Dwayne Haskins has added a new dimension of their offense, which has generated a successful play on over 58% of early-down passes, good for an average of 0.45 EPA per play. Their defense has been middle-of-the-road in a tough Big Ten, but are still allowing only about a third of early-down runs to grade as successful, and a negative EPA against both the run and the pass to boot.
4.

Clemson slid one spot after taking the week off before their matchup with No. 15 NC State. Trevor Lawrence may be called upon to be the difference-maker as NC State's stout run defense has limited a successful rush attempt on 35.6% of early downs. Clemson has relied on the rush in early-down situations generating 0.27 EPA on rush attempts compared to a 0.0 EPA on pass attempts. If Lawrence performs well when kept clean on early downs, Clemson should be able to take care of the Wolfpack at home.
5.

Oklahoma had a week off to straighten out their defensive woes, announcing Ruffin McNeill as the new coordinator to finish out the season. If the Sooners cannot find success stopping early-down pass attempts, Kyler Murray will need to be even more heroic than his early season Heisman-worthy performance has been. To date, over 40% of Murray's pass attempts have received a positive grade while generating 0.69 EPA per dropback. Murray has also been dynamic when rushing the ball, with an EPA per attempt of 0.55. The expectation is the McNeill receives more of the status quo defensive play which will result in lots of offensive fireworks as the Sooners wrap up their season.
6.

Georgia suffered a stunning loss to LSU as their offense completely disintegrated on the road. Jake Fromm was clean on 66.7% of dropbacks but posted a passer rating of 65.8 on such attempts. On the season, he has a 132.2 passer rating when clean as his significant dropoff crippled this offense on Saturday. Justin Fields offers upside but only received five snaps on Saturday. The matchups do not get any easier with their matchup against Florida looming this weekend. If Fromm struggles early, expect to see Fields take on a more featured role before things get too far out of hand for this passing attack.
7.

LSU rebounded after a tough road loss to Florida by putting together a signature win against Georgia at home. This stretch of games shows how difficult it is to run the table in the SEC with a matchup against Mississippi State before their showdown with Alabama. Joe Burrow managed an efficient offensive performance with LSU converting four 4th-down plays to sustain drives and score critical points. LSU's defensive metrics are even more impressive when you take into account opponent-adjusted ratings. The Tigers defense has consistently forced third and long situations with -0.15 (passing) and -0.14 (rushing) EPA allowed on early-down attempts.   
8.

Michigan's Big Ten-best defense was on display against a solid Wisconsin team on Saturday night. It's difficult for opposing teams to score on this group as they generate success on roughly a third of early-down passes and runs. Quarterback Shea Patterson continues to improve for their offense, which is second only to Ohio State in the conference in early-down efficiency in the passing game. Their early-season loss to Notre Dame likely has them on the outside looking in with respect to the College Football Playoff, however, if they can upset Ohio State down the road here (which we think has roughly a 45% chance of happening), they are back in the conversation.  
9.

A lot of what concerns people about UCF popped up in Memphis on Saturday, with only seven pressures generated and 14 total missed tackles on the road putting them behind the eightball.  However, McKenzie Milton did what McKenzie Milton does, generating a 106.4 passer rating when clean and adding 21 yards and a touchdown on the ground. As we said last week, this is likely the ceiling for UCF in terms of their ability to climb up the top 25, but another perfect season is now possible.  
10.

Two tough losses in a row to ranked teams – after being ahead during the majority of each of the games – have Penn State falling a bit here. The fundamentals remain strong for this team, though, as they are generating a positive EPA on their early-down passing plays and a whopping 0.24 EPA on early-down running plays. They are allowing fewer than 41% of early-down passes to be successful on them defensively, while generating 0.20 EPA for them every time the other team runs against their defense.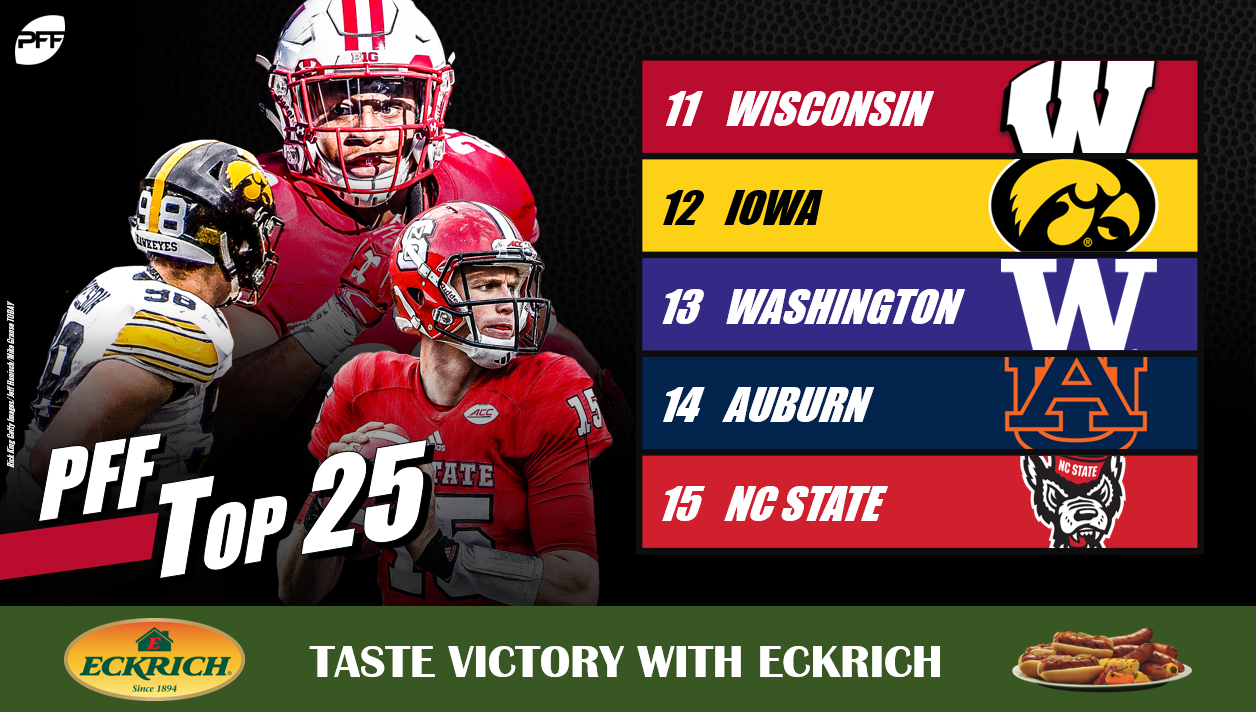 11. Wisconsin (-5)
12. Iowa (+5)
13. Washington (-3)
14. Auburn (-2)
15. NC State (-2)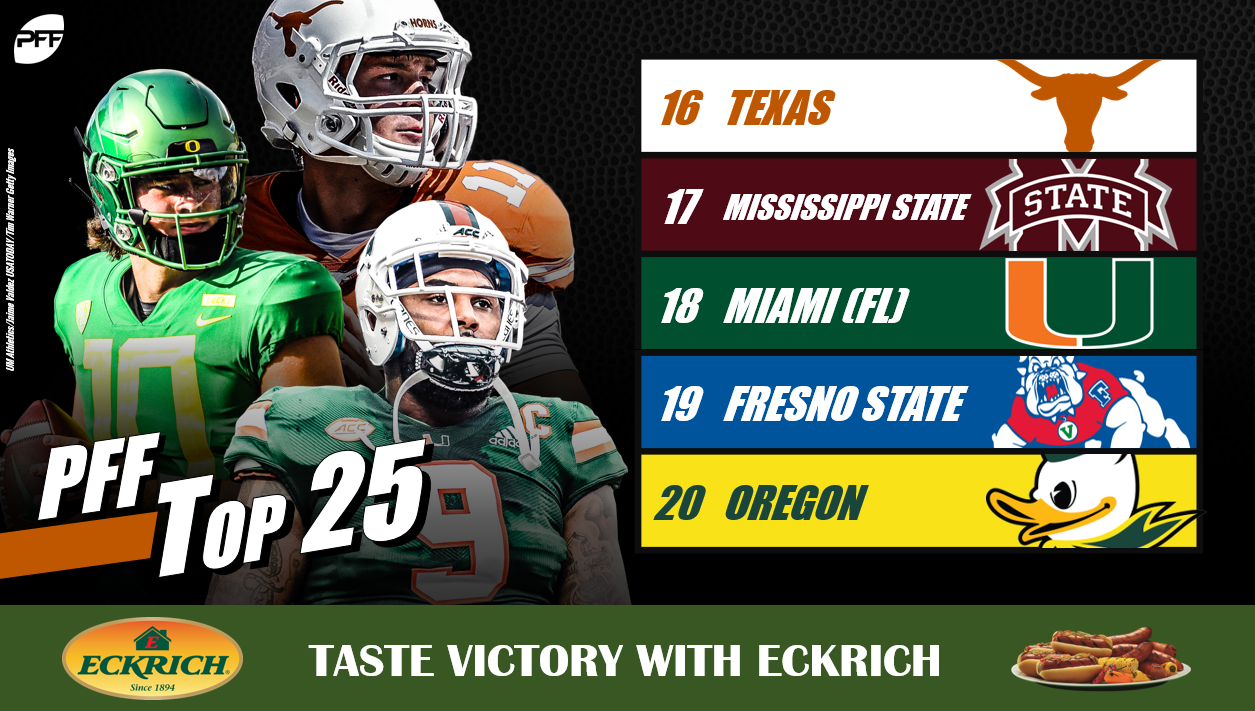 16. Texas (-1)
17. Mississippi State (+5)
18. Miami (Fl.) (-7)
19. Fresno State (+1)
20. Oregon (+11)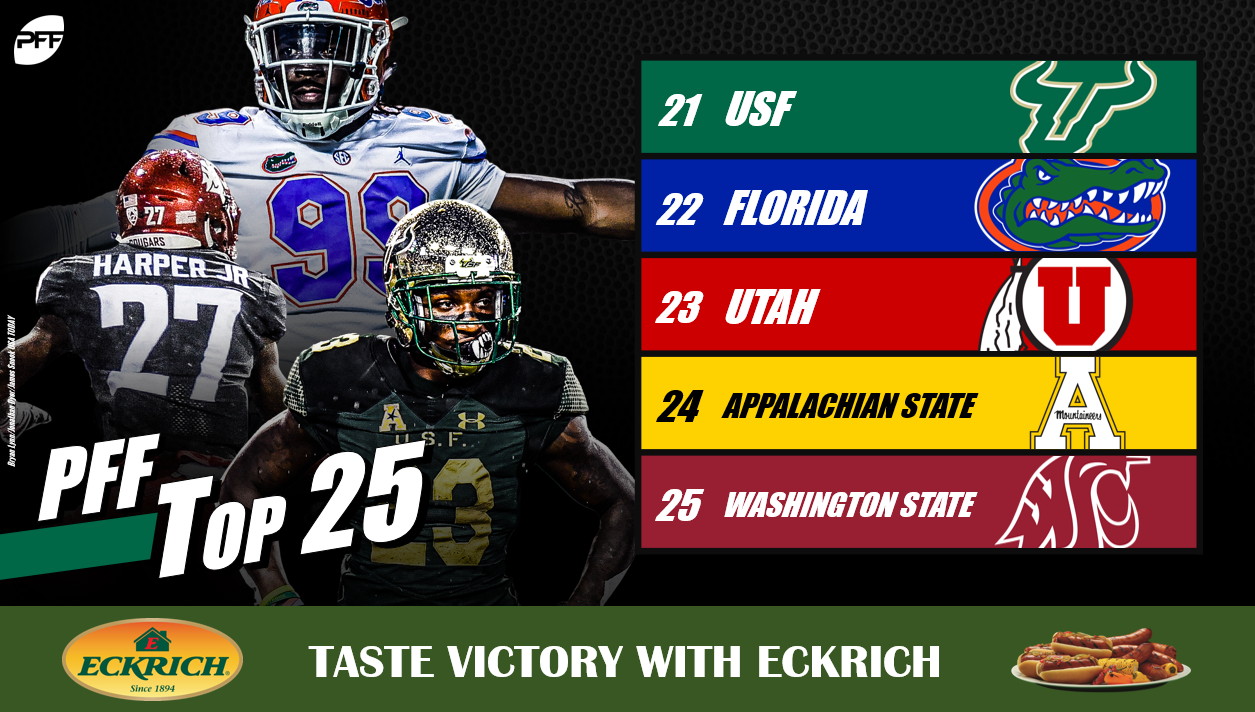 21. USF (-5)
22. Florida (-1)
23. Utah (+9)
24. App. State (+6)
25. Washington State (-)