Later this fall, football returns across the country. Players from all walks and all skill levels will step foot on the field once again in a magical time that is football season.
Each college football team returns certain players who excelled last season but the nation's best pass-rushers, as a group, return to the Big Ten Conference. Seemingly every conference has their fair share of representatives at the top of the grading spectrum from us here at PFF College, but the Big Ten returns quite possibly the deepest group and certainly the most top-loaded.
This story is brought to you by Eckrich, the Official Smoked Sausage of the College Football Playoff.
The following players should expect to be household names (if they are not already) in a few week's time once we get games underway in August.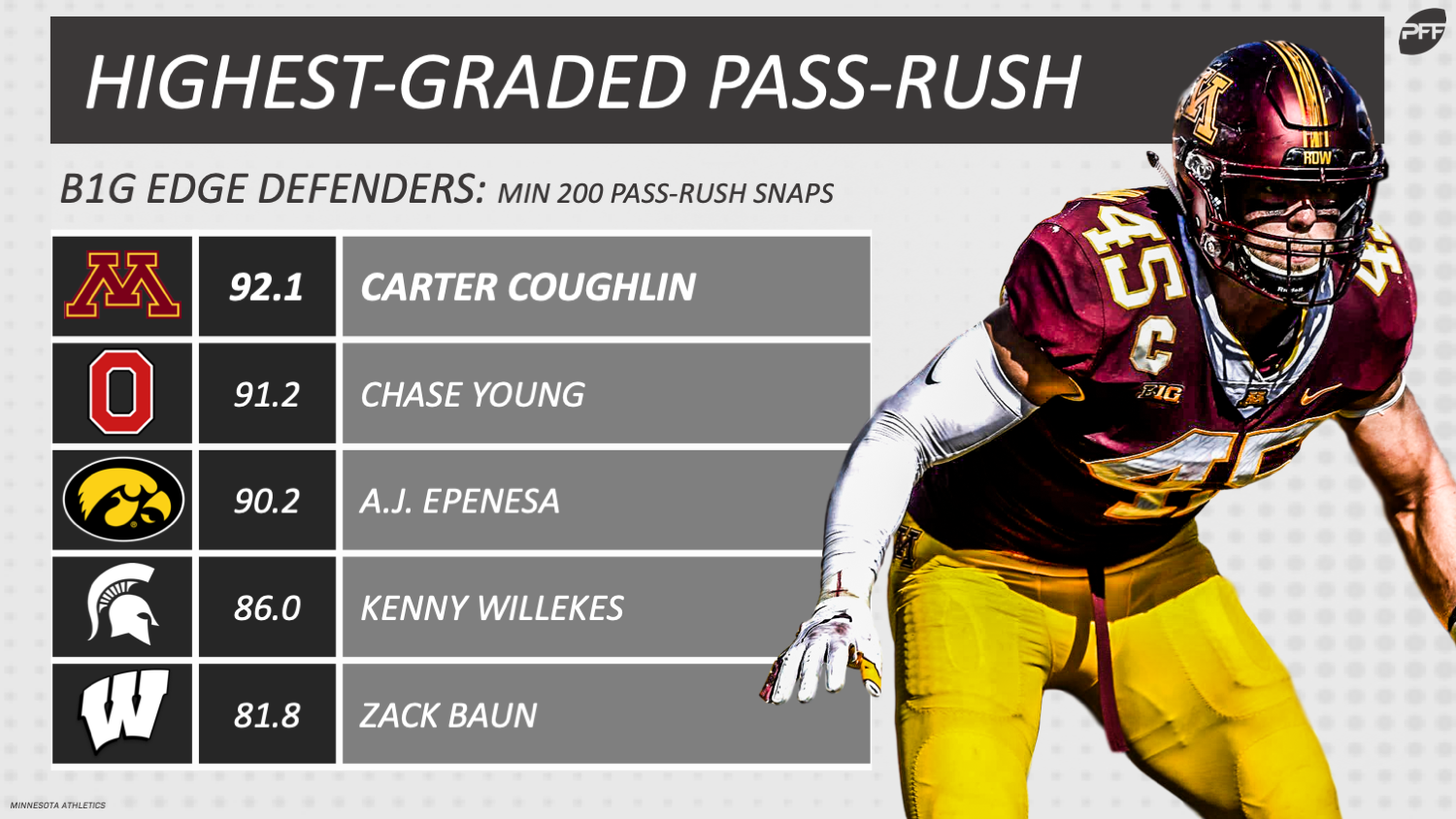 Carter Coughlin, Minnesota
Coughlin actually leads all the nation's edge defenders with his 92.1 pass-rushing grade from a season ago. Outside of Minnesota circles, he's largely flown under the radar as well despite registering double-digits in sacks (12) and QB hits (14) in a breakout year a season ago. He recorded multiple pressures in all but one game last year (Northwestern) and had a sack in eight different contests, single-handedly increasing his career total in pressures by over 100 percent in 2018. Another great year in the Minnesota system and he could very well be rowing the boat to a high selection in the 2020 NFL Draft.
Mike Danna, Michigan
The Central Michigan transfer, Danna wreaked havoc on opposing MAC quarterbacks a season ago, tallying 19 total QB hits and sacks en route to 55 total pressures. Sure, he was doing it possibly against lesser competition, but putting forth elite pass-rushing grades in back-to-back seasons against lesser competition is exactly what should be asked of a standout player. He now has recorded at least 50 pressures in two straight seasons and even against 'better' foes like Kentucky (6 pressures), Northern Illinois (5) and Michigan State (3), was able to register multiple pressures against tougher offensive lines without question. He immediately fills the would-be notable gap from the loss of Chase Winovich and Rashan Gary from the Wolverines defense last season and should be in store for a tremendous season on the big stage.
Chase Young, Ohio State
There is much to talk about Young in terms of draft evaluation and following the likes of Joey and Nick Bosa into the NFL likely after this season, but as far as his ability to get after the quarterback as a college pass-rusher, few have done it as well as he has over the past two seasons in the Big Ten. His 75 total pressures last season led all edge defenders as he recorded one of the elusive pass-rush triple-doubles a year ago with 11 sacks, 14 hits and 50 hurries. Young won 19.6% of his pass-rush attempts last season and is tied for sixth nationally with five batted passes at the line of scrimmage. His long frame allows him to bend the edge while also possessing the ability to get his hands into the passing lanes with ease.
A.J. Epenesa, Iowa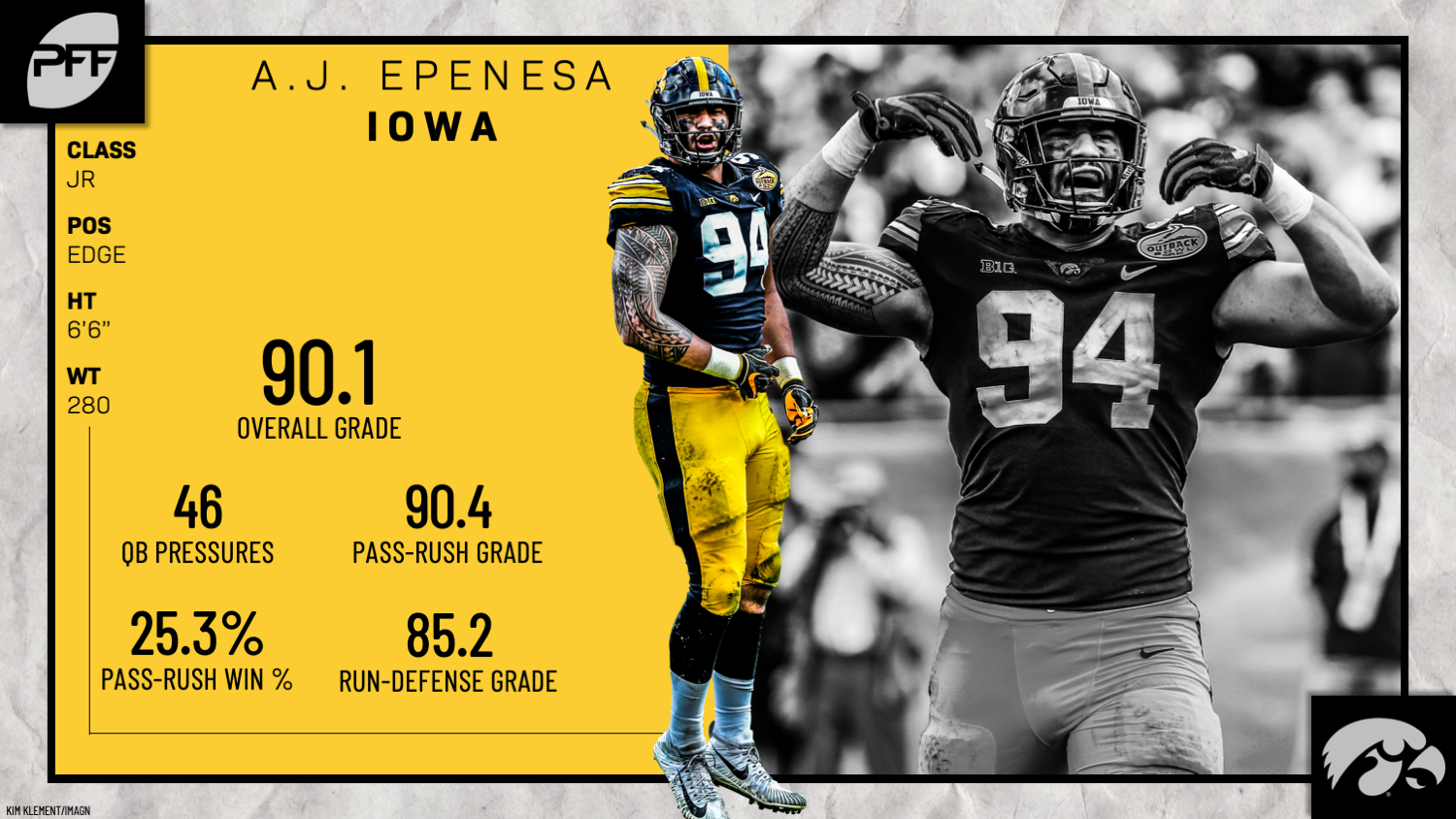 Epenesa rounds out the three returning Big Ten edge defenders who recorded the pass-rush triple-double last season, also known as double-digits in sacks, QB hits and QB hurries. In fact, there are only six returning edge defenders who recorded that feat and the Big Ten returns three of them in Coughlin, Young and Epenesa. The Iowa standout finished with the second-fewest total pressures on this list but did so on fewer pass-rushes than any of the others as well, so the 'lack of production' is more just a means of lack of opportunity. Still, on a per-snap basis, Epenesa's pressure percentage ranks fourth nationally among all returning edge defenders and first in this group of Big Ten edge guys. He recorded a pressure on 20.1% of his pass-rushes and ranked third nationally with a 25.3% pass-rush win rate, meaning 5.2% of the pass-rushes he didn't record a pressure on, he still beat the offensive lineman in front of him.
Kenny Willekes, Michigan State
Willekes rushed the passer more than any other edge defender in the country a season ago, so it's not a surprise that he ranked second nationally in total pressures. While he didn't reach that magic number of 10 sacks (finished with nine), he led the nation by a comfortable margin with 23 QB hits, meaning he was still getting to the QB with the best of them and was subject to the ball getting out faster on average than his peers. In fact, during his games with three or more QB hits, the fastest average time to throw from one of his opposing quarterbacks was just 2.79 seconds by Shea Patterson in Week 8. Despite a massive amount of pass-rush snaps (493 to be exact), he still won 18.9% of those snaps, a figure that ranks 15th in the country. A high-volume guy who can still win his fair share of snaps is a perfect descriptor of Willekes, a guy Michigan State fans have gotten used to seeing in the opposing backfield.
Zack Baun, Wisconsin
Kicking off the final two on this list with one of the lesser-known pass-rushers outside of Big Ten circles as Baun finished with just three sacks a season ago. However, his pass-rush grade of 81.8 ranks fifth in the conference and 17th nationally. Like Epenesa above him, Baun actually had fewer opportunities to rush the passer, seeing just 246 pass-rush snaps. However, he made the most of those opportunities and racked up a 17.1% pressure percentage that tied with Young. That means had he rushed the passer as many times as Young (470), he would have come close to, if not surpassed, Young's total pressure mark of 75 and certainly would have seen his fair share of sacks. Still, his 13 QB hits ranked fifth among all FBS returning edge defenders, and any Badger fan would expect to see more than three sacks this season from Baun.
Joe Gaziano, Northwestern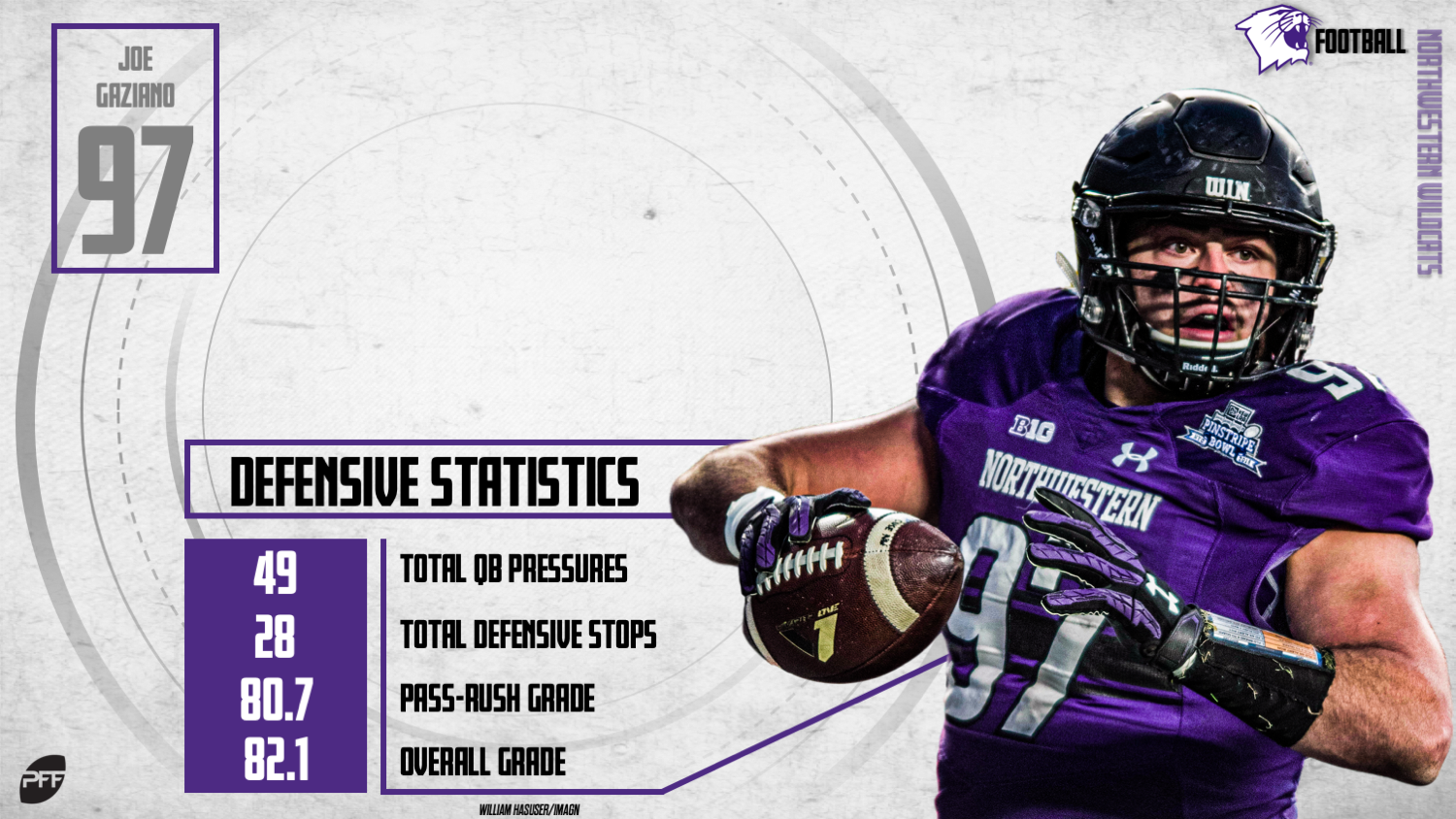 Gaziano rounds out perhaps the 'lesser-known' athletes at the edge defender position in the Big Ten as he still managed to get 19 combined hits and sacks across 391 pass-rush snaps a season ago. He didn't have quite the pressure percentage as the others on this list, but when he did win, he won demonstrably. Of the seven players listed here, Gaziano actually tied with Danna for the fewest amount of unblocked pressures that he recorded as he worked his way through offensive linemen at will a season ago.
That's seven of the top 22 highest pass-rush grades among returning edge defenders including four of the top six overall. They're as top-loaded a group of pass-rushers in any conference AND in the nation.
Big Ten quarterbacks, you've been warned.