With the college football season underway, it's time for our Saturday's to be filled with big plays, exciting finishes and the future stars of football. Nowhere is that truer than in the SEC, a conference that saw five defensive players drafted in the first round of the 2018 NFL Draft. Despite that level of talent leaving for the professional ranks, the conference is still loaded with defensive talent, so here is our look at the top-10 impact defensive players in the SEC in 2018.
The following list was brought to you by Eckrich, the Official Smoked Sausage of the College Football Playoff.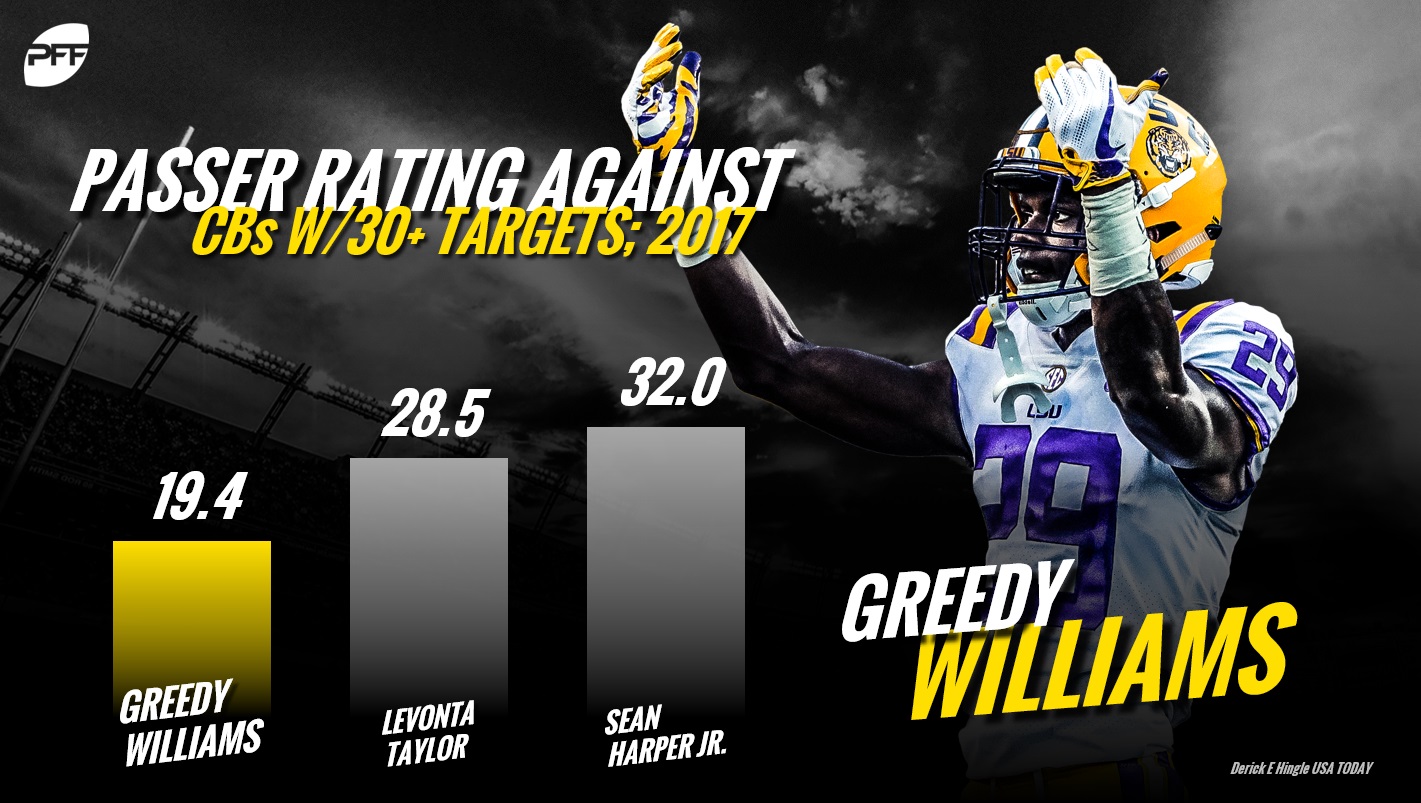 Greedy Williams, CB, LSU 89.8 coverage grade
On the field for 423 coverage snaps in 2017, Williams had just one game where he allowed 45 yards or more in coverage and surrendered just one touchdown over the course of the season. More importantly though, and a big reason why he is an impact player, is that he had 11 pass breakups and six interceptions. All things considered, his 2017 season saw him allow an NFL passer rating of just 19.4 on throws into his coverage, meaning that, statistically, opposing quarterbacks would have been wiser to have simply thrown the ball into the turf than try to complete passes against him.
Ed Alexander, DI, LSU, 90.6 run-defense grade
A player who has seen just 292 snaps over the past two seasons but has made a big impact against the run when on the field, Alexander put together some impressive flashes of play in 2017. His playing time increased slightly over the final five games of the season, and he rewarded his coaches for putting him on the field more by averaging two tackles resulting in a defensive stop despite playing just under 20 snaps per game. While he is at his best against the run, Alexander still managed to register a sack, two hits and six hurries from just 65 pass-rushing snaps a year ago.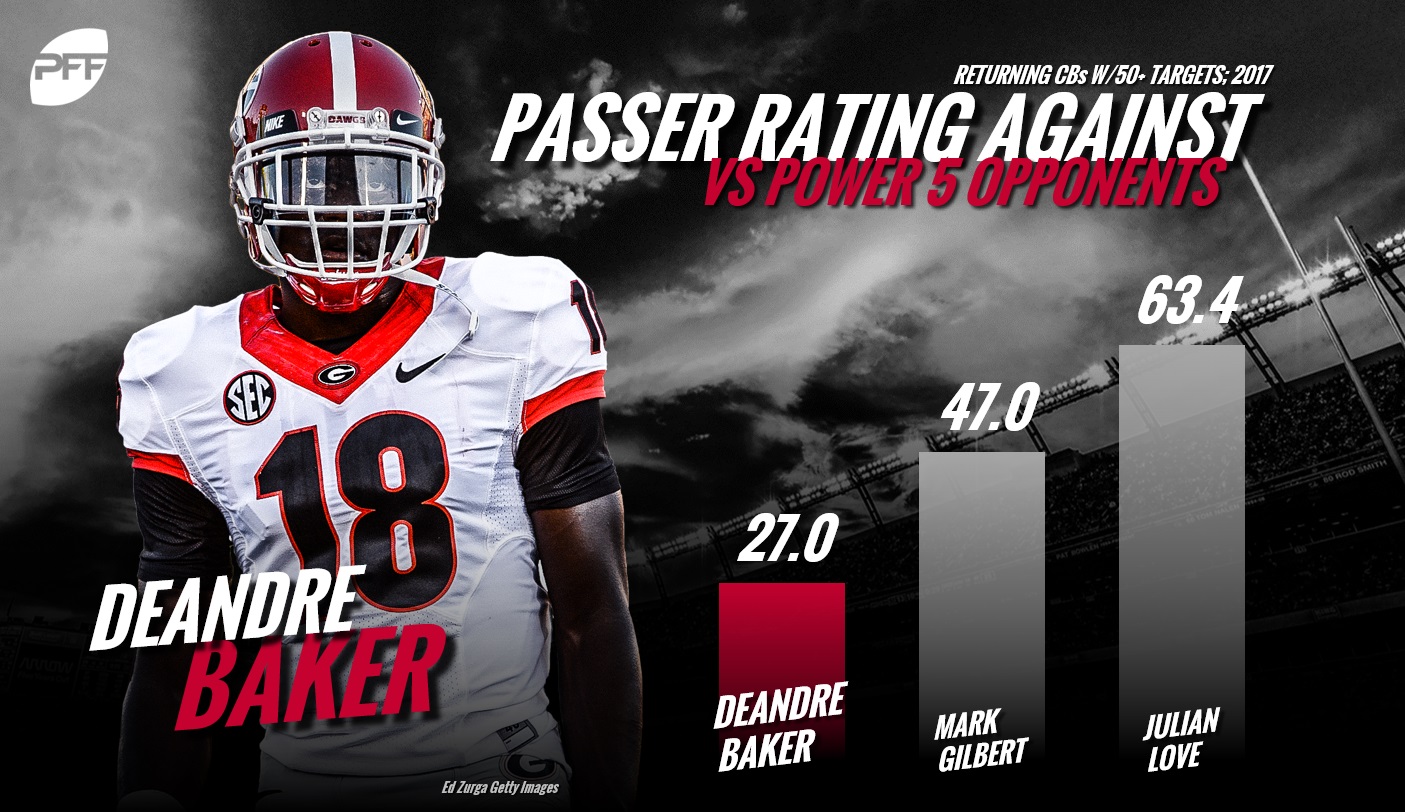 Deandre Baker, CB, Georgia, 89.6 coverage grade
Baker didn't allow a touchdown in coverage in 2017, and on 723 snaps over his college career so far, he has allowed just one. On the field for 474 coverage snaps in the regular season and beyond, he surrendered just 295 yards in coverage and allowed 50 yards or more in a single game just once. He also took a big step forward when it came to making plays on the ball last year, finishing the year with 11 pass breakups to go along with three interceptions.
D'Andre Walker, Edge, Georgia, 82.5 pass-rush grade
Walker's sample size of work is limited, but he has certainly produced in a smaller role for the Bulldogs. He rushed the passer just 114 times in 2017, but still finished the year with six sacks, six hits and 15 hurries, averaging a pressure once every 4.2 pass-rushing snaps. The big question will be whether or not he can come close to that level of production in a bigger role, but for now, the impact he has made in what we have seen from him has been impressive. In the College Football Playoff final against Alabama, Walker registered three hits and three hurries from just 11 pass-rushing snaps.
Jeffery Simmons, DI, Mississippi State, 90.8 defense grade
Simmons was good in 2016, but even better in 2017, putting together a much more complete game to make life miserable for opposing offenses. As a pass-rusher, he racked up eight sacks, three hits, and 30 hurries, averaging a pressure once every 7.4 pass-rushing snaps, compared with once every 17.1 in 2016. A force against the run, Simmons produced a PFF run-defense 90.3, up from 82.6 the year before, and is poised for another big year in 2018.
Josh Allen, Edge, Kentucky, 82.2 pass-rush grade
Allen produced the 24th-highest pass-rushing grade in the nation a year ago, racking up 40 pressures on 275 pass-rushing snaps. The good news for Kentucky fans is that he has continued to improve, seeing his PFF overall grade rise from 60.8 in 2015, to 68.8 in 2016 and finally to 77.1 a year ago. Heading into his final season as a Wildcat, big things are, and should be, expected from him.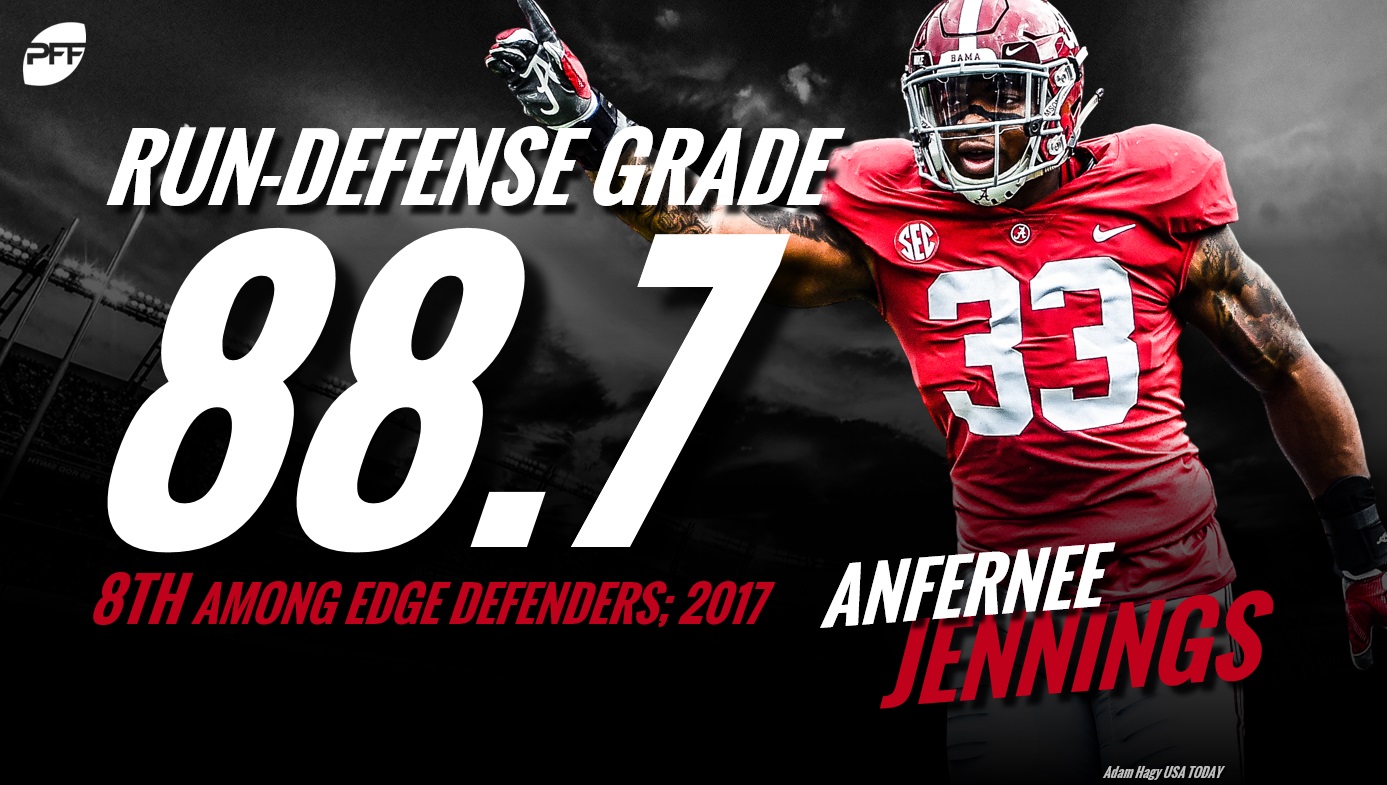 Anfernee Jennings, Edge, Alabama, 88.7 run defense grade
Alabama just continues to produce talented players, especially on defense. Owning the eighth-highest PFF run-defense grade among edge defenders, Jennings delivered a big season for the Crimson Tide in 2017. While his strength is his run defense, he's no slouch as a pass-rusher either, producing 41 combined sacks, hits and hurries from 200 pass-rushing snaps. Another standout stat for Jennings: from 597 snaps on the field in college so far, he has missed just one tackle.
Tyrel Dodson, LB, Texas A&M, 84.0 coverage grade
Linebackers who can run in coverage are becoming ever more important in football, both in college and the NFL, and it's an area where Texas A&M's Dodson excels. Tied for the 23rd-highest coverage grade among linebackers in 2017, he made several plays on the ball, with three interceptions and two pass breakups from the 36 passes thrown into his coverage. One area he needs to work on is his tackling, with 21 missed tackles in 2017, but if he can do that then he has the potential to be an elite linebacker.
Jamel Dean, CB, Auburn, 88.3 coverage grade
Our 17th-highest graded cornerback in coverage a year ago, Dean allowed just 16 receptions for 230 yards from 402 snaps in coverage last year. With the size so many people are looking for in cornerbacks these days, the future looks bright for the Auburn Tiger, especially if he can develop more as a playmaker. While he has seven pass breakups, he is still waiting on his first career interception, but based on how well he played a year ago, that will come sooner rather than later.
Derrick Brown, DI, Auburn, 85.6 defense grade
Brown was on the field for 622 snaps last year and while he was solid rushing the passer, with five sacks, two hits and 16 hurries from 326 pass-rushing snaps, it was against the run where he really stood out. Even when he wasn't making tackles himself, with a tackle resulting in a defensive stop on 7.8 percent of his snaps against the run, Brown was a force to be reckoned with, clogging up running lanes and forcing opposing running backs to cut away from the intended point of attack.