The SEC is known for its tough defenses, and while that is very much true again this year, we've also seen a lot of wide receivers making big plays early in the 2018 season. Here at Pro Football Focus, we track every snap a player is on the field, so rather than looking at yardage totals alone, we can use our yards per route run metric to see who the most productive wide receivers in the nation are.
So with that in mind, here are the top wide receivers in the SEC through three weeks.
(For sample size, we limited this list to receivers who have seen at least 10 targets so far in 2018.)
This list is brought to you by Eckrich, the Official Smoked Sausage of the College Football Playoff.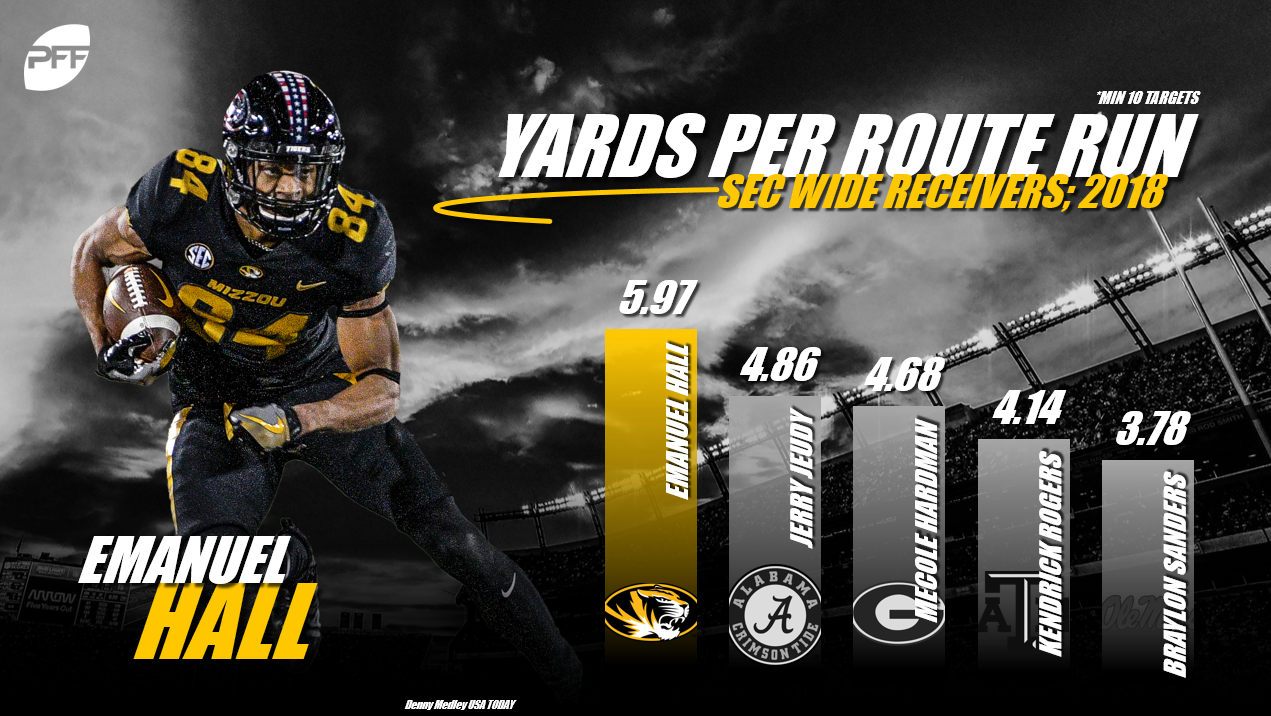 Emanuel Hall, Missouri, 5.97 yards per route run
Hall has been devastating for the Tigers so far this season, with 16 of his 18 receptions resulting in either a first down or a touchdown. He has already racked up 430 yards but could have even more were it not for two dropped passes through three games.
Jerry Jeudy, Alabama, 4.86 YPRR
The most terrifying prospect for Alabama's rivals in the SEC is that the team have arguably their most explosive offensive in some time. Jeudy is a huge part of that, averaging 26.1 yards per catch, and seeing six of his 11 receptions result in touchdowns so far this season.
Mecole Hardman, Georgia, 4.68 YPRR
The Bulldogs have been dominant on offense and defense through three weeks, and Hardman has been key to that. He has caught all 12 catchable passes thrown his way and is averaging 12.3 yards after the catch per reception. In two of his three games so far, he has had a reception of 40 yards or more, showcasing his big play ability.
Kendrick Rogers, Texas A&M, 4.14 YPRR
Rogers missed the Aggies game against Louisiana-Monroe last week but had a big performance in the loss to Clemson, where he caught seven passes for 120 yards and two scores. From his nine receptions this season, he has already forced two missed tackles.
Braylon Sanders, Ole Miss, 3.78 YPRR
The Ole Miss offense has been explosive, or it was up until they squared off against Alabama anyway. Sanders has actually been more productive than teammate A.J. Brown on a per-snap basis and has seen six of his eight receptions result in a first down or touchdown.
Josh Palmer, Tennessee, 3.70 YPRR
Palmer just hits the cut-off mark for targets to get on this list and has picked up three or more receptions in just one game so far this season. Still, with an average of 24.7 yards per catch, maybe it's time for him to see more of the football.
La'Michael Pettway, Arkansas, 3.49 YPRR
The Razorbacks have done everything they can to get the ball to Pettway, with 20 targets through three games. The only problem is that just 10 of those have been catchable. When the ball has got where it needs to be, he has delivered though, with seven of his 10 receptions going for a first down or touchdown.
Jordan Jones, Arkansas, 3.42 YPRR
Jones has seen 13 targets through three games, picking up seven receptions, with four of those resulting in a first down or touchdown. While he has been one of the most productive receivers in the conference, that largely has come from the first game of the season, with just six targets and two receptions over the past two weeks.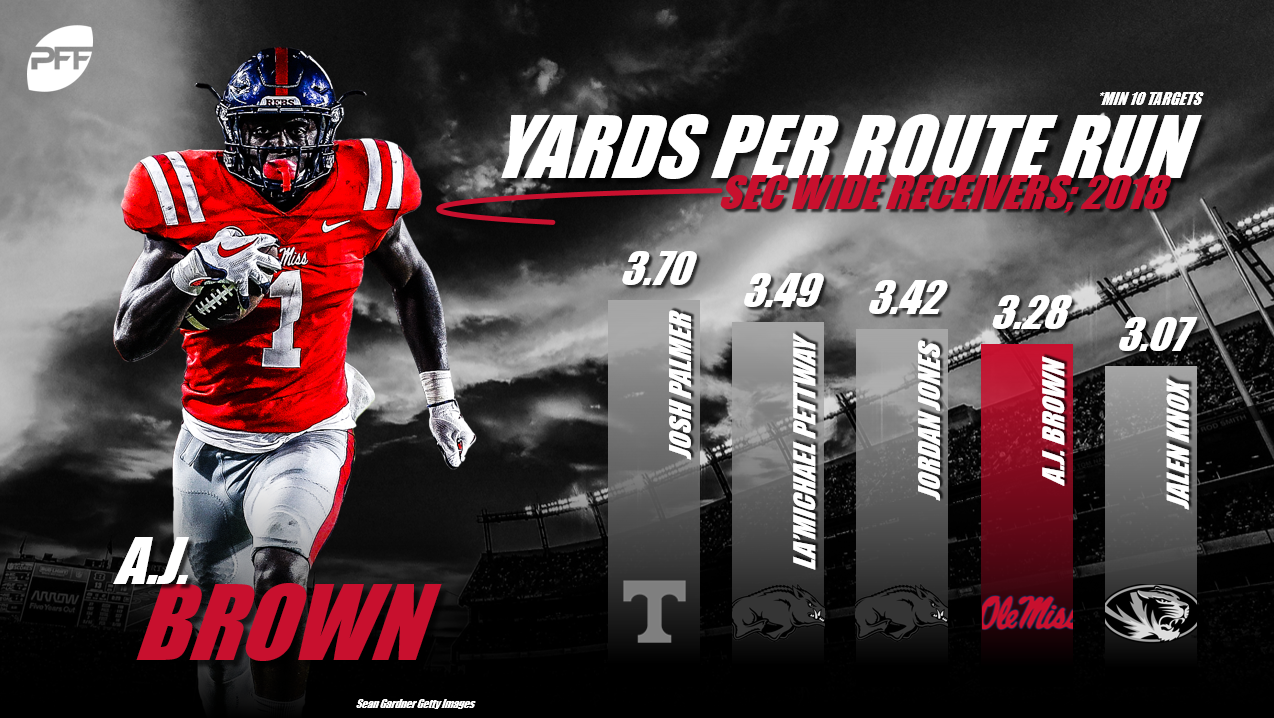 A.J. Brown, Ole Miss, 3.28 YPRR
Brown might be the first wide receiver off the board in the 2019 NFL Draft, and while he ranks ninth in yards per route run in the SEC through three weeks, he's shown exactly why with some big plays so far this year. 11 of his 19 receptions have gone for a first down or touchdown, and after being held to 34 yards against Alabama, don't be shocked to see him explode for a big play (or two) this week.
Jalen Knox, Missouri, 3.07 YPRR
Our top 10 is bookended by Missouri playmakers, and Knox has been the perfect complement to Hall so far this year. Forcing two missed tackles on 10 receptions has helped him pick up four first downs and a touchdown, and average 16.9 yards per reception.