We're two full weeks into the college football season, and we've already seen a lot of good play from teams in the SEC. Often a much-maligned position in the conference, quarterbacks have played their part early in the season so far.
Our adjusted completion percentage metric gives a clearer look at quarterback performance than completion percentage alone, taking into consideration drops, throwaways, batted passes and plays where the quarterback was hit as he threw.
With the impressive performances from some SEC quarterbacks, here are the top 10 in adjusted completion percentage in the SEC through two weeks.
This list is brought to you by Eckrich, the Official Smoked Sausage of the College Football Playoff.
1. Jake Fromm, Georgia, 84.8%
Fromm has gone 27-for-34 so far this season, but two of those incompletions have come from a throwaway and a dropped pass.
2. Jarrett Guarantano, Tennessee, 82.4%
Guarantano has thrown 11 incompletions, but of those 11, one came from a dropped pass, one from a throwaway, one from a batted pass and another two where he was hit as he threw.
3. Kyle Shurmur, Vanderbilt, 82.2%
Shurmur has been one of the unluckiest quarterbacks in the SEC when it comes to completion percentage. Of his 16 incompletions, four have come from dropped passes, with another three coming from throwaways and one from a play where he was hit as thrown.
4. Tua Tagovailoa, Alabama, 81.3%
The savior from Alabama's championship win last season, Tagovailoa has just 10 incompletions on the year so far. Of those 10, he was one of each with regards to drops, throwaways, batted passes and plays where he was hit as thrown.
5. Jake Bentley, South Carolina, 80.6%
We're two weeks into the season and Bentley already has suffered from six drops from his receivers. Add in a throwaway and three batted passes and it's easy to see why his completion percentage has taken a hit.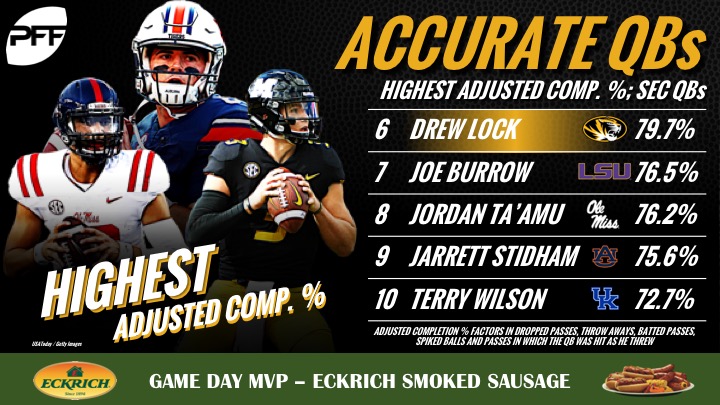 6. Drew Lock, Missouri, 79.7%
Lock has 18 incompletions through two games, but with three drops and one play where he was hit as thrown, four of them were not his fault.
7. Joe Burrow, LSU, 76.5%
LSU's new quarterback has already seen five drops from 54 dropbacks, with five throwaways, three batted passes and one play where he was hit as thrown hurting his completion percentage too.
8. Jordan Ta'amu, Ole Miss, 76.2%
While he's found plenty of big plays downfield, Ta'amu has seen three drops, two throwaways and one batted pass account for six of his 21 incompletions.
9. Jarrett Stidham, Auburn, 75.6%
Stidham has gone 32-for-48 so far this year but has seen two drops and three throwaways make those numbers seem worse than they are.
10. Terry Wilson, Kentucky, 72.7%
Wilson has completed 22-of-34 attempts through two games. Of those 12 incompletions, two have come from dropped passes and one from a throwaway.