College football award watch season has finally arrived, which means it's time for PFF to reveal our preseason picks for the most prestigious honors in the game.
Today, we dive into the John Mackey Award, which is given each year to the nation's top tight end.
With the help of PFF's College Football Preview Magazine, PFF grades, advanced stats and, of course, the tape, here is a look at PFF's favorites and a list of other names to watch.
Editor's Note: This is a PFF preseason watch list that is in no way affiliated with the John Mackey Award.
Subscribe to
There's no question that Kolar's in-line blocking is the weak link in his game, but it's better to have a top-tier receiving tight end than college football's best blocker at the position. And Kolar has made short work of moving up the receiving ranks over the past two seasons. His PFF receiving grade over that span ranks second to only Kyle Pitts among FBS tight ends. Over those two years, Kolar's receiving grade in the slot or out wide actually surpasses Pitts' mark for the best in the FBS.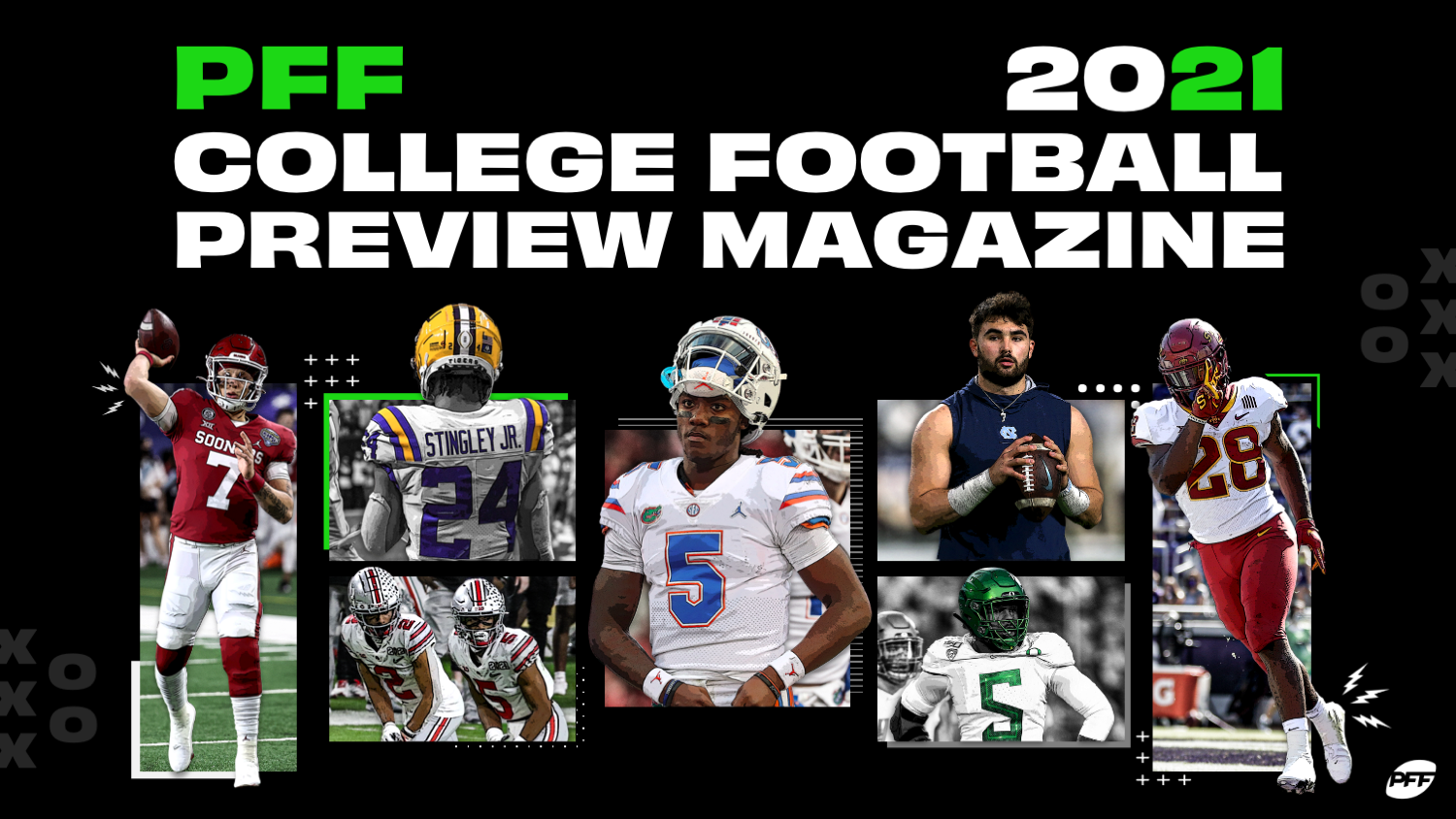 Wydermyer has lived up to the hype as the Aggies' top receiver since he joined the program in 2019. His two-year 88.3 receiving grade trails only Charlie Kolar for the best among Power Five tight ends.
He's good at playing through contact and took a massive step forward in 2020. He went from running 80% of his routes at an in-line position as a true freshman to running only 54% of his routes there as a true sophomore. His yards per route run average from receiver alignments subsequently jumped from 0.98 to 1.77. Wydermyer's grade on those plays also spiked to the third-highest in college football, behind only Kyle Pitts and Charlie Kolar.
The Chanticleers burst onto the scene in 2020, but Likely has sneakily been one of the better tight ends in college football since taking on a major role in 2019. The former two-star wide receiver recruit who received only one FBS offer now has the third-best receiving grade in the FBS since 2019.
Likely posted a 95.0 receiving grade over his last five games of 2020, the highest among FBS tight ends in that span. He hauled in 11-of-14 contested-catch opportunities over that same five-game stretch, and he did that while playing through a lower-body injury that required post-season surgery.
Size-wise, Kuithe is not your prototypical tight end at 6-foot-2 and 230 pounds, and he isn't anything special when it comes to in-line blocking. However, his receiving ability is what makes him one of the best tight ends in college football.
Over the past two years, Kuithe broke 16 tackles on 59 receptions while averaging 7.3 yards after the catch and generating an 86.7 receiving grade. That broken tackle total ranks first among Power Five tight ends in that span.
His ball skills have left little to be desired so far, as he is a body-catcher by nature and isn't one to impress in contested scenarios. Still, it hasn't hindered his success so far. Kuithe is capable of taking home the Mackey Award in 2021.
McBride is one of the top all-around tight ends in college football when it comes to combining blocking prowess and receiving ability. The 6-foot-4, 260-pounder emerged with an 83.6 PFF grade in his 2019 sophomore campaign and looked like he was taking his play to new heights in 2020.
He was limited to only four games this past year, but he was the focal point of the offense. He saw 34 targets and put up a 90.8 receiving grade while averaging 2.60 yards per route run. If anybody takes Isaiah Likely's title of best non-Power Five tight end, it'll be McBride.
Dulcich walked on in 2018 and is now considered one of the conference's best receiving threats ahead of the 2021 season. Not only did he lead all Pac-12 tight ends in receiving grade in 2020, but he also finished as one of the FBS' 10 highest-graded receivers at the position.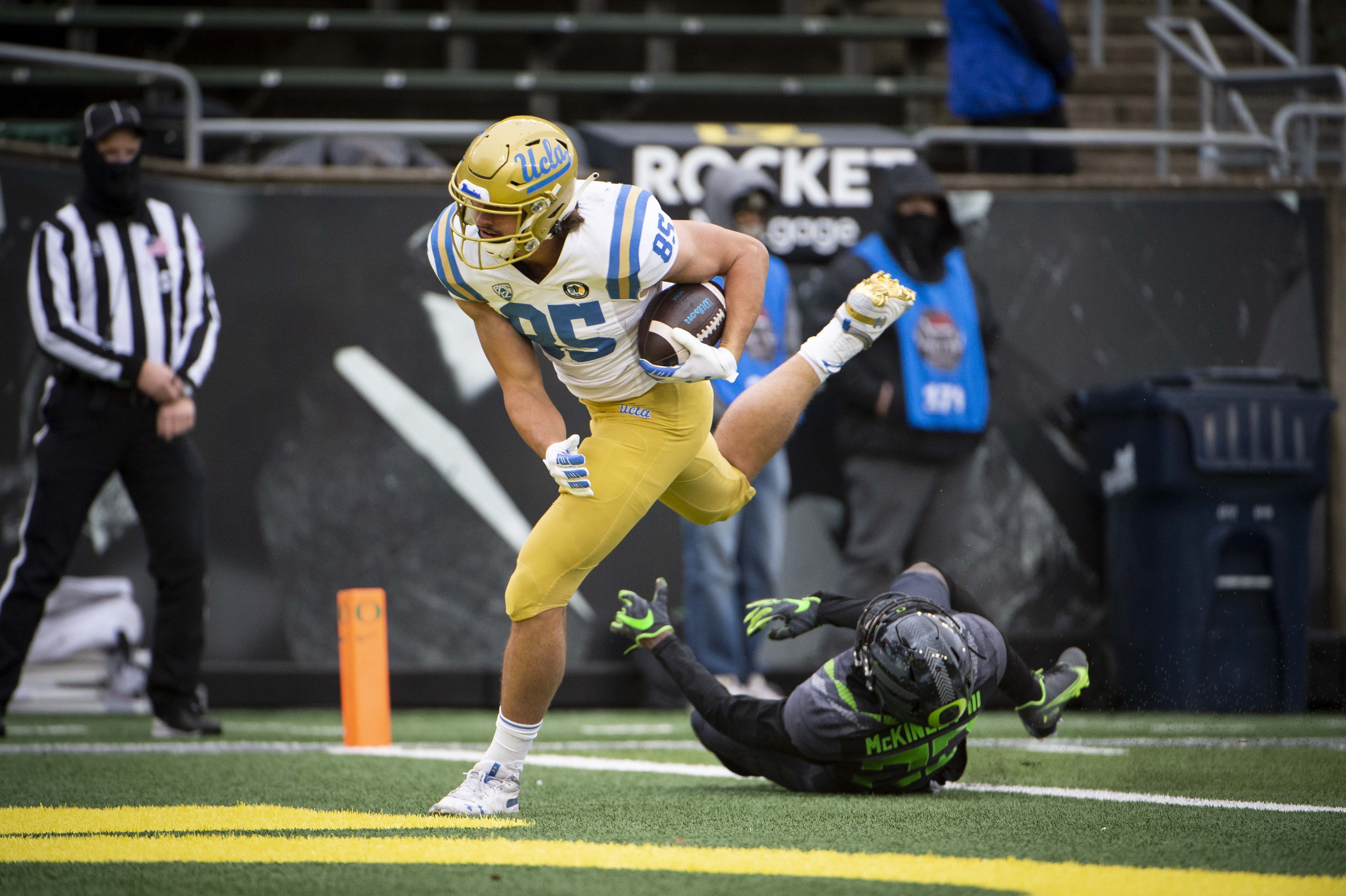 Despite adding more than 30 pounds since his arrival at UCLA, he still possesses the kind of speed that can pull defenses apart down the seams. He hauled in nine of his 18 vertical route targets for 321 yards and four touchdowns in 2020. The only other Power Five tight end who posted more yards on vertical routes in 2020 was Kyle Pitts, who is now with the Atlanta Falcons.
Stogner was in the middle of a breakout sophomore season in 2020 before he suffered an injury in Week 10. All signs indicate that he's ready to return now, though, and he ought to be a valuable player in Lincoln Riley's offense in 2021 — just as he was in 2020.
Stogner earned an 87.3 receiving grade in 2020 while averaging 2.72 yards per route run and recording a 15-plus-yard gain on 32% of his targets. All three of those metrics ranked inside the top five among all FBS tight ends.
Mitchell has run rather hot and cold over the past two years, but the big-play ability is what lands him inside the top 10. Since 2019, he has turned over 31% of his targets into a gain of 15-plus yards, the second-highest rate among Power Five tight ends. Mitchell has also churned out 10.7 yards after the catch per reception in that span, over a yard and a half higher than anyone else at the position in the FBS.
Mitchell's production became more consistent in 2020, as he wasn't asked to win at receiver nearly as much. His rate of in-line passing snaps went from 31.5% to 49.5%, and his receiving grade (69.8 to 83.8) and yards per route run average (1.59 to 2.86) spiked with it.
While Ferguson never jumped to elite status after putting up an 81.4 receiving grade as a redshirt freshman in 2018, he has been a steadily solid tight end throughout his time at Wisconsin.
The Badgers went from using him primarily as a slot receiver in 2018 to lining him up more as a traditional in-line tight end, which likely has something to do with his stunted development.
Ferguson's rate of in-line passing snaps went from 33% in 2018 to 71% in 2019 and 2020, a curious trend given that he put up the highest receiving grade in college football when lined up at receiver. Still, he has been the sixth-most valuable tight end, according to PFF's Wins Above Average (WAA), over the past three years.
Mayer was a 2020 five-star recruit and the No. 2-ranked tight end in the class. Receiving ability is king at the position, but Mayer excelled elsewhere, ranking 23rd of 89 qualifying tight ends in run-block grade last season. Still, he showed a lot of positive signs on the receiving front in Year 1. Over 60% of his passing snaps came from in the slot or out wide, and he still managed to produce a respectable 68.7 receiving grade given his experience.
Mayer struggled against single coverage, but he did a good job of finding soft spots when facing zone coverage (eight 15-plus-yard receptions on such plays, tied for second-most among Power Five tight ends) and added plenty of value after the catch. He averaged 7.8 yards after the catch on crossers and broke seven tackles on such plays, the latter tying for the most in the PFF College era.
OTHERS TO WATCH (ALPHABETICAL ORDER)
JAHLEEL BILLINGSLEY, ALABAMA
MARSHON FORD, LOUISVILLE
PEYTON HENDERSHOT, INDIANA
SAM LAPORTA, IOWA
NICK MUSE, SOUTH CAROLINA
CADE OTTON, WASHINGTON
DARNELL WASHINGTON, GEORGIA
JOSH WHYLE, CINCINNATI