Outside of the scare at the top, Week 5 provided little resistance for teams near the top of our ELO rankings. With it being the most popular time of year to have a bye week, our rankings see quite a few fluctuations with teams gaining ground on those sitting out or still playing easy matchups. Ohio State lands in the top-four after an impressive road victory silencing the crowd in Lincoln. Penn State and Oklahoma also move up after winning convincingly. College football is officially hitting the sweet spots with marquee matchups happening each week, so let's take a closer look at our rankings as things start to take shape in our Top 25 PFFELO rankings.
PFFELO is an iterative system that updates each team's rating after each game based on two things: how well they played against their opponent and how well they were expected to play against their opponent. The PFFELO rating system measures the former using our unique offensive, defensive and special teams grades, while the latter is determined by the PFFELO ratings leading up to the game and where the game is played.
For example, a heavy favorite playing at home is expected to outplay the visitor, so a victory would result in only a small rise in their PFFELO rating and a similarly small decrease in the defeated team's, but if an upset were to happen, the visiting team would see their PFFELO rating rise substantially, and the home team's see a similarly sized drop.
Sometimes in football, the best team does not win, and PFFELO accounts for these oddities by using our grades. Hence there will be teams rated higher or lower in this system than their win-loss record would suggest.  While adjustments are made using preseason market data, along with recruiting rankings, the majority of these numbers are derived using our grades. Since PFF began charting college football in 2014, the difference in PFFELO values alone has been able to explain over three-fourths of the variance in the closing Vegas line. Check back to PFF.com for weekly college spread picks using this model, and check out PFF College Greenline for a full slate of against-the-spread and total lines based on our rating metrics.
[Editor's Note: All ELITE subscribers have access to PFF Greenline, an online dashboard with projections for the spread, total and moneyline for NFL and FBS games every week. Subscribe today to gain access!]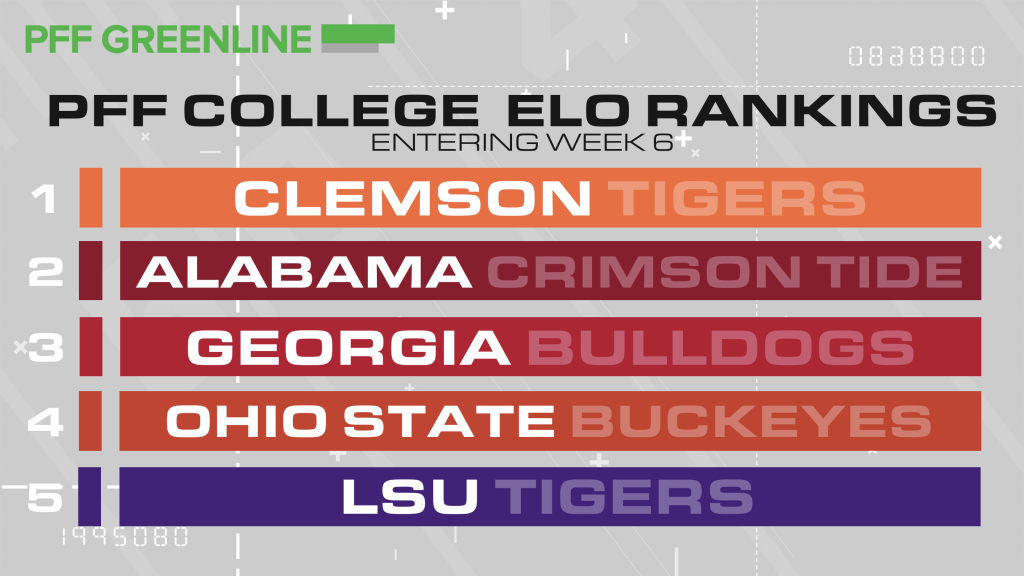 Top-25 Rankings
1. Clemson
Clemson was a quality two-point play-call away from a big upset in Chapel Hill. Apparently, that is why the Philly Special is spreading across the nation near the goalline. Despite the narrative that the Tigers barely survived, they did grade well and were not docked much in our rating system. They also have played the 15th-hardest schedule up to this point in the FBS. Things definitely ease up after their bye, with only one ranked opponent matchup remaining on their regular-season schedule. The Tigers will get everyone's best shot, but they definitely don't need to be perfect to get through the rest of their year.
2. Alabama
Roll Tide is taking on an entirely new meaning with an offensive juggernaut on display weekly in Tuscaloosa. This week it was DeVonta Smith's turn to showcase his game-breaking ability, forcing four missed tackles with seven explosive plays. He averaged 14.4 yards after the catch per reception while being almost perfect on every target. Tua Tagovailoa continues to do what is asked of him and has been nearly perfect from a clean pocket with the third-highest accuracy percentage in the FBS. The Tide continues to offer value at a National Championship price of +260 or better.
3. Georgia
Georgia heads out of their bye set to face the 12th-most difficult remaining regular-season schedule in the FBS. The Bulldogs have over a 50% chance of making the playoffs, putting them squarely in the third slot. Jake Fromm certainly looks the part of a contending quarterback. Fromm has the fourth-best passing grade in the FBS and the second-highest percentage of "accurate plus" throws. An even better run blocker than pass blocker, Andrew Thomas is still the prototypical offensive tackle; he has allowed only one pressure through four games with no sacks or hits allowed.
4. Ohio State
The Buckeyes move ahead of LSU — albeit by the slimmest of margins — and into our fourth spot. Almost all of the success the Buckeyes currently have can be attributed to Justin Fields. His twelve big-time throws are the fourth-most in the nation, and they've come with only one turnover-worthy throw and zero interceptions. Ohio State has playmakers at key positions and is the only team with two players in our top-ten Heisman Trophy watch. As the SEC teams start to cannibalize each other, the Buckeyes should become entrenched in the college football playoff, making it almost 30% of the time according to our simulation.
5. LSU
LSU slides down slightly on their bye week to fifth in our rankings. They will have every opportunity to make up ground, however, as half of their remaining games come against teams in the top 25. Their remaining schedule is fourth-most difficult in the FBS. Despite Joe Burrow currently leading the Heisman discussion, the expectation is that LSU falters at some and finds themselves on the outside looking in at the college football playoff.
6. Notre Dame
The Fighting Irish appear back on track after a convincing performance against Virginia. However, Ian Book's performance was far from encouraging and was masked by a defensive score and an offense that was held up by big plays in the running game. Book added two more turnover-worthy throws to his season total, bringing the count even with his big-time throw total (6). Even worse, his performance hasn't come looking to target receivers downfield, as he is tied for the 20th-lowest average depth of target (aDot) in the nation, at 7.6. The Fighting Irish will go as far as Book is able to take them, with current evaluations not too favorable.
7. Auburn
After starting the season as the 72nd-ranked offense in the FBS, the Tigers have actually moved backward and currently rank 79th. This is the only move that hasn't been in the right direction, however, as they have a near-complete team outside of the quarterback position. Their schedule only gets more difficult, but Tigers fans find solace in the fact that they get both Georgia and Alabama at home this year. Bo Nix will need to make strides forward each week if Auburn wants to fulfill their 13% chance of making it to the college football playoff.
8. Oklahoma
The number one overall offense continues to sit lower than expected due to a cupcake of a schedule to start in 2019. The Sooners have done everything expected in their matchups, and as long as they continue to perform, they should rise quickly into the coveted fourth spot. Jalen Hurts is second on our list for the Heisman, and Oklahoma has over a 25% chance of reaching the playoffs, making them the fifth-most likely team to find a spot in the top four despite their low current ranking.
9. Penn State
No team was more impressive in Week 5 than the Penn State Nittany Lions. After their home matchup this weekend against Purdue, Penn State has four consecutive weeks playing ranked opponents, with three of those games coming on the road. It is make-or-break time for Sean Clifford, who has yet to throw a turnover-worthy pass. His 12.2 aDot is high, but only 44% of his total yards have come through the air thanks to the game-breaking ability of K.J. Hamler. With a tough remaining schedule, Penn State is expected to get to the Big Ten title game 15% of the time, with playoff hopes sitting at 8%.
10. Florida
Florida hosts Auburn in the swamp, highlighting the marquee matchup in Week 6. After opening as the favorite, this line has moved hard in Auburn's favor as they currently sit as three-point road favorites. If the Gators falter this weekend, things could turn sour quickly as they have a quick turnaround and head to LSU next. There is still hope for a college football playoff appearance, with current odds giving them around a 10% chance of getting in.
11. Iowa
The Hawkeyes enter their toughest stretch in 2019 with a matchup in the Big House against Michigan followed by Penn State at home. Opening as five-point dogs, Iowa has found some backing and currently sits at +3.5 with juice. Greenline thinks this line movement may not have been significant enough and likes the Hawkeyes if they avoid the +3 price. Nate Stanley is coming off his best passing grade of 2019 after throwing four big-time throws, but he will need to play up to that standard if the Hawkeyes want a chance at pulling off the upset on Saturday.
12. Washington
The Huskies continue to take hold of their own destiny and dominated in a win over USC. Outside of their early-season slip up against California, Washington has looked like the class of the Pac-12. They have a showdown looming with Oregon in three weeks, and if they win their conference title, odds will rise considerably from the 16% that they currently sit at.
13. Wisconsin
With one final breezy matchup before the heart of their Big Ten schedule gets underway, the Badgers are in the best position to challenge Ohio State's dominance at the top of the conference. However, Jack Coan may be trending in the wrong direction and now has more turnover-worthy plays then big-time throws in 2019. He simply needs to re-emerge, as reliance on Jonathan Taylor could spell disaster in their upcoming matchups against Michigan State, Ohio State and Iowa.
14. Michigan
Michigan has the opportunity to silence their critics with a home matchup against Iowa on Saturday. With five of their remaining nine games coming against ranked opponents, the Wolverines have the hardest remaining schedule of any team outside of the SEC. Their playoff hopes may be all but gone, but if they run the table, they have a chance to pull off some upsets and get into the Big Ten title game.
15. Texas
The two teams atop the Big 12 are one weekend away from the Red River Showdown in Dallas, but first, Texas must take care of West Virginia on the road. After opening as one-point favorites, Texas has found more backing, moving out to -11. Greenline thinks this may be a bit too much to cover with the possibility of the LongHorns overlooking West Virginia this weekend.
16. Michigan State
The Spartans are the first Big Ten team in our top 25 to get a shot at the Buckeyes. Michigan State has found a bit of support, with this line moving down from an opening of -20 where it currently sits between -19 and -19.5. A projected low-scoring affair, Greenline sides heavily with one team in this matchup. Whether or not Brian Lewerke does enough to keep pace with the Buckeyes is clearly the question that will get answered quickly on Saturday.
17. Missouri
The Tigers continue to quietly take care of teams, as they hover in the late teens of our rankings. With one of the easiest schedules in the SEC, Missouri has a road-then-home stretch against Georgia and Florida in November, which should determine who represents the SEC East in the conference title game. With an 18% chance of getting to the conference title game, the Tigers are a mere Bulldogs-upset away from representing in the SEC title game.
18. Utah
The Utes got back on track against a reeling Washington State team. With a road matchup looming against the Washington Huskies, Utah has almost the exact same odds to get to and win the Pac-12 conference as the Huskies. Much has been made about the deep passing of Tyler Huntley. Over his career, 14% of his attempts have traveled 20 or more yards in the air. In 2019, 12.5% of his attempts have traveled this distance, which is in the middle of the pack among qualifying FBS quarterbacks. With Zach Moss expected to miss a chunk of time, it is time for Kyle Whittingham to allow Huntley to win the Pac-12 with his passing downfield.
19. TCU
TCU climbs back into our rankings, showing just how tight teams are among the bottom third of our top 25. TCU heads to Ames to take on Iowa State as a 3.5-point dog. With us being a little higher than consensus rankings on TCU, we think they are in a good spot to cover this weekend. It is not saying much, but they do have the top-ranked defense in the Big-12, and with Iowa State close behind, this could be a low-scoring affair with the total pegged at 45.
20. Texas A&M
A much-needed bye week finally arrives for the Aggies, after falling apart at home to Auburn before almost losing outright to Arkansas. They need the week of rest to regroup before hosting Alabama next weekend. Things could continue to fall apart quickly for the Aggies, with the fifth-most difficult remaining schedule in the FBS.
21. Oregon
After an opening game loss to Auburn that continues to look better and better by the week, Oregon finally climbs back into our top 25. Justin Herbert continues to have a rocky performance in 2019. His 85.6 passing grade is boosted by blowout victories against Nevada and Montana. Accuracy from a clean pocket continues to be an issue for Herbert, who is just the 37th-most accurate quarterback in the FBS under those ideal conditions, and his 8.6 aDot doesn't help matters much, either. Herbert will need to perform well against better competition if Oregon wants to live up to the odds of playing in the Pac-12 title game which we currently have happening almost 50% of the time.
22. Mississippi State
Mississippi State heads into their bye needing to nurse their wounds from the beatdown they took at the hands of the Auburn Tigers. With losses now to Kansas State and Auburn, Mississippi State may be slightly overrated in our ranking system. Less than 10 ELO points separate them from falling completely out of the top 25, which could happen over their bye or shortly after when they matchup against LSU in three weeks.
23. Virginia
The Cavaliers drop four spots in our rankings after losing and not covering to Notre Dame on the road. Playing in the coastal side of the ACC, Virginia simply has to beat our 24th-ranked Duke Blue Devils and survive their remaining schedule to match up with Clemson in the conference title game. We give the cavaliers a 44% chance of making it to the title game, but with their quality of play in 2019, they have a minuscule 6% or less chance of unseating Clemson for the ACC crown.
24. Duke
After starting at 40th in our rankings, Duke has seen the biggest increase in Week 5, moving from 36th to 24th and gaining over 35 ELO points from their road win against Virginia Tech. They appear quite relevant in the ACC race, with a 32% chance of getting to the title game. Quentin Harris has graded below average as a passer in 2019, though he does offer some upside with his legs, averaging 3.5 yards after contact per attempt while forcing 11 missed tackles.
25. Minnesota
The Golden Gophers rise six spots into our Top 25 after beating Purdue on the road. For the first time in a long time, the Gophers should be favored against Nebraska in two weeks. Tyler Johnson and Rashod Bateman form one of the best pass-catching tandems in the Big Ten. Bateman and his 90.4 receiving grade has turned into the downfield threat, with an aDot of 16.6, and he has 18 explosive plays to show for it. Johnson has done most of his work underneath, with an 80.2 receiving grade and 8.2 aDot.