After grading and analyzing every player on every play of every game during the 2018 college football season, it's time we unveil the 2019 Preseason PFF All-MWC first team, second team and honorable mention for every position on offense and defense as well as for the first time ever, specialists.

The Preseason All-MWC list may differ a bit from any year-end look back at the previous season as we project to the 2019 season ahead of us. Find out which of these athletes made the PFF All-American team as well.
First-Team Offense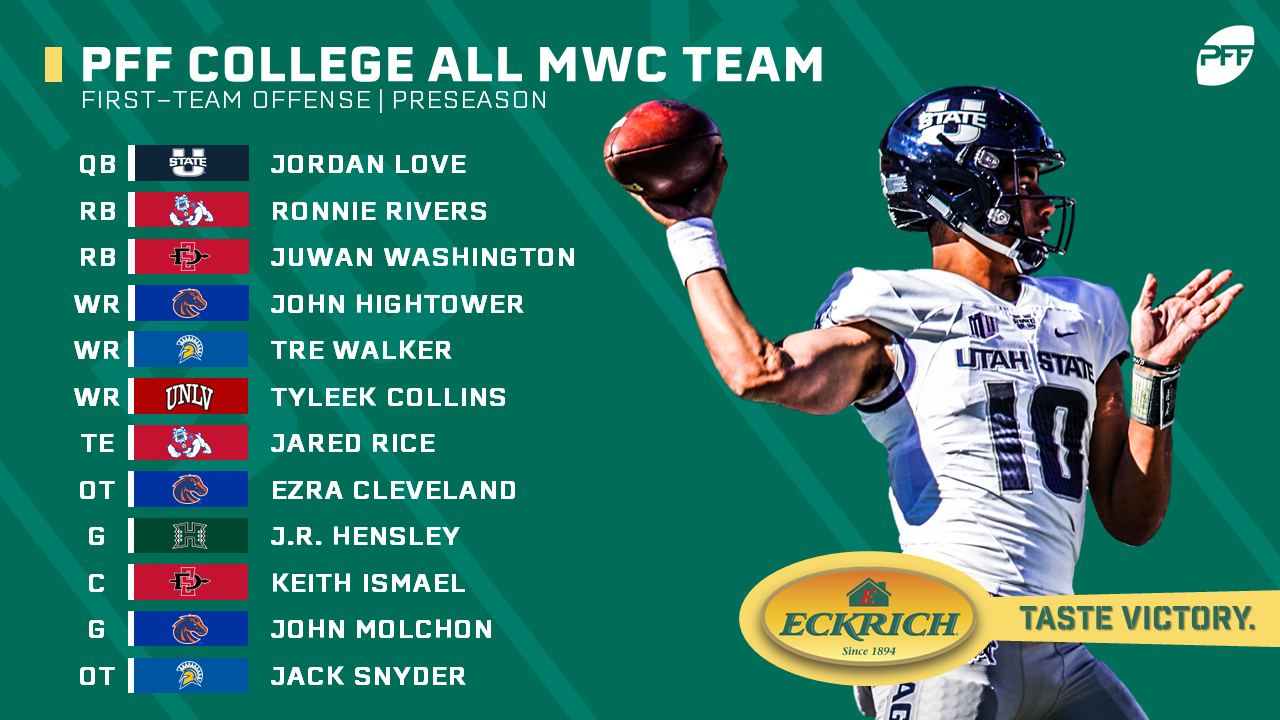 The Mountain West will see some top-notch quarterback play from the three guys listed below as they'll need to play at elite levels against some of the country's most formidable defenders. David Woodward headlines the group as he's our All-American linebacker but San Diego State's Kyahva Tezino graded near the top in seemingly every category a year ago.
QB
Jordan Love, Utah State
Second-Team: Cole McDonald, Hawaii
Honorable Mention: Sean Chambers, Wyoming
RB
Ronnie Rivers, Fresno State
Second-Team: Gerold Bright, Utah State
Honorable Mention: Toa Taua, Nevada
RB
Juwan Washington, San Diego State
Second-Team: Dayton Furuta, Hawaii
Honorable Mention: Elijah Lilly, New Mexico
WR
John Hightower, Boise State
Second-Team: Tim Wilson Jr., San Diego State
Honorable Mention: CT Thomas, Boise State
WR
Tre Walker, San Jose State
Second-Team: Cedric Byrd, Hawaii
Honorable Mention: Brandon Presley, UNLV
WR
Tyleek Collins, UNLV
Second-Team: Kaleb Fossum, Nevada
Honorable Mention: JoJo Ward, Hawaii
TE
Jared Rice, Fresno State
Second-Team: Marcus Williams, New Mexico
Honorable Mention: Cameron Butler, Colorado State
OT
Ezra Cleveland, Boise State
Second-Team: Scott Hattok, Air Force
Honorable Mention: Alfred Edwards, Utah State
OG
J.R. Hensley, Hawaii
Second-Team: Troy Kowalski, San Jose State
Honorable Mention: Justin Polu, UNLV
C
Keith Ismael, San Diego State
Second-Team: Keegan Cryder, Wyoming
Honorable Mention: Christopher Mitchell, Air Force
OG
John Molchon, Boise State
Second-Team: Nolan Laufenberg, Air Force
Honorable Mention: Daishawn Dixon, San Diego State
OT
Jack Snyder, San Jose State
Second-Team: Jake Nelson, Nevada
Honorable Mention: Parker Ferguson, Air Force
First-Team Defense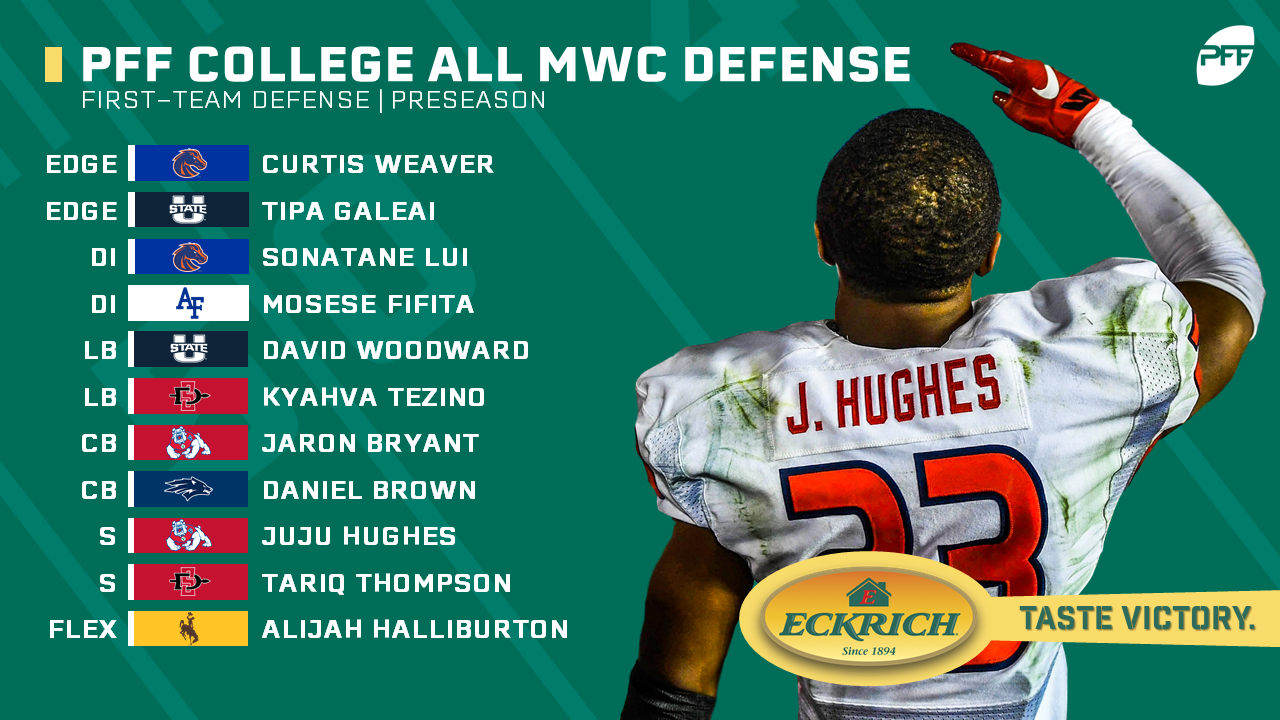 Edge
Curtis Weaver, Boise State
Second-Team: Mykal Walker, Fresno State
Honorable Mention: Dom Peterson, Nevada
Edge
Tipa Galeai, Utah State
Second-Team: Kaimana Padello, Hawaii
Honorable Mention: Jordan Jackson, Air Force
DI
Mosese Fifita, Air Force
Second-Team: Samiuela Akoteu, Hawaii
Honorable Mention: Aaron Blackwell, New Mexico
DI
Sonatane Lui, Boise State
Second-Team: Fua Leilua, Utah State
Honorable Mention: Christopher 'Unga, Utah State
LB
David Woodward, Utah State
Second-Team: Logan Wilson, Wyoming
Honorable Mention: Gabriel Sewell, Nevada
LB
Kyahva Tezino, San Diego State
Second-Team: Kyle Johnson, Air Force
Honorable Mention: Javin White, UNLV
CB
Jaron Bryant, Fresno State
Second-Team: Tyler Hall, Wyoming
Honorable Mention: Cameron Haney, Utah State
CB
Daniel Brown, Nevada
Second-Team: Kekaula Kaniho, Boise State
Honorable Mention: Darren Hall, San Diego State
S
Juju Hughes, Fresno State
Second-Team: Trenton Thompson, San Diego State
Honorable Mention: Demitrious Gibbs, UNLV
S
Tariq Thompson, San Diego State
Second-Team: Jeremy Fejedelem, Air Force
Honorable Mention: Kekoa Nawahine, Boise State
Flex
Alijah Halliburton, Wyoming
Second-Team: Avery Williams, Boise State
Honorable Mention: Rojesterman Farris II, Hawaii
First-Team Specialists
K
Dominik Eberle, Utah State
P
Ryan Stonehouse, Colorado State