Welcome to the seventh NCAA Team of the Week for the 2018 season. As always, our team of over 500 analysts has dissected and graded every snap of every game to bring you the most detailed and valid set of picks you can find anywhere.
The Week 7 Team of the Week saw many impressive performances across the country and as always, overall grades, playing time and the quality of opposition has been factored in to make these selections.
The PFF Team of the Week is brought to you by Eckrich, the Official Smoked Sausage of the College Football Playoff.
Offense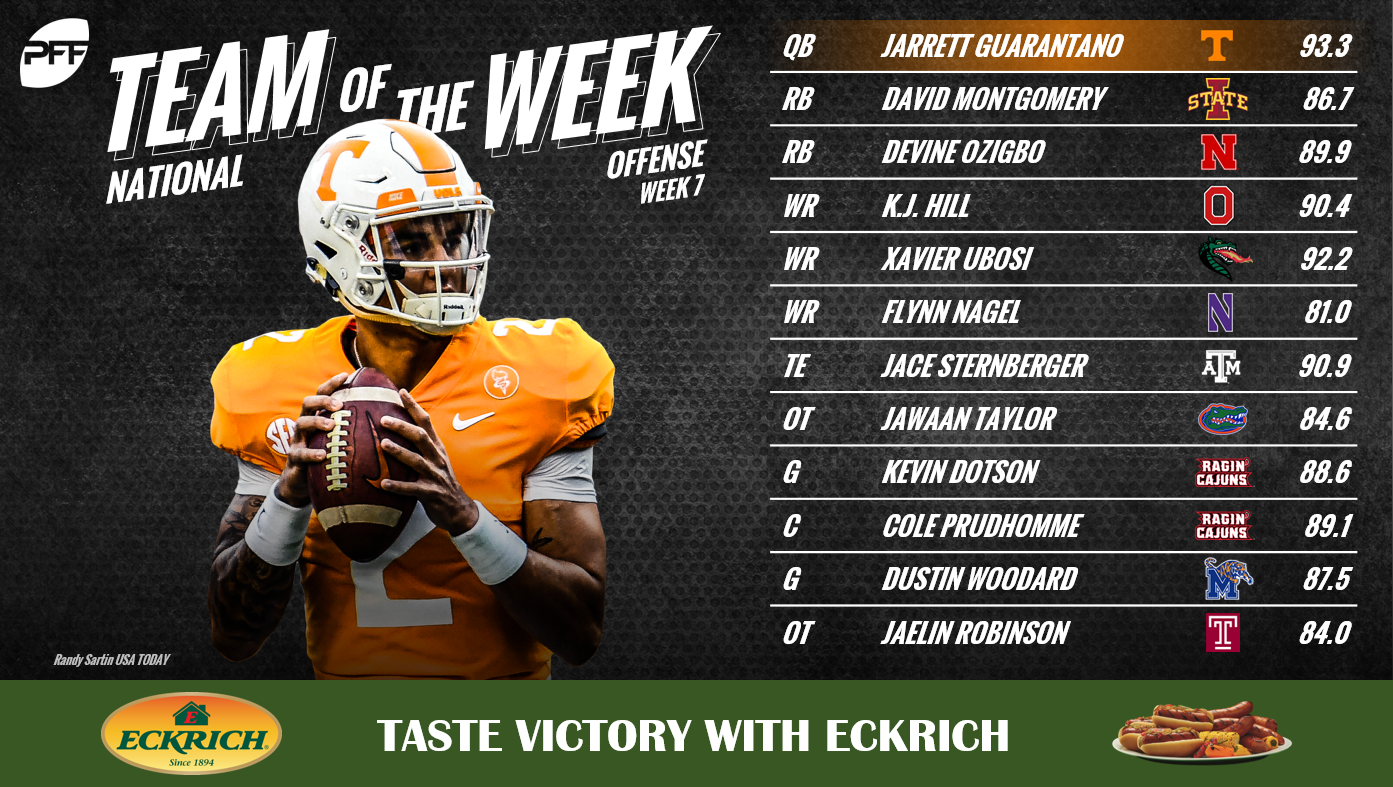 Quarterback
Jarrett Guarantano, Tennessee
Week 7 Grade: 93.3
Guarantano paced the Volunteers to their first victory over Auburn since 1999 as he was lights out from a clean pocket. He also had no trouble finding receivers downfield, completing 8-of-14 passes for 232 yards and both scores on passes targeted 10 or more yards past the line of scrimmage
Running Back
David Montgomery, Iowa State
Week 7 Grade: 86.7
A healthy Montgomery is as good as any running back in the country and he proved that on the big stage against a previously undefeated West Virginia team. Montgomery forced 14 missed tackles on 28 carries en route to 189 yards on the ground.
Running Back
Devine Ozigbo, Nebraska
Week 7 Grade: 89.9
Ozigbo did all he could to get Nebraska their first win of the season even if they came up just short as he forced 12 missed tackles on his 22 carries against Northwestern. He punched in two touchdowns and had 116 yards after contact.
Wide Receiver
K.J. Hill, Ohio State
Week 7 Grade: 90.4
Hill provided the weekend's highlight with his one-handed grab against Minnesota as Ohio State pulled away late on the back of Hill's second score. He finished the day with nine catches for 187 yards and two touchdowns including 71 yards after the catch.
Wide Receiver
Xavier Ubosi, UAB
Week 7 Grade: 92.2
Ubosi and UAB let Rice have it in their 42-0 victory as Ubosi led the nation with 196 yards on deep receptions. In fact, all four of his catches on the day came on passes targeted at least 20 yards in the air.
Wide Receiver
Scott Miller, Bowling Green
Week 7 Grade: 87.0
Miller had a day in Bowling Green's hard-fought loss to Western Michigan. He racked up 146 deep receiving yards on three catches while finishing second nationally with 206 total receiving yards.
Tight End
Jace Sternberger, Texas A&M
Week 7 Grade: 90.9
Sternberger gets the edge at tight end here on the back of his receiving prowess against South Carolina. He hauled in 7-of-9 targets for 145 yards and a touchdown while he also forced three missed tackles and sported a 155.8 passer rating when targeted.
Offensive Tackle
Jawaan Taylor, Florida
Week 7 Grade: 84.6
Taylor allowed just one pressure on his 33 snaps in pass protection against Vanderbilt. For the season, he now has allowed just five pressures, all hurries, not allowing a single sack or hit on his quarterback on 209 pass-blocking snaps.
Offensive Guard
Kevin Dotson, Louisiana
Week 7 Grade: 88.6
On the backs of a strong performance against New Mexico State, Dotson is the first of two Louisiana players on this list (which could have almost been three). Dotson split time at right guard and a brief stop at left guard in the game but didn't allow a single pressure on 34 combined pass-blocking snaps.
Center
Cole Prudhomme, Louisiana
Week 7 Grade: 89.1
The second Ragin' Cajun on the list, Prudhomme out-graded all centers by nearly 5.0 grade points despite allowing a sack on the afternoon. His body of work is best summed up by his work in the ground game as Louisiana running backs combined for 127 yards on 23 carries to either his right or left side.
Offensive Guard
Dustin Woodard, Memphis
Week 7 Grade: 87.5
Despite the losing effort, Woodard and the Memphis offensive line were dominant against UCF. The rain did not stop Woodard as he allowed just one pressure on his 36 pass-blocking snaps while Memphis ripped off 273 yards on designed runs on Saturday.
Offensive Tackle
Jaelin Robinson, Temple
Week 7 Grade: 84.0
Robinson paved the way for Temple in their victory over Navy. He didn't allow a single pressure on 28 pass-blocking snaps and his 79.2 run-blocking grade was good enough for sixth-best at the position this weekend.
Defense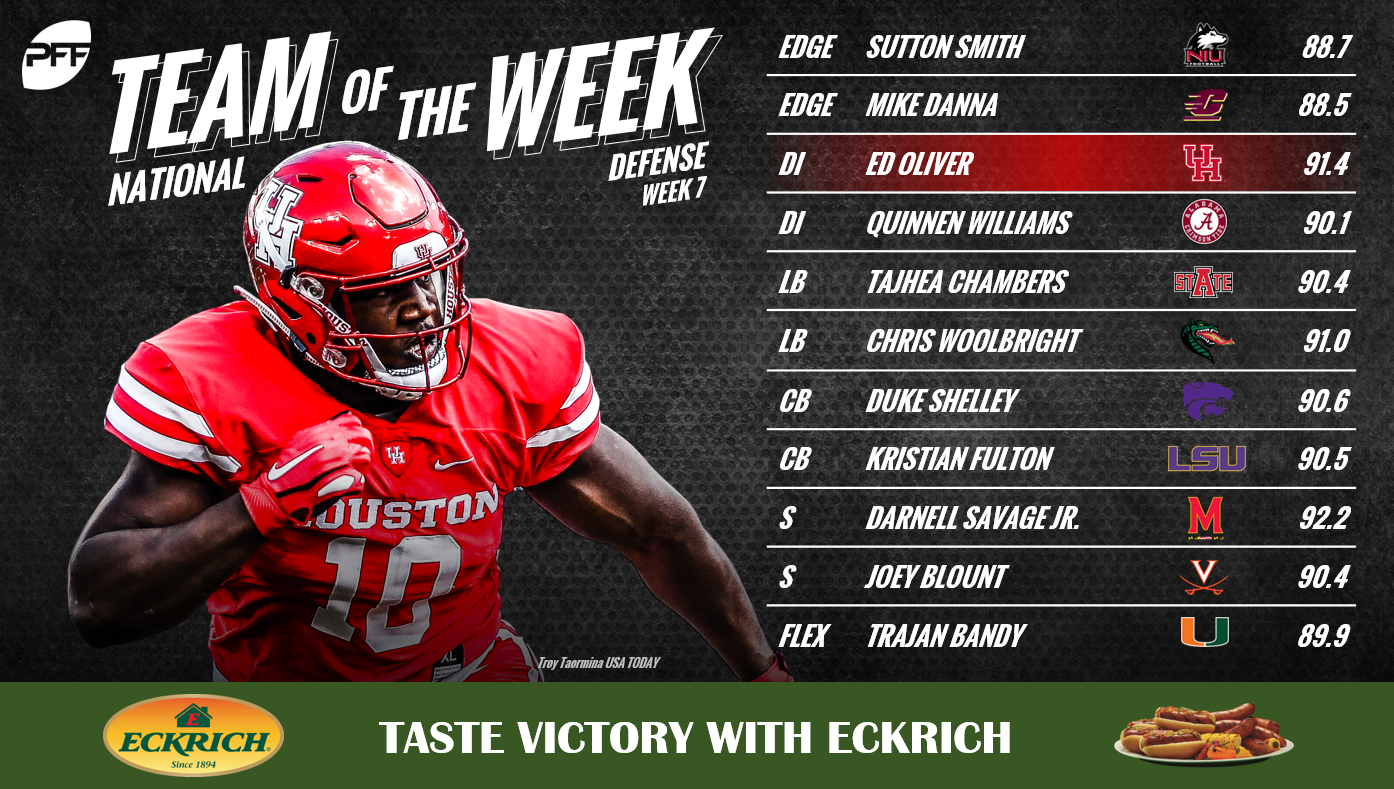 Edge Defender
Sutton Smith, Northern Illinois
Week 7 Grade: 88.7
David Montgomery on offense and Sutton Smith on defense? We feel like we're in 2017 with this list. Smith makes his first National Team of the Week appearance in 2018 after it was a regular occurrence a season ago. Learning both sides of the defensive line this season, Smith is finding his groove of late and racked up five QB pressures including two sacks in NIU's victory over Ohio.
Edge Defender
Mike Danna, Central Michigan
Week 7 Grade: 88.5
Danna joins Smith as the MAC dominates edge defender this week. Danna recorded eight QB pressures on his 41 pass-rushes, including a sack and seven additional hurries. He brought in eight solo tackles, seven of which went down as a stop for an offensive failure.
Defensive Interior
Ed Oliver, Houston
Week 7 Grade: 91.4
Oliver has been on a tear recently and Saturday is just further proof of that. Entering the season with big concerns over whether he could rush the passer from the interior of the defensive line, Oliver bullied his way to seven QB pressures including two sacks, two QB hits and three more hurries. He has 20 pressures this season, matching his freshman year total and is just seven back of his career-high 27 pressures from a season ago.
Defensive Interior
Quinnen Williams, Alabama
Week 7 Grade: 90.1
The nation's highest-graded defensive player was at it again for Alabama as Williams proved unblockable once more. He recorded a sack and five solo tackles that all went for defensive stops, giving him six stops on the day.
Linebacker
Tajhea Chambers, Arkansas State
Week 7 Grade: 90.4
If the defensive line was a who's who of stars, the National Linebackers of the Week will make even those advanced fans do a quick Google search. Chambers flew all over the field for the Red Wolves on Tuesday night, registering four QB pressures and 10 total tackles as eight of his nine solo tackles went for a defensive stop.
Linebacker
Chris Woolbright, UAB
Week 7 Grade: 91.0
Woolbright was integral in UAB's thrashing of RIce, recording eight tackles for a defensive stop. He limited the Owls' passing game to the ridiculous stat line of allowing just 1.3 yards per reception. He was targeted five times and allowed four receptions for just five yards.
Cornerback
Duke Shelley, Kansas State
Week 7 Grade: 90.6
Shelley was targeted a whopping 11 times against Oklahoma State, yet allowed just five receptions for 16 yards. No reception went for longer than nine yards and he intercepted two passes and broke up another. All told, he saw just a 12.9 passer rating on throws into his coverage in Kansas State's victory.
Cornerback
Kristian Fulton, LSU
Week 7 Grade: 90.5
Fulton was so stingy in coverage that his numbers in the secondary are good enough to overlook the fact that he missed his only tackle attempt on the day. In coverage against Auburn, Fulton saw three targets and did not allow a single catch while recording his first career interception for LSU.
Safety
Darnell Savage Jr., Maryland
Week 7 Grade: 92.2
Playing against Rutgers this season will surely help your coverage stats but Savage went above and beyond. On just 21 snaps in coverage, he saw four targeted passes as the primary coverage defender and intercepted two while not allowing a single catch.
Safety
Joey Blount, Virginia
Week 7 Grade: 90.4
Blount was all over the field for UVA on Saturday night in their upset bid over Miami in arguably the biggest win of the head coach Bronco Mendenhall's Virginia tenure. He may not have recorded a tackle in the game but his coverage prowess was enough. Blount recorded a key interception off N'Kosi Perry while breaking up two more and seeing a 0.0 passer rating on throws into his coverage.
Flex Defense
Trajan Bandy, Miami Fl
Week 7 Grade: 89.9
Bandy is certainly not to blame for the Hurricanes' loss to Virginia as he caught more passes targeted against him than he allowed to Cavaliers' receivers. In total, he was targeted three times, allowed just one reception for one yard and had two interceptions.