Welcome to the sixth NCAA Team of the Week for the 2018 season. As always, our team of over 500 analysts has dissected and graded every snap of every game to bring you the most detailed and valid set of picks you can find anywhere.
The season's first taste of rivalry matchups did not disappoint as Texas outlasted Oklahoma, Florida handed LSU their first loss and Miami stormed back to defeat Florida State, the Week 6 Team of the Week saw many impressive performances across the country and as always, playing time and the quality of opposition has been factored in to make these selections.
The PFF Team of the Week is brought to you by Eckrich, the Official Smoked Sausage of the College Football Playoff.
Offense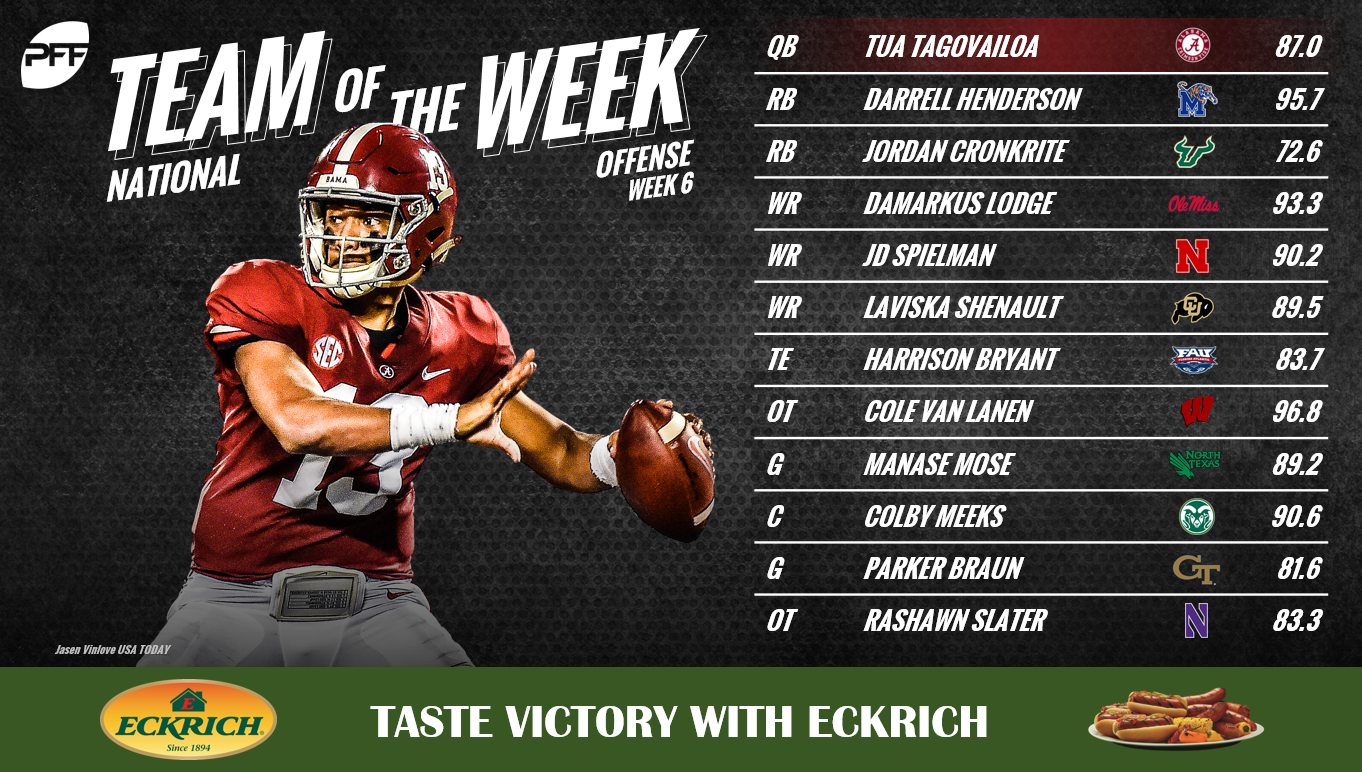 Quarterback
Tua Tagovailoa, Alabama
Week 5 Grade: 87.0
In dominant fashion, Tagovailoa averaged 24.6 yards per attempt on Saturday. No other quarterback with at least 10 attempts in Week 6 averaged over 15.6 yards per attempt. Tagovailoa now has seven fewer touchdown passes (18) than he has incompletions (25).
Running Back
Darrell Henderson, Memphis
Week 5 Grade: 95.7
A week removed from being bottled up, the nation's highest-graded running back needed just 14 attempts to total 174 yards. He scored three touchdowns and chipped in with another six first-down carries. Henderson is closing in on 1,000 yards and he has just 79 carries this season.
Running Back
Jordan Cronkrite, USF
Week 5 Grade: 72.6
Cronkrite ran away with the game for the Bulls, totaling 302 yards on 23 attempts. He gained 133 yards after contact and forced six missed tackles in the process.
Wide Receiver
DaMarkus Lodge, Ole Miss
Week 5 Grade: 93.3
In Ole Miss' domination of UL-Monroe, Lodge hauled in all nine of his targeted passes for 179 yards and a touchdown. He ripped off seven more first downs and averaged 5.6 yards after the catch per reception.
Wide Receiver
JD Spielman, Nebraska
Week 5 Grade: 90.2
Spielman was the only receiver to top 200 yards this weekend, doing so on nine catches despite the result for Nebraska. He worked hard for his yards, seeing 103 of his 209 receiving yards come after the catch.
Wide Receiver
Laviska Shenault, Colorado
Week 5 Grade: 89.5
The nation's biggest mismatch weapon was at it again, helping Colorado remain undefeated, On the receiving end, Shenault was targeted 16 times, brought in 13 receptions for 121 yards, two touchdowns and forced six missed tackles. On five designed carries, he gained just 13 yards but scored two touchdowns and had two additional first downs on the ground.
Tight End
Harrison Bryant, FAU
Week 5 Grade: 83.7
A Harrison Bryant sighting in South Florida! Bryant racked up 117 yards on just five receptions as every one of his catches went for either a touchdown (2) or first down (3). He forced two missed tackles and saw a perfect 158.3 passer rating when targeted.
Offensive Tackle
Cole Van Lanen, Wisconsin
Week 5 Grade: 96.8
Arguably the nation's best offensive line sends yet another member of their cast to the National Team of the Week. Van Lanen did not allow a pressure on 16 pass-blocking snaps but his 95.6 run-blocking grade was nearly 5.0 points higher than any other tackle this weekend.
Offensive Guard
Manase Mose, North Texas
Week 5 Grade: 89.2
Like Van Lanen, Mose joins the Team of the Week on the heels of impressive run-blocking. He allowed one pressure on 36 pass-blocking snaps but his 91.9 run-block grade was tops in the nation this weekend at guard.
Center
Colby Meeks, Colorado State
Week 5 Grade: 90.6
Meeks cruised to his Team of the Week selection with his 90.6 overall grade, 7.3 points clear of the second-best center on the weekend. He allowed one pressure on 34 pass-block snaps while his 89.3 run-block grade was also the nation's best among centers.
Offensive Guard
Parker Braun, Georgia Tech
Week 5 Grade: 81.6
You can't pave the way for a team who scores 66 points and attempts just two passes and not have a member of the offensive line. With Braun anchoring the way, the Georgia Tech offense ran for eight touchdowns and 542 rushing yards, 277 of which came before contact.
Offensive Tackle
Rashawn Slater, Northwestern
Week 5 Grade: 83.3
Slater joins the team of the week with an impressive all-around performance. He sports a solid 85.2 run-blocking grade and on 51 snaps in pass protection, he allowed just one hurry.
Defense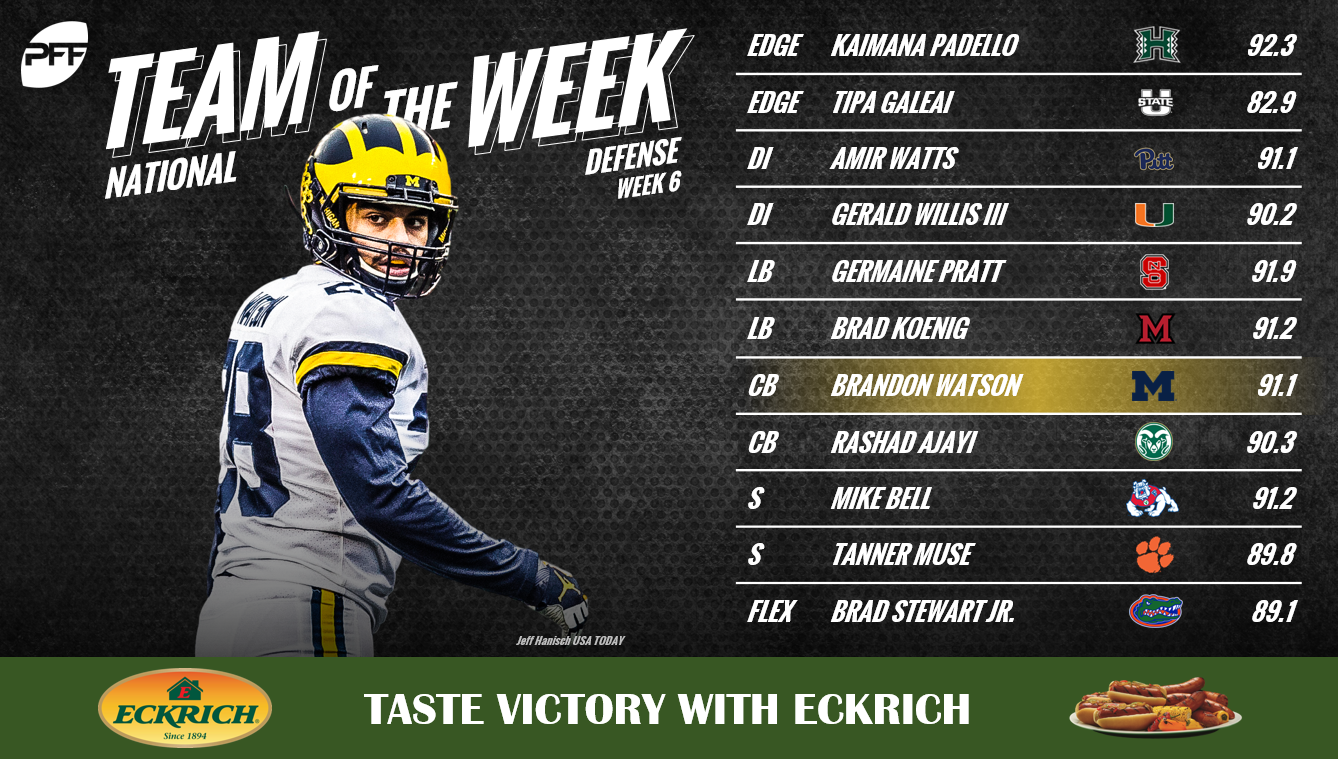 Edge Defender
Kaimana Padello, Hawaii
Week 5 Grade: 92.3
Padello recorded a stop in run defense but it was his work on the pass-rush that plants him firmly on this list. On 22 pass-rushes, Padello recorded five pressures including two sacks, a QB hit and two additional hurries.
Edge Defender
Tipa Galeai, Utah State
Week 5 Grade: 82.9
Galeai notched four pressures and two defensive stops on Friday night but it was his 56-yard pick-6 that sees him supplant his counterparts here. On a 4th & 1, Galeai found himself directly at the right place as a Tanner Mangum pass found its way into his arms and he returned it for a touchdown which keyed the Aggies rout.
Defensive Interior
Amir Watts, Pittsburgh
Week 5 Grade: 91.1
Watts was unmovable for the Panthers in their overtime victory over Syracuse. He recorded a hurry and multiple other wins on defense as two of his three solo tackles went for a defensive stop.
Defensive Interior
Gerald Willis III, Miami (Fla)
Week 5 Grade: 90.2
Willis was instrumental in Miami's comeback victory over Florida State. He, like his counterpart here, recorded just one QB pressure but it was his effort in run defense that limited the FSU offense and got his own offense back on the field in the second half to win the game.
Linebacker
Germaine Pratt, NC State
Week 5 Grade: 91.9
Pratt flew all over the field for the Wolfpack on Saturday, notching two QB pressures on just three pass-rushing snaps. He totaled 11 tackles including six defensive stops and allowed a mere three yards in coverage on 24 snaps.
Linebacker
Brad Koenig, Miami (Oh)
Week 5 Grade: 91.2
Koenig has long since been a mismatch on the defensive side of the ball for the Redhawks. He proved his prowess in both coverage and rushing the passer, registering five pressures on 11 pass-rushing snaps while recording two interceptions on seven targets in coverage.
Cornerback
Brandon Watson, Michigan
Week 5 Grade: 91.1
Watson blanketed receivers in his coverage on Saturday, seeing two targeted passes and not allowing a single one to be caught while coming away with an interception himself. His passer rating when targeted: 0.0.
Cornerback
Rashad Ajayi, Colorado State
Week 5 Grade: 90.3
Ajayi was targeted 12 times in coverage for the Rams yet he allowed just two receptions for only 12 yards. He brought down an interception while he also had four more forced incompletions and a 4.9 passer rating when targeted.
Safety
Mike Bell, Fresno State
Week 5 Grade: 91.2
Targeted five times in coverage, Bell had more plays on the ball than he allowed receivers in his primary coverage, coming away with an interception and two additional pass breakups. He also got home with a hurry on his lone blitz as well, rounding out a solid performance.
Safety
Tanner Muse, Clemson
Week 5 Grade: 89.8
The Wake Forest offense was stymied by Clemson on Saturday and Muse was a big part of that. All three of his tackles in run defense went down as an offensive failure and he also came away with an interception in the blowout victory.
Flex Defense
Brad Stewart Jr., Florida
Week 5 Grade: 89.1
Stewart's pick-6 on LSU QB Joe Burrow sealed the game and sealed the fate for his selection on our Team of the Week. On two targeted passes as the primary coverage defender, Stewart broke up one and returned the other 25 yards for the go-ahead touchdown that all but cemented the win.