Welcome to the fourth NCAA Team of the Week for the 2018 season. As always, our team of over 500 analysts has dissected and graded every snap of every game to bring you the most detailed and valid set of picks you can find anywhere.
With conference play heating up around the country, the Week 4 Team of the Week saw many impressive performances across the country and as always, playing time and the quality of opposition has been factored in to make these selections.
The PFF Team of the Week is brought to you by Eckrich, the Official Smoked Sausage of the College Football Playoff.
Offense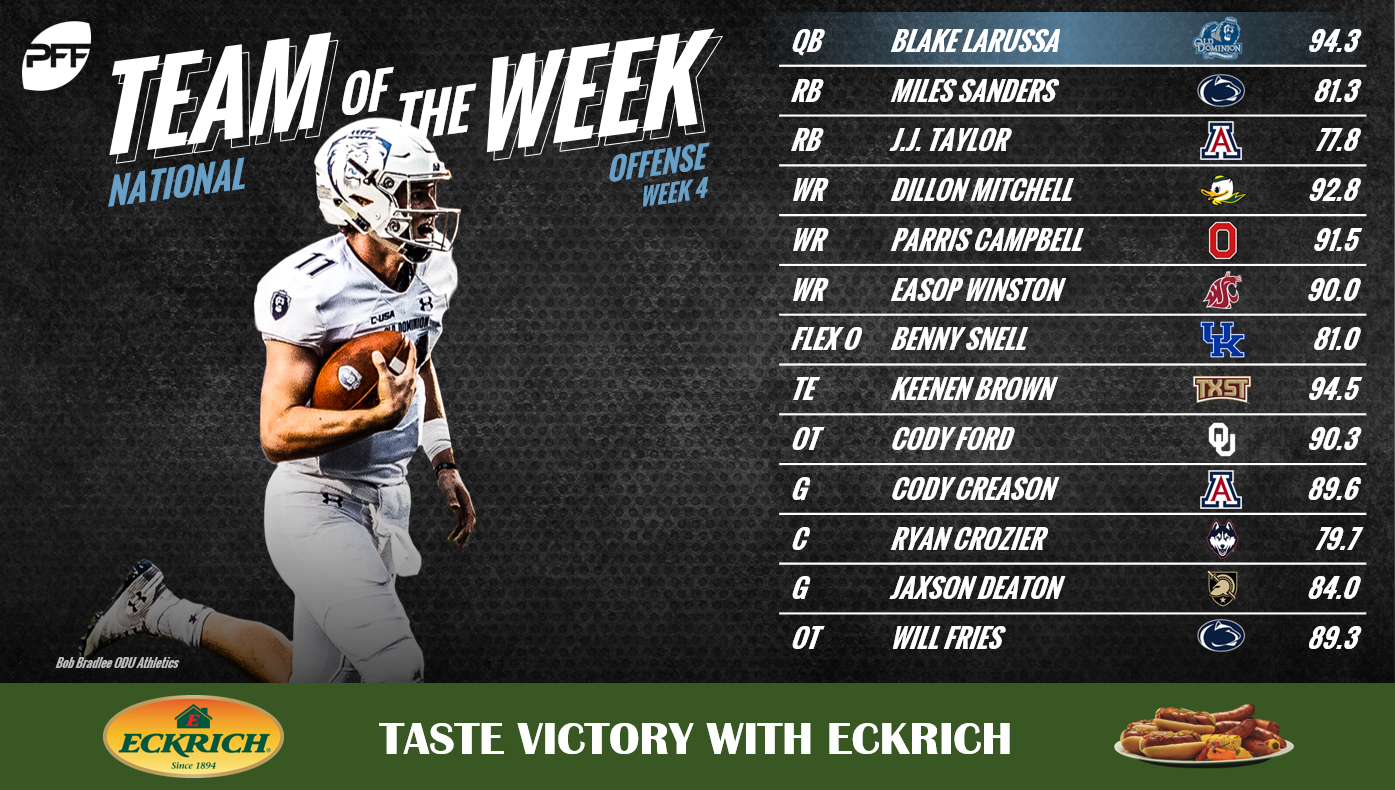 Quarterback
Blake LaRussa, Old Dominion
Week 4 Grade: 94.3
LaRussa led ODU to a historic win on Saturday, defeating Virginia Tech as the Monarchs got their first win against a Power-5 opponent since joining the FBS. LaRussa completed throws at will and uncorked eight big-time throws (our highest-graded throws) in the upset win.
Running Back
Miles Sanders, Penn State
Week 4 Grade: 81.3
No two running backs dominated their games from a PFF signature statistic standpoint than Sanders and Taylor did this weekend. Sanders ripped off three touchdowns, 200 yards and 138 yards after contact on 20 carries. He totaled eight runs of over 10 yards, which tied for the national lead in Week 4.
Running Back
J.J. Taylor, Arizona
Week 4 Grade: 77.8
Taylor paced the Wildcats to victory over Oregon State as he tied with Sanders for most 10-plus yard runs this week with eight. Taylor led the nation with 284 yards on the ground and gained a first down or touchdown on a national-leading 13 carries.
Wide Receiver
Dillon Mitchell, Oregon
Week 4 Grade: 92.8
Mitchell tied three other players for most targets (17) this weekend, yet the other three players with that volume of work saw grades south of 77.0 overall, proving just how difficult it is to maintain a high level of play over a high snap count. Mitchell brought in 14 of those 17 targets for 239 yards, forced four missed tackles after the catch and was responsible for 10 first downs.
Wide Receiver
Parris Campbell, Ohio State
Week 4 Grade: 91.5
Campbell continued his dominance with Dwayne Haskins at quarterback, hauling in 8-of-9 targets for 147 yards and two touchdowns. He gained 91 yards after the catch, averaging 11.4 YAC per reception and forcing three missed tackles in the process.
Wide Receiver
Easop Winston Jr., Washington State
Week 4 Grade: 90.0
Albeit in a losing effort, Winston Jr. put forth a strong game against USC on Friday night. All six of his receptions went for either a touchdown or a first down as he brought in 6-of-7 targeted passes for 143 yards and two touchdowns.
Flex Offense
Benny Snell, Kentucky
Week 4 Grade: 81.0
Snell carried the Wildcats on offense, quite literally, in their upset win over Mississippi State on Saturday night. He ran the ball 25 times for 166 yards, 90 of which came after contact and scored four touchdowns and an additional five first downs on his carries. Snell's performance vaulted him back into the Heisman talk.
Tight End
Keenen Brown, Texas State
Week 4 Grade: 94.5
There were some strong performances from the tight end position this weekend, but none more impressive than Brown's 9-catch, 124-yard day for Texas State. Brown led the nation with 124 receiving yards, six missed tackles forced after the catch and with six of his receptions going for a first down or a touchdown. He also did not allow a single QB pressure on seven snaps in pass protection, rounding out his performance.
Offensive Tackle
Cody Ford, Oklahoma
Week 4 Grade: 90.3
Speaking of pass protection, Ford logged 18 snaps in pass protection against Army and also did not allow a pressure but he makes the Team of the Week on the back of his strong run-blocking performance. On runs to either side of Ford, Sooner running backs averaged 10.6 yards per carry, had three runs of over 10 yards and accounted for four first downs.
Offensive Guard
Cody Creason, Arizona
Week 4 Grade: 89.6
Creason paved the way for Taylor's aforementioned big day but also spent 22 snaps in pass protection without allowing a single pressure.
Center
Ryan Crozier, UConn
Week 4 Grade: 79.7
Crozier dominated up front for UConn against Syracuse, most notably by not allowing any QB pressures on 38 pass-protection snaps.
Offensive Guard
Jaxson Deaton, Army
Week 4 Grade: 84.0
Deaton obviously did his work in the trenches in the running game as Army totaled 78 rushing plays against Oklahoma in their near-upset victory. From his left guard spot, Army gained 53 yards on 14 carries and had four first downs to either side of Deaton.
Offensive Tackle
Will Fries, Penn State
Week 4 Grade: 89.3
Much like Ford above, Fries helped pave the way for an impressive rushing display from Nittany Lions running backs. Penn State running backs averaged 6.3 yards per carry to either side of Fries as he was also solid in pass protection, not allowing a pressure on 26 pass-blocking snaps.
Defense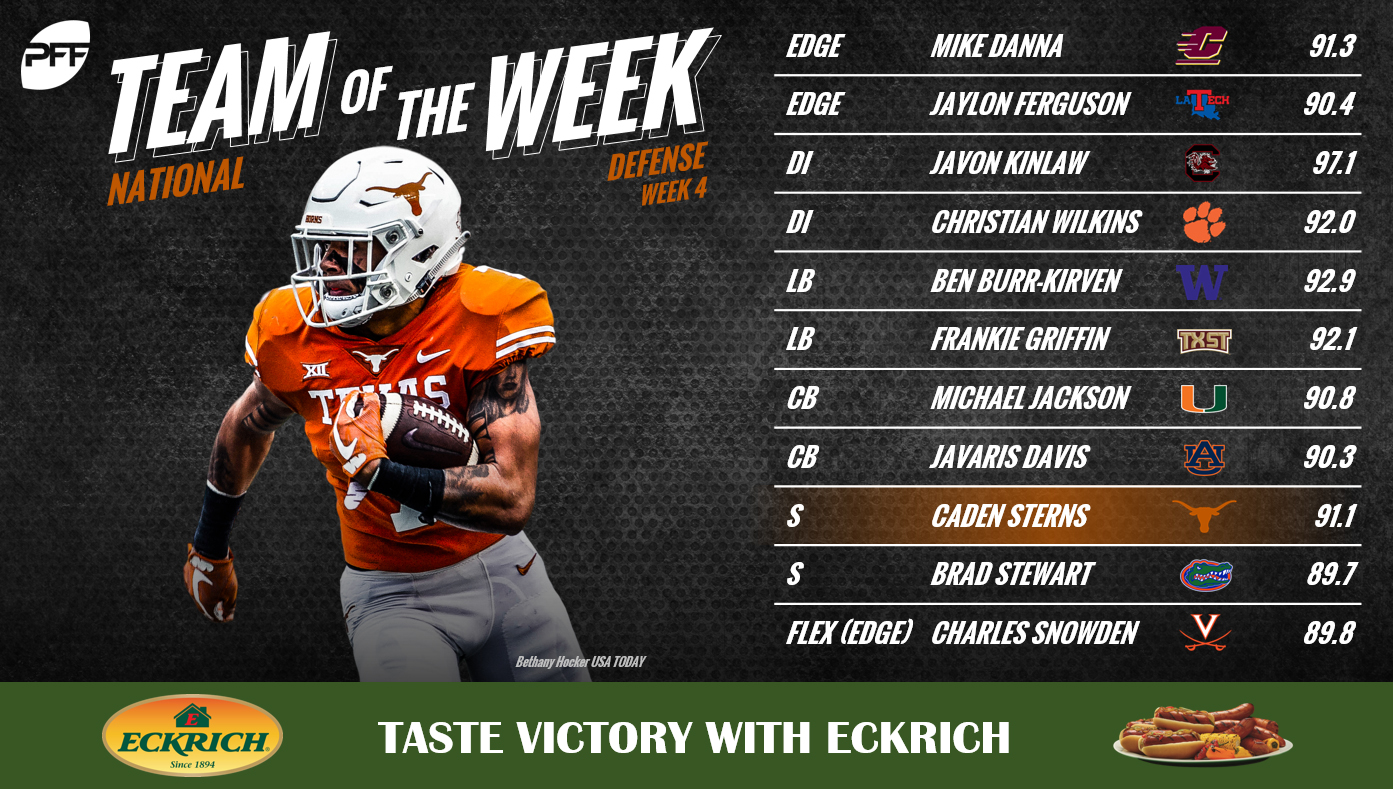 Edge Defender
Mike Danna, Central Michigan
Week 4 Grade: 91.3
Danna racked up an incredible 11 pressures against Maine on his 43 pass-rushing snaps. In total, he registered three sacks, four QB hits and an additional four hurries for an impressive 90.5 pass-rushing grade.
Edge Defender
Jaylon Ferguson, Louisiana Tech
Week 4 Grade: 90.4
Ferguson actually led the nation's edge defenders with his 91.7 pass-rushing grade in Week 4, highlighted by his six QB pressures on just 21 pass-rushing snaps against LSU. He also recorded two defensive stops, four total tackles and no missed tackles on the day.
Defensive Interior
Javon Kinlaw, South Carolina
Week 4 Grade: 97.1
South Carolina dominated from the start against Vanderbilt and Kinlaw was a massive part of that effort, On just 25 pass-rushing snaps from the interior of the defensive line, Kinlaw recorded two sacks, one QB hit and an additional hurry while he also forced two fumbles on the afternoon.
Defensive Interior
Christian Wilkins, Clemson
Week 4 Grade: 92.0
Wilkins returns to his spot on our Team of the Week for an incredible effort against Georgia Tech and their option attack. While he recorded three defensive stops on the day, his pass-rushing was what really impressed. On just five dropbacks that he saw from the Yellow Jackets, Wilkins recorded a sack and an additional QB hurry, winning almost at will with his pass-rushing.
Linebacker
Ben Burr-Kirven, Washington
Week 4 Grade: 92.9
Playing a massive 71 snaps against Arizona State, Burr-Kirven was quite literally all over the field for the Huskies. He recorded 16 solo tackles, an additional assist and a national-high nine defensive stops for an offensive failure. He was targeted three times in coverage yet gave up only a long reception of seven yards. Throw in two forced fumbles and you have yourself one of the nation's best performances by a linebacker all season long.
Linebacker
Frankie Griffin, Texas State
Week 4 Grade: 92.1
Griffin was also all over the field, seeing 62 snaps and recorded seven total tackles, four defensive stops and forcing a fumble. He was also targeted six times in coverage where he allowed five receptions but only for 15 yards and had a pass breakup himself.
Cornerback
Michael Jackson, Miami (Fla.)
Week 4 Grade: 90.8
Locking down receivers in his coverage, Jackson was tremendous in the secondary for Miami against FIU. He was targeted six times, allowed just two receptions for a whopping seven yards all for a passer rating of just 42.4 when targeted.
Cornerback
Javaris Davis, Auburn
Week 4 Grade: 90.3
Davis was targeted five times in coverage against Arkansas, coming away with as many catches himself as he allowed on the afternoon. He allowed one reception for zero yards and brought down an interception to see a 0.0 passer rating on throws into his coverage.
Safety
Caden Sterns, Texas
Week 4 Grade: 91.1
Sterns cumulative effect on the game can be summed up by one stat-line. He was targeted just once in coverage, yet came away with two interceptions showing his ability to be in the right place at the right time for the Longhorns in their victory over TCU.
Safety
Brad Stewart, Florida
Week 4 Grade: 89.7
Much like Sterns, Stewart's coverage prowess is what lands him a spot on the Team of the Week this week after he was targeted four times as the primary coverage defender against Tennessee, yet allowed just one reception and had an interception himself.
Flex Defense
Charles Snowden, Virginia
Week 4 Grade: 89.8
Playing along the edge for Virginia, the 6-foot-7, 225 pound Snowden was all over the board on Saturday. He logged 21 snaps in run defense, 21 pass-rushing snaps and another 12 in coverage. He brought in three QB pressures, seven total tackles and had an interception and a pass breakup on the day, perfectly fitting as our Flex Defender this week.