Welcome to the second NCAA Team of the Week for the 2018 season. As always, our team of over 500 analysts has dissected and graded every snap of every game to bring you the most detailed and valid set of picks you can find anywhere.
At this time of the year, with the proliferation of games against "lesser" opponents, it's often difficult to compare performances, so both playing time and the quality of opposition have been factored in.
The PFF Team of the Week is brought to you by Eckrich, the Official Smoked Sausage of the College Football Playoff.
Offense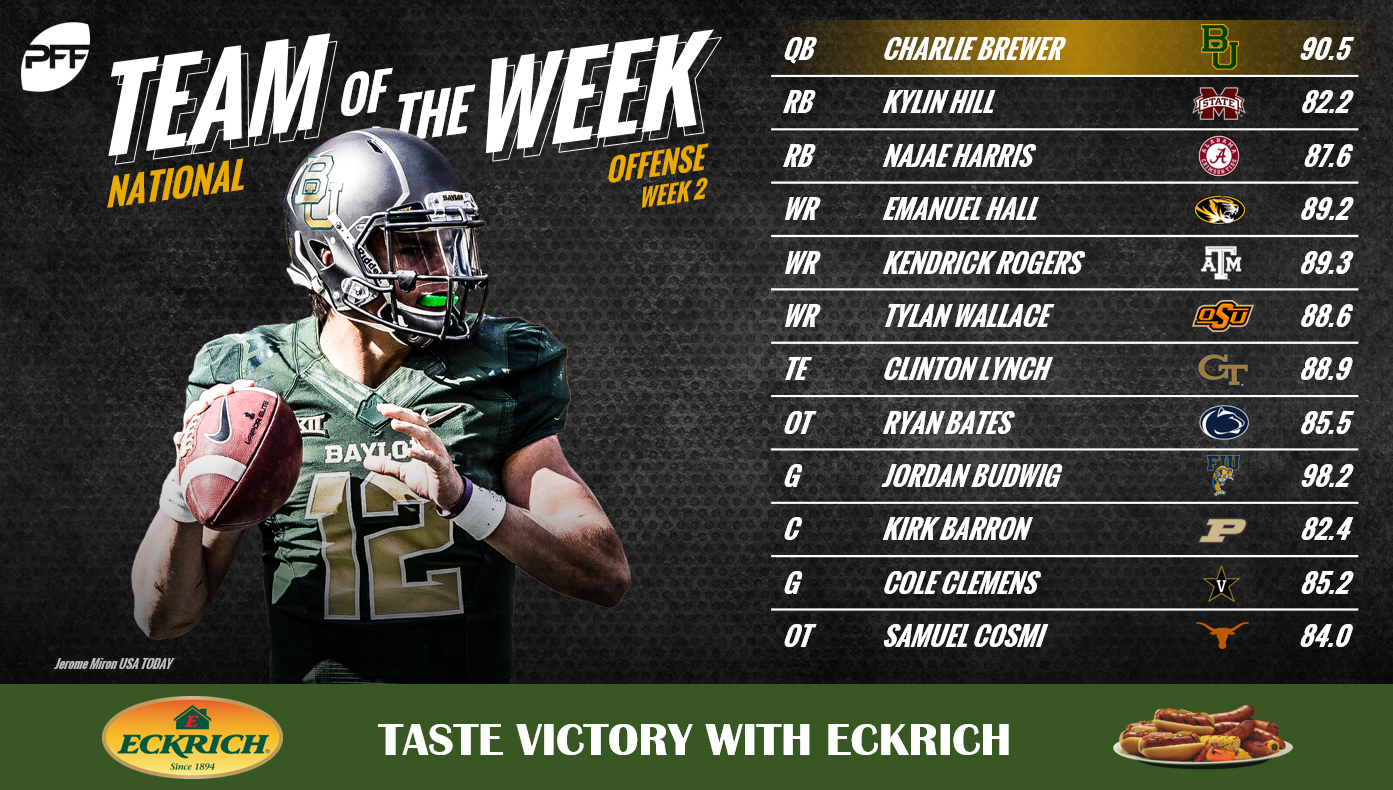 Quarterback
Charlie Brewer, Baylor
Week 2 Grade: 90.5
In the QB rotation with senior Jalan McClendon, sophomore Brewer staked his claim with a highly efficient display against UTSA making two big-time throws and no turnover-worthy passes. His 328 yards and three touchdowns would have been even more impressive but for four drops costing him at least 30 additional yards.
Running Back
Kylin Hill, Mississippi State
Week 2 Grade: 82.2
Although his overall grade was pulled down a little by other facets of play (pass-blocking in particular), his rushing grade of 91.0 was the nation's best. He broke or avoided eight tackles on his way to nine first downs and a ridiculous 8.0 yards per attempt after contact
Running Back
Najee Harris, Alabama
Week 2 Grade: 87.6
He may be in a heavy rotation with all the other wonders on the Crimson Tide offense but, so good was he, there was still enough on just 13 carries to make this team. How good? He averaged a first down and broke a tackle on better than every other run.
Wide Receiver
Emanuel Hall, Missouri
Week 2 Grade: 89.2
With nine of his 10 receptions resulting in a first down (on just 11 targets), Hall was Drew Lock's go-to receiver against Wyoming. He added four "explosive" (15-plus yard) plays for good measure in what were at times, difficult conditions.
Wide Receiver
Kendrick Rogers, Texas A&M
Week 2 Grade: 89.3
It may have been in a losing cause, but Rogers did everything in his power to help bring the Aggies back over Clemson. In the end, they fell a two-point conversion short, but Rogers snagged every catchable ball thrown his way and picked up another four first downs to go with his brace of touchdowns.
Wide Receiver
Tylan Wallace, Oklahoma State
Week 2 Grade: 88.6
No one picked up as many first downs receiving as Wallace with 10 despite some good coverage that led to four of his catches being contested. Regardless, he still made five explosive plays on 18 targets.
Tight End
Clinton Lynch, Georgia Tech
Week 2 Grade: 88.9
Another great performance in a losing effort on this team was that of Lynch who blocked well on 41 running plays netting a 77.1 grade. However, he was dynamic on his 12 pass routes, pulling in all three targets (including a contested catch) for 111 yards, a touchdown and another first down.
Offensive Tackle
Ryan Bates, Penn State
Week 2 Grade: 85.5
The left tackle played 68 snaps and was perfect in the 37 he was in pass protection. He also saw plus grades on run-blocks as well with a 79.6 grade in that facet of play.
Offensive Guard
Jordan Budwig, FIU
Week 2 Grade: 98.2
Sometimes a player is so dominant, regardless of the opposition, it's hard to take your eyes away, never mind leave off this team. 83 snaps of brutal dominance is the best way to describe this performance with the majority of his work being done at the first level.
Center
Kirk Barron, Purdue
Week 2 Grade: 82.4
The Boilermakers may have lost on a last-second field goal but Barron did his best to save the day. He allowed only a single pressure in pass protection and was superb as a run-blocker with 176 yards coming through both "A" gaps.
Offensive Guard
Cole Clemens, Vanderbilt
Week 2 Grade: 85.2
High-quality play was the order of the day from the Commodores No. 74. Playing the majority of the game at left guard (with some right tackle) set the tone from the first running play, getting a lovely seal block at the second level and moved on from there.
Offensive Tackle
Samuel Cosmi, Texas
Week 2 Grade: 84.0
Cosmi also kept a clean sheet when dropping back but made this team on the back of some excellent run-blocking with 129 of the Longhorns 238 coming to either side of him.
Defense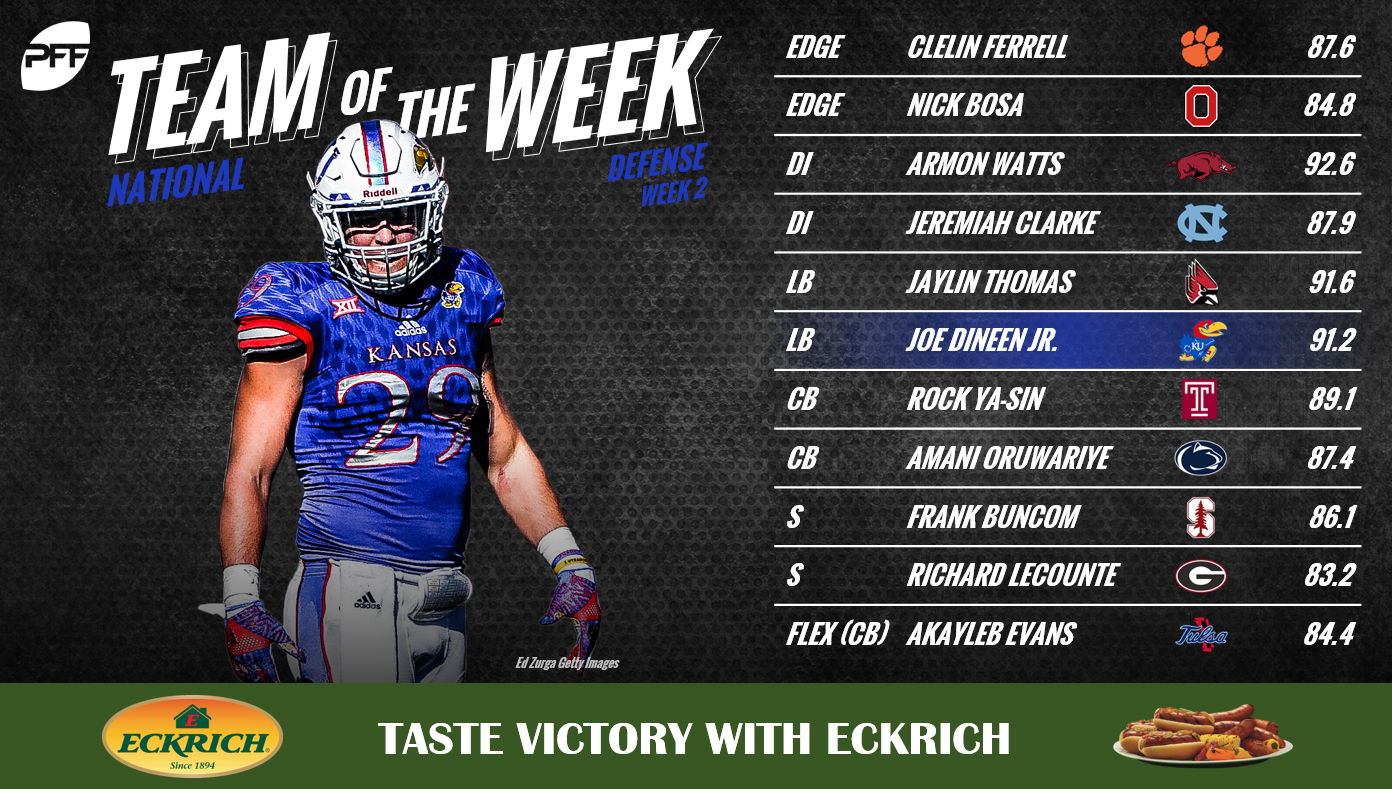 Edge Defender
Clelin Ferrell, Clemson
Week 2 Grade: 87.6
Two sacks, two hits and two hurries on 45 pass-rushes is a great return, particularly against a team of Texas A&M's stature. When you combine it with a 76.1 grade in run defense, you get the best edge performance of the week.
Edge Defender
Nick Bosa, Ohio State
Week 2 Grade: 84.8
Let's make it two from two for Bosa on this team after another five QB pressures and three other stops in run defense on just 37 snaps. Imagine the carnage he might cause if Ohio State kept him on the field for more than half a game?
Defensive Interior
Armon Watts
Week 2 Grade: 92.6
Five interior pressures combined with another couple of stops in the run game was a great contribution in a losing effort from Watts. After playing only 115 snaps the previous three seasons, a solid Week 1 performance and this effort against Clemson, this could be the breakout year for the senior.
Defensive Interior
Jeremiah Clarke, North Carolina
Week 2 Grade: 87.9
A terror against the run, Clarke delivered our second-ranked run-defense grade against FBS opposition in Week 2. It was highlighted by four solo tackles (all of which were stops –- a defeat for the offense) and two assists. He also generated a hit and two hurries when rushing the passer.
Linebacker
Jaylin Thomas, Ball State
Week 2 Grade: 91.6
Playing against Notre Dame, Thomas showed up in virtually every aspect of play. He picked up three hits and a pressure while blitzing, made six tackles with four stops in the running game and although he wasn't targeted in coverage, he broke up a pass and made another tackle.
Linebacker
Joe Dineen Jr., Kansas
Week 2 Grade: 91.2
While the Jayhawks haven't won many road games the past several years, Dineen's presence on defense helped Kansas secure their first road victory in 46 games. In run defense, he was fantastic, making seven tackles, all of which were stops, on just 21 running plays. In coverage, he gave away nothing on three targets and grabbed an interception.
Cornerback
Rock Ya-Sin, Temple
Week 2 Grade: 89.1
All we really need to do here is list the advanced stats so that's what we'll do. On 48 coverage snaps, Ya-Sin was targeted 13 times, allowed four receptions for 23 yards with an interception and two pass breakups. He did give up a touchdown but that's a passer rating of only 33.8 when targeted.
Cornerback
Amani Oruwariye, Penn State
Week 2 Grade: 87.4
If anything, Oruwariye's stats were even more impressive than Ya-Sin's numbers. It's difficult to be in coverage for 23 snaps and not give up a reception on four targets, but that's what he did with an added interception and a pass breakup.
Safety
Frank Buncom, Stanford
Week 2 Grade: 86.1
Buncom played 74 snaps, and while he did a decent job in run defense, it was in his 41 snaps in coverage he did the most damage for the Cardinal. Taking advantage of USC freshman QB JT Daniels, he broke up both targets and another pass aimed at Michael Pittman Jr.
Safety
Richard Lecounte, Georgia
Week 2 Grade: 83.2
This position could have gone to either Georgia safety but in the end, we went with the higher snap count (70 to 59) over the slightly higher grade of J.R. Reed (85.8). Consider them 2A and 2B if you must. Lecounte made seven tackles, one of which was a stop, missed no tackles and also graded a very creditable 82.9 grade in coverage.
Flex Defense
Akayleb Evans, Tulsa
Week 2 Grade: 84.4
Tulsa held their own against Texas and one of the reasons was the play of Evans. On 24 snaps in coverage, he was targeted three times, and on each occasion, he broke up the pass.