The 2019 season begins this weekend and with that, the full set of 2018 data officially becomes history. We look ahead towards the top-graded players returning in each conference, keeping things going with the Mountain West.

PFF grades every player on every play of every game and has done so since the 2014 season. The play-by-play grading creates a subset of advanced statistics that help depict the college game at a level deeper than ever. The grades below are from 2018 and not a projection towards this coming season.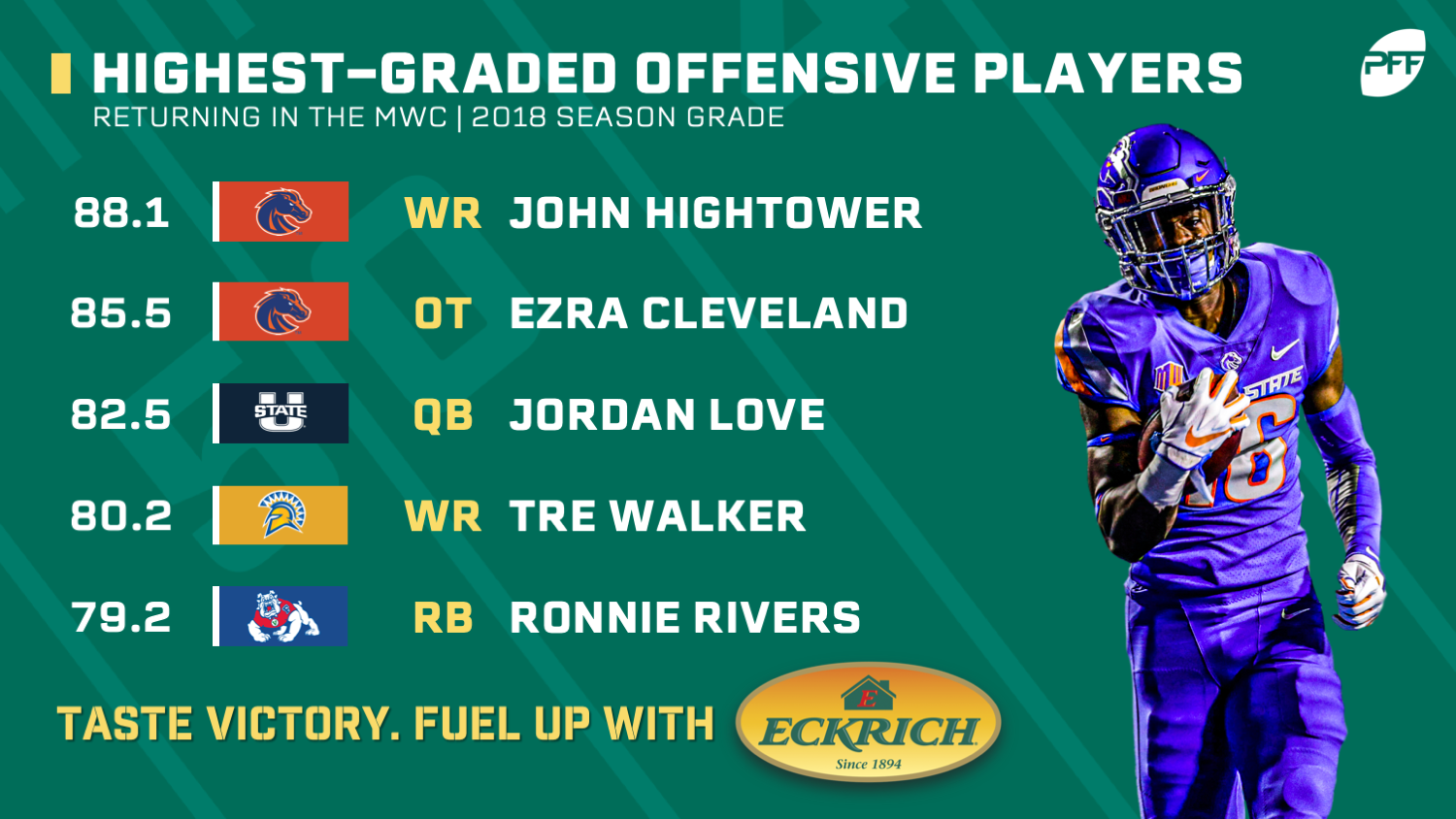 Offense
Quarterback
Jordan Love, Utah State – 82.5
Sean Chambers, Wyoming – 79.1*
Cole McDonald, Hawaii – 77.1
Love is a top-30 quarterback in the country and leads the charge of MWC QBs into 2019. McDonald finds himself well atop the list of several PFF signature stats and Chambers displayed his ridiculous arm strength in a limited sample size last year, finishing with an elite 88.8 passing grade on just 25 attempts.
Running Back
Ronnie Rivers, Fresno State – 79.2
Dayton Furuta, Hawaii – 76.6
Juwan Washington, San Diego State – 75.5
Jordan Mims, Fresno State – 74.2
Gerold Bright, Utah State – 73.3
Washington was a mere one yard away from the 1,000-yard mark last season but still secured 37 combined first-down and touchdown runs a year ago. Rivers averaged a solid 5.6 yards per carry last year for the Bulldogs as that figure leads the group here.
Wide Receiver
John Hightower, Boise State – 88.1
Tre Walker, San Jose State – 80.2
Geraud Sanders, Air Force – 74.6
Tim Wilson Jr., San Diego State – 74.6
Bailey Gaither, San Jose State – 73.4
Hightower averaged 16.3 yards per catch a year ago with 17 of his 31 receptions moving the chains or scoring six points. Walker is expected to break out this year with Josh Love at quarterback again as Gaither also looked strong in his four games last year for the Spartans.
Tight End
Marcus Williams, New Mexico – 72.4
Jared Rice, Fresno State – 70.7
Cameron Butler, Colorado State – 69.5
Giovanni Fauolo, UNLV – 67.6
Kade Waguespack, Air Force – 63.7
Rice leads the group with his 652 yards a year ago, hauling in 73.3% of his total targets. He gained 420 of those yards after the catch and broke 10 tackles in the process.
Offensive Tackle
Ezra Cleveland, Boise State – 85.8
Netane Muti, Fresno State – 72.9*
Scott Hattok, Air Force – 72.1
Jack Snyder, San Jose State – 71.2
Parker Ferguson, Air Force – 70.2
Cleveland was a regular fixture on the Mountain West All-Conference team a year ago, for good reason. He had the conference's top pass-blocking grade and run-blocking grade in a dominant year. Muti played in just two games before injury but is set to return to dominance in 2019.
Offensive Guard
J.R. Hensley, Hawaii – 73.3
John Molchon, Boise State – 69.6
Troy Kowalski, San Jose State – 67.9
Nolan Laufenberg, Air Force – 67.1
Logan Harris, Wyoming – 66.2
Hensley is the class of guards in the MWC, pacing the group in pass-blocking grade and run-blocking grade. He allowed seven combined pressures on his whopping 666 pass-blocking snaps and was dominant off the line.
Center
Keith Ismael, San Diego State – 74.1
Christopher Mitchell, Air Force – 74.0
Keegan Cryder, Wyoming – 72.8
Ismael edges out Mitchell for top-graded marks as he had a great performance in run-blocking a year ago. Mitchell didn't allow a single hit or sack on the quarterback on his limited, 112 snaps in pass protection.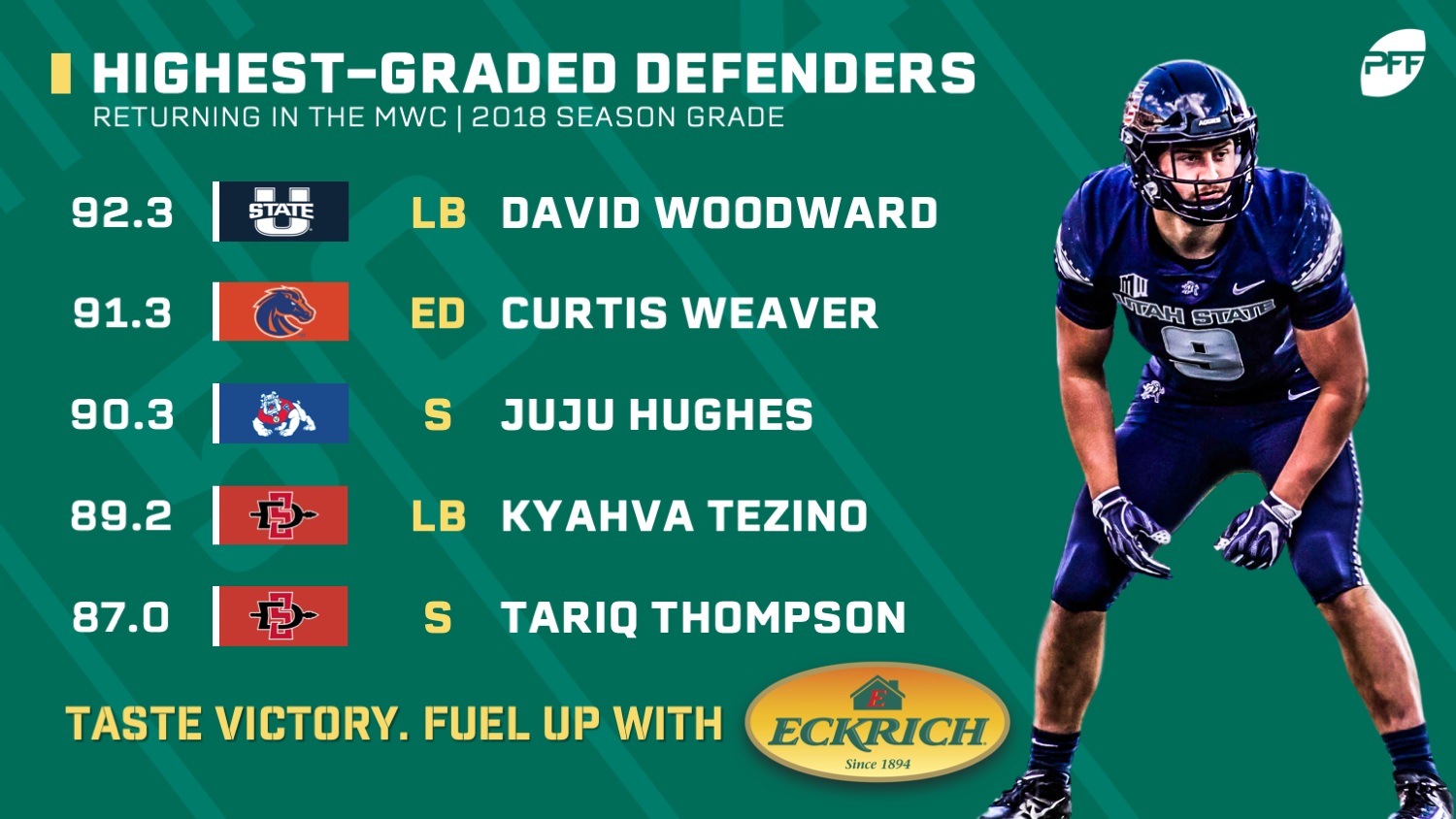 Defense
Edge Defender
Curtis Weaver, Boise State – 91.3
Mykal Walker, Fresno State – 82.5
TIpa Galeai, Utah State – 79.4
Dom Peterson, Nevada – 78.4
Devon Anderson, Utah State – 76.4
Weaver returns as the leader in total QB pressures and unsurprisingly pass-rush grade among edge defenders. His 55 pressures saw him reach the pass-rush triple-double with 12 sacks, 12 hits and 31 hurries. Galeai also reached that plateau, garnering 11 sacks, 10 hits and 23 hurries to his record.
Interior Defender
Javaree Jackson, Wyoming – 79.8
Sonatane Lui, Boise State – 79.4
Mosese Fifita, Air Force – 75.1
Ritisoni Fata, Utah State – 74.7
Christopher 'Unga, Utah State – 74.1
Jackson has big shoes to fill in that of Youhanna Ghaifan, and he showed extremely well in limited snaps a year ago. Run defense was his strong suit and he recorded six total defensive stops against the run on just 74 snaps. Lui's 21 total QB pressures are the second-most among returning interior defensive lineman.
Linebacker
David Woodward, Utah State – 92.3
Kyahva Tezino, San Diego State – 89.2
Logan Wilson, Wyoming – 85.5
Gabriel Sewell, Nevada – 78.5
Farrell Hester II, UNLV – 78.1
Woodward is a First-Team All-American for good reason as he's the top-graded linebacker returning to all of college football. He recorded 21 pressures on just 104 blitzes, made 55 defensive stops and allowed a 55.6 passer rating into his primary coverage. He's a true three-down linebacker who needs more national recognition.
Cornerback
Jaron Bryant, Fresno State – 78.5
Daniel Brown, Nevada – 78.1
Tyler Hall, Wyoming – 77.0
Kekaula Kaniho, Boise State – 75.9
Avery Williams, Boise State – 74.3
Bryant leads all returning cornerbacks with 11 pass breakups a year ago, allowing just 54.2% of the total targeted passes thrown his way to be caught. Kaniho's three interceptions lead MWC corners, allowing a passer rating of just 64.0 into his coverage.
Safety
Juju Hughes, Fresno State – 90.3
Tariq Thompson, San Diego State – 87.0
Grant Theil, Air Force – 84.8
Alijah Halliburton, Wyoming – 79.8
Trenton Thompson, San Diego State – 75.3
Hughes has back-to-back years of elite grades now as he raised his grade by almost a full 5.0 grade points in 2018. Sharp in coverage, he's allowed all of 338 yards after the catch on 124 targets over the past three years. Thompson is no slouch in coverage either, making two interceptions and six additional pass breakups a year ago.