The 2019 season begins this weekend and with that, the full set of 2018 data officially becomes history. We look ahead towards the top-graded players returning in each conference, keeping things going with the MAC.

PFF grades every player on every play of every game and has done so since the 2014 season. The play-by-play grading creates a subset of advanced statistics that help depict the college game at a level deeper than ever. The grades below are from 2018 and not a projection towards this coming season.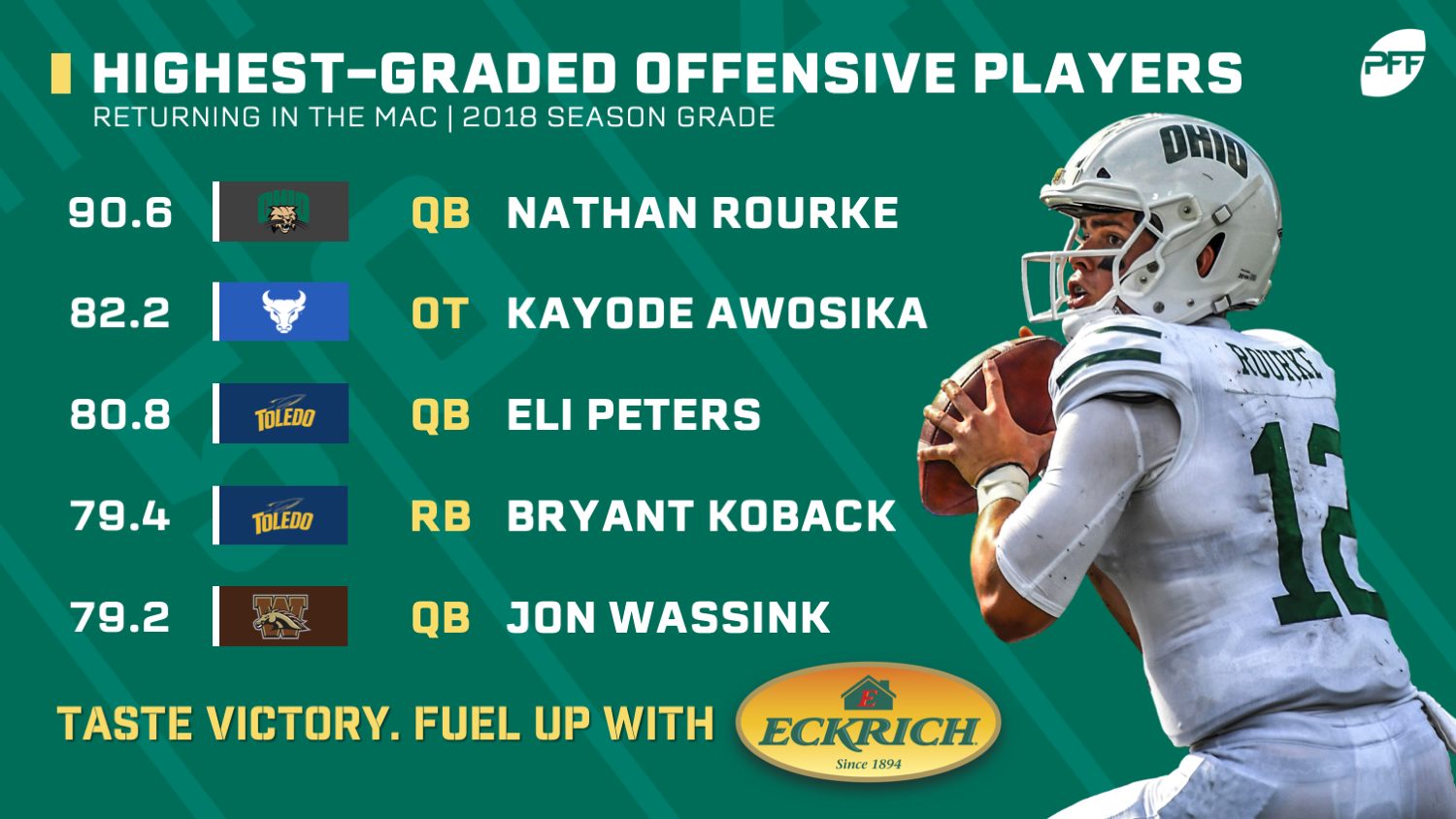 Offense
Quarterback
Nathan Rourke, Ohio – 90.6
Eli Peters, Toledo – 80.8
Jon Wassink, Western Michigan – 79.2
If we had to give MAC Player of the Year Award out before the season, it would hands down go to Rourke who as important to his team as any other player in the country this season. The Bobcats will go as their Canadian signal-caller goes this year and his 87.2 rushing grade is not only the best grade in the conference, it's a top-three grade among all returning quarterbacks in the country.
Running Back
Bryant Koback, Toledo – 79.4
Jo-El Shaw, Kent State – 74.5
Marcus Jones, Northern Illinois – 72.7
Justin Rankin, Kent State – 72.4
Art Thompkins, Toledo – 72.2
While Buffalo's Jaret Patterson holds the third-highest rushing grade among returners, Koback is the highest-graded overall back in the MAC. His 14 touchdowns tied with Patterson while his 4.01 yards after contact per attempt is the conference's top average.
Wide Receiver
D'Wayne Eskridge, Western Michigan – 73.0*
Isaiah Cox, Ohio – 72.7*
Line Latu, Eastern Michigan – 72.7
Riley Miller, Ball State – 72.1
Jack Sorenson, Miami – 70.8
Eskridge transitions to cornerback for this season but would have been the top-graded receiver in the MAC with the transfer of former teammate Jayden Reed to Michigan State. Miller and Sorenson should turn heads in the MAC as they each are as firmly entrenched as their team's highest-graded pass-catcher.
Tight End
Giovanni Ricci, Western Michigan – 67.2
Nate Becker, Miami – 62.0
Tyler Mabry, Buffalo – 60.6
Ricci leads all returning tight ends in the MAC with his 392 receiving yards and 35 receptions. He racked up 168 yards after the catch and 20 combined first-down and touchdown receptions, also leading the MAC in each category.
Offensive Tackle
Kayode Awosika, Buffalo – 82.2
Danny Pinter, Ball State – 74.6
Evin Ksiezarczyk, Buffalo – 72.3
Tommy Doyle, Miami – 71.1
Steve Nielsen, Eastern Michigan – 71.0
Awosika fields the conference's top run-blocking grade and a top-10 pass-blocking grade after allowing just 1 QB hit on 473 pass-blocking reps. Ksiezarczyk allowed a combined 16 total pressures himself, on the same 473 snaps in pass protection.
Offensive Guard
Paul Nosworthy, Buffalo – 75.8
Mike Caliendo, Western Michigan – 72.5
Luke Juriga, Western Michigan – 71.6
Tomas Jack-Kurdyla, Buffalo – 69.8
Jacob Gall, Buffalo – 69.8
The Bulls and Broncos return arguably the best guard combinations in the entire Group of 5 as Buffalo continues to churn out top-graded offensive lineman just like they have over the past few seasons. Juriga and Caliendo are a stout 1-2 combination for Jon Wassink to rely on.
Center
Bryce Harris, Toledo – 76.2
Brett Kitrell, Ohio – 70.3
Danny Godlevske, Miami – 68.9
The Rockets return with Harris manning the ship while Kitrell looked sharp in his nine games of action a year ago. Harris will be relied upon heavily as Toledo's highest-graded player on the offensive line.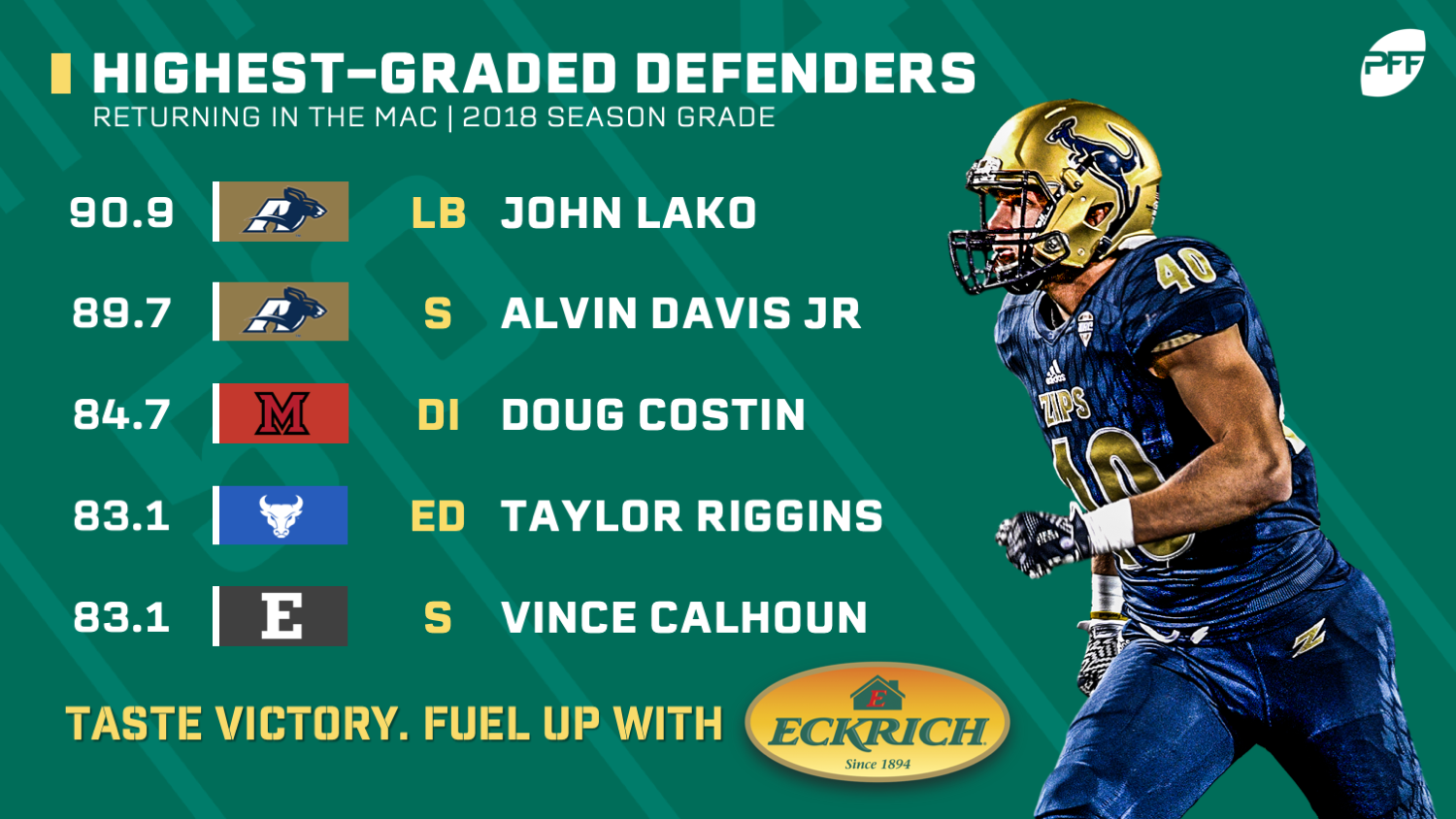 Defense
Edge Defender
Taylor Riggins, Buffalo – 83.1
Will Evans, Ohio – 81.8
Aly Fayad, Western Michigan – 80.2
Sam McKnight, Ohio – 78.9
Jamal Hines, Toledo – 78.4
Evans has the conference's top pressure total at 39 despite recording only two sacks. He leads the conference with 29 hurries to his name while Fayad leads returning pass-rushers with his six sacks and 10 QB hits. McKnight is poised for a big year after showing some strong flashes a year ago for Ohio.
Interior Defender
Doug Costin, Miami – 84.7
Ben LeRoy, Northern Illinois – 83.1
Jack Heflin, Northern Illinois – 76.9
Eddie Wilson, Buffalo – 74.9
Theo Majette, Kent State – 72.8
No returning interior defensive lineman in the MAC has more pressures or defensive stops than Costin as he's the top-graded DI in overall and pass-rush grade. Heflin's six sacks tie with Costin for most among returners in the conference.
Linebacker
John Lako, Akron – 90.9
James Patterson, Buffalo – 81.2
Ray Wilborn, Ball State – 78.5
Tim Terry Jr., Buffalo – 78.2
Kadofi Wright, Buffalo – 75.1
Lako didn't allow a reception longer than 29 yards and recorded 58 defensive stops and Wright managed to record more pressures than the rest of the top players on this list even on just 32 blitzes.
Cornerback
Jadon Rucker-Furlow, Miami – 83.9*
Zedrick Raymond, Miami – 79.8
Denzel Butler, Akron – 77.6
Samuel Womack, Toledo – 75.7
Kevin McGill, Eastern Michigan – 74.4
Rucker-Furlow is the conference's top-graded returning corner even on just 157 snaps last year. Of those snaps, 92 of them were in coverage and he made an interception and one pass breakup to see a 64.2 passer rating when targeted.
Safety
Alvin Davis Jr., Akron – 89.7
Vince Calhoun, Eastern Michigan – 83.1
Javon Hagan, Ohio – 80.5
Brody Hoying, Eastern Michigan – 79.4
Zachary Ford, Toledo – 77.1
The MAC returns arguably one of the better groups of safeties and all-around defensive playmakers with this group above. Davis led them all in coverage grade, Calhoun in tackling grade and run-defense grade while Hagan and Hoying are missiles around the football.