The 2019 season begins this weekend and with that, the full set of 2018 data officially becomes history. We look ahead towards the top-graded players returning in each conference, starting things off with the ACC.

PFF grades every player on every play of every game and has done so since the 2014 season. The play-by-play grading creates a subset of advanced statistics that help depict the college game at a level deeper than ever. The grades below are from 2018 and not a projection towards this coming season.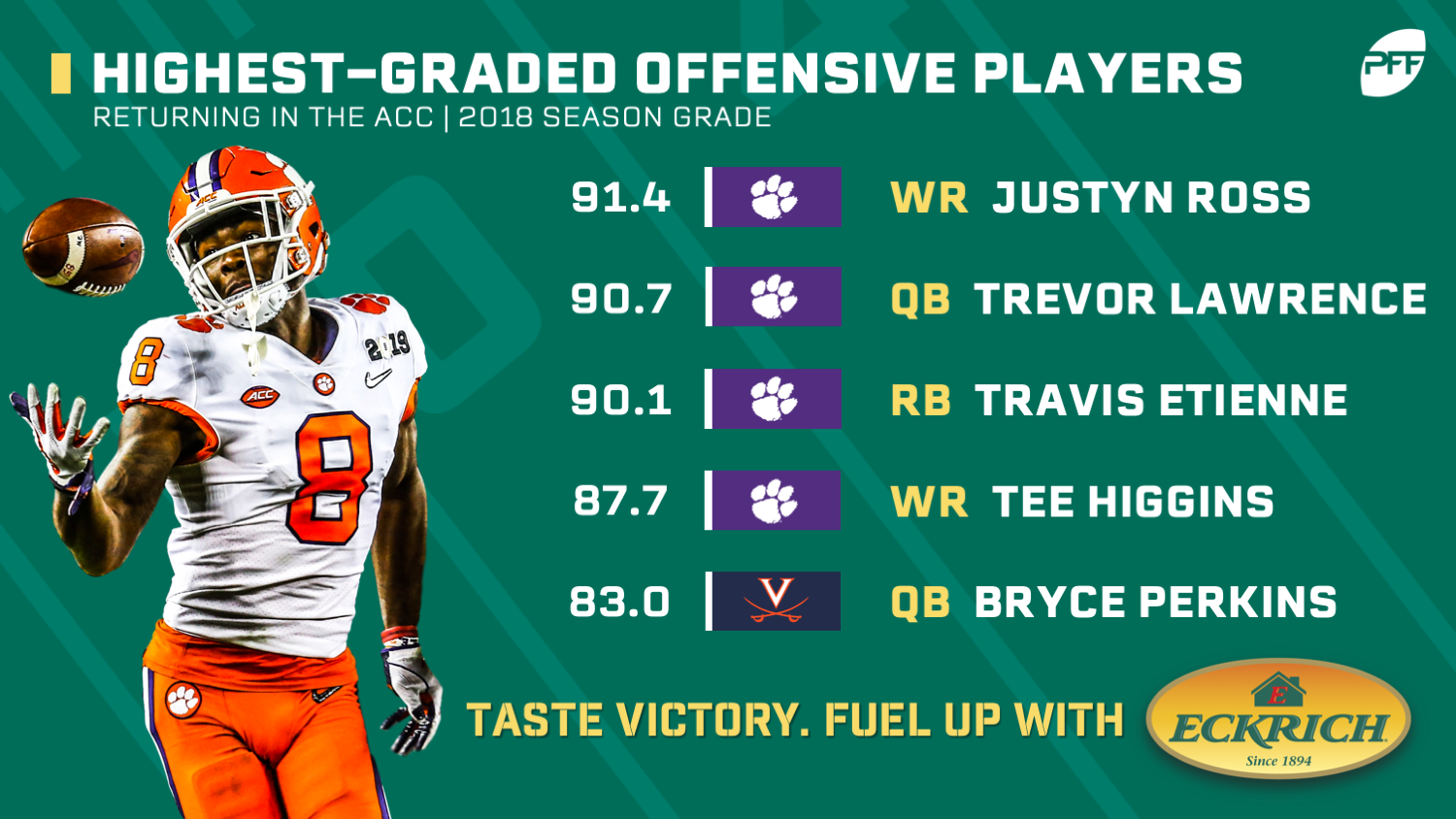 Offense
Quarterback
Trevor Lawrence, Clemson – 90.7
James Blackman, FSU – 86.9*
Bryce Perkins, Virginia – 83.0
The top-three graded quarterbacks find themselves on our All-ACC Team as Trevor Lawrence earned the highest ever grade we've given to a true freshman quarterback a season ago. Blackman played in only four games before receiving his redshirt but still looked every bit of a top-notch quarterback in limited action under head coach Willie Taggert.
Running Back
Travis Etienne, Clemson – 90.1
Lyn-J Dixon, Clemson – 84.4*
Cade Carney, Wake Forest – 77.1
Deejay Dallas, Miami – 74.9
Tavien Feaster, Clemson – 74.8
The Clemson trio atop here combined for 346 carries a season ago with Etienne leading the way with 204, averaging a ridiculous 8.1 yards per attempt. Dallas is expected to see a heavy workload out of the backfield for the Hurricanes as they break in a new starting quarterback when they open the season against Florida on August 24.
Wide Receiver
Justyn Ross, Clemson – 91.4
Tee Higgins, Clemson – 87.7
Thayer Thomas, NC State – 77.0
Jeff Thomas, Miami – 76.3
Diondre Overton, Clemson – 75.9*
Ross and Higgins dominate the list as they form arguably the best 1-2 punch at receiver in the country. Overton saw only 22 targets a year ago but should have a larger target share this season.
Tight End
Carl Tucker, UNC – 73.0
Noah Gray, Duke – 64.8
Brevin Jordan, Miami – 61.6
Perhaps one of the weaker tight end classes in recent memory, the nation lacks true playmaking tight ends at every conference and the ACC is no different. Tucker returns with 16 receptions for 265 yards and two scores from a season ago as the highest-graded of the bunch.
Offensive Tackle
Jackson Carman, Clemson – 73.2
Charlie Heck, UNC – 72.1
DJ Scaife Jr., Miami – 70.8
Christian Darrisaw, Virginia Tech – 68.6
Tremayne Anchrum, Clemson – 68.6
The Clemson duo headline the group but Heck returns with one of the nation's highest pass-blocking grades from a season ago. Carman and Anchrum allowed just two sacks on a combined 545 pass-blocking snaps.
Offensive Guard
Joe Sculthorpe, NC State – 73.7
Gage Cervenka, Clemson – 72.3
John Phillips, Boston College – 70.8
Sean Pollard, Clemson – 70.5
Matt Bockhorst, Clemson – 70.2
Again, Clemson linemen dominate the list as Bockhorst didn't allow a single pressure on 68 snaps in pass protection in a limited role a year ago. Three more-than-capable guards highlight how deep this roster is.
Center
Jimmy Morrissey, Pittsburgh – 70.2
Dillon Reinkensmeyer, Virginia – 68.4
Kenny Cooper, Georgia Tech – 65.5
The top two on this list have been solid starters for two seasons now and Cooper, another veteran, will get to shine with his pass protection as he's graded out with positive pass-blocking grades in each of his three previous seasons. With the switch to the spread attack, that skillset should shine.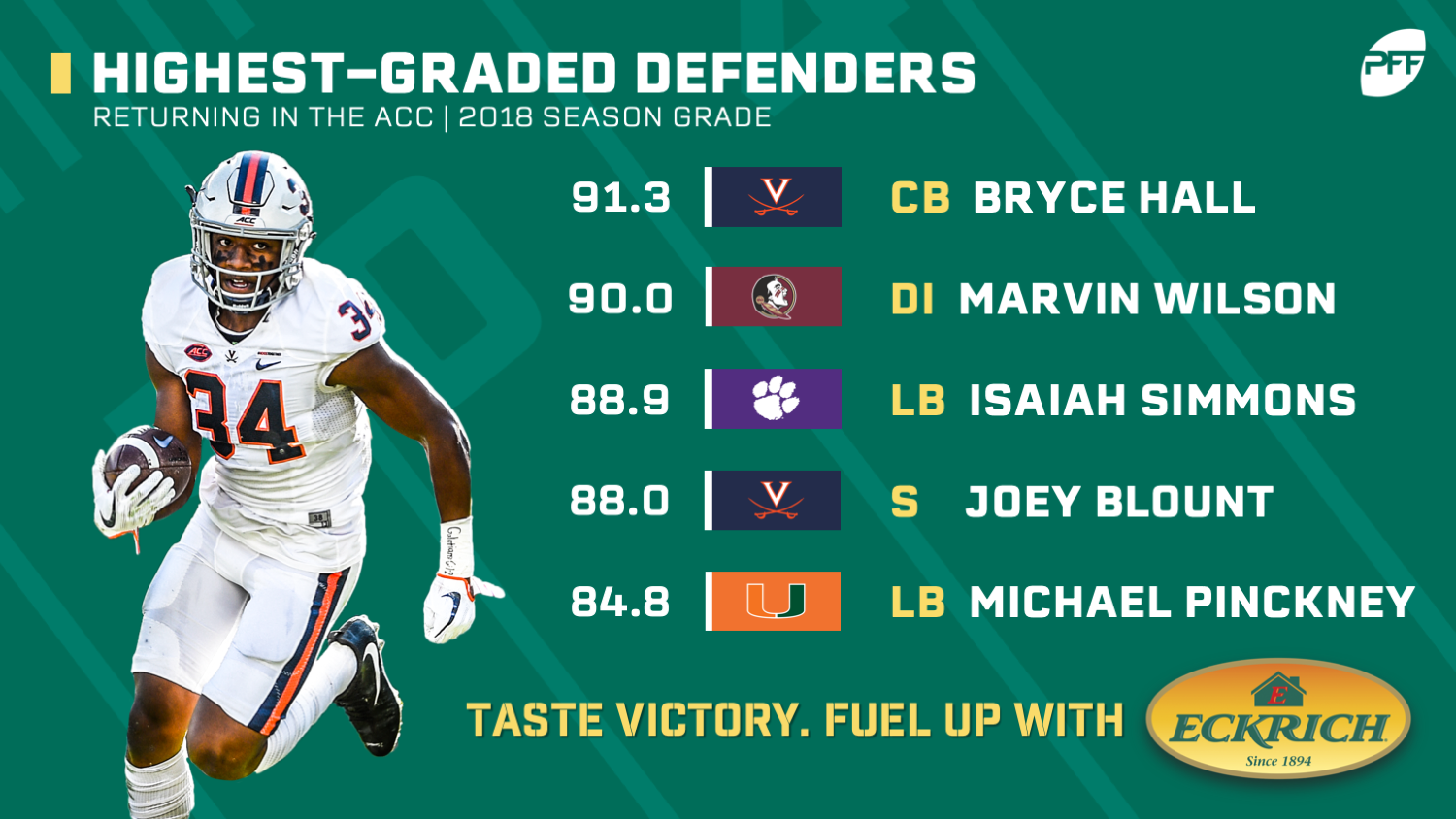 Defense
Edge Defender
Xavier Thomas, Clemson – 83.4
Rashad Weaver, Pittsburgh – 83.1*
Alton Robinson, Syracuse – 81.5
Carlos Basham Jr., Wake Forest – 80.4
Kendall Coleman, Syracuse – 78.4
Weaver will miss the season with a torn ACL in a huge blow to the Panthers defense. Thomas is set for a featured role as a dominant pass-rusher as he totaled 26 QB pressures on just 150 snaps last year behind NFL-level players ahead of him.
Interior Defender
Marvin Wilson, FSU – 90.0
Trevon McSwain, Duke – 81.7
Larrell Murchison, NC State – 81.0
Derrick Tangelo, Duke – 80.3
Nyles Pinckney, Clemson – 79.7
Wilson is the class of the defensive line returning to the ACC this season, totaling 34 pressures and 23 defensive stops a year ago. He returns with the highest pass-rushing grade AND the highest run-defense grade on the interior.
Linebacker
Isaiah Simmons, Clemson – 88.8
Michael Pinckney, Miami – 84.8
Justin Strnad, Wake Forest – 78.4
Shaq Smith, Clemson – 78.0
Dontavious Jackson, FSU – 77.6
Simmons' strong suit is in coverage where he recorded seven plays on the ball and no reception longer than 31 yards in his primary coverage a year ago. Pinckney is also no slouch in coverage, seeing just a 40.6 passer rating when targeted.
Cornerback
Bryce Hall, Virginia – 91.3
Trajan Bandy, Miami – 83.2
Essang Bassey, Wake Forest – 82.5
Michael Carter II, Duke – 80.3
A.J. Terrell, Clemson – 80.2
Hall is the nation's highest-graded cornerback and the highest-rated player on our College 50 entering the season for good reason. He is the nation's best on intermediate to deep passes while Bandy, Bassey, Carter and Terrell each saw extremely high coverage grades a year ago.
Safety
Joey Blount, Virginia – 88.0
Tanner Muse, Clemson – 82.5
Andre Cisco, Syracuse – 81.0
Denzel Johnson, Clemson – 80.5
Romeo Finley, Miami – 80.4
Blount returns with the top coverage grade among safeties, making two interceptions and three more pass breakups a year ago. Cisco leads the ACC secondary players with seven interceptions and he also made eight additional pass breakups to see a 54.4 passer rating as the primary coverage defender.