One of the biggest games in college football this weekend takes place in Happy Valley on Saturday, where the No. 9 ranked Penn State Nittany Lions host the No. 4 ranked Ohio State Buckeyes for a primetime, 'White Out' game.
With all the hype surrounding the game, we dive into the PFF numbers, and what to expect from potentially a game-altering position: the slot receiver.
This feature on the PSU-OSU game is brought to you by Eckrich, the Official Smoked Sausage of the College Football Playoff.
Penn State enters the game with one of the better cornerbacks in the Big Ten in senior Amani Oruwariye. He has posted an overall coverage grade of 66.9 on the season and is tied for the Big 10 lead in interceptions with two, bringing his career total to seven. Teams are not avoiding Oruwariye either as he's been targeted the more than all but one other cornerback in the Big Ten, seeing 27 targets on the season.
Opposite of Oruwariye in the starting lineup is sophomore Tariq Castro-Fields, who is no slouch in coverage himself. After allowing two receptions on four targets for 45 yards season-opening overtime win over Appalachian State, Castro-Fields has not allowed a receiver to gain more than 10 yards in any game since. While his overall grade is 70.0, it says something that teams are avoiding the rangy corner, as he has only been targeted 13 times this season.
The issue for Penn State coming into this game versus Ohio State is that neither Oruwariye nor Castro-Fields have taken a single snap in slot coverage. Ohio State boasts three of the most dangerous receivers in the confernece: Paris Campbell, K.J. Hill and Terry McLaurin are second, sixth and eighth, respectively, in total yards in the Big Ten.
Campbell in particular has been extremely lethal, posting a perfect 158.3 wide receiver rating through four games. He's second in the conference in yards and leads in touchdowns with five. The senior receiver has spent the majority of his season in the slot, seeing 95% of his snaps coming from an inside alignment.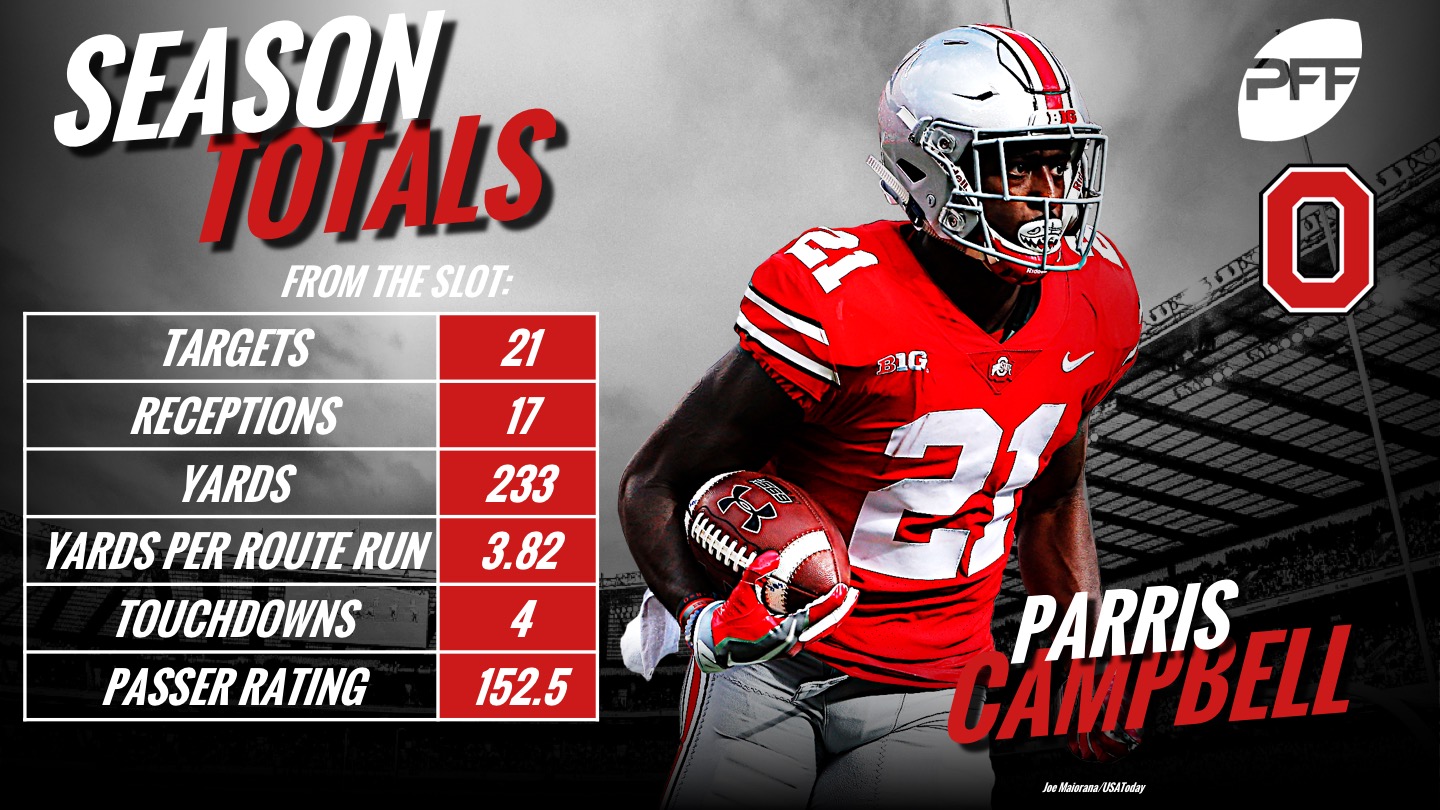 This presents a unique challenge for the Nittany Lions as they have a rather muddy slot defender rotation at the moment. Four defenders have taken 20 or more snaps in slot coverage through four games. Penn State has rotated their players heavily on defense during James Franklin's tenure as some of this is by design. Still, it does not seem as if they've settled on a primary defender for this position.
Oversized linebacker Cam Brown (6-foot-5, 230 pounds) is a good base defender who has spent 26 snaps in slot coverage while allowing only seven yards on three receptions (but only three targets) and a coverage grade of 79.2. Brown has done well so far this season but doesn't figure to be a good matchup with Campbell's speed on early downs. Safety Nick Scott has 28 snaps as a slot defender yet may have the same issue with Campbell's explosive speed. Backup safety Ayron Monroe has spent 22 snaps in slot coverage while allowing one catch for 17 yards and a Coverage rating of 118.8.
The most likely candidate to cover Campbell is redshirt freshman corner Donovan Johnson, who has posted the best grade of any slot defender for the Nittany Lions with a 50.3 passer rating allowed but he left last Friday's game with an apparent upper body injury. There's no word on whether or not he'll be able to play in Saturday's contest.
Finally, there is one wildcard for the Nittany Lions: John Ried.
The senior corner missed all of last season with a knee injury and has been very sluggish to start the 2018 campaign. He was one of the Nittany Lion's best cover corners in 2016, allowing just one touchdown on the season. The prevailing thought to start this year was that Reid would step right in and cover the slot position for Penn State in 2018. Reid has struggled in the two games he's appeared in this season, allowing five receptions on five targets from the slot for 86 yards and a touchdown. If Reid could flip the switch and return back to 2016 form, then we're talking someone who should have no issue covering Campbell from the slot.
No matter how you slice it, both defenses are in for a battle on Saturday night. Penn State and Ohio State have combined for a total of 440 points. To put it plainly, this game will in all likelihood be a shootout.
For Penn State, finding a player to stop Campbell in slot coverage will be key to a huge battle in the overall Buckeye's air assault on Saturday.