Welcome to the 11th NCAA Team of the Week for the 2018 season. As always, our team of over 500 analysts has dissected and graded every snap of every game to bring you the most detailed and valid set of picks you can find anywhere.
The Week 11 Team of the Week saw many impressive performances across the country and as always, overall grades, playing time and the quality of opposition has been factored in to make these selections.
The PFF Team of the Week is brought to you by Eckrich, the Official Smoked Sausage of the College Football Playoff.
Offense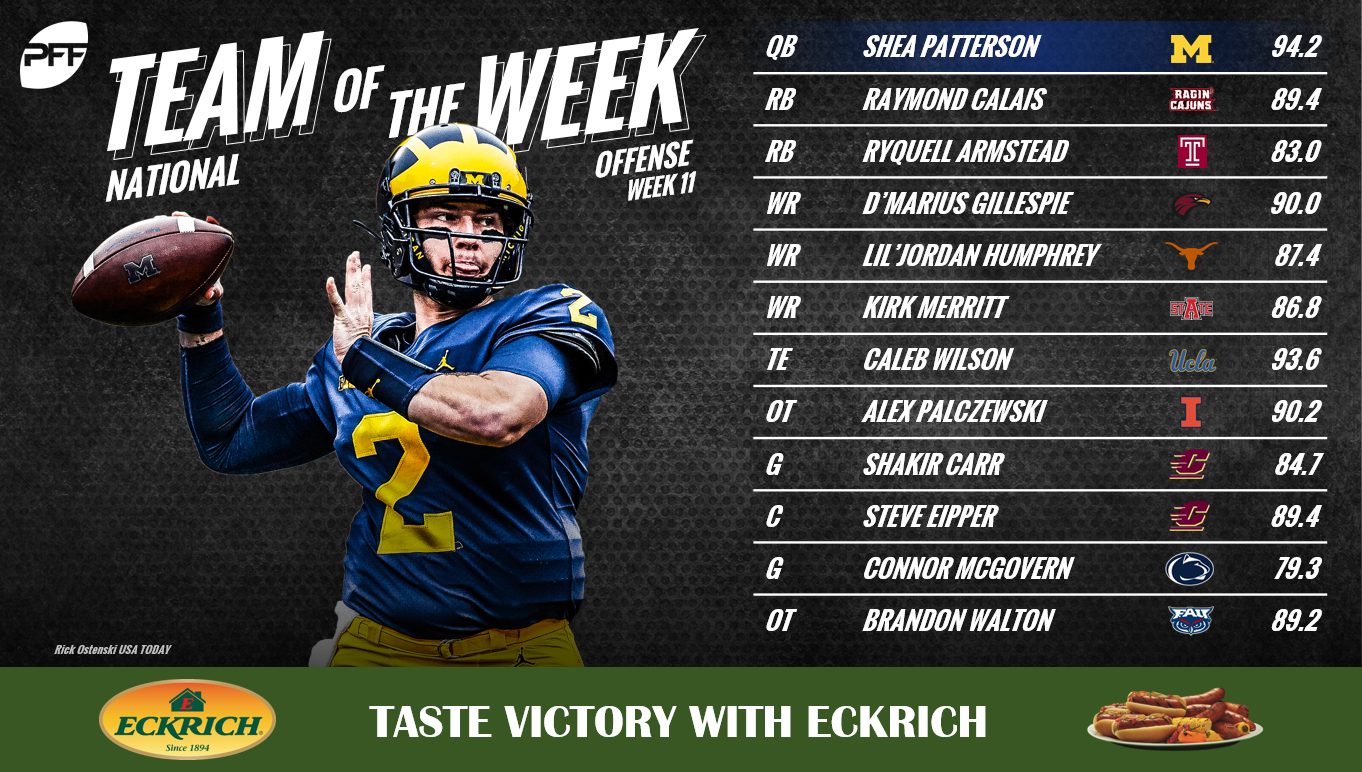 Quarterback
Shea Patterson, Michigan
Week 11 Grade: 94.2
Now the 14th-highest graded quarterback in the country, Patterson put forth the highest-graded game of his career against Rutgers, in a proverbial 'tune-up game' before their much-anticipated matchup with Ohio State in two weeks. Michigan hosts Indiana next week before squaring off with OSU but if Patterson can find any sort of success like he did against Rutgers, the Wolverines will be sitting pretty at 10-1 heading into Columbus.
Running Back
Raymond Calais, Louisiana
Week 11 Grade: 89.4
How do you top a running back who scores six times in one game? You do what Calais did and rush for 186 yards on just 13 carries. He scored three times himself, gained 148 yards after contact, forced three missed tackles and averaging a whopping 14.3 yards per carry on Saturday against Georgia State.
Running Back
Ryquell Armstead, Temple
Week 11 Grade: 83.0
Armstead toted the ball 30 times for Temple on Saturday, gaining 210 yards and scoring six (!!) touchdowns. He forced four missed tackles and gained 87 yards after contact as eight more of his carries also moved the chains for a first down against Houston.
Wide Receiver
D'Marius Gillespie, UL-Monroe
Week 11 Grade: 90.0
Gillespie hauled in all seven passes thrown his way for 159 yards and a touchdown. Four of his other receptions gained first downs as he racked up 10.7 yards after the catch per reception.
Wide Receiver
Lil'Jordan Humphrey, Texas
Week 11 Grade: 87.4
Humphrey may have had two drops in the game against Texas Tech but his overall performance outside of those was still good enough to earn a spot here. On 13 targets, he hauled in eight receptions for 159 yards, two touchdowns and four first down receptions. Humphrey forced two missed tackles and saw a 143.9 passer rating when targeted.
Wide Receiver
Kirk Merritt, Arkansas State
Week 11 Grade: 86.8
Merritt led the nation in Week 11 with his 89.3 receiving grade, paving the way to his 86.8 overall mark. He hauled in 11-of-12 targeted passes for 180 yards, 110 of which came after contact. While he may not have scored, nine of his receptions were good enough for a first down.
Tight End
Caleb Wilson, UCLA
Week 11 Grade: 93.6
Wilson not only secures the National Tight End of the Week honors, but he also does so by edging out fellow Pac-12 TE Colby Parkinson who scored four touchdowns. Wilson racked up 11 receptions on 14 targets despite the loss to Arizona State, good enough for 164 yards and two touchdowns himself. What set him apart was his ability after the catch as he forced three missed tackles and racked up 96 yards after the catch to lead the nation.
Offensive Tackle
Alex Palczewski, Illinois
Week 11 Grade: 90.2
On 37 pass-blocking snaps against Nebraska, Palczewski allowed just a single hurry while he led the nation's tackles with his 89.6 run-blocking grade this week.
Offensive Guard
Shakir Carr, Central Michigan
Week 11 Grade: 84.7
The first of two Chippewas to make the list this week, Carr impressed in both pass protection and run blocking. He didn't allow a single pressure while his 86.0 run-blocking grade was leaps and bounds ahead of all other guards this weekend.
Center
Steve Eipper, Central Michigan
Week 11 Grade: 89.4
Eipper joins his teammate on the list here on the back of his stellar run blocking against Bowling Green. While he didn't allow a single pressure in pass protection, his 86.1 run-blocking grade was nearly 14.0 points higher than the next center this weekend.
Offensive Guard
Connor McGovern, Penn State
Week 11 Grade: 79.3
McGovern was penalized once but was solid overall all afternoon long for the Nittany Lions. On 36 pass-blocking snaps, he did not surrender a single QB pressure and his run-blocking grade of 80.8 was good enough for second.
Offensive Tackle
Brandon Walton, Florida Atlantic
Week 11 Grade: 89.2
Following suit with his Team of the Week counterpart, Walton didn't allow a pressure on 31 pass-blocking snaps but was dominant in run blocking. His 85.3 run-blocking grade was second among all tackles this weekend.
Defense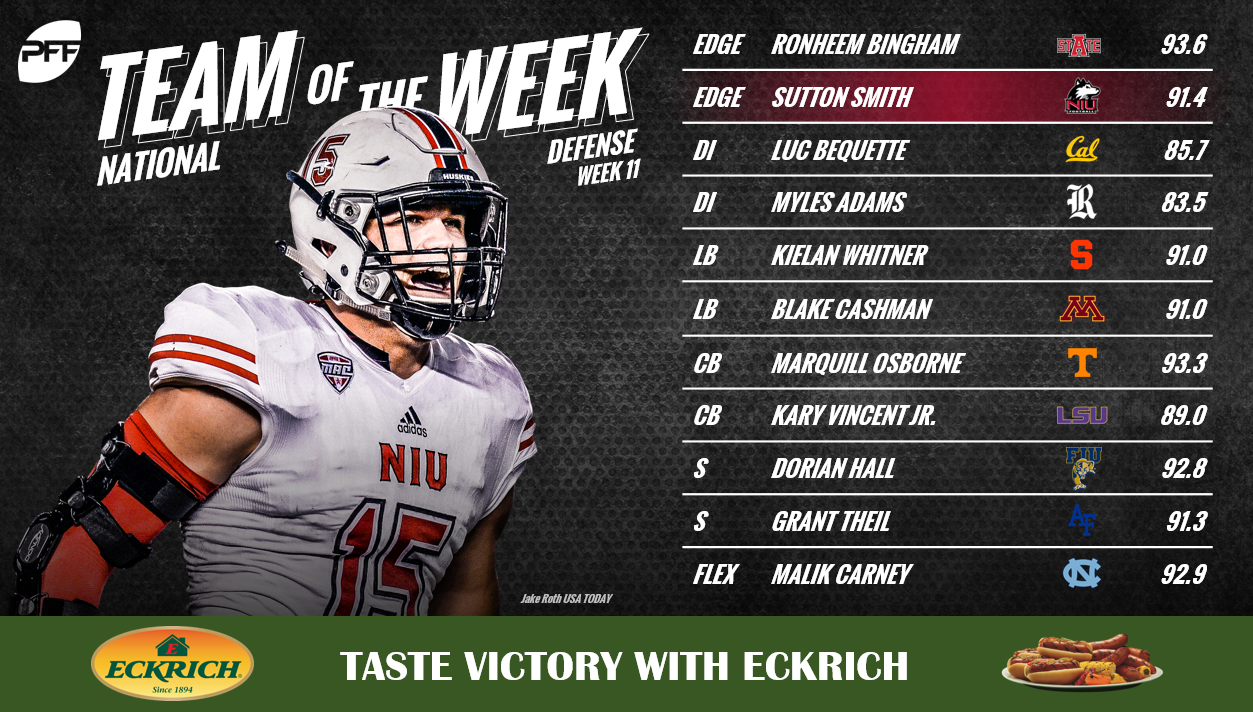 Edge Defender
Ronheem Bingham, Arkansas State
Week 11 Grade: 93.6
Leading the nation with eight total QB pressures this weekend, Bingham needed just 26 pass-rushing snaps to do so. He racked up two QB hits and six additional hurries to also lead the nation with his 93.2 pass-rushing grade.
Edge Defender
Sutton Smith, Northern Illinois
Week 11 Grade: 91.4
In midweek MACtion, Smith was dominant against Toledo. Putting forth his highest-graded game of the season, he brought in five pressures including a sack, three QB hits and a hurry. Smith chipped in with another forced fumble and a scoop-and-score on a blocked punt for good measure.
Defensive Interior
Luc Bequette, Cal
Week 11 Grade: 85.7
Cal knocked off USC for the first time since 2003 and Bequette was a major reason for that. On the field for 66 snaps on defense, he brought in three pressures as a pass-rusher that included two sacks. He forced a fumble and four of his six solo tackles went for a defensive stop.
Defensive Interior
Myles Adams, Rice
Week 11 Grade: 83.5
Adams brought in two QB pressures on just 16 pass-rushing snaps but it was in run defense where he shined brightest. On just 17 snaps against the run, Adams secured four solo tackles, all of which went for an offensive failure.
Linebacker
Kielan Whitner, Syracuse
Week 11 Grade: 91.0
With dueling 91.0 grades, Whitner and Cashman earn spots here over Michigan's Devin Bush and his 90.9 overall grade. Whitner was excellent across the field, receiving plus grades in coverage, run defense and tackling as he brought down three stops for an offensive failure and limited receivers to just three yards on 30 snaps in coverage while also grabbing an interception.
Linebacker
Blake Cashman, Minnesota
Week 11 Grade: 91.0
Cashman had arguably one of the more dominant days in run defense, flying over the field and securing seven solo tackles. He brought down three defensive stops, forced a fumble and was constantly in position to force runs off their intended path. In total against the run, his 98.3 run-defense grade is the second-highest single-game run-defense grade of the season for a linebacker.
Cornerback
Marquill Osborne, Tennessee
Week 11 Grade: 93.3
Just barely making the snap-count cutoff, Osborne was targeted four times on 19 snaps in coverage against Kentucky. He did not allow a single pass to be caught as be intercepted two and broke up the other two for a 0.0 passer rating when targeted.
Cornerback
Kary Vincent Jr., LSU
Week 11 Grade: 89.0
Vincent Jr. edges out FSU's Stanford Samuels as they each share 89.0 overall grades this weekend. Vincent, however, was more dominant in coverage, seeing five targeted passes against Arkansas, allowing just one reception. He pulled in an interception himself and two more pass breakups, all told, leaving him with a lowly 10.0 passer rating when targeted.
Safety
Dorian Hall, FIU
Week 11 Grade: 92.8
Hall was all over the field on just 25 snaps for FIU, registering a QB pressure on a blitz, making a defensive stop for his lone tackle of the evening and even breaking through with an interception in coverage as he was instinctually at the right place at the right time on Saturday.
Safety
Grant Theil, Air Force
Week 11 Grade: 91.3
Theil was heavily targeted against New Mexico, seeing four targeted passes as the primary coverage defender on his 25 snaps in coverage. While he allowed two receptions, they went for just 12 yards and he secured an interception himself to go with a handful of defensive stops and a forced fumble.
Flex Defense
Malik Carney, UNC
Week 11 Grade: 92.9
Carney had a major impact both when rushing the passer (three pressures) but also in coverage where he was targeted twice on seven snaps in which he dropped back. He allowed just one pass to be caught for negative yardage and recorded a pass breakup on the other.