There is hope on the horizon for Wake Forest faithful. For just the second time since the ACC was formed, a Demon Deacons coach has finished three consecutive seasons with a winning record, as head coach Dave Clawson has his team primed for a top-end finish in the ACC Atlantic division.
This story is brought to you by Eckrich, the Official Smoked Sausage of the College Football Playoff.
Optimism aside, there is an area of question as we get to fall camp. And it's at an important position.
However, its a good thing for Demon Deacon fans that Jamie Newman and Sam Hartman will battle it out through camp to see who can earn the starting nod at quarterback in 2019. Let's rewind to just last year at this time, where Hartman actually beat out the more-experienced Newman for the job in the wake of Kendall Hinton's suspension to start the season.
Hartman performed well beyond expectations over the first three games of the season, finishing with three consecutive game grades of 79.5 or higher including an 87.9 overall graded season-opening performance against Tulane. While he did struggle against tougher defenses as the season progressed, most notably against Notre Dame and Clemson, there is still reason for hope if he were to once against beat out Newman to be declared the starter for the August 30 season opener against Utah State.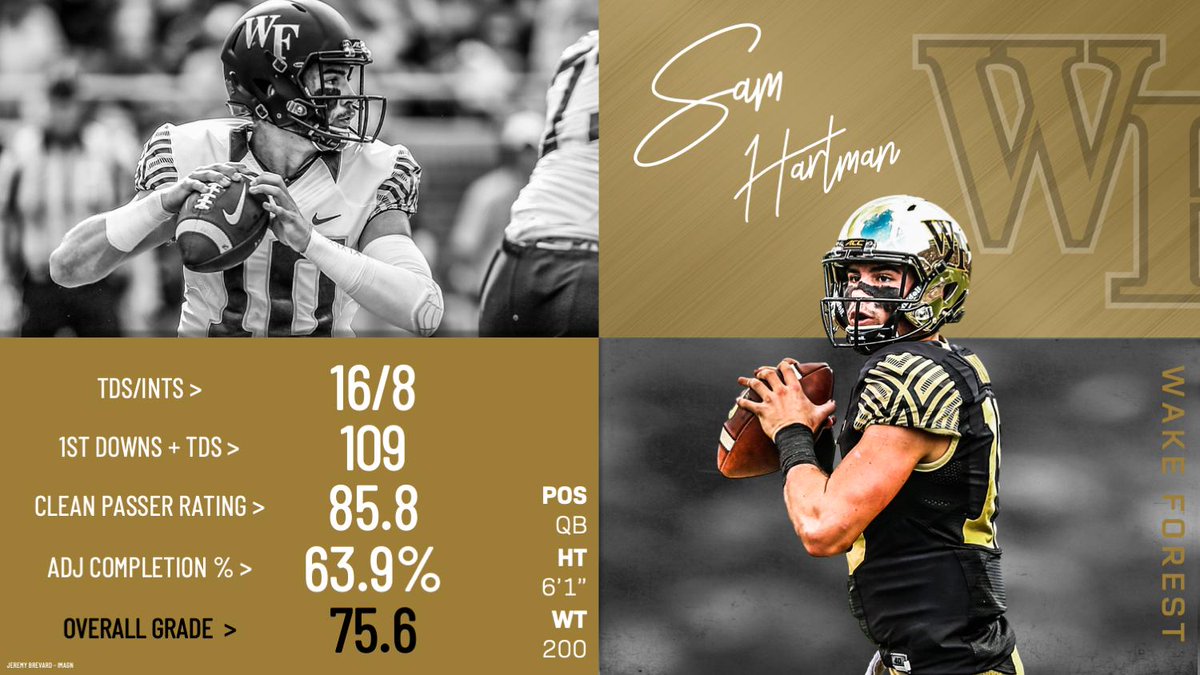 Hartman excelled without play action, a metric that is relatively stable from year to year, finishing the season with the third-highest passer rating on non-play-action pass attempts among returning ACC quarterbacks. He completed 108-of-195 of those attempts for 1,333 yards and 11 touchdowns.
Despite a minor falter in the waning moments of the season before he was ultimately relieved by Newman, Hartman played well beyond his years in his first season in Black and Gold.
Hartman finished with the fourth-highest graded among all returning ACC quarterbacks. His passing grade of 75.0 ranks as the third-highest among returning ACC quarterbacks. He combined for 109 first-down conversions over his first nine games and that figure is more than full-time starting quarterbacks Anthony Brown, Kenny Pickett and Jawon Pass accumulated on at least two more games than Hartman.
On the other side of the coin, Newman shined in his limited snaps as well, finishing with marks just above his counterpart in terms of returning ACC quarterback grades. His 77.9 overall grade ranks third and his 75.8 passing grade ranks second, each one spot ahead of Hartman and he did it in a similar manner to his teammate.
Where Hartman excelled in non-play-action attempts, Newman also had great success in stable year-to-year metrics in his limited action as the starter.
In fact, in those four games in which he started (NC State, Pittsburgh, Duke, Memphis), Newman finished with a 102.7 passer rating from a clean pocket and a conference-high 383 deep passing yards. While clean-pocket passing is the most stable metric when looking at quarterbacks in between seasons, deep passing is certainly less so but still should give Wake Forest faithful hope that if Newman does win the starting gig, they'll have their fair share of big-time plays down the field in 2019.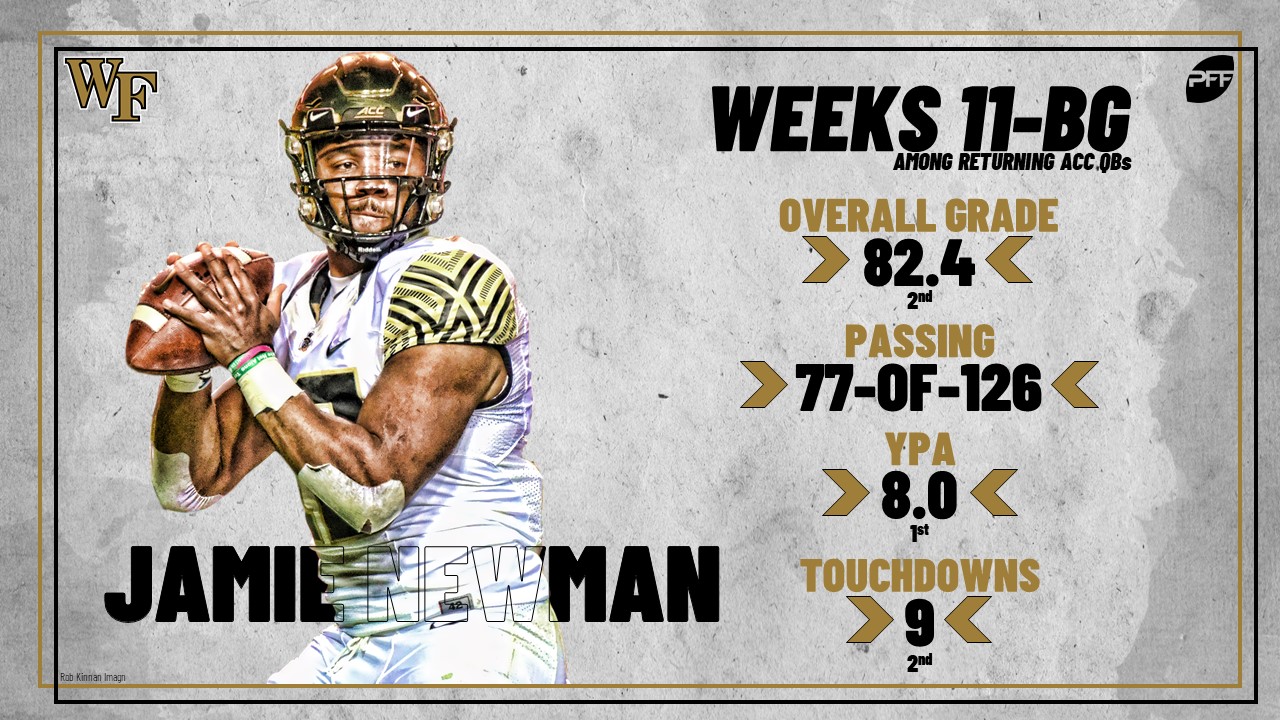 From Week 11 through bowl season, no returning ACC quarterback averaged a higher yards per attempt average than Newman's 8.0 and his nine touchdown passes and 82.4 overall grade ranked second in the conference.
The exciting factor for the Demon Deacons this year is that both quarterbacks seemingly have a good rapport, will push each other to each become their best and if one's wheels do start to come off the rails, have shown that the other can step in and right the ship if required.
Newman's higher grade on a smaller sample size may warrant enough to give him the nod ahead of camp, but Hartman's ability from a clean pocket and also the added bonus of a full offseason in the Wake Forest camp and his nine games of exceeding expectations give pause at declaring a winner on paper at this point. Either way, with how well each succeeded in areas that we at PFF have deemed as important for year-to-year growth, the Demon Deacons are primed for yet another winning season.
And maybe even more.