This is who he was meant to be for Georgia when he arrived with the Bulldogs as a five-star recruit. It might have come against FCS opposition in Eastern Washington, but Jacob Eason's performance for the Washington Huskies this past weekend was a reminder of what could have been at Georgia, and what might become this season at UW.

As a true freshman at Georgia, there were nice moments and big-time throws, but he lacked consistency, and that led to him finishing that freshman campaign with a PFF grade of 65.7 — and no single game with a PFF grade above 75.0. Then along came Jake Fromm. Fromm won the job in 2017 and impressed with a PFF grade of 82.1 on the year. Meanwhile, Eason dropped back to pass just 10 times, going 4-for-7 for just 28 yards with two sacks and a fumble. With Fromm at the helm, Georgia would reach the National Championship game against Alabama in 2017 and come up just short of reaching the College Football Playoff in 2018. Eason, on the other hand, would transfer and return home to Washington, sitting out the 2018 season. And that brings us to Saturday.
Washington was expected to win comfortably and the Huskies duly delivered, walking away with a 47-14 win over Eastern Washington. The victory was expected, but what we weren't sure of was what we were going to see out of Eason. It took until the second drive, but he made it count with a fantastic throw for a touchdown. Dropping back on 1st-and-10, he fired the ball in stride to Andre Baccellia, who had blown past the Eastern Washington defense on the go route. It was an open throw, but an impressive deep shot all the same.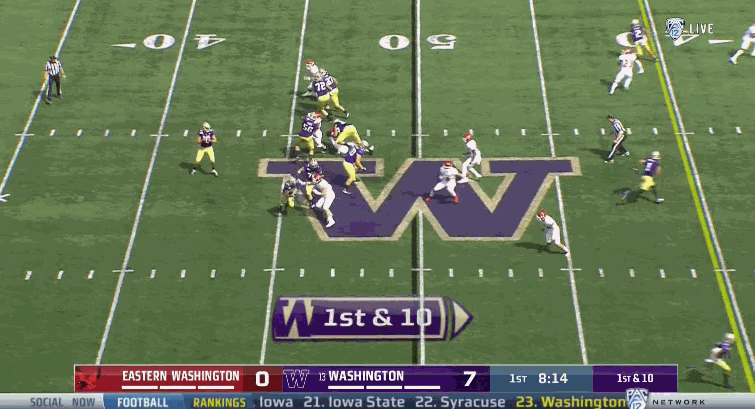 It was also typical of the success he enjoyed throwing the ball downfield, going 4-for-7 for 125 yards and two touchdowns on throws 20-plus yards downfield. This was especially true on throws deep left downfield, where he went 3-for-5 for 75 yards and another touchdown. This one came on 1st-and-10 with 11:44 left in the third quarter, with Easton putting the ball in position for wide receiver Aaron Fuller to make a tremendous grab for the score.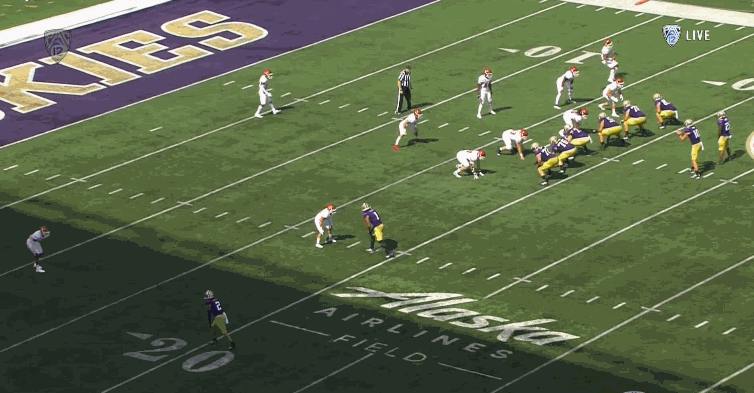 What is true of both of these passes, though, is that Eason was kept free from pressure on both. And if we're going to look at the good, we need to acknowledge the bad, which was that he struggled when the Eastern Washington defense did get to him. This was true of Eason back in 2016 at Georgia, where he produced a PFF grade of just 41.1 on 115 dropbacks under pressure, and it was clear to see in a limited sample against the Eagles. Under pressure on just four dropbacks, Eason went 1-for-4, including a dangerous throw off his back foot on 2nd-and-6 with 0:52 left in the first half.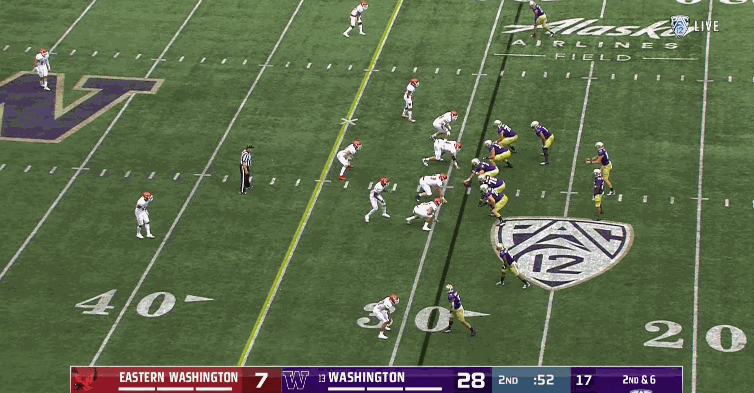 The improvements were there elsewhere, though. He struggled to throw the ball to his left in his freshman season at Georgia, completing just 47.7% of his passes and throwing just three touchdowns on throws outside the numbers. On Saturday, he completed 81.8% of those throws and with two touchdowns, he has almost matched his 2016 total.
Another area he will want to improve upon as the season wears on, especially if he hopes to propel Washington into contention in the Pac-12, is in cutting down on missed opportunities. As good as his 349-yards, four-touchdown stat line looks, it could have been even better. He produced a PFF passing grade of 83.6, which is the best in a single game from Eason in his college career, and ranked 18th among all quarterbacks with at least 15 dropbacks this week, but it could have been even better. There were overthrows that could have been big plays and touchdowns downfield, and there were times when he put the ball behind his receivers, leading to incompletions and hurting the opportunity for yards after the catch on receptions. All of that being said, it's hard to be too down on what was the best we have seen out of Eason. It was still an impressive showing in his first outing with the Huskies.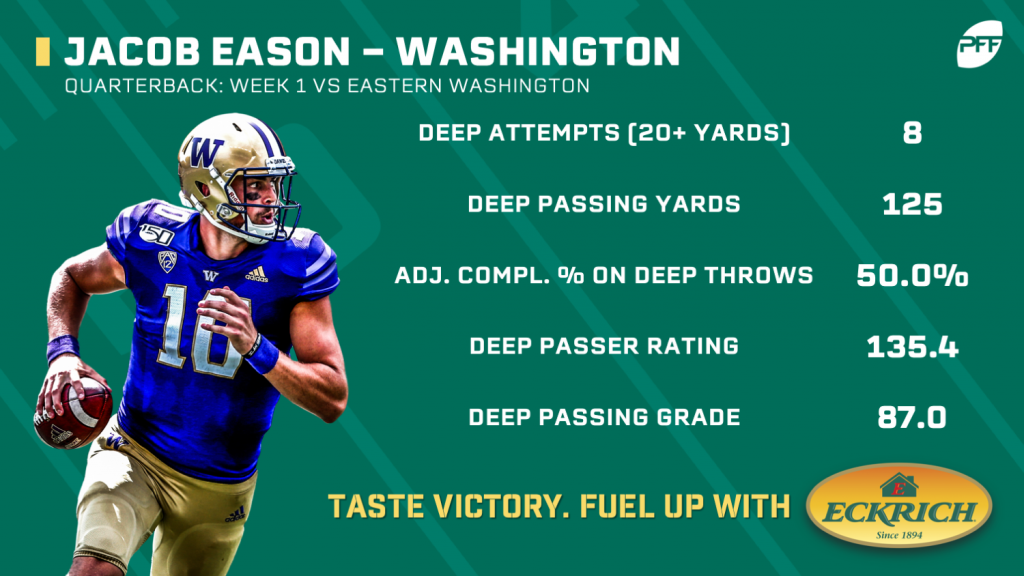 In the aftermath of his time at Georgia, Eason had become an afterthought for a lot of people. Three years is a long time in college football, and any hype surrounding him has long since been replaced by quarterbacks like Baker Mayfield, Tua Tagovailoa, Kyler Murray, Trevor Lawrence, to name just a few. That's why his performance on Saturday was so important. People will say that it doesn't matter because it was "only Eastern Washington" but, while it's true that context is required and he will have to tangle with far more challenging opponents, he looks right at home in a stadium just a 40-minute drive from where he played high school football.