A week ago, we highlighted the importance of the slot receiver and the nation's highest graded receivers when lined up in the slot. As the slot receiver has gained importance in today's football both at the college and professional level, it's just growing proof of how important passing is for success in this era of football.
With that in mind, we take a look at which individual receivers are currently the nation's highest-graded at the position. We took to the PFF play-by-play grading for an extensive look at which receivers have been the best through Week 9.
This list is brought to you by Eckrich, the Official Smoked Sausage of the College Football Playoff.
[Editor's note: To qualify for a ranking, a receiver must have seen at least 25 targets this season.]
1. Andy Isabella, UMass
2018 overall grade: 92.0
Isabella has been a machine for the Minutemen this season, receiving a positive grade on 12.2% of his total routes run, compared to his 1.4% negatively-graded rate for his routes. He's racked up the national high 1,089 receiving yards including 463 after the catch, averaging 6.9 yards after the catch per reception. Of the 70 catchable passes thrown his way, he's brought in 67 receptions against just three drops and scored nine touchdowns.
2. Laviska Shenault Jr., Colorado
2018 overall grade: 90.9
Shenault has been slowed of late with an injury yet still is tied for the national lead with 23 missed tackles forced after the catch. He's averaging 8.8 yards after the catch per reception and 32 of his 61 catches have gone for either a touchdown (6) or a first down (26). He's been a mismatch weapon for the Buffaloes all season and his impact is no more apparent than when looking at their schedule. With Shenault in the lineup, Colorado is 5-1. Without him, they've lost two straight.
3. John Hightower, Boise State
2018 overall grade: 89.8
A.J. Richardson may have more yards but Hightower has received a positive grade on 11.9% of his snaps in route this season. He's gained 212 of his 488 receiving yards after the catch and his 146.4 passer rating when targeted is the 10th-best mark in the country.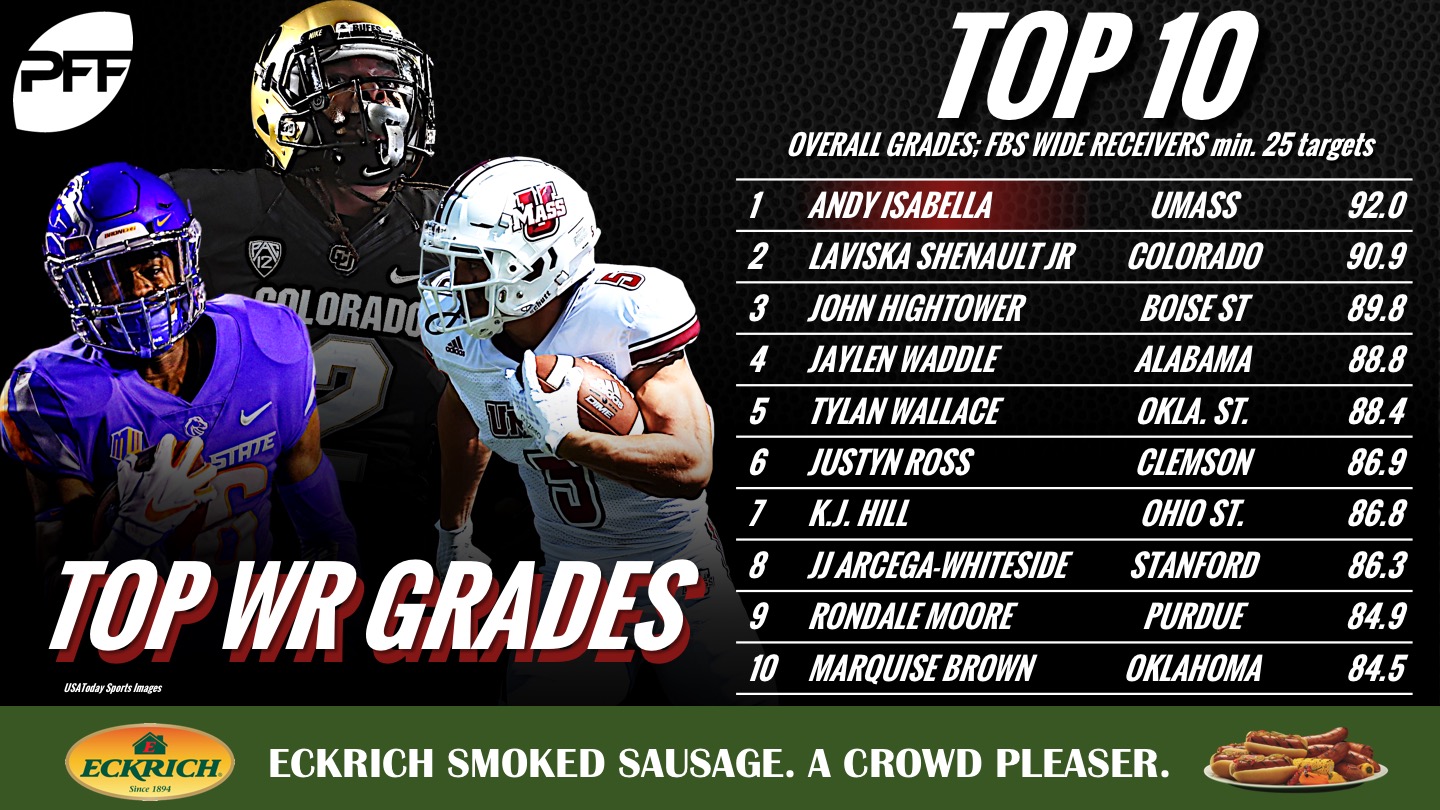 4. Jaylen Waddle, Alabama
2018 overall grade: 88.8
Waddle has become a star in the Alabama passing attack this season with Tua Tagovailoa at the helm. Waddle averages an extremely healthy 21.8 yards per reception this season, the ninth-highest average in the country. 16 of his 21 receptions have gone for a touchdown (3) or a first down (13).
5. Tylan Wallace, Oklahoma State
2018 overall grade: 88.4
Wallace may have recorded three drops against Texas but his 84.5 overall grade for his outstanding effort was still good enough to land him a spot on our National Team of the Week and push his grade to 88.4 overall for the season. He's taken the place of the now NFL duo of James Washington and Marcell Ateman quite nicely, averaging 18.8 yards per reception, the highest of any receiver with at least 68 targeted passes and he leads the nation with 16 contested catches.
6. Justyn Ross, Clemson
2018 overall grade: 86.9
Ross has exploded onto the scene as of late with fellow true freshman Trevor Lawrence tossing him the ball. Ross now has hauled in a first down or a touchdown on 14 of his 20 career receptions as he averages 9.3 yards after the catch per reception and 20.1 yards per catch. He's forced five missed tackles after the catch and sees a 120.6 passer rating when targeted.
7. K.J. Hill, Ohio State
2018 overall grade: 86.8
Hill has been a monster from the slot for the Buckeyes in their short passing attack, gaining 656 yards that include 380 yards after the catch. He's caught a first down on 30 of his receptions this season as four more have gone for touchdowns.
8. JJ Arcega-Whiteside
2018 overall grade: 86.3
Arcega-Whiteside made headlines with his highlight-reel touchdown receptions to start the season and still finds himself tied for second in the country with 14 contested catches. He's second in the nation in touchdown receptions as well and sees a 138.7 passer rating when targeted.
9. Rondale Moore, Purdue
2018 overall grade: 84.9
Moore had one of the more memorable performances when he carved up the Ohio State secondary in Week 8 but he's been on the PFF radar for weeks now in his breakout true freshman season. On the year, Moore leads the country with 554 of his receiving yards coming after the catch. With another three-missed tackle forced performance in Week 9, he's now tied with Shenault for the national lead with 23 missed tackles forced this season.
10. Marquise Brown, Oklahoma
2018 overall grade: 84.5
Brown leads the nation now with 40 receptions without a drop, being the only FBS receiver to see at least 36 catchable receptions without a single dropped pass. Brown how averages 9.3 yards after the catch per reception and has hauled in seven touchdown receptions this year.
Rounding out the top 20
11. Tyler Johnson, Minnesota (84.3)
12. Jerry Jeudy, Alabama (84.0)
13. Jaelon Darden, North Texas (83.9)
14. Marquez Stevenson, Houston (83.8)
14. JD Spielman, Nebraska (83.8)
16. James Proche, SMU (83.0)
17. Thayer Thomas, NC State (82.7)
18. Kelvin Harmon, NC State (82.5)
19. Scott Miller, Bowling Green (82.3)
20. Shawn Poindexter, Arizona (81.7)