One of the returning national leaders at the quarterback position has gone largely untalked about as we enter the 2019 NCAA season. Partly because of his geographic location, partly because of the conference he plays in, but make no mistake about it, Cole McDonald is as exciting a player to watch as any.
Now, it's no surprise that Hawaii's high-flying offense once again has produced a prolific quarterback in McDonald. The Rainbow Warriors run 'n shoot offense has churned out quarterbacks who break records at will stemming as far back as even the casual fans can remember names like Timmy Chang, Colt Brennan and now-head-coach Nick Rolovich himself.
This post is brought to you by Eckrich, the Official Smoked Sausage of the College Football Playoff.
McDonald enters the season with nation's 27th-highest overall grade at the position while his passing grade returns as a top-25 mark. Even with attempting more passes than any other quarterback last season, McDonald still ranked inside the top 20 in yards per attempt at 8.0 on 487 passes last year. He finished second behind Alabama QB Tua Tagovailoa in both passing yards and passing touchdowns while trailing only North Texas' Mason Fine in combined first-down and touchdown conversions through the air.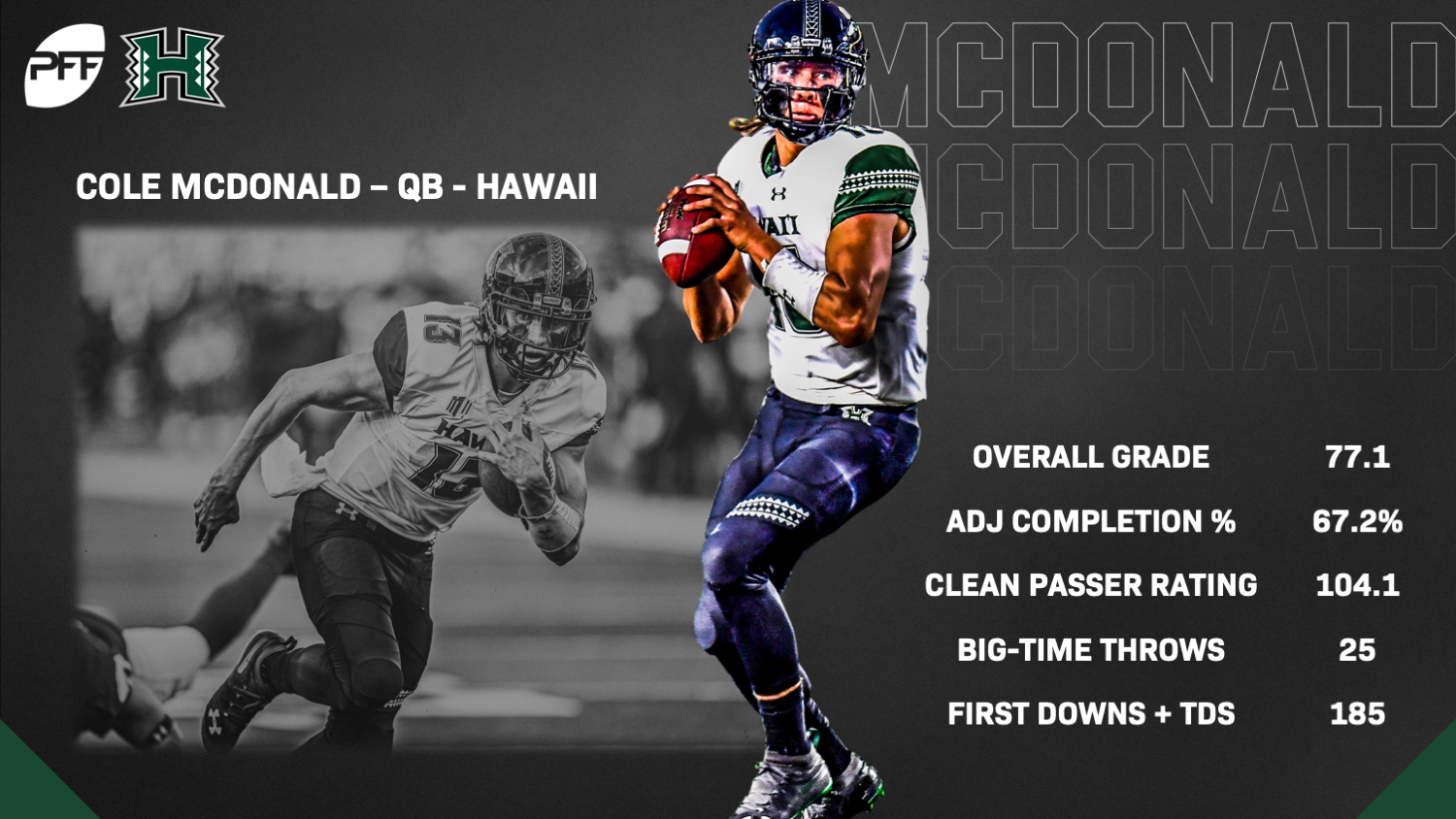 Hawaii fans know what they'll be getting with their offense much like any other year but what else can they expect with McDonald fully entrenched as the starter this season?
Clean Pocket Passing
When kept clean from pressure in the pocket, McDonald thrived. He holds a top-10 grade on such throws among the returning Group of 5 quarterbacks and leads all the nation's returning signal-callers with 3,461 passing yards when kept clean from pressure. His offensive line returns all five starters from a season ago, and his 79.2% clean dropback percentage should likely be on the rise even if that was already the fifth-highest rate in the country. If his receivers can hang on to the ball more so on his clean-pocket attempts, those numbers could even blossom. McDonald had 31 of his 214 catchable passes dropped from a clean pocket last year, the most in the country.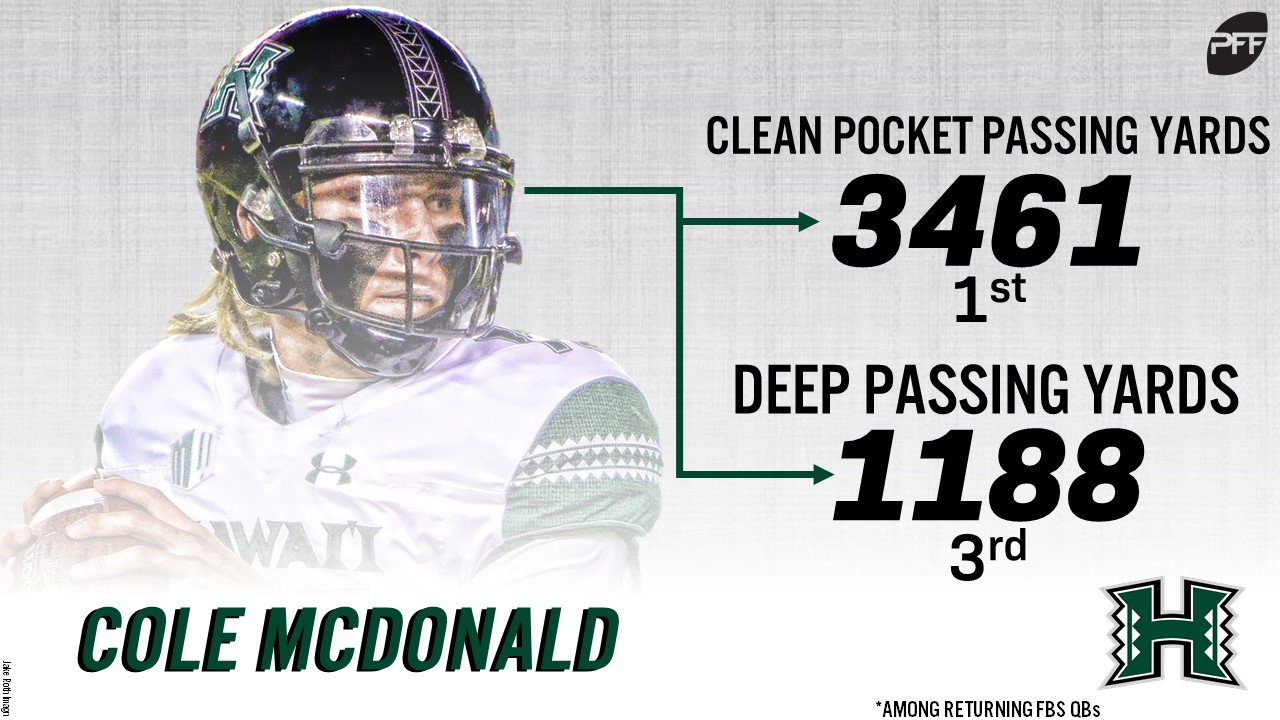 Deep Ball
Only five returning quarterbacks threw for more than 1,000 yards on deep passes last season, and four of those five guys are household names at this point of the offseason. K.J. Costello, Tua Tagovailoa, Trevor Lawrence and Brock Purdy have received their share of the notoriety in 2019, but McDonald ranks third among all of those with 1,188 deep passing yards. He attempted a deep shot (20+ yards) on 17.7% of his throws, not even in the top 35 among returners, but his 12 touchdowns are the seventh most in that same group. With another year in the system and potentially a bit more accuracy on his deep shots, McDonald could even see those numbers and ranks improve.
Quick Passing Game
The run 'n shoot offense gives McDonald the freedom to get the ball out quickly, and as such, he averaged just 2.24 seconds to attempt a pass, the ninth-fastest time in the nation among returning quarterbacks. He attempted more and completed more quick passes, those thrown within 2.5 seconds of the snap and also led the nation with 27 touchdown passes on those quick attempts.
He enters the year with the ninth-highest passing grade on those quick attempts and should be able to rely on that ability going forward.
McDonald is as exciting as any quarterback to watch this upcoming season, and with some big-market games such as hosting Arizona, Oregon State and a trip to Washington, the general public should take notice if he can continue to excel in the areas he excelled in last year.