Typically, it's a very bad situation for a college football team to lose its starting quarterback to injury and have to rely on an inexperienced backup. The USC Trojans were facing perhaps the worst version of this bad dream during the opening game of 2019 when QB JT Daniels tore his ACL and meniscus in the second quarter.
Into the spotlight stepped true freshman Kedon Slovis, a three-star recruit who had received only two other offers from Power-5 schools — Oregon State and NC State — before committing to USC. Before halftime of their first game, expectations for the 2019 Trojans had taken a major hit.
[Editor's note: Subscribe to PFF ELITE today to gain access to PFF's Premium Stats and new Player Grades experience in addition to the 2020 NFL Draft Guide, 2020 Fantasy Rookie Scouting Report, PFF Greenline, all of PFF's premium article content and more.]
Slovis, however, shocked us all — just like his high school quarterbacks coach/NFL Hall of Famer Kurt Warner said he would.
Slovis went on to produce an 80.8 passing grade for the year — the fifth-best mark by a true freshman Power-5 quarterback in the PFF College era. The Trojans finished 8-5 and one year later are heading into 2020 quite comfortable with their young signal-call.
There were some road bumps to start for Slovis, sure. He threw a pick in one of his eight pass attempts in Week 1, went on to have an great game in USC's blowout victory over Stanford in Week 2, had his lowest-graded game in a loss to BYU in Week 3, then suffered a concussion against Utah that knocked in out of that game as well as Week 5. When he returned in Week 7 at Notre Dame, Slovis looked sharp, and that continued for the rest of the season. He really only one "bad" game afterward (Week 10 versus Oregon). From Week 7 to the end of the year, Slovis owned the 17th-highest passing grade in college football and the highest in the conference.
The Pac-12 saw numerous great college quarterbacks take their talents to the NFL this offseason: Tyler Huntley (Utah), Jake Luton (Oregon State), Anthony Gordon (Washington State), Jacob Eason (Washington) and Justin Herbert (Oregon). Which leaves several underclassmen/inexperienced quarterbacks vying for the top spot in the Pac-12. Slovis the best among the group as of now, and his pinpoint accuracy is a big reason why.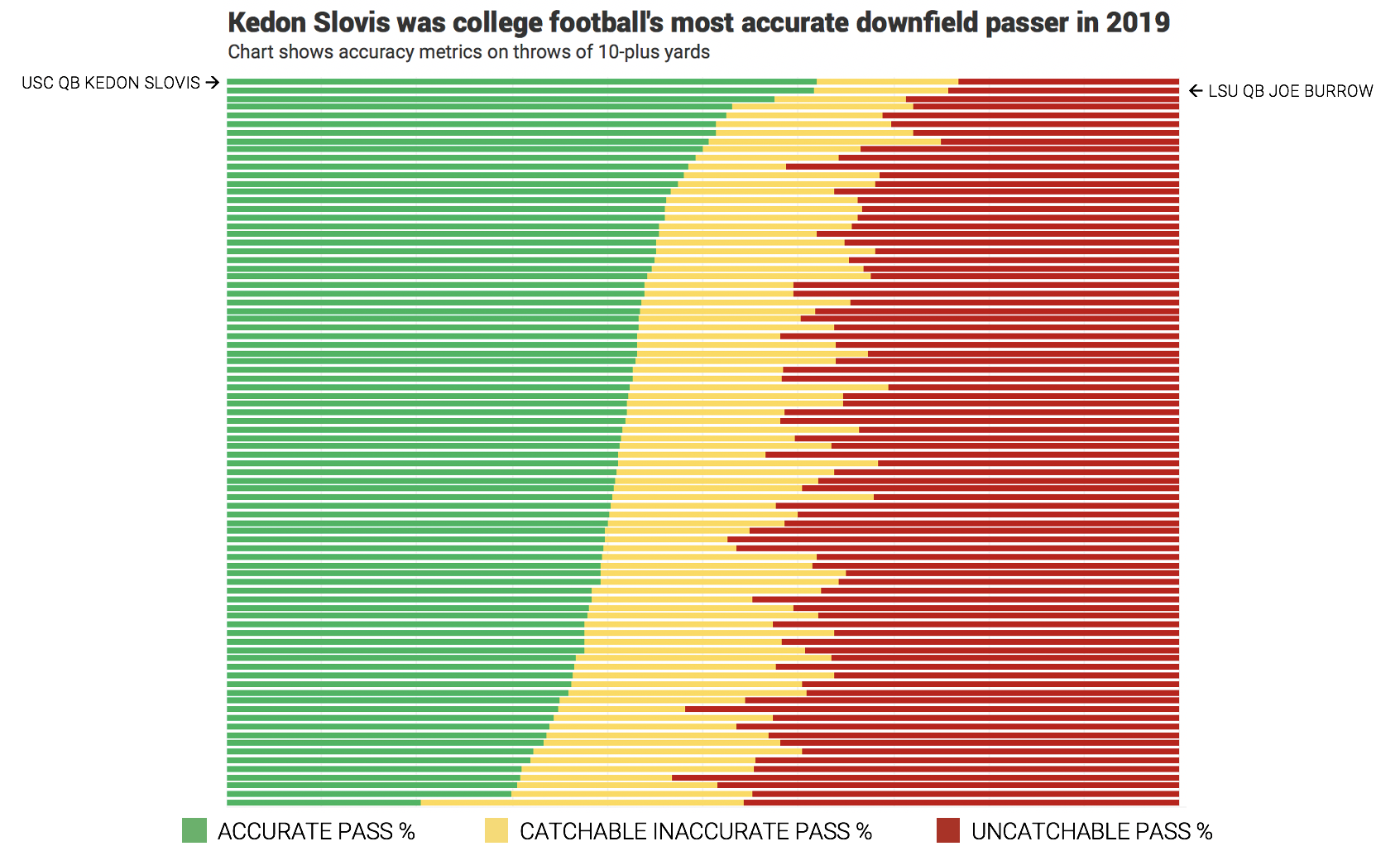 Subscribe to PFF Edge to continue reading
Already have a subscription? Sign In