The college football season is nearing the midway point for most teams, and after a full slate of games on Saturday, we at PFF and our team of over 500 analysts has dissected and graded every player on every snap of every game to bring you the most detailed and valid set of picks you can find anywhere.
The Week 7 Eckrich Team of the Week powered by PFF saw some impressive performances and, of course, the strength of opponent also factored into the overall selections as did the PFF player grades.


QUARTERBACK
Trevor Lawrence, Clemson
Lawrence led Clemson's offense to a 31-point toppling of Florida State on Saturday, as he was as precise and efficient as any. The Heisman hopeful dropped back 27 times, passing on 26 of those, and completed 18 passes for 177 yards and three touchdowns. He also added a score on the ground.
Second-Team QB: Evan Conley, Louisville
RUNNING BACK
Travis Etienne, Clemson
Nine Clemson players recorded a carry on Saturday, but none earned a higher rushing grade than Etienne, who averaged 7.4 yards per attempt and forced eight missed tackles on just 16 carries. Only one Power 5 running back forced missed tackles at a higher rate in Week 7. What also separated Etienne from the rest were his 77 yards after contact.
Second-Team RB: Deon Jackson, Duke
Deshawn McClease, Virginia Tech
McClease averaged 9.7 yards per carry against Rhode Island en route to 126 total yards on the ground. He wasn't the highest-graded ACC rusher in Week 7 —that belonged to Etienne—but his 126 yards did lead the conference. The Hokie running back added five first downs and a score, which resulted in his remarkable 38.0% first down/touchdown rate.
Second-Team RB: Christian Beal-Smith, Wake Forest
WIDE RECEIVER
Sage Surratt, Wake Forest
Wake Forest quarterback Sam Hartman was dealing on Saturday, as he provided two wide receivers with 20 targets each, Sage Surratt being one of them. The other, Kendall Hinton, finds himself on the ACC second-team. Surratt caught 12 of those targets for 196 yards, three scores and ten first downs. His average depth of target of 14.5 yards led to four receptions of which Suratt ripped off for 15 or more yards.
Second-Team WR: Justyn Ross, Clemson
Dez Fitzpatrick, Louisville
Wake Forest wasn't the only ACC offense putting up numbers on Saturday. Louisville, their opponent in the Week 7 bout, edged out Wake 62-59 in a matchup that saw a combined 121 points put up on the scoreboard. Dez Fitzpatrick contributed to that score in a big way catching two touchdowns and five passes that went for 15-plus yards. He also earned the highest receiving grade among all ACC wide receivers (85.7).
Second-Team WR: Kendall Hinton, Wake Forest
Tutu Atwell, Louisville
Sitting firmly behind Fitzpatrick is Tutu Atwell, his Cardinal teammate, who earned the second-highest receiving grade among all ACC pass-catchers (82.1). Tutu caught seven of his 11 targets for 85 yards, a score and five first downs. He also churned out 48 of his 85 yards after the catch in what was an impressive outing for the Louisville receiver.
Second-Team WR: Trishton Jackson, Syracuse
TIGHT END
Dalton Keene, Virginia Tech
Only one ACC tight end earned a 70.0-plus receiving grade in Week 7. Of course, it is Virginia Tech tight end Dalton Keene, who earned an 80.3 grade as well as a spot on the Eckrich ACC Team of the Week. Keene caught all four passes that came his way and had 86.8% of his 53 yards occur after the catch. He also contributed in pass-blocking, earning a 72.2 grade across 11 snaps.
Second-Team TE: Jack Freudenthal, Wake Forest
OFFENSIVE TACKLE
Christian Darrisaw, Virginia Tech
The big man on the edge was a significant factor in the Hokies' fierce offensive attack on Saturday. Darrisaw finished the game with zero pressures allowed, a perfect 100.0 pass-blocking efficiency rate and conference-high 88.3 pass-blocking grade. Week 7's win capped off an exceptional performance for the offensive tackle, as his pass-blocking grade was the highest that he's earned in any career matchup.
Second-Team OT: Jordan McFadden, Clemson
OFFENSIVE GUARD
Zach Baker, Duke
There was much left to be desired in Zach Baker's pass-blocking performance against Georgia Tech on Saturday, but he did earn the second-highest run-blocking marks in the conference (74.5). Baker's road-grading play in Week 7 helped pave the way for Duke running back Jordan Mason to earn a 100-plus yard day.
Second-Team OG: Evan Adams, Syracuse
CENTER
Jack Wohlabaugh, Duke
There may not have been an offensive lineman as balanced as Jack Wohlabaugh in this week of collegiate play. The center made marks of 70.9 and 80.7 in run-block and pass-blocking, respectively. He paired well with Baker, his fellow Duke O-lineman, in what was a multi-score win over Georgia Tech. A primary cause of his impressive pass-blocking marks is his perfect 100.0 pass-blocking efficiency rating and zero pressures allowed.
Second-Team C: Grant Gibson, NC State
OFFENSIVE GUARD
Austin Cannon, Virginia Tech
A 100.0 pass-blocking efficiency rating very well may be a prerequisite for offensive linemen on this list, because Virginia Tech offensive guard Austin Cannon received on this week as well. He was one of five ACC guards to earn an 85.0-plus pass-block grade in Week 7, and it is also worth noting that Cannon wasn't penalized on the day.
Second-Team OG: Dakota Davis, Syracuse
OFFENSIVE TACKLE
DJ Scaife Jr., Miami
The Hurricanes beat Virginia in a hard-fought Friday night matchup, and the Miami offensive line had a great deal to do with the final score being what it was. Specifically, offensive tackle DJ Scaife Jr. earned a 72.6 offensive grade and did not record a penalty across 52 offensive snaps.
Second-Team OT: Jacob Monk, Duke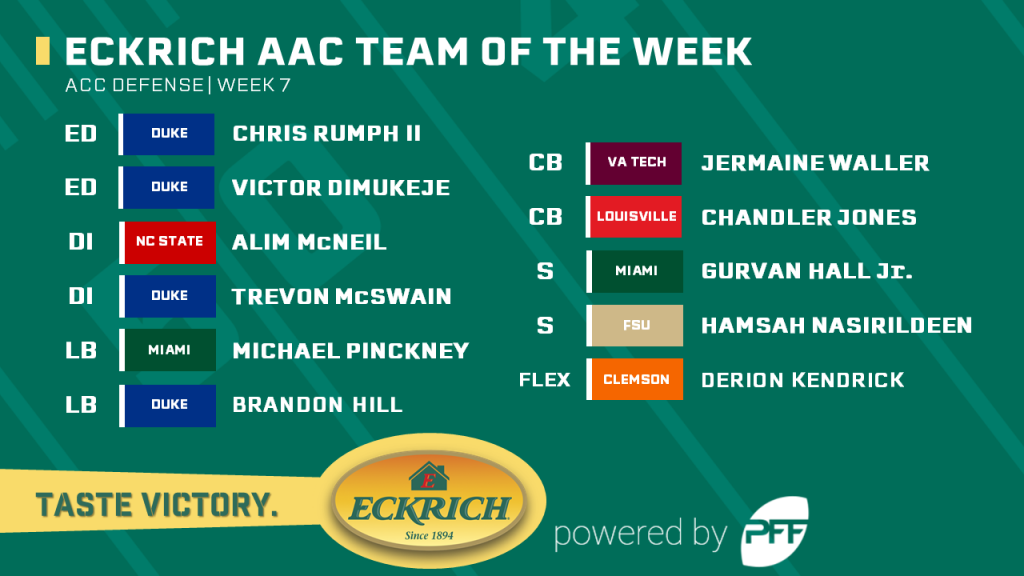 EDGE DEFENDER
Chris Rumph II, Duke
Chris Rumph not only earned the highest defensive grade in the ACC but the second-highest defensive grade in all of FBS football (94.0). Rumph has taken his play up to another level this season, as his Week 7 grade was his third earned 80.0-plus mark in the last four games. The reason for his high-grade? The Duke edge rusher secured eight quarterback pressures and a 27.6 pressure percentage, both conference-high figures at his position.
Second-Team edge: Jonathan Garvin, Miami
Victor Dimukeje, Duke
Dimukeje, the player opposite Rumph, was the other edge rusher terrorizing the Georgia Tech offense. His 91.5 pass-rush grade was the second-highest in the ACC for an edge player, behind only Rumph, and he also collected four defensive stops. They certainly were a dynamic duo, as Dimukeje matched his total of eight quarterback pressures and maintained a nice 22.9% pressure percentage himself.
Second-Team edge: Gregory Rousseau, Miami
INTERIOR DEFENDER
Alim McNeill, NC State
The edge rushers did their damage rushing the passer, but Alim McNeil made his impact in run-defense. He secured four defensive stops, two of which were against the run, on just 13 snaps defending the run.
Second-Team DI: Marvin Wilson, Florida State
Trevon McSwain, Duke
The last member of the three-headed monster that was the Duke pass-rush this weekend also earned his due rushing the passer. His 92.6 pass-rush grade was the highest in the ACC and the entire FBS among interior defenders. McSwain added three quarterback pressures to his Week 7 resume en route to a 22.7 pass-rush win rate. All told, the Duke defensive front made for a stressful day for Georgia Tech quarterback Lucas Johnson & co.
Second-Team DI: Jonathan Ford, Miami
LINEBACKER
Michael Pinckney, Miami
Pinckney, who was touted as one of PFF's highest-graded returning ACC defenders last offseason, is living up to expectations with his 78.4 defensive grade across a grueling 73 defensive snaps. His play was as balanced as any, earning a 69.0-plus mark in each run defense, pass-rush and coverage. The 'Canes linebacker was targeted four times and gave up just one first down with a forced incompletion to boot.
Second-Team LB: Alan Tisdale, Virginia Tech
Brandon Hill, Duke
Like Pinckney, Hill also made an impact in all facets of the game. He patrolled the middle of the field in coverage and left his mark in the run game as well, earning 70.2 and 76.0 coverage and run-defense grades, respectively. Hill was targeted as the primary defender in coverage three times, surrendering just two catches for 14 yards.
Second-Team LB: C.J. Avery, Louisville
CORNERBACK
Jermaine Waller, Virginia Tech
Waller had a massive game in coverage for the Hokies, as he was targeted as the primary defender in coverage an astounding eight times, surrendering just three receptions for 26 yards. Waller allowed a reception on 37.5% of his targets, which ranks third among ACC corners who were targeted five or more times in Week 7.
Second-Team CB: Asante Samuel Jr., Florida State
Chandler Jones, Louisville
If there were a coverage performance that matched Waller's in Week 7, it is Louisville's Chandler Jones. The ACC cornerback earned a spot on this list from being targeted ten times, only allowing two catches. His 20.0% completion percentage when targeted ranks first among all ACC corners.
Second-Team CB: Tyler Baker-Williams, NC State
SAFETY
Gurvan Hall Jr., Miami
Gurvan Hall Jr. was a flat-out playmaker for the 'Canes on Friday. He was sent to rush the passer on just five occasions but secured an astounding three quarterback pressures (60.0% pressure rate). In coverage, he allowed only seven yards on six targets. Opposing quarterbacks maintained a 42.4 passer rating when targeting him in the game.
Second-Team S: Nasir Greer, Wake Forest
Hamsah Nasirildeen, Florida State
Florida State suffered a brutal loss on Saturday against Clemson, the class of the ACC, but Nasirildeen absolutely made his own individual impact. He recorded 93 defensive snaps, 42 of which were in pass coverage. All told, he surrendered a 0.0 passer rating in coverage and a 0.0% completion percentage on two targets. He also recorded a pair of run stops in what was a dominant performance.
Second-Team S: Nolan Turner, Clemson
FLEX
Derion Kendrick, Clemson
If there is a player that deserves the flex spot on the ACC Team of the Week, then Derion Kendrick is that man. He earned a season-high grade of 80.2, most of which is the result of his efforts in coverage across 26 snaps. The Clemson defensive back allowed just two receiving yards and a 2.8 passer rating when targeted.
Second-Team FLEX: Denzel Johnson, Clemson