The college football season is in full force and with a full slate of games on Saturday, we at PFF and our team of over 500 analysts has dissected and graded every player on every snap of every game to bring you the most detailed and valid set of picks you can find anywhere.
The Week 5 Eckrich Team of the Week powered by PFF saw some impressive performances and, of course, the strength of opponent also factored into the overall selections as did the PFF player grades.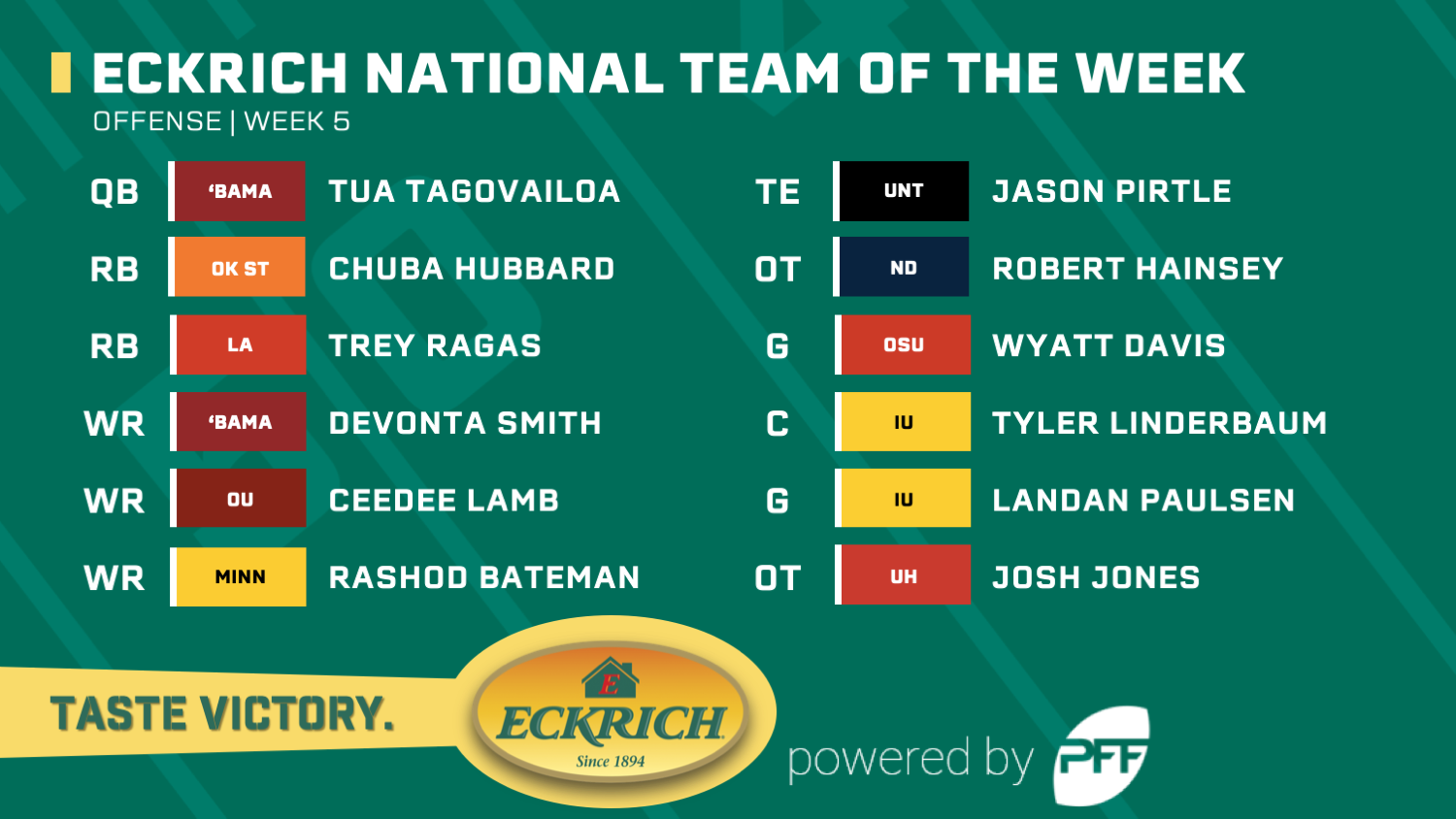 Quarterback
Tua Tagovailoa, Alabama
Tagovailoa needed just 25 completions to hit 417 yards through the air as he connected for six touchdowns against Ole Miss. He hit DeVonta Smith for five TDs and even ran one in himself to become the leader in touchdowns-responsible-for in Alabama history, cementing himself as perhaps one of the best college quarterbacks of all time. His dominance on full display, Alabama is now 2-0 in the SEC and has a week off to get ready for Texas A&M on October 12.
Second-Team QB: Jalen Hurts, Oklahoma
Running Back
Chuba Hubbard, Oklahoma State
Hubbard had some serious running lanes to gain big chunk plays against Kansas State, but when presented with an issue, he made his own way just fine. He gained 84 yards after contact and forced six missed tackles on the ground as he and the Cowboys took care of the Wildcats on Saturday night. Hubbard now leads the country in rushing yards by a comfortable 280-yard margin.
Second-Team RB:  Tavien Feaster, South Carolina
Running Back
Trey Ragas, Louisiana
Much like Hubbard above, Ragas had some gashing lanes to run through as his offensive line paved the way for a big game. However, Ragas also had plenty of work done on his own, forcing six missed tackles himself and gaining 67 of his 130 yards after contact as well. He's averaging 10.0 yards per carry on the season and has forced 125 missed tackles in his career.
Second-Team RB: Jaret Patterson, Buffalo
Wide Receiver
DeVonta Smith, Alabama
One week it's Jerry Jeudy. Another week it's Henry Ruggs. This week it's DeVonta Smith as the Alabama receiving corps are not only showing their strength and depth, they're dominating in the process. Smith produced a national-best 274 receiving yards on Saturday, on 11 catches as well as five touchdowns and three more first-down receptions. He gained 159 of his yards after the catch, forced four missed tackles and saw a perfect passer rating of 158.3 when targeted, obviously.
Second-Team WR: Gabriel Davis, UCF
Wide Receiver
Ceedee Lamb, Oklahoma
Lamb dominated the early-game headlines before Smith took the field as he hauled in seven receptions for 185 yards and three scores. Lamb gained 134 of his yards after the catch and hauled in two more first downs on his grabs as he showcased what makes him perhaps one of the 2020 NFL Draft's top all-around receivers.
Second-Team WR: Whop Philyor, Indiana
Wide Receiver
Rashod Bateman, Minnesota
Bateman's contested catch in the second half against Purdue was ultimately a game-changing moment as he feasted on the Boilermakers' cornerbacks opposite Tyler Johnson. Bateman snagged six balls for 177 yards, two scores and ripped off 56 yards after the catch for a perfect passer rating of 158.3 when targeted.
Second-Team WR: Tee Higgins, Clemson
Tight End
Jason Pirtle, North Texas
The only tight end to go over 100 yards, Pirtle had plus-grades across the board and even gained 115 of his 147 yards after the catch. His 99-yard touchdown reception will go down in history as tying the longest offensive play in college football but his five other receptions were pivotal seemingly the only thing reliable for the North Texas offense.
Second-Team TE: Harrison Bryant, FAU
Offensive Tackle
Robert Hainsey, Notre Dame
The Fighting Irish stuck around against Virginia before ultimately pulling away and Hainsey was integral in both facets for the Notre Dame offense. He didn't allow a single QB pressure on his 37 snaps in pass protection while finishing with the nation's fourth-highest run-blocking grade among all tackles.
Second-Team OT: Prince Tega Wanogho, Auburn
Offensive Guard
Wyatt Davis, Ohio State
Davis was a stalwart in not only pass protection but also against the run for the Buckeyes against Nebraska in their big win in Lincoln. He allowed just one QB hurry on 29 pass-blocking reps while he paved the way against a stout interior of the Cornhuskers defensive line to the tune of the nation's third-highest run-blocking grade among guards.
Second-Team OG: Marcus Keyes, Oklahoma State
Center
Tyler Linderbaum, Iowa
Holding the nation's top pass-blocking grade among centers, Linderbaum was dominant in all facets for the Hawkeyes. He didn't allow a single QB pressure on his 30 snaps in pass protection while also finishing with the nation's second-highest run-blocking grade.
Second-Team C: Luke Juriga, Western Michigan
Offensive Guard
Landan Paulsen, Iowa
The Iowa offensive line was utterly dominant against MTSU, as represented by their placing of two offensive linemen on the list here. Paulsen locked down the left guard spot with a clean sheet in pass protection and a strong performance in the run game.
Second-Team OG: Arvin Fletcher, Southern Miss
Offensive Tackle
Josh Jones, Houston
Even with the win against North Texas, the season hasn't gone the way of the Cougars but that is to no fault of Jones. He's been Houston's highest-graded player in four of their five games to date and was dominant once again on Saturday. He didn't allow a single pressure on his 29 pass-blocking snaps while he finished with an elite 85.5 run-blocking grade.
Second-Team OT: Drake Dorbeck, Southern Miss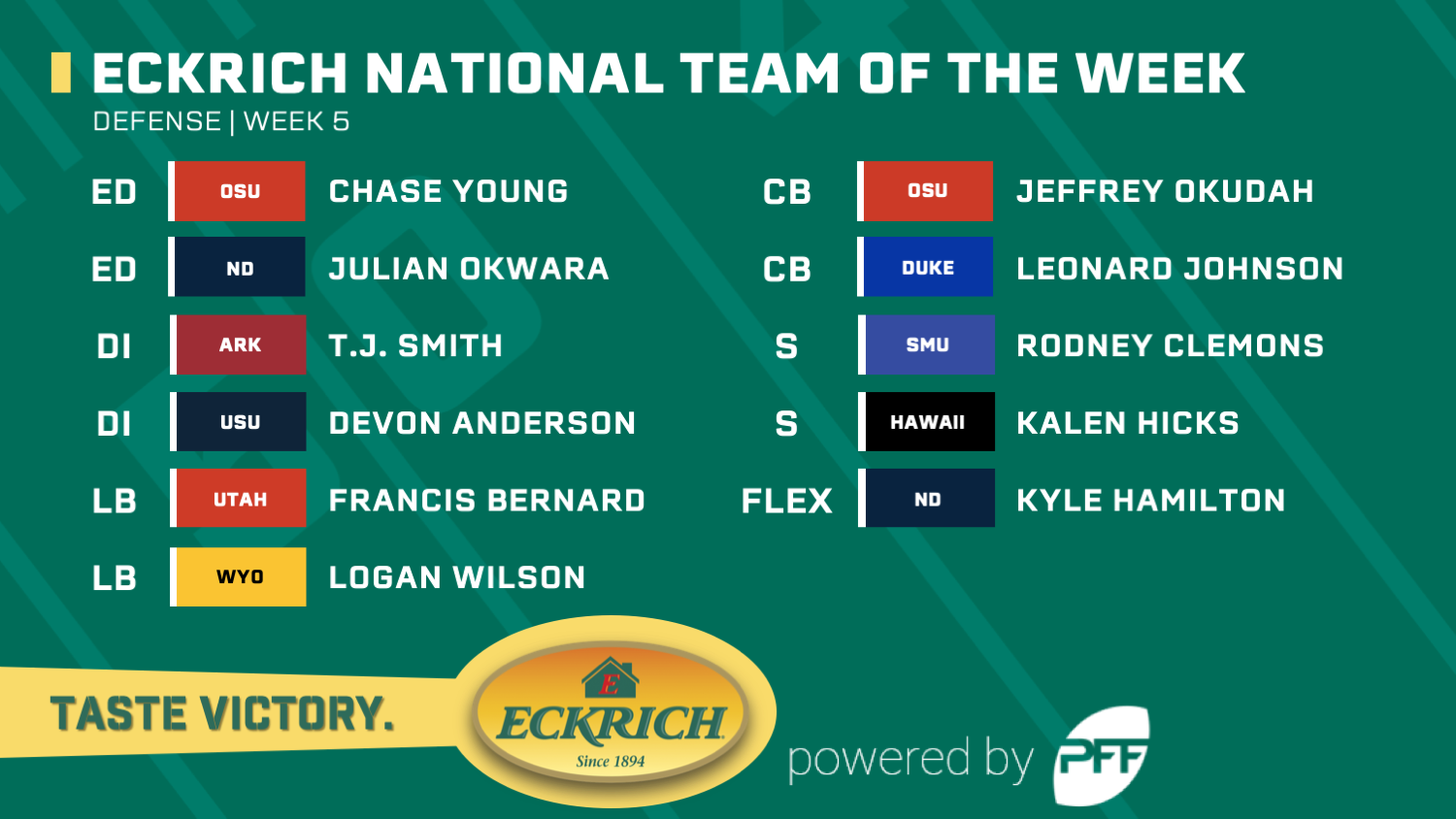 Edge Defender
Chase Young, Ohio State
For the second time in as many weeks, Young finds himself on our list as not only one of the edge defenders of the week but as the highest-graded edge defender from the weekend. He needed just 11 pass-rush attempts to record five total pressures including a sack and a forced fumble. He recorded two additional stops in the run game to showcase just how well-rounded he is along the edge as perhaps the country's best defensive player.
Second-Team Edge: Kendall Futrell, ECU
Edge Defender
Julian Okwara, Notre Dame
Finally, the emergence of Okwara, as the Fighting Irish got a big game from their big-name player on defense and a victory against Virginia. Okwara recorded eight total pressures on 45 pass-rushing snaps including three sacks, a QB hit and four more hurries. He forced two fumbles and was integral in the victory for Notre Dame.
Second-Team Edge: Khalid Kareem, Notre Dame
Defensive Interior
T.J. Smith, Arkansas
Smith and the Razorbacks didn't pull off the upset against Texas A&M but Smith was sharp in all facets. He recorded a sack and two more QB hurries while chipping in with a defensive stop in the run game as he ate up blockers in the middle.
Second-Team DI: Levi Onwuzurike, Washington
Defensive Interior
Devon Anderson, Utah State
Anderson finished the game with five total QB pressures up the middle on just 23 pass-rushing snaps. He had a sack and two more defensive stops in the run game in an all-around great game in front of the ball-hawking David Woodward.
Second-Team DI: Bravvion Roy, Baylor
Linebacker
Francis Bernard, Utah
With elite grades in coverage, Bernard really dominated where it mattered most against the Washington State Air Raid Offense. he was targeted four times, allowing just 10 yards in coverage and had an interception and a pass breakup for just a 37.5 passer rating when targeted. He also recorded two QB pressures and had five defensive stops that kept the Cougars off balance seemingly all game.
Second-Team LB: David Woodward, Utah State
Linebacker
Logan Wilson, Wyoming
Wilson was the nation's highest-graded linebacker as he was sharp in all facets. He had elite grades against the run and in coverage as he came down with three defensive stops and allowed all of 27 yards in coverage despite being targeted six times. He allowed four receptions and had an interception of his own as he saw just a 36.8 passer rating when targeted.
Second-Team LB: Isaiah Graham-Mobley, Temple
Cornerback
Jeffrey Okudah, Ohio State
Lying on his back, Okudah had an interception fall into his hands, literally, as that's just how great the Ohio State defense played. He also made another play on the ball that showcased his football instincts, jumping a route and securing a brilliant contested interception. For the day, he was targeted just once, making the interception and chipped in with another defensive stop in coverage.
Second-Team CB: Andre Neal, Colorado State
Cornerback
Leonard Johnson, Duke
The Blue Devils got a big win in conference play on Friday night against Virginia Tech as Johnson was an integral part. He limited the Hokies to just nine yards in his coverage as he was targeted six times and allowed just one catch. He made an interception of his own as well as another pass breakup, finishing with an elite overall and elite coverage grade in the process.
Second-Team CB: Benjamin St.-Juste, Minnesota
Safety
Rodney Clemons, SMU
Clemons and the Mustangs dominated USF on Saturday night as Clemons came down with two interceptions and limited receivers in his primary coverage to negative yardage on four targets. He finished with six total tackles, two defensive stops and did all this without missing a tackle.
Second-Team S: Terrell Burgess, Utah
Safety
Kalen Hicks, Hawaii
The Hawaii offense and defense fired on all cylinders late Saturday night as Hicks made three total plays on the ball in coverage (1 INT, 2 PBU), recorded three defensive stops, six solo tackles, elite grades in coverage and overall, doing all this without a missed tackle.
Second-Team S: Wylan Free, Fresno State
Flex
Kyle Hamilton, Notre Dame
The sensational true freshman put his talents on display once again against Virginia. He recorded an interception in coverage while coming down with a stop in run defense and finishing with elite grades for the game. Hamilton is climbing up the ranks of top true freshman in the country after this strong performance.
Second-Team Flex: Collin Wilder, Wisconsin