The college football season is back in full force and with a full slate of games on Saturday, we at PFF and our team of over 500 analysts has dissected and graded every player on every snap of every game to bring you the most detailed and valid set of picks you can find anywhere.
The Week 3 Eckrich Team of the Week powered by PFF saw some impressive performances and, of course, the strength of opponent also factored into the overall selections as did the PFF player grades.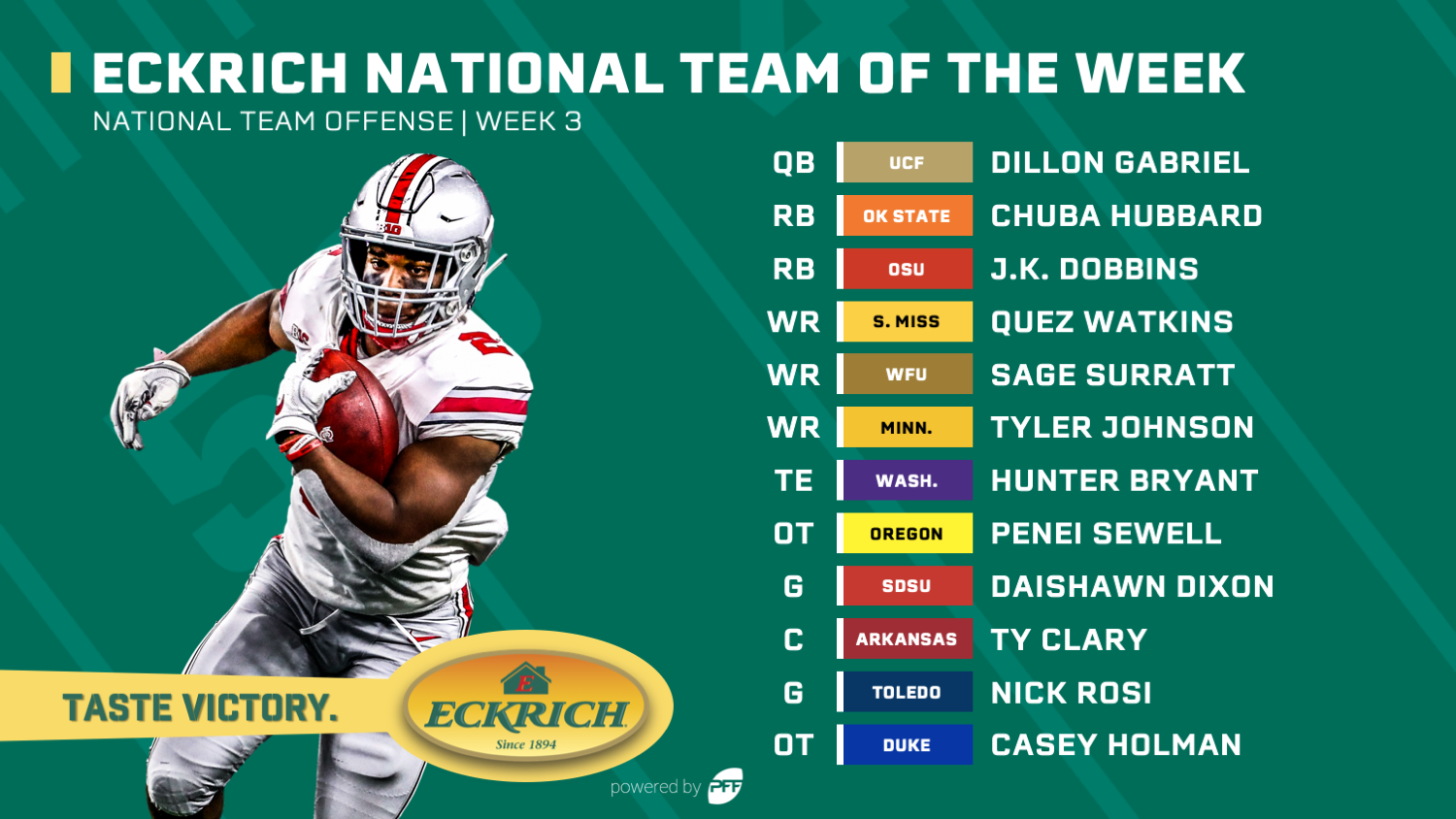 Quarterback
Dillon Gabriel, UCF
Gabriel torched the Stanford defense, most notably potential first-round CB Paulson Adebo for four touchdowns in a statement victory for the Knights. He completed 22-of-30 passes for 347 yards in the victory as UCF even slowed the pace and took it easy through the second half in a blowout victory. All signs point upwards for the reigning #GameDayMVP and true freshman.
Second-Team QB: Ian Book, Notre Dame
Running Back
Chuba Hubbard, Oklahoma State
Hubbard once again led the nation in rushing yards with 256 this week, averaging 8.0 yards per carry. He broke six tackles and gained 153 yards after contact on the weekend for another outstanding performance.
Second-Team RB:  LeVante Bellamy, Western Michigan
Running Back
J.K. Dobbins, Ohio State
Dobbins' highlight-reel montage got another this weekend with a stiff-arm for the ages on his way to the end zone. For the afternoon, he totaled 193 yards on 22 carries including a touchdown and seven more first-down runs. Dobbins seems ready to carry the load for the Buckeyes through Big Ten play.
Second-Team RB: Darius Anderson, TCU
Wide Receiver
Quez Watkins, Southern Miss
Exploding for 209 yards, Watkins turned seven receptions into 29.9 yards per catch and even gained 98 of his yards after the catch. He saw a ridiculously perfect 158.3 passer rating on targeted passes in the Eagles victory.
Second-Team WR: DeVonta Smith, Alabama
Wide Receiver
Sage Surratt, Wake Forest
On Friday night, Surratt got the better of his brother, Chazz, in the Demon Deacons win. Sage caught all nine of the catchable passes thrown his way for 169 yards and moved the chains on five receptions and had a touchdown on a deep ball in which he split the coverage beautifully.
Second-Team WR: Antonio Gandy-Golden, Liberty
Wide Receiver
Tyler Johnson, Minnesota
Johnson turned in the finest performance of the season from him, living up to his preseason All-American hype with a game-winning catch against upset-minded Georgia Southern. Johnson was targeted 12 times, caught 10 balls for 140 yards and even gained 75 of his 140 total yards after the catch.
Second-Team WR: Sam James, West Virginia
Tight End
Hunter Bryant, Washington
Bryant was the only tight end in the country to go over 100 receiving yards on the weekend, turning five receptions into 115 total yards. He gained 73 of those after the catch and saw a perfect 158.3 passer rating on his targets.
Second-Team TE: Drew Rosi, Toledo
Offensive Tackle
Penei Sewell, Oregon
In a monster performance, Sewell looked the part that made him a preseason All-American as well, not allowing a single pressure on his 47 snaps in pass protection. He put forth elite run-blocking grades and had an all-around dominant day.
Second-Team OT: Josh Jones, Houston
Offensive Guard
Daishawn Dixon, San Diego State
The Aztecs got a dominant day out of their guard Dixon, who logged 30 pass-blocking snaps and allowed just one hurry. He moved defenders off the ball in the run game and plus-grades across the board.
Second-Team OG: Marcus Keyes, Oklahoma State
Center
Ty Clary, Arkansas
Clary led the nation's centers with his run-blocking grade while not allowing a single QB pressure on his 38 snaps in pass protection for the Razorbacks.
Second-Team C: Dawson Deaton, Texas Tech
Offensive Guard
Nick Rosi, Toledo
Rosi finished the day by allowing just one QB hurry on his 32 snaps in pass protection and leading the way among guards with an elite run-blocking grade.
Second-Team OG: Ben Brown, Ole Miss
Offensive Tackle
Casey Holman, Duke
Holman had an elite run-blocking grade for the Blue Devils and also finished the afternoon by not allowing a single QB pressure on his 27 snaps in pass protection.
Second-Team OT: Colton McKivitz, West Virginia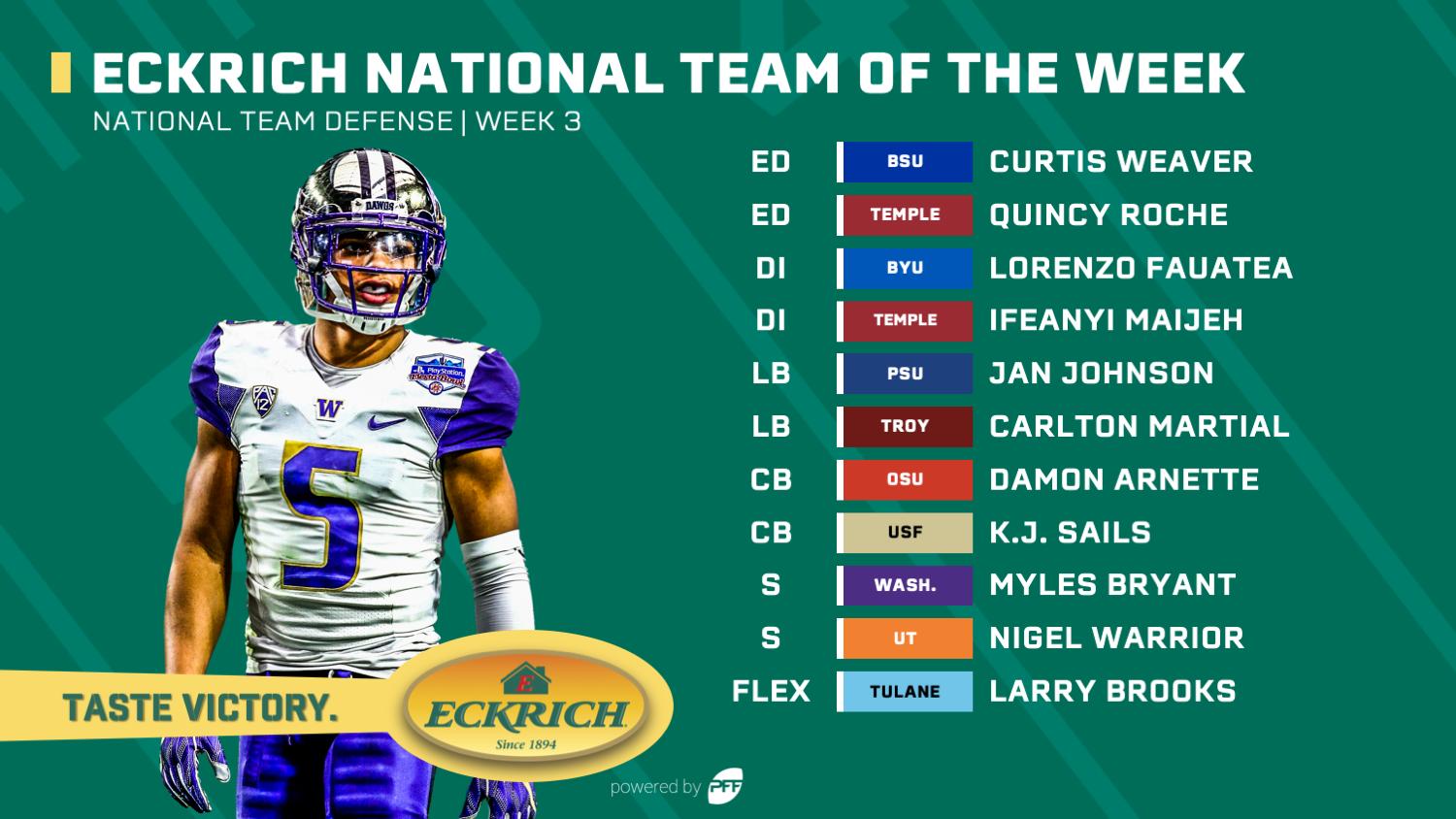 Edge Defender
Curtis Weaver, Boise State
No defender brought in more total pressures this weekend than Weaver as his 11-pressure performance was one for the ages. On 30 pass-rushes, he totaled four sacks, one QB hit and six more QB hurries for a dominant 92.1 pass-rushing grade.
Second-Team Edge: Kenny Willekes, Michigan State
Edge Defender
Quincy Roche, Temple
If Weaver had the most total pressures, Roche had the second-most by hitting 10 pressures in Temple's upset victory over Maryland. He brought down four QB hits, a sack and five more hurries for an elite pass-rushing grade as well.
Second-Team Edge: Earnest Brown IV, Northwestern
Defensive Interior
Lorenzo Fauatea, BYU
BYU got the upset victory over USC and Fauatea was a big reason why. He clogged the middle and disrupted the passing lanes for the Air Raid attack, recording two pressures and three defensive stops in the run game. He forced a fumble to round out an all-around great performance.
Second-Team DI: Tymir Oliver, Illinois
Defensive Interior
Ifeanyi Maijeh, Temple
Another Temple defensive lineman for good reason finds his way to the Team of the Week as Maijeh recorded five total pressures including two sacks and two more QB hits. He made six total defensive stops and batted a pass down at the line of scrimmage, affecting the passing game in more ways than one.
Second-Team DI: Robi Stuart, Central Michigan
Linebacker
Jan Johnson, Penn State
On 37 total snaps, Johnson recorded four solo tackles without a missed attempt and chipped in with a sack on four blitzes. He made two total defensive stops and a forced fumble as he was all over the field for the Nittany Lions in the 100th meeting between Penn State and Pittsburgh.
Second-Team LB: Paddy Fisher, Northwestern
Linebacker
Carlton Martial, Troy
Martial flew all over the field, recording 15 total tackles and nine defensive stops, the latter of which led the nation's linebackers in Week 3. Martial also allowed all of four yards in coverage on three targeted passes and contributed four QB pressures on 17 pass-rushing snaps.
Second-Team LB: Bryan Wright, Cincinnati
Cornerback
Damon Arnette, Ohio State
Arnette's pick-six was a thing of beauty as he stepped in front of the receiver and returned the interception nearly the length of the field for a touchdown. All told, he was targeted nine times against Indiana, allowing just three receptions for 29 yards and had the pick-six and two more pass breakups.
Second-Team CB: Amik Robertson, Louisiana Tech
Cornerback
K.J. Sails, USF
The USF got a big-time performance from Sails as he was targeted five times as the primary coverage defender and didn't allow a single reception. He broke up three of those passes and made two total tackles without a single missed attempt in the game.
Second-Team CB: Anthony Johnson, Louisville 
Safety
Myles Bryant, Washington
Bryant finished with two first-half interceptions including one in which he simply ripped it from the receiver's hands. He looked every bit the part of a potential first-round safety as he also had a sack, five total tackles and didn't miss a single tackle attempt.
Second-Team S: Trevon Moehrig, TCU
Safety
Nigel Warrior, Tennessee
Warrior put forth a big game for the Volunteers as they got to the win column for the first time this year. He intercepted the lone target sent his way and nearly returned it for a touchdown.
Second-Team S: Brady Breeze, Oregon
Flex
Larry Brooks, Tulane
Flying around the field, Brooks nabbed two interceptions in coverage for Tulane while not allowing a single reception to be caught in his coverage. He chipped in with a defensive stop in run defense to boot and firmly belongs at flex after a great performance.
Second-Team Flex: Mykael Wright, Oregon