Week 1 from any slate of football brings with it multiple injuries, and the first week of the 2019 college football season did just that, as two notable quarterbacks and a slew of other players left their games dinged up.

JT Daniels, QB, USC
The most notable injury from Week 1 was surely that of Trojans QB JT Daniels, who was lost for the season with a torn ACL and meniscus. Daniels completed 73.5% of his passes in Week 1 against Fresno State but averaged just 6.3 yards per attempt. Still, his overall grade of 62.9 was an improvement from 2018 as he won the QB battle out of camp in new offensive coordinator Graham Harrell's Air Raid Offense.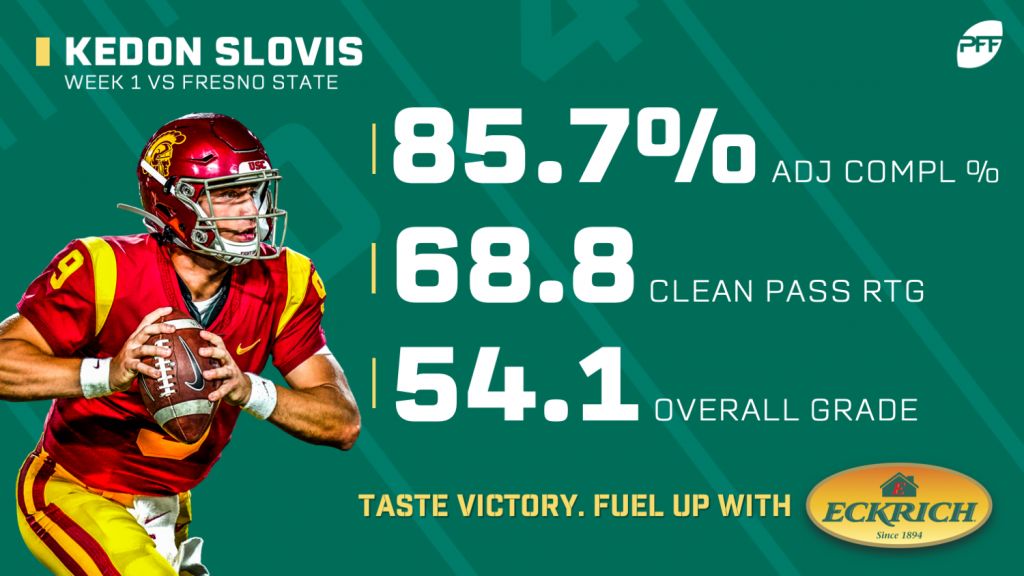 Daniels will be replaced by Kedon Slovis who put forth similarly aligned statistics against the Bulldogs. On his nine dropbacks, Slovis completed 6-of-8 passes for 57 yards with an interception on an overthrown deep shot to WR Michael Pittman. He did complete a big-time throw on a ridiculously placed ball to Tyler Vaughns that led to USC's two-yard touchdown run to go up 31-13, and that gives promise for what Slovis could do in this offense.
Time will tell, but lest we all forget, Slovis was the one who pushed Daniels all the way into late August before he was announced the starter, and with the Air Raid Offense being so quarterback-friendly, this injury may not be as detrimental as it seems on paper.
Jake Bentley, QB, South Carolina
The other quarterback from an 'SC' school to go down, Bentley is feared to be out at least six weeks with a foot injury, making way for Ryan Hilinski to start the majority of the season for the Gamecocks. Bentley finished his game against North Carolina with a 16-for-30 passing line with only 142 yards and a touchdown compared to two interceptions. One interception was an unlucky moment when he was hit as he attempted a deep ball on 3rd & 10, but the fact remains, he was wildly inconsistent in his first outing.
Unfortunately, his time to make amends for the season-opening loss will have to wait for an indeterminate amount of time, and maybe forever, as Hilinski will fill the void left by Bentley. Hilinski — a true freshman and former No. 2 ranked pro-style quarterback coming out of high school — hails from California and may be familiar to college football fans. His brother is former Washington State QB Tyler Hilinski, who passed away last year.
Hilinski has not attempted a collegiate pass at this point, but he did throw for over 2,700 yards and 29 touchdowns during his final season at Orange Lutheran in California. A new era is here for South Carolina and Hilinski will be the man to guide the ship.
Other injuries to monitor
Mike Epstein, RB, Illinois
Reggie Corbin was a bit banged up as well, but Illinois lost Epstein for the year in their Week 1 outing. He had tallied 45 yards on just eight carries, both leading the team against Akron, and he also broke a tackle in what was shaping up to be a great complementary role next to Corbin. Someone else will have to emerge next to him against UConn.
Shai Werts, QB, Georgia Southern
Werts was listed as day-to-day after the LSU loss, while the Eagles lost Syracuse-transfer DE Justin Ellis for the season. Werts did go back into the game against LSU after a hit sidelined him but was pulled in the second half. He'll be vital for Georgia Southern through their conference play and may use their game against Maine in Week 2 as a tune-up game to make sure he's healthy enough for the rest of the season.
Mitchell Guadagni, QB, Toledo
Guadagni left the game against Kentucky after a hard hit, and ultimately, the Rockets gave way after the QB-run game dissipated. Their bye week comes at a great time as Toledo won't play until they host Murray State in Week 3, giving way for Guadagni to heal up through the weekend.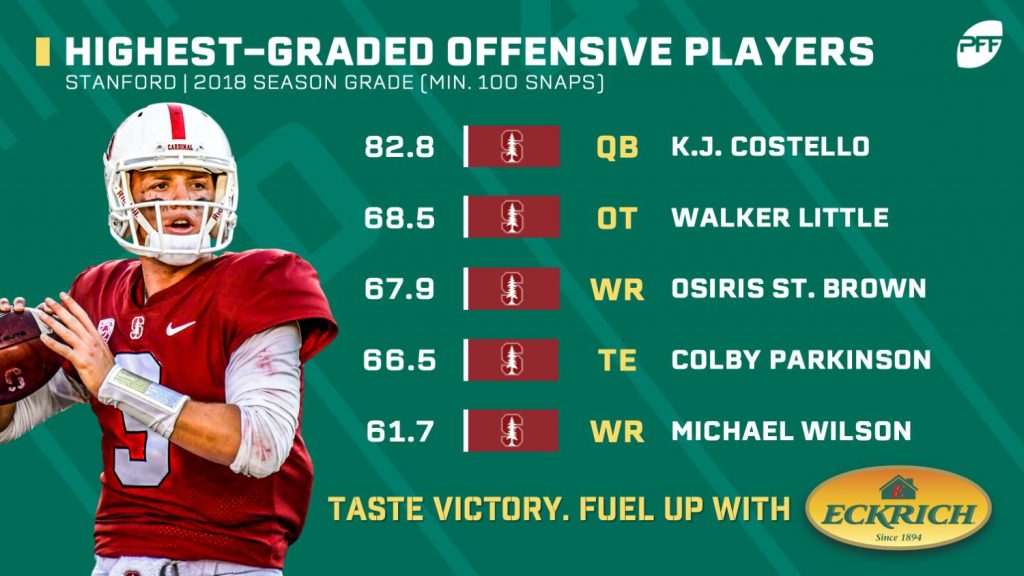 KJ Costello, QB, Stanford
Costello took an elbow to the face against Northwestern in the Cardinals' season-opening victory and is questionable for their Pac-12 opener against USC. If Costello can't go, they'll turn to Davis Mills, who threw for 75 yards on 14 attempts against Northwestern, doing enough to not lose the game against the Wildcats. What once was going to be a marquee matchup in the Pac-12 now lacks JT Daniels for USC and potentially the conference's second-best passer in Costello.