The College Football Playoff (CFP) committee will officially unveil its first top-25 rankings Tuesday evening. Before we get to arguing about its current outlook on the CFP picture ahead of Week 10, it's time to give an update on my top 25.
---
Click here for more PFF tools:
Rankings & Projections | WR/CB Matchup Chart | NFL & NCAA Betting Dashboards | NFL Player Props tool | NFL & NCAA Power Rankings
---
Below is how I'd order the top-25 teams after Week 9. Please note this top 25 is not the same as PFF's Power Rankings.
Related content for you: Highest-graded players at every position through Week 9 of the 2021 college football season via Seth Galina
1) GEORGIA BULLDOGS (RECORD: 8-0, ATS: 6-2, RANK CHANGE: -)
Georgia had college football's highest-graded coverage unit in their Week 9 blowout win over Florida. Shocking, I know. The Bulldog defense now owns nine of the 25 highest-graded defenders in the SEC this season and ranks atop the FBS in team-defense grade and expected points added (EPA) per play against. This week's matchup against the Missouri Tigers — whom they are 37.5-point favorites over — could be one where the eyes drift to the Bulldogs offense. 
Missouri's Run D in 2021

Yds before contact allowed: 3.5 (130th, worst by .5 yds)
Yds after contact allowed: 3.6 (119th)
Explosive run % allowed: 23% (129th)

Mizzou is getting worked in the trenches. UGA RBs could total up 350+ yds in this one. Also, looks like a Stetson game https://t.co/ahJlczGfOF

— Anthony Treash (@PFF_Anthony) November 1, 2021
2) ALABAMA CRIMSON TIDE (RECORD: 7-1, ATS: 5-3, RANK CHANGE: -)
Alabama pulled away and covered its 25.5-point closing spread against Tennessee before its Week 9 bye, but the kinks in the Crimson Tide's armor still showed up. Alabama's pass-protection wasn't the best once again, as it allowed an above-average pressure rate (28.3%). The Crimson Tide rank second-to-last in the SEC in pressure rate allowed. On defense, the secondary gave up two 50-plus yard touchdowns — just the third time in the PFF College era that a Bama defense did that in a single game. The Tide can't allow that against Georgia, or else they'll be watching the College Football Playoff (CFP) from home this year.
3) OHIO STATE BUCKEYES (RECORD: 7-1, ATS: 4-4, RANK CHANGE: -)
There was no denying that Ohio State's offensive line headed into Week 9 as one the best units in college football. It was consistently giving quarterback C.J. Stroud clean pockets and ample time to throw. The unit paired this standout work in pass protection with power and intent in the run game, constantly clearing wide-open lanes for Ohio State's running backs. The Buckeyes' offensive line entered its showdown with Penn State as the second-highest-graded unit in the Power Five. 
That group, however, was seemingly lost in Week 9. It lost 12 reps in pass protection in the first half (averaged nine losses per game before) and finished with a 53.6 grade as a unit for the game. Every starting offensive lineman lost at least one pass-blocking rep in the first half while three lost more than one.
As a result, the offense just couldn't get into a rhythm. Ohio State generated negative EPA per play over the first two quarters. Fortunately, the offensive line improved in both facets in the second half, and the offense jumped back into positive efficiency on a per-play basis over those final two quarters. The Buckeyes may have left with a 33-24 win, but their play on offense fell shy of its usual elite standard. Look for them to bounce back over the next couple of weeks. 
4) OKLAHOMA SOONERS (RECORD: 9-0, ATS: 5-4, RANK CHANGE: -)
Only one Power Five true freshman quarterback earned an "elite" single-season grade above 90.0 in the PFF College era: 2021 No. 1 overall pick Trevor Lawrence (90.7). Now, it looks like that list will expand by one at the end of the year, as Sooners' quarterback Caleb Williams owns an unreal 94.8 PFF grade heading into Week 10. Williams has been sensational, showing off his special arm talent and athleticism on the ground while leading Oklahoma to the most efficient offense in college football since taking over in Week 6.
Power 5 QBs with 6 TDs on 10+ yard throws in a single game since 2018:

???? ???????????????????? ????????????????????????????????, ???????????????????????????????? ('???????? ???????? ???????? ???????????????????? ????????????????)
???? Sam Howell, UNC ('20 W11 vs Wake)
???? Joe Burrow, LSU ('19 CFP semi vs Oklahoma)pic.twitter.com/fg5nhHlzDc

— Anthony Treash (@PFF_Anthony) October 31, 2021
5) CINCINNATI BEARCATS (RECORD: 8-0, ATS: 5-3, RANK CHANGE: -)
The Bearcats got the job done on the road against the Tulane Green Wave, as their run of defensive dominance continues. Cincy ranks behind only Georgia for the highest-graded defense in college football. It has 10 players who have played 300 defensive snaps and own a PFF grade above 70.0 for the season. Two such players are potential first-round picks: Edge Myjai Sanders and cornerback Sauce Gardner. Sanders is coming off an elite-graded game against Tulane and owns an 89.4 pass-rush grade for the season. Gardner, meanwhile, has been excellent, only allowing 73 yards across 266 coverage snaps in eight starts this season.
Running back Kenneth Walker III has gone from a quality veteran back for Wake Forest to a legitimate Heisman contender for Michigan State. He entered Week 9 — the Spartans' biggest game of the 2021 season — as one of the highest-graded and most elusive ball carriers in college football, and he sustained his elite level of play despite facing the highest-graded run-defense in college football. The Michigan State back earned a 90.8 rushing grade across 23 attempts against the Wolverines, breaking 13 tackles and averaging 7.0 yards after contact per attempt in the process.
Michigan St RB Kenneth Walker III had 3 TDs of 20+ yards against the No. 1 graded run defense in #CFB today.pic.twitter.com/Ykpe6LeNY6

— Anthony Treash (@PFF_Anthony) October 30, 2021
Wake Forest once again fielded one of the most efficient passing offenses of the week, and quarterback Sam Hartman was one of the four Power Five QBs with a passing grade at or above 90.0 for the week. Hartman produced five big-time throws and zero turnover-worthy plays while leading Wake Forest to 0.61 EPA per pass. Now, the Demon Deacons have the second-most efficient passing offense in the Power Five behind only Alabama.  
It will be tough for Wake Forest to come out unscathed over the next three weeks, as it takes on North Carolina, N.C. State and Clemson. The Tar Heels and Wolfpack boast offenses capable of putting up points at a similar rate to Wake Forest while the Tigers still field a strong defensive unit that will be familiar with Wake Forest's system. 
8) MICHIGAN WOLVERINES (RECORD: 7-1, ATS: 6-2, RANK CHANGE: -2)
Michigan entered Week 9 with the highest-graded run-defense in college football, but it allowed Walker to have a Heisman-caliber performance. Walker earned the highest rushing grade of any running back who faced the Michigan defense in the PFF College era. There were some fluky plays baked in that led to Michigan's demise in the end, including a fumbled exchange between quarterback JJ McCarthy and running back Blake Corum in the middle of the fourth quarter that fell in MSU's hands and swung the win probability 26%. It was a bad collapse from the Wolverines, but nonetheless, this is still a top-10 team.
9) TEXAS A&M AGGIES (RECORD: 6-2, ATS: 5-3, RANK CHANGE: +2)
Texas A&M's defense terrorized South Carolina in its Week 8 blowout win. The Aggies finished with a top-five graded defense among Power Five programs for the week and generated pressure on 43% of passing plays. Winning consistently in the pass-rush department had been an issue for A&M prior to this outing, as it entered the week 59th in the Power Five in team pressure rate (25.1%). It'll need that strong pass rush to come back this week when the Aggies face the Auburn Tigers.
10) OREGON DUCKS (RECORD: 7-1, ATS: 2-6, RANK CHANGE: +3)
Oregon provided Anthony Brown with a significantly high rate of quick throws underneath against Colorado in Week 9, but the quarterback came in clutch with multiple deep, big-time throws when asked. Brown completed three 20-plus-yard throws for 77 yards and two touchdowns en route to an 89.1 passing grade for the game — his highest mark of the season by over 13 grading points. It's unlikely Brown is able to sustain that given the fact he has already shown what kind of quarterback he is at both Oregon and Boston College, but regardless, it was a fantastic showing from the Duck.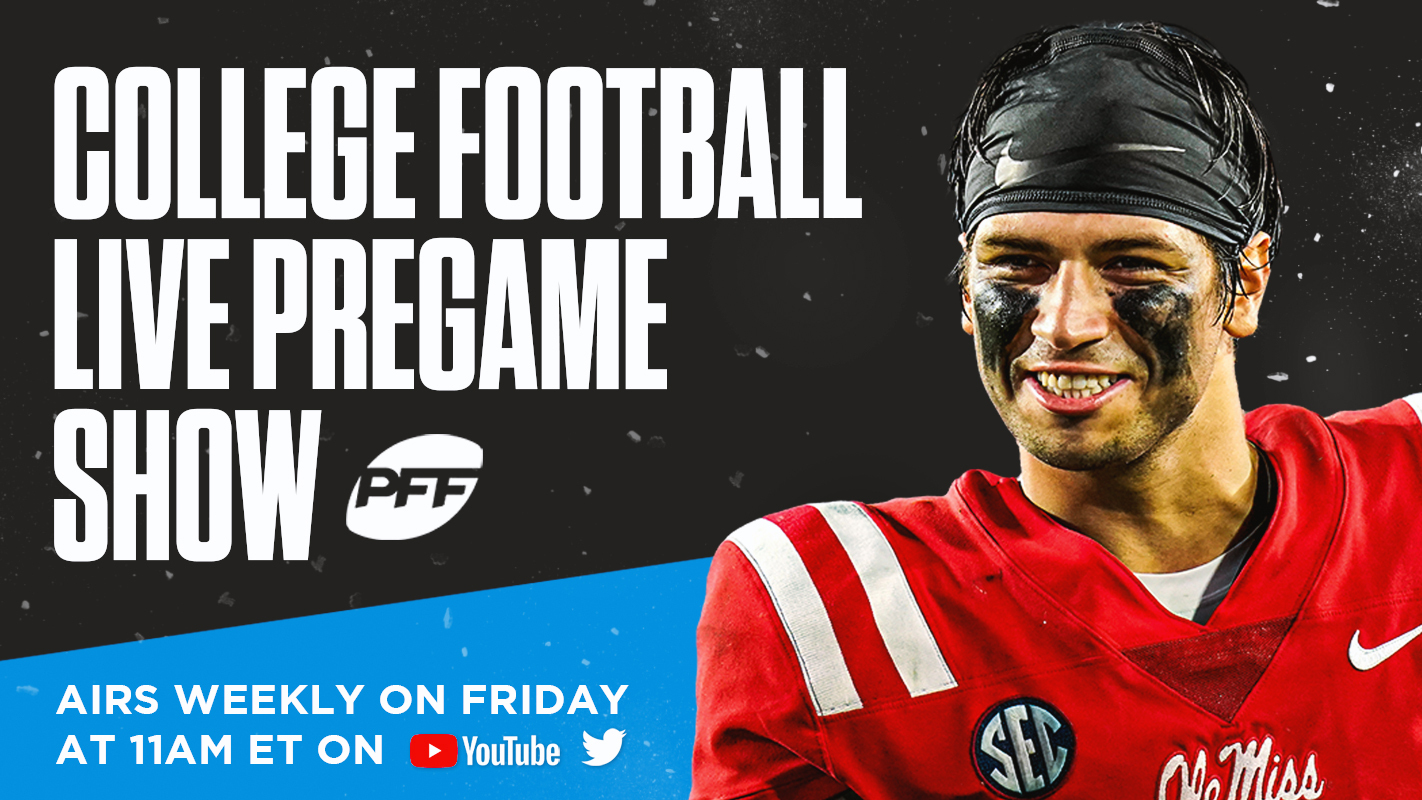 Notre Dame offensive coordinator Tommy Rees made notable changes during the team's Week 7 bye. He's easing stress on quarterback Jack Coan and the offensive line as a whole with less true dropback passing, and it's having a positive impact. Coan is a limited passer but is accurate underneath from a clean pocket. The Irish are leveraging that skill, scheming throws and limiting opportunity for opposing defenses to generate pressure:
Notre Dame's Offense in 2021 (w/ Jack Coan on the field)
| | | |
| --- | --- | --- |
| Weeks 1-6 | | Weeks 8 and 9 |
| 23% | Play-Action % | 40% |
| 11% | RPO % | 24% |
| 9% | Screen % | 19% |
| 10.3 | Avg Depth of Target | 7.9 |
| 2.7s | Avg Time to Throw | 2.47s |
| 30% | Pressure % | 12% |
| -0.04 | EPA Per Pass | +0.34 |
12) AUBURN TIGERS (RECORD: 6-2, ATS: 5-3, RANK CHARGE: +5)
The biggest thing Auburn needed from quarterback Bo Nix on Saturday was mistake-free football, and he did just that. He was on a six-game streak with at least one turnover-worthy play, but that came to an end against Ole Miss. Nix earned a 76.7 passing grade for the game and helped Auburn to a 52.9% success rate passing the ball. The ground game also excelled with an SEC-leading eight explosive runs of 10-plus yards for the game.
13) OLE MISS REBELS (RECORD: 6-2, ATS: 5-3, RANK CHANGE: -6)
A  plethora of injuries to the receiver room as well as to quarterback Matt Corral played a part in Ole Miss' negative EPA per pass against Auburn, which marked the third time in the Lane Kiffin era the Rebels weren't in positive territory. Corral managed to play most of the game despite not being 100%, but it was quite clear that he wasn't his normal self. He had as many quarterback-fault incompletions as actual completions on throws of 10-plus yards (seven) and finished with zero big-time throws to his name.
14) BAYLOR BEARS (RECORD: 7-1, ATS: 6-2, RANK CHANGE: +4)
Baylor sat with a 5.5-win total entering the season according to the betting markets, but it now stands at 7-1 with Big-12 title aspirations. The combination of Dave Aranda's impact on the defense and play-caller Jeff Grimes' impact on offense has set the stage for Baylor's success this season. The Bears are second in the Big 12 in both success rate against (39.7%) and success rate generated (50.9%). Last year, Baylor ranked in the bottom half of the conference in those two metrics.
15) HOUSTON COUGARS (RECORD: 7-1, ATS: 5-3, RANK CHANGE: NR)
Houston was able to top SMU in an AAC showdown with high implications thanks to this last-second, 100-yard kickoff return for a touchdown courtesy of Marcus Jones:
SMU had a 57.6% win probability when they kicked this ball off to Houston's Marcus Jones.

Jones proceeded to house it and take that % to essentially 0 for the Mustangs. Biggest play from #CFB W9 and of Houston's season.pic.twitter.com/5rZB5MoJ8N

— Anthony Treash (@PFF_Anthony) October 31, 2021
While that play won the Cougars the game, Clayton Tune's performance was a big reason why they were even in the game to begin with. Tune earned a 91.4 passing grade and peppered the Mustangs downfield, completing 11 of his 16 throws over 10 yards through the air for 267 yards and four touchdowns. They've penciled themselves into the AAC title game with Cincinnati and are proving to be a formidable opponent for the Bearcats.
16) SMU MUSTANGS (RECORD: 7-1, ATS: 4-3-1, RANK CHANGE: -1)
While Houston has the edge over SMU in the conference, the Mustangs will still get their shot at ending Cincy's quest for the CFP in late November. Their offense should give the stout Bearcat defense its toughest test of the regular season. Led by quarterback Tanner Mordecai, SMU has the eighth-most efficient passing offense in the FBS this year.
17) OKLAHOMA STATE COWBOYS (RECORD: 7-1, ATS: 6-2, RANK CHANGE: +4)
There's little to take away from Oklahoma State's blowout win over Kansas. The Jayhawks lack offensive firepower, and the Pokes have the best defense in the conference. Oklahoma State's defense has the seventh-highest grade in the FBS and ranks first among the 130 FBS schools in EPA allowed per rush. The offense needs to make strides in the coming weeks in order to give Oklahoma State a fighting chance against Oklahoma at the end of the season.
18) BYU COUGARS (RECORD: 7-2, ATS: 4-5, RANK CHANGE: NR)
It was expected to be a fireworks show in Provo on Saturday with Brennan Armstrong and the Virginia Cavaliers in town, and Jaren Hall and the BYU Cougars did their part to earn BYU the win. Hall led BYU to the sixth-highest explosive pass rate in the FBS for Week 9 while recording an 84.7 overall grade.
The last two weeks have been a bit underwhelming for the Chanticleers. First, they endured an upset loss to Appalachian State, then last week, they came beat Troy by only seven despite being 17-point favorites. Still, this is one of the best offenses in the country. The Chanticleers haven't been figured out nor have they been a fake all this time, as they are still worthy of a top-25 ranking. The Chanticleers lead all of college football in both EPA per play generated and offensive success rate.
20) NC STATE WOLFPACK (RECORD: 6-2, ATS: 5-3, RANK CHARGE: +4)
Consistency is NC State quarterback Devin Leary's game, and he further showed that in the team's big win over Louisville in Week 9. Leary earned an 81.8 passing grade and led NC State to 0.3 EPA per pass play, which ranked 15th in the Power Five. Though perhaps the bigger story is the defense's performance, as the Wolfpack held the Cardinals to a 31.5% success rate, which ranked third among all Power Five defenses for the week.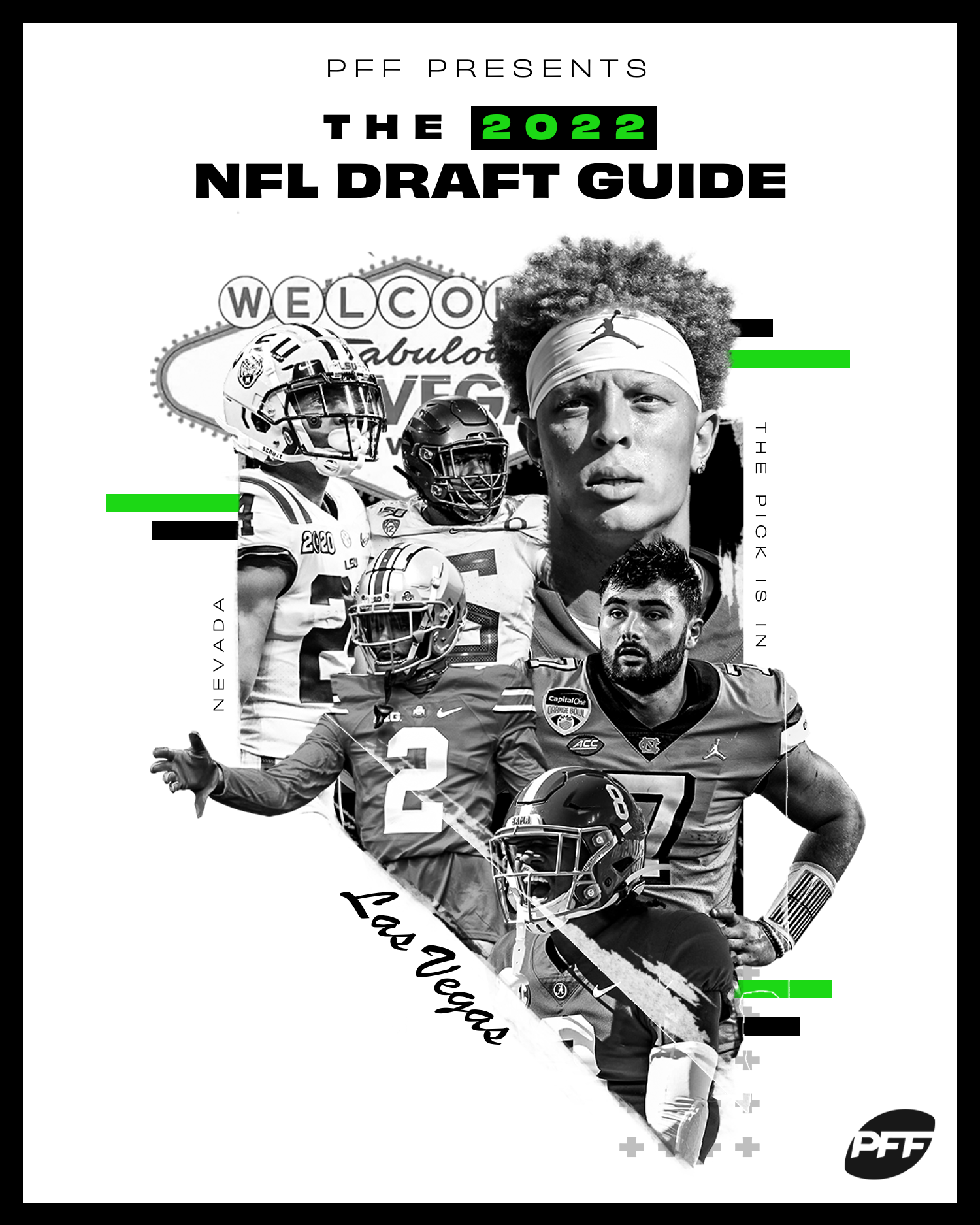 21) UTSA ROADRUNNERS (RECORD: 8-0, ATS: 7-1, RANK CHARGE: +2)
UTSA is fresh off a bye and ready to complete its quest for regular-season perfection. The Roadrunners join Cincinnati as the only teams to rank sixth or higher among Group of Five programs in EPA per play generated on offense and EPA allowed per play on defense.
22) KENTUCKY WILDCATS (RECORD: 6-2, ATS: 6-2, RANK CHANGE: -10)
Will Levis and the UK offense are coming off a bad showing in Starkville against the Mississippi State Bulldogs. Levis did have some bad luck, as two of his interceptions were tipped, but he played poorly regardless. He finished with a poor passing grade and threw a multitude of inaccurate passes downfield. Levis will need to be on his A-game this week, as the Wildcats welcome in the Tennessee Volunteers, who are 16th in the FBS in passing efficiency with Hendon Hooker as their quarterback.
23) IOWA HAWKEYES (RECORD: 6-2, ATS: 5-3, RANK CHANGE: -14)
Iowa's defense rebounded this past week against Wisconsin, allowing -0.18 EPA per play, which marked the seventh time in eight games that Iowa held its opponent to a negative mark in that metric (the one time it didn't was in its loss to Purdue). The offense, however, played the worst it has this season and gave the Hawkeyes no chance of beating the Badgers. The offense was the second-least efficient of Week 9 — ahead of only the Kansas Jayhawks. Quarterback Spencer Petras was eaten alive by the Wisconsin pass-rush for seven sacks on 13 pressured dropbacks. They are showing why a team can't reasonably win week-after-week with a good defense (Georgia is rare) and no offense. The good news is their next three games sit are favorable, as Iowa faces defenses (Northwestern, Minnesota and Illinois) that rank in the bottom half of the Big Ten in PFF grade.
24) FRESNO STATE BULLDOGS (RECORD: 7-2, ATS: 6-3, RANK CHANGE: NR)
Speaking of Iowa, Fresno State is fresh off a big win over the Group of Five's "Iowa team" — San Diego State — that relies on defensive output to earn victories. Quarterback Jake Haener had no issue with that stout Aztec defense, as he posted an 89.7 passing grade while tossing six big-time throws and zero turnover-worthy plays.
25) NEVADA WOLF PACK (RECORD: 6-2-, ATS: 6-2, RANK CHANGE: NR)
Carson Strong has been leaned on heavily in Nevada's Air Raid offense, especially as of late, as he's on a three-game streak with at least 50 dropbacks. The junior QB is handling that large load with ease, as those three games have been his highest-graded performances of the 2021 season. Over that span, Strong owns a 92.0 passing grade with 11 big-time throws to just two turnover-worthy plays across 176 dropbacks.