After getting a little teaser of the college football season last Saturday when Austin Peay took on Central Arkansas, we finally get a slate of FBS teams taking the field this week.
We will be here all season long to provide you with everything you need to know before you tune into each game. We'll offer in-depth analysis ahead of the games as well as betting analysis for every game with a posted line.
Thursday, September 3 — 8:00 PM ESPN3
What to watch for: If you enjoyed watching Jameis Winston and his volatile play in the NFL, you're going to love watching Tyler Johnston III of UAB, who just last season ranked first in big-time throw rate and last in turnover-worthy play rate. While Central Arkansas' coverage unit did hold down Austin Peay fairly well by limiting them to a successful play rate of 31%, it'd be a surprise if Johnston didn't pepper this defense with his deep ball.
UAB's defense should have a field day with the talent they have on board. You should keep an eye out for edge rusher Jordan Smith, who was one of college football's best pass-rushers last year. The former four-star Florida Gator recruit finished the year as the fourth-most-valuable player at the position.
The secondary is also stacked with talent, and it is led by Brontae Harris. Harris missed all of 2019 due to injury, but in his two years prior to that, he produced a coverage grade that ranked fifth among Group of 5 cornerbacks while allowing a minimal 40% catch rate (36 of 89) and making 25 plays on the ball.
Thursday, September 3 — 9:00 PM CBSSN
What to watch for: South Alabama is well below average across the board. The defense's top player is rover A.J. Deshazor, who was a reliable player in coverage last season for the Jaguars. He allowed just 0.36 yards per cover snap when covering the slot, the best in the Sun Belt. Also keep an eye out for wide receiver Jalen Tolbert, as he had a mini breakout game to close out the 2019 season against Ark State. That game, he produced a 90.2 PFF grade as he hauled in five of his seven targets for 144 yards and four scores.
Southern Miss had numerous key players opt-out of the season due to COVID concerns, but they are still better on both sides of the ball in this matchup. They have a great QB-WR connection in Jack Abraham and Tim Jones. The wide receiver can handle contact with ease; in fact, his 21 broken tackles in 2019 were second to only Ja'Marr Chase among FBS wide receivers that were set to return this year. The only real glaring concern in this game will be the offensive line, as it ranked 129th in our preseason rankings.
Betting preview: The kickoff to FBS college football showcases the 123rd-ranked South Alabama Jaguars traveling to Southern Mississippi to take on the 83rd-ranked Golden Eagles. Fifty Elo points separate these two teams, but the big differentiator is between defenses — Southern Miss' defense is ranked 28th overall, 70 spots above than South Alabama.
Bettors have been all over the Golden Eagles, pushing the opening line of 13.5 across the key 14 number and out to 15. Here, -14 is worth a little less than 3%, which makes this some of the more significant line movement you will see in college football.
Desmond Trotter took over at quarterback for South Alabama in the second half of the 2019 season. He posted a below-average passing grade but did look downfield, generating an average depth of target of 12.6 yards. All told, 56.2% of his passes were accurate, though he definitely had misses, as 29.2% of his throws were charted as uncatchably inaccurate.
Southern Miss has the better quarterback in this matchup, as Jack Abraham returns to build on his impressive 2019 campaign. He posted an 81.1 passing grade in 2019 after posting a 62.9% accuracy rate. The Golden Eagles have the edge in every conceivable category, with betting markets giving them an 86.2% win probability. The spread is tough to play at the inflated price, and the total has also seen movement, creeping up from an opening line of 50.5 before settling in at 53.5. Greenline has a play on this total to help you determine what side of the action to be on.
For our PFF Greenline game preview, click here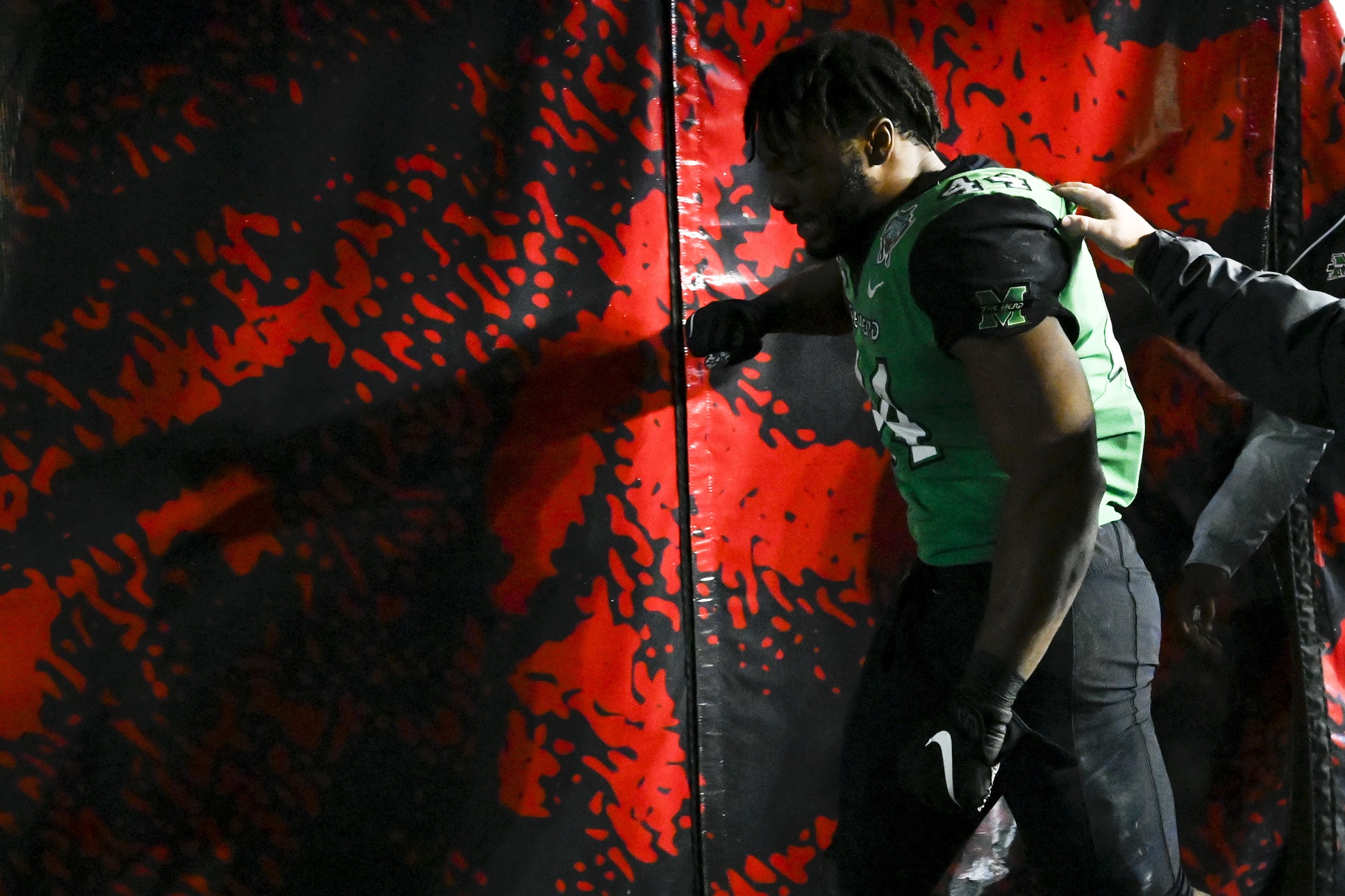 Saturday, September 5 — 1:00 PM ESPN
What to watch for: The Marshall offensive line is one of the best among non-Power 5 schools. Guard Cain Madden leads the unit and is a bulldozer in the run game — once he gets his hands on you, you are not escaping. He was the C-USA's second-highest-graded guard last year.
They have another unit at tackle in 6-foot-8, 350-pound Josh Ball. Ball led C-USA tackles in pass-block grade on true pass sets and also ranked first in run-blocking grade.
Marshall edge rusher Darius Hodge is the best player on the defensive side of the ball in this matchup. It'll be interesting to see if he progressed any from a technical standpoint — that was his issue in 2019 — but he still managed to produce a respectable 75.2 PFF grade on the year.
Saturday, September 5 — 1:30 PM CBSSN
What to watch for: You're going to see a whole lot of big run plays between both of these offenses on Saturday.
Quarterback Asher O'Hara's mobility is Middle Tennessee's greatest asset. No current college quarterback produced a higher rushing grade than O'Hara in 2019 — you really do have to get a square shot on him. The Middle Tennessee signal-caller ranked fifth in the entire FBS — and this list includes running backs — in total runs that came with 10 or more yards after contact. O'Hara also recorded a gain of 10-plus yards in every single game of his 2019 season, with all but one game having more than one of those runs.
Jabari Laws will take over the Army offense in 2020. While the quarterback has flashed as a passer in the past (three big-time throws on 13 attempts that traveled 10-plus yards in 2019), what matters most to Army is what he brings to the rushing attack. He's a monster through contact, as 17 of his 73 carries in 2019 came with five-plus yards after contact.
Betting preview: The Black Knights have dropped a half-point from the opening line down to a 3.5 favorite in most spots. We have these two teams separated by 13 places in our Elo rankings. Army has a much better offense thanks to their option approach, which has them 16th overall in our offensive rankings. Army is one of the few teams where quarterback passing stats are not helpful, as they ran on 82% of offensive plays. They were effective with this approach, though, as they were fourth in the FBS in EPA generated on rushing plays.
Asher O'Hara returns for the Blue Raiders after starting all 12 games in 2019. He struggled in passing situations, posting a 67.5 PFF passing grade, as only 52.3% of his attempts were charted as accurate. The Blue Raiders were still able to generate a slightly above breakeven EPA per pass attempt, but they still sit 57 spots behind Army in our offensive ratings.
According to our ticket tracking, the majority of bettors are backing Army despite initial line movement going the other direction. If we continue to get some line movement, this game could become playable from a Greenline perspective.
For our PFF Greenline game preview, click here
Saturday, September 5 — 4:30 PM ESPN
What to watch for: SMU Quarterback Shane Buechele and wide receiver Reggie Roberson form one of the best deep-ball connections in the country. Last year, Roberson hauled in 13 deep targets (tied 11th) for 561 yards (eighth) en route to a deep-receiving grade that tied with LSU's Ja'Marr Chase for first in the FBS.
On the defensive side of the ball for the Mustangs, keep an eye on cornerback Ar'mani Johnson. He is one of the stickiest man corners in the country. There were some clear nerves in Week 1 last year, but he soon became near-impossible to beat. From Week 2 on, he was the fourth-highest graded cornerback in single coverage in the FBS.
Last year's Texas State squad underwhelmed across the board, and they lost their most valuable players to that lowly team. Wide receiver Jah'Marae Sheread looks like the best player on the team and is the one to watch in Week 1. He was playing well for the Bobcats throughout the first half before getting hurt in 2019. Prior to that injury, he ranked second in the Sun Belt in slot-receiving grade. The 5-foot-7 receiver can shed tackles with ease, too, as he broke eight on 21 catches.
Betting preview: SMU is the biggest favorite in our opening weekend of FBS action, as they have seen some backing after opening as 20.5-point favorites as the market has pushed them out to -22. Crossing -21 is still a key number, as we see nearly 2.5% of NCAA games land on this score differential.  We see this significant differential in our Elo rankings, with SMU 76 spots better than the 122nd-ranked Bobcats.
SMU has continuity on their side, as they return their starting quarterbacks and coaching staff. This is great news for SMU, who had the 10th-best passing offense in the FBS from an EPA perspective. Shane Buechele may be the best quarterback returning among Group of 5 teams, and despite the loss of James Proche, this is still a talented receiving corps. Their offensive line remains relatively intact, too, positioning SMU to build on their impressive 2019 campaign.
Texas State has named Memphis transfer Brady McBride the starting quarterback for 2020. We have only 42 snaps recorded on McBride dating back to 2018, but he has the opportunity to lead an exciting offense in head coach Jake Spavital's second season. Things didn't click well in Spavital's first season, as Texas State had the 10th-worst EPA generated per pass attempt. This is tough to overcome when you throw on 64% of offensive snaps, as the Bobcats did in 2019.
This game could get out of hand quickly, and is the most likely game to be a blowout this weekend. The spread has become unplayable after crossing 21, but the total may offer some value after rising 3.5 points since the opening print of 66.5. As always, Greenline holds the answer to all of the wagering questions for this game.
For our PFF Greenline game preview, click here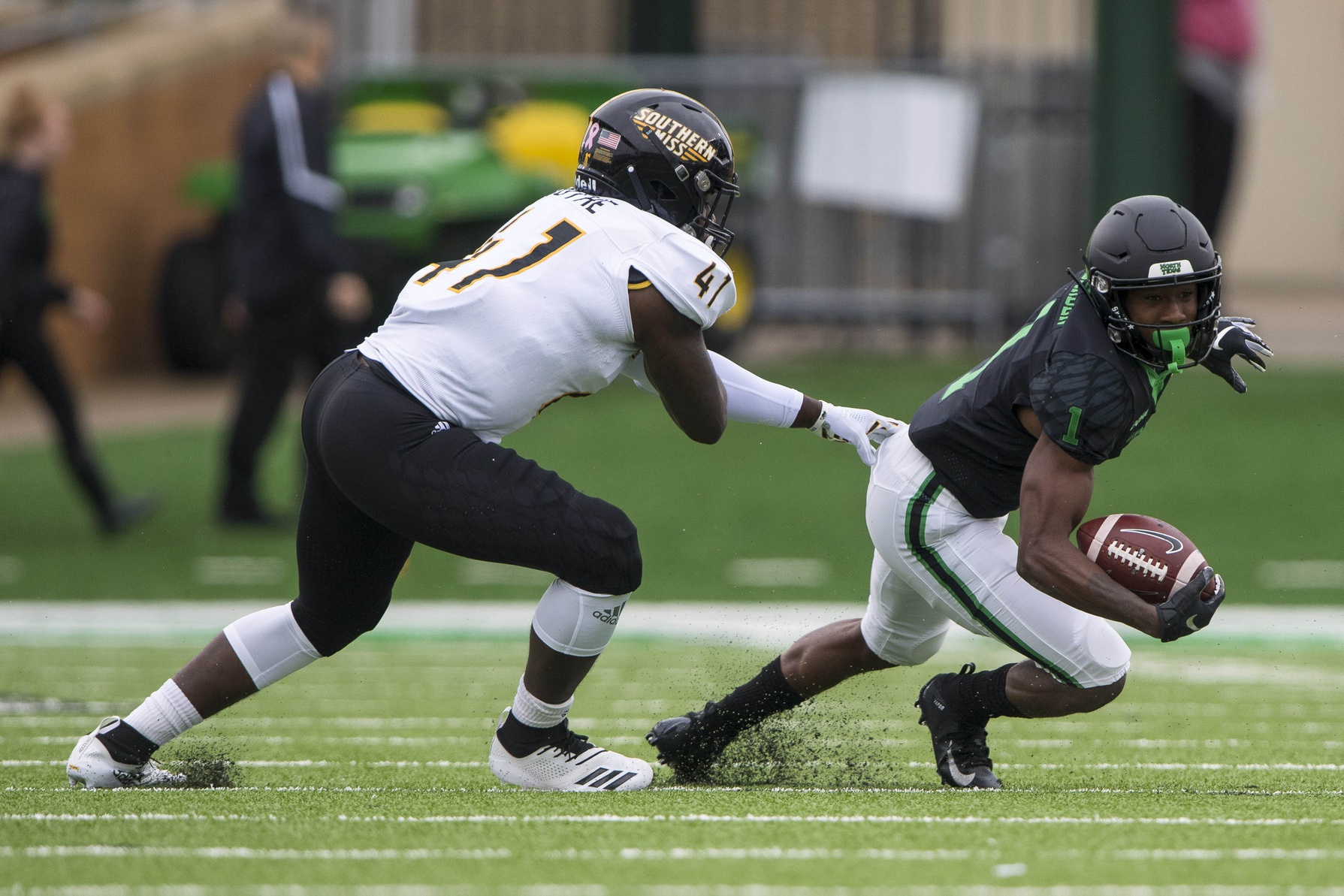 Saturday, September 5 — 7:30 PM ESPN3
What to watch for: North Texas has a slew of playmakers at skill positions. Wide receiver Jaelon Darden leads the pack and is electric with the ball in his hands. He's a dangerous weapon underneath — only four current FBS wide receivers produced a higher grade on such targets since 2018. Running back Tre Siggers follows as he vies to top his strong 2019 season in which he was a monster after contact (4.1 yards after contact per attempt).
On the defense, interior defensive lineman Dion Novil will be a force for the Mean Green. Novil has no issue at all when it comes to shedding blocks. He's a force at heads-up nose tackle, where he played over 76% of his snaps (third-most snaps in the FBS). Novil was also just one of eight FBS nose tackles to produce 75.0-plus grades versus the run and in the pass rush.
Saturday, September 5 — 8:00 PM ESPN
What to watch for: This is going to be a really interesting game to watch, given how Arkansas State plans on handling its quarterback situation. Logan Bonner looks to get off to another strong start, similar to his 2019 campaign. Bonner played in only four games before getting hurt, but he put together decent play en route to a 75.8 passing grade. As good as that is, though, it was far from the level of Layne Hatcher, who replaced him after the injury. The former Alabama quarterback produced a 90.0 passing grade in Bonner's absence. We clearly would side with Hatcher, but head coach Blake Anderson is giving the starting nod to Bonner with the plans to play Hatcher at some point.
As crushing as the loss of dual-threat running back Kenneth Gainwell is, Memphis will still field a great offense with the QB-WR connection of Brady White and Damonte Coxie. Coxie is truly an explosive play waiting to happen — he's had 69 receptions result in a gain of 15-plus yards since 2018, which is five more than any other FBS receiver in that span. He has exceptional balance and will rack up missed tackles after the catch (37 since 2018, fourth in the FBS).
Betting preview: The expectation is an offensive shootout when Arkansas State travels to Memphis, as both teams sit in the top 50 of our offensive rankings. Memphis has the eighth-best offense in the country, ranking 70 spots higher than Arkansas State, according to our ELO rankings.
Ryan Silverfield takes over as head coach after the departure of Mike Norvell, offering some stability with his transition from offensive line and deputy head coach. Brady White returns for Memphis and is one of the top returning Group of Five quarterbacks alongside the aforementioned Shane Buechele.  Memphis was seventh in expected points added from pass attempts in 2019 and had an even run/pass split.
The concern is a heightened focus on the running game with Silverfield now the permanent head coach. However, that narrative could change now that Kenneth Gainwell has opted out of the 2020 season to focus on preparing for the 2021 NFL Draft. He was one of the most dynamic players in college football last year, proving valuable in the passing game with an 86.3 receiving grade. How Memphis handles his departure will go a long way toward determining if this is as prolific of an offense in 2020.
Former Alabama transfer Layne Hatcher posted a better passing grade than Brady White in 2019. In fact, Hatcher has the second-best PFF passing grade among returning Group of Five quarterbacks. He had a quality receiving corps in 2019, but the rest of the offense was a disaster. Arkansas State's offensive line posted a 53.4 pass-blocking grade, which was the 18th-worst mark in the FBS. However, Logan Bonner will take the reins at quarterback in 2020.
This spread has seen the widest movement of any game this weekend. After Memphis opened as 14.5-point favorites, the market has been all over the Tigers pushing the spread out to -19. The valuable numbers are 17 and 18, which provide a significant swing in the difference in probability from the opening number. Right now, Arkansas State isn't playable, according to our cover probability, but that will change quickly if the spread continues to move. The total has also caught some momentum, moving 3.5 points from an opening print of 68.5 to a current price of 72. Some markets are even higher, so check Greenline as this spread continues to rise and as we head closer to game time.
For our PFF Greenline game preview, click here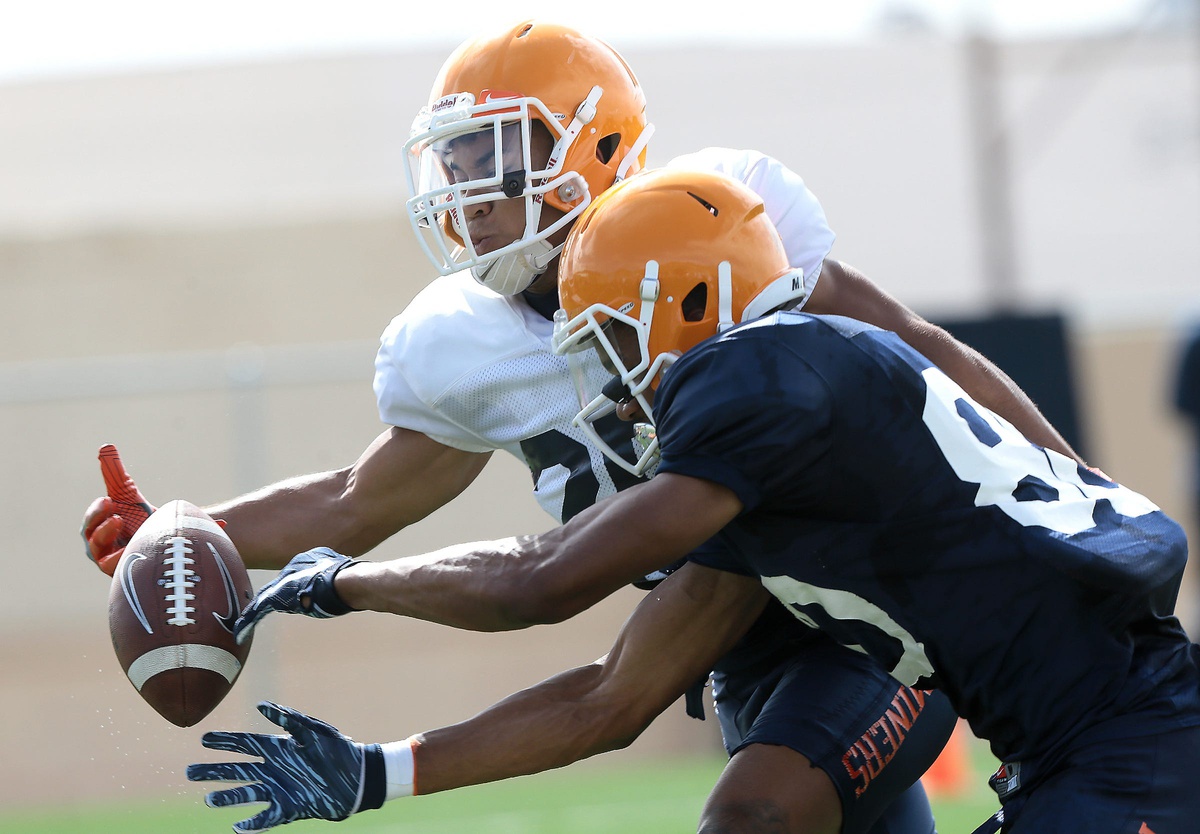 Saturday, September 5 — 9:00 PM ESPN3
What to watch for: Outside of their receiving unit, there's not much to get excited about with UTEP. Wide receiver Justin Garrett is by far the team's best player. He possesses top-notch ball skills and is vying for a big year in 2020. He was the C-USA's seventh-highest-graded wide receiver from Week 8 on last year. He caught 95.2% of his catchable targets (first in C-USA) and hauled in six of the eight passes that were contested at the catch point.
Keep an eye on cornerback Duron Lowe on the defensive side of the ball, as he displayed some high-end play at times in 2019. There were times when Lowe was just a tick late and a little too patient, but he shuts down his side of the field more often than not. He allowed one catch or fewer in eight of his 12 games last year, but he also gave up four plays of 30-plus yards.
Monday, September 7 — 8:00 PM ESPN
What to watch for: The backbone of BYU quarterback Zach Wilson's success is his ball placement on underneath throws. He ranked 17th in passing grade on passes thrown less than 9 yards downfield in 2019, consistently delivering a catchable ball. Unfortunately, his decision-making wasn't always great when he looked to throw deeper down the field. On throws of 10-plus yards, Wilson produced a turnover-worthy play rate that failed to rank in the top 100 in the FBS.
BYU also fields one of the best offensive lines in all of college football. Center James Empey leads the line as one of the best players at his position. He might be one of the most underrated players in the country, regardless of position, as he has produced the best pass-blocking grade by a center since 2018.
Navy lost a handful of key cogs from last year's offense, but it still boasts a solid group of run-blockers that'll help lead its triple-option attack. Guard Peter Nestrowitz is the best of the bunch and rarely makes a mistake as a run-blocker. His rate of negatively grade run blocks in 2018 sat at the 91st percentile in the FBS.
Linebacker Diego Fagot is the highlight of the Midshipmen defense. He has excellent awareness in coverage and pairs that with above-average agility and balance. That helped him pick up 16 stops in coverage last year, which was three more than anyone in the AAC and tied for 11th in the FBS.
Betting preview: The tightest matchup on opening weekend has the 74th-ranked Cougars against the 55th-ranked Midshipmen. This line has completely flipped since the open — after Navy was a field goal favorite, the spread has reversed to make BYU a 1.5-point favorite.
Navy was second in the FBS last season in expected points added per rush attempt. Malcolm Perry was their best option quarterback we have seen in quite some time, so how seamlessly Perry Olsen is able to step in will determine the course of the Midshipmen's season. Olsen registered only 15 pass attempts last season and wasn't close to being as dynamic of a runner as Perry on his limited snaps. Part of this line movement is related to the uncertainty of Olsen at the quarterback position.
BYU, in contrast, returns Zach Wilson — who led the Cougars to the 10th-best offense, according to our opponent-adjusted rankings. His high average depth of target mark makes up for his lack of accuracy, but there is still room for improvement given his 72.0 passing grade in 2019.
The line movement on the spread has coincided with movement to the total, which has dropped over three points since an opening print of 56.5. Greenline finds little betting value in this matchup, but with the line movement that has already occurred, it's possible some more could bring value onto one of these numbers.