Clemson's star quarterback really struggled to kick off his 2019 college football season, but despite his poor play to start the year, Clemson still find themselves entering Week 13 with an 11-0 record and a third-place standing in the recent CFP rankings.
The game that seemed to wake Lawrence and the Tigers' offense was a nail-biting 21-20 victory over North Carolina in Week 5. In the weeks since that encounter, Clemson has dominated every team they have faced, scoring an average of 52.5 points while conceding an average of only 9.6. But the start of the year was an entirely different story, and to truly understand how inefficient Lawrence's start was, one must take a look back at his stellar 2018 season.

Not only did Lawrence lead Clemson to a national championship as a 19-year-old true freshman, but he led the Tigers to a dominating 44-16 title-winning victory over powerhouse Alabama, giving Nick Saban his worst loss as the head coach of the Crimson Tide. Lawrence himself was outstanding, throwing for 347 yards, two touchdowns and zero interceptions while also recording three big-time throws and just one turnover-worthy play. His performance was not surprising, however, as he torched opposing defenses throughout the season, posting one of the best seasons we have recorded by a true freshman quarterback.
The Clemson Tiger ended the year with the best big-time throw to turnover-worthy play ratio in the nation at 27:6. In addition to this, Lawrence was able to average 8.3 yards per attempt (tied for 20th) and post an adjusted completion percentage of 75.2% (20th), a pressured passer rating of 101.2 (6th) and a clean-pocket passer rating of 113.5 (tied for 24th), which all ranked among the top-25 quarterbacks in the country. Lawrence also flashed his ability to move the sticks, owning the highest passing grade on third down with an elite grade of 92.0 — on these plays, he threw a nation-leading 15 big-time throws; he tied for the sixth-best yards per attempt (9.8) and had the seventh-best passer rating (117.4).
As the season came to a close, the Clemson star was already recognized as one of the nation's best college quarterbacks, a consensus 2021 number one overall pick and future Heisman candidate. Entering 2019, all eyes were on Lawrence to once again dominate the field and take the Tigers to back-to-back championships. If they were able to win out once again, Lawrence would be the first college quarterback in history to win a national championship in each of the first two years of his college career.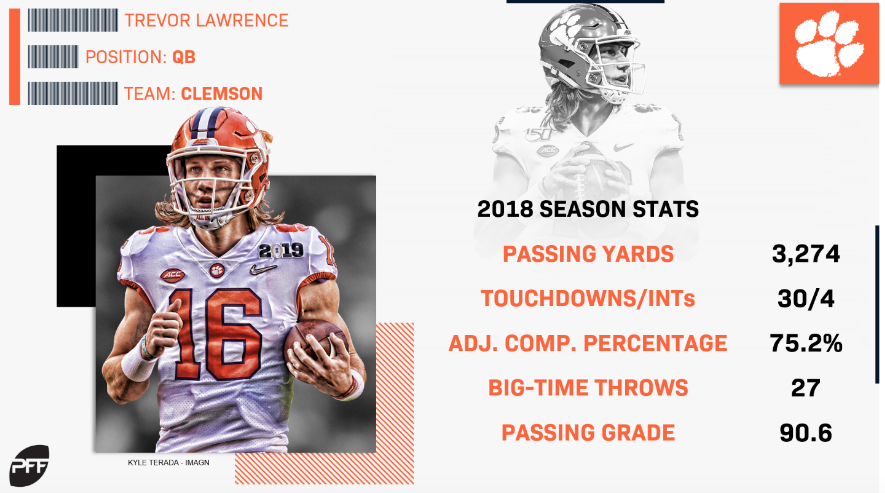 After an offseason full of hype from media pundits all over the country, Lawrence struggled to find his rhythm at the start of the 2019 campaign. Week 1 saw Clemson face Georgia Tech at home, and one glance at the final score would make you believe Trevor Lawrence had a great game, as the Tigers stomped the Yellow Jackets, 52-14. However, he posted not only the lowest overall and passing grades of the season but the lowest of his two-year career by a wide margin. He completed just 56.5% of his passes for 168 yards, one touchdown, two interceptions and three turnover-worthy plays. His play would improve over the following weeks, but continued to be far from the improvement everyone had been expecting from him.
From Weeks 1 through 9, Lawrence recorded 8.6 yards per attempt (T-18th) and a 71.8% adjusted completion percentage (tied for 63rd). He threw 12 big-time throws to 10 turnover-worthy plays, and he managed a passer rating of 100.5 from a clean pocket that didn't even crack the top-50. In those eight games, he was able to earn a passing grade above 80.0 just once—a feat he had reached six times last season—despite having a supporting cast that included first-round caliber players such as receiver Tee Higgins and running back Travis Etienne. However, the weeks to come would see Lawrence flourish in head coach Dabo Swinny's offense and launch him into our top-10 starting college quarterbacks through week 12.
Following his slow start, Lawrence has pieced together three straight stellar performances, posting passing grades of 85.1, 92.0 and 86.2 against Wofford, NC State and Wake Forest, respectively. Over that span, he has earned the position's highest overall grade and completed 75.7% of his throws for 766 yards, 10 touchdowns and zero interceptions.
Moreover, he has not unleashed a single turnover-worthy play in those three games, protecting the football and showcasing his top-tier accuracy through the air. His 10.9 yards per attempt rank ninth at the position while his 83.6% adjusted completion percentage ranks sixth, and he has also posted a second-best clean-pocket passer rating of 153.1, a second-best non-play-action passer rating and a fourth-ranked 114.7 passer rating on throws where he's targeted his receivers in tight coverage — all of which are excellent indicators of how well a quarterback will be able to translate to the NFL level.
He has recorded these outrageous numbers despite having just 18 dropbacks in the second halves of the past three games due to Clemson owning insurmountable leads. His recent play has propelled his name into Heisman conversations, including our very own Cam Mellor's most current Heisman Watch.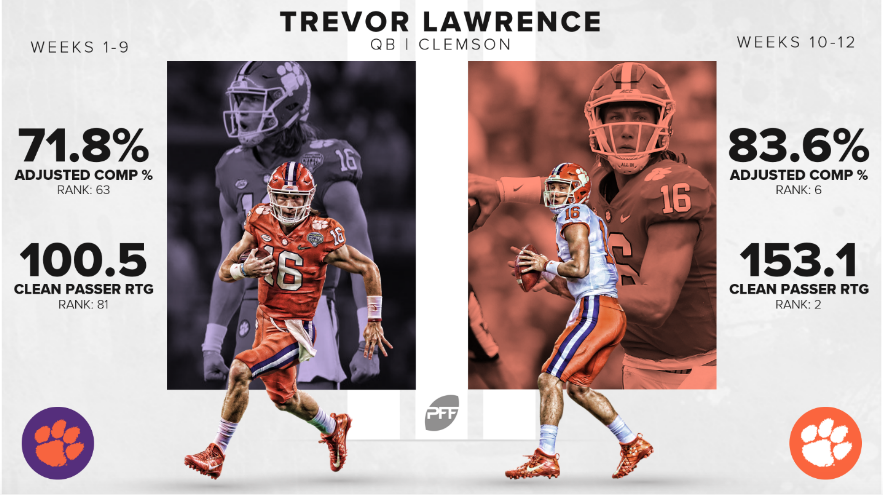 Although Trevor Lawrence did not start the season playing at the level we had come to expect of him throughout 2018, he has bounced back, so much so that his name needs to creep back into Heisman conversations. He has led his team to an undefeated record thus far, and he is a key reason why, based on our most recent projections, the Clemson Tigers have the highest probability of winning the national championship.
Even if he is unable to hoist the trophy at season's end, he will be the favorite to receive the prestigious award in 2020, as well as become the first overall pick come April of 2021. After a bye week, Lawrence looks to further showcase his talents and validate the hype around him against South Carolina in a Week 14 matchup.