By all accounts, Trevor Lawrence had about as successful a season as anyone could have ever imagined for his first year on a college campus. He entered fall camp for the Clemson Tigers as a highly-touted 5-star quarterback, eventually beating out the incumbent starter in Kelly Bryant, winning a National Championship and putting forth an elite PFF grade of 90.7 in the process.
This post is brought to you by Eckrich, the Official Smoked Sausage of the College Football Playoff.
It's such a successful season that his 90.7 overall grade ranks tied for 22nd all-time in the PFF College era (2014-18) and is 14th all-time in Power-5 quarterback single-season grades. His 90.7 overall grade and 90.6 passing grade are both the highest-graded efforts we've ever given to a true freshman quarterback, and we're just scratching the surface of who may become one of college football's greats.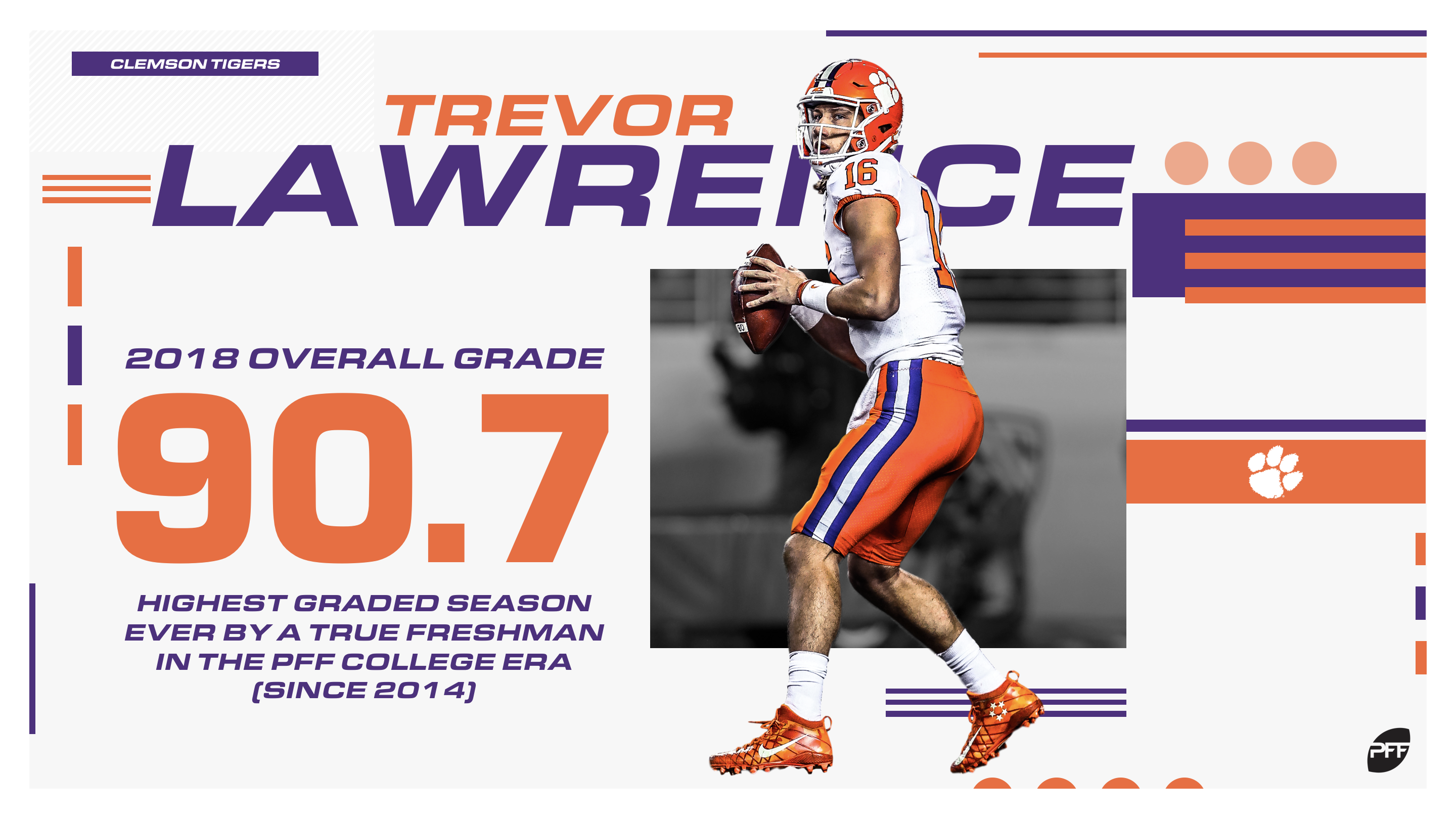 After taking the reins from Bryant five weeks into the season (and a minor hiccup with an injury in the Syracuse game), there was no real looking back for the Tigers with Lawrence in the lineup. In his 11 starts, Lawrence actually finished with above-average grades in eight contests and elite grades in two of his final four games including the out-of-conference regular season finale against South Carolina and the national semifinal against Notre Dame.
He spread the ball around with relative ease and had plus-grades to all levels of the field as well as all sides of the gridiron. In fact, when bucketing his passing grades to the different levels of the field, Lawrence had top-15 passing grades to each distance including the 15th-ranked grade on throws targeted 1-9 yards downfield (78.2), the ninth-ranked grade on throws targeted 10-19 yards downfield (91.5) and the 12th-ranked grade on deep throws 20-plus yards downfield (94.6).
The only other player to accomplish that feat of ranking inside the top 15 of all FBS quarterbacks at each level of the field was Heisman Trophy winner Kyler Murray.
So that begs the question, if Trevor Lawrence was in the stratosphere of the Heisman winner during his true freshman season, what exactly is his ceiling, where does he stand among the nation's best quarterbacks and just how good was his true freshman campaign?
What is Trevor's ceiling
Frankly put, his ceiling is as high as anyone's in the country. The fact that we've never seen this kind of production from a true freshman means we're in uncharted territory in terms of using PFF College grades to project where he ends up. In all likelihood, what he did well in 2018 will translate to 2019 and he pushes the envelope for quarterback grading for us here at PFF.
The only other true freshman that came close to the kind of production that Lawrence put up a season ago is Brock Purdy of Iowa State and digging through the PFF College database, only Jarrett Stidham in 2015 with Baylor and Purdy have joined Lawrence with elite grades during their true freshman seasons.
Highest-graded true freshman seasons per year (min. 300 snaps)
2014 – Kent Myers: 72.1
2015 – Jarrett Stidham: 89.3
2016 – Justin Herbert: 77.2
2017 – Jake Fromm: 82.1
2018 – Trevor Lawrence: 90.7
Where does he stand among the nation's best QBs
Lawrence enters the 2019 season in the conversation for best quarterback in the country. In fact, he enters the season as the starting point for any quarterback ranking conversation.
One step further and giving away our quarterback rankings that debut next week, Lawrence is the top quarterback entering the 2019 season.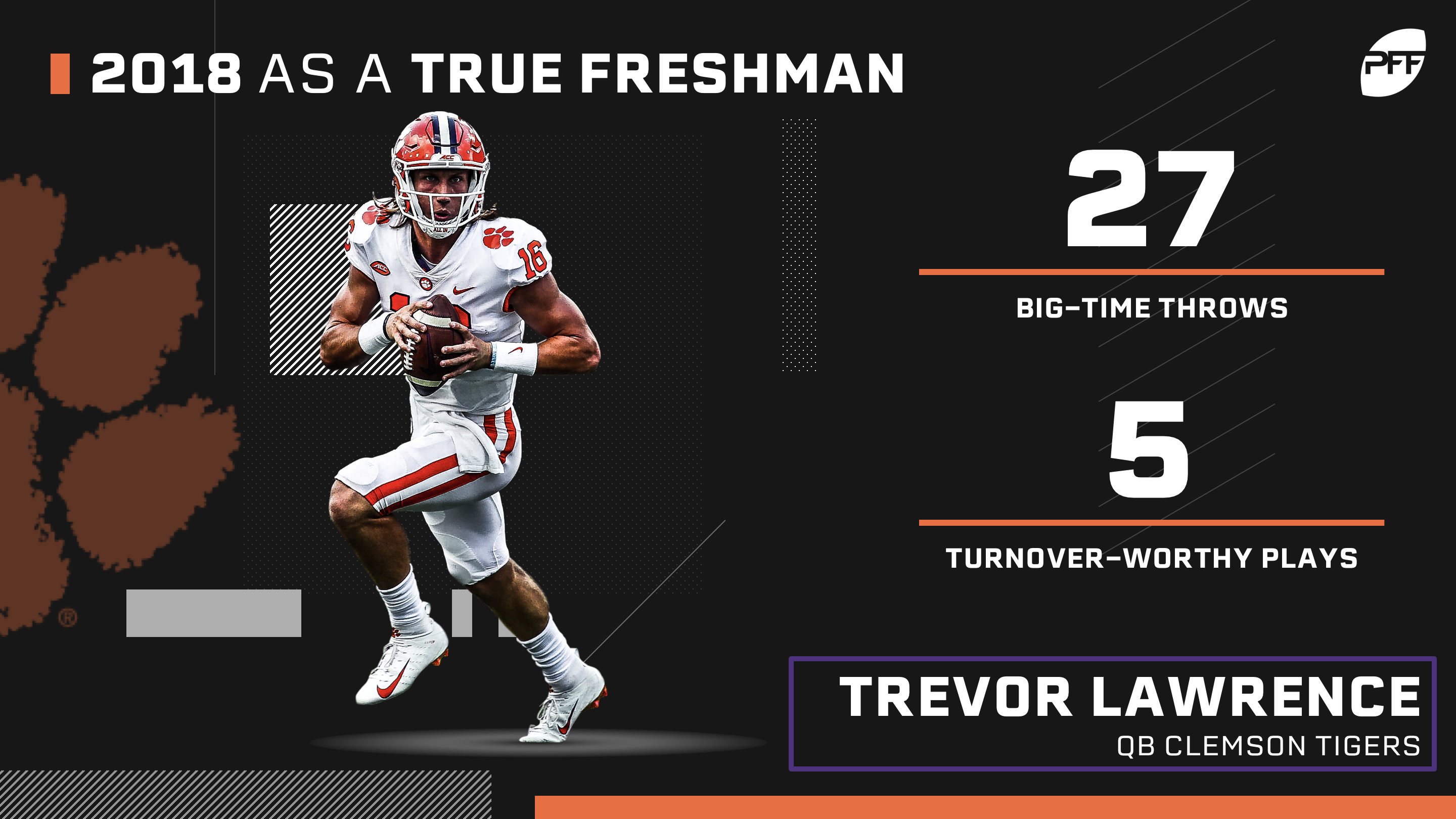 No quarterback has reached his highs in such a short time while also limiting the mistakes and costly turnovers that lose ballgames at such a young age. His 27 big-time throws were the 12th-most among all signal-callers and sixth among returning quarterbacks while his five turnover-worthy plays are the third-fewest among returning quarterbacks who attempted at least 200 passes a season ago. His rate of big-time throws to turnover-worthy plays is the best rate among returning quarterbacks meaning he was able to uncork big-play moments while taking care of the ball with the best of them.
Lawrence's game has the proper amount of highlight-reel moments while also knowing when to avoid the costly mistake, an aspect in which he's well beyond his years in terms of development.
Just how good was his 2018 season
When you're compared to someone like Kyler Murray and/or Baker Mayfield at the college level over the past few years, that's one thing. When there is data to back up that comparison is when you enter the discussion for a generational talent, and that's just what the PFF data shows.
Not only was Lawrence's 2018 season great by true freshman standards, but it was great by any quarterback standards. In the five years of PFF College grading, there have been 759 quarterbacks to finish a season with at least 300 snaps. For Lawrence to rank in the top 25 (at No. 22) all-time on that list just shows how remarkable his first season was. He limited turnover-worthy plays better than the last two Heisman winners, had comparable adjusted completion percentage and big-time throw marks as the Oklahoma duo and did it all while managing a media circus that has followed him since high school.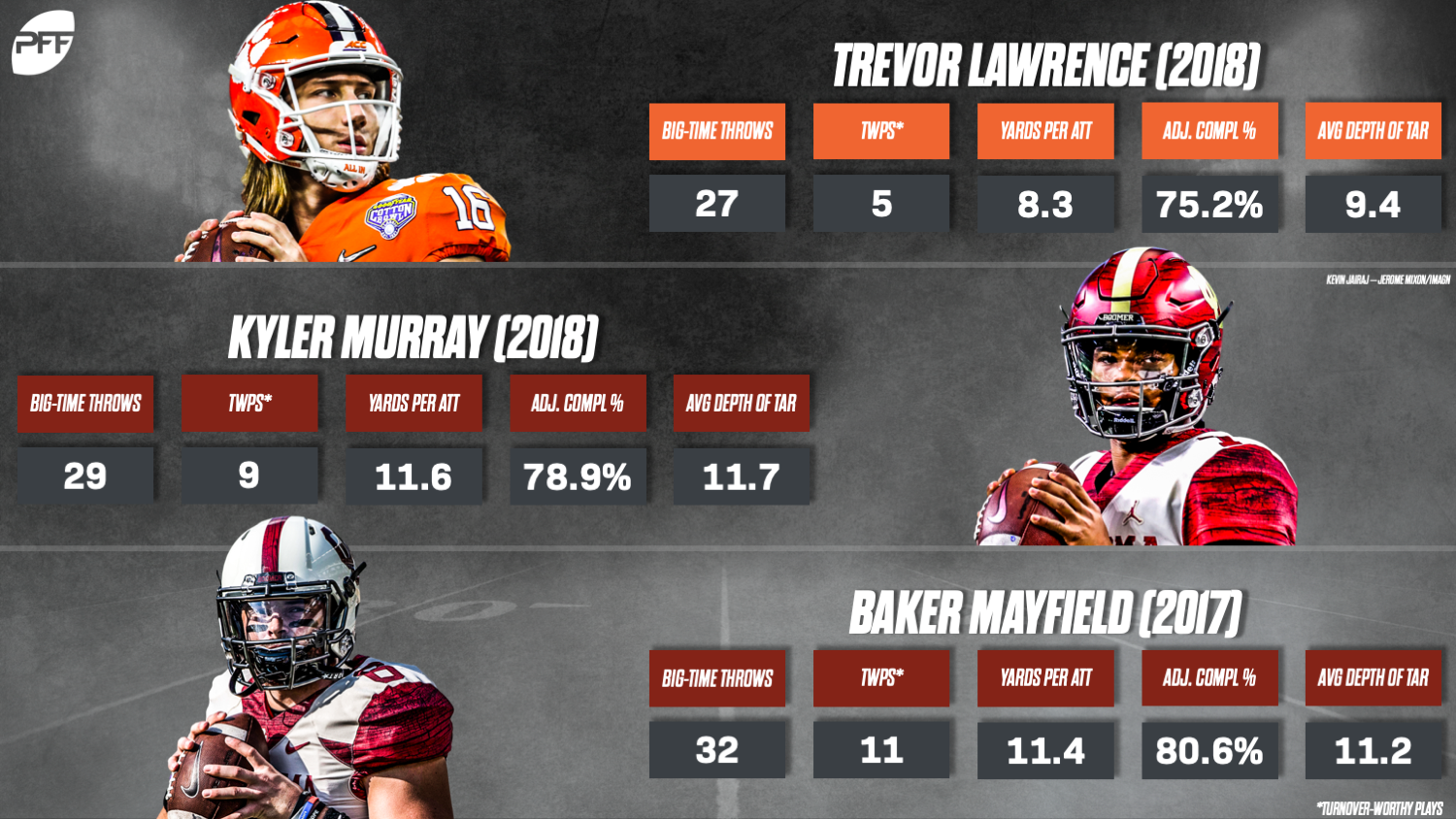 To say that Lawrence did something special in 2018 is one thing. To say he emerges as one of the nation's top players at any position in 2019 is another.
It helps when Lawrence is already the Heisman Trophy frontrunner. A list you can be sure he'll be on for the foreseeable future.