Week 3 of the 2020 college football season is just days away, so what better time to give you, the fans, an update of how the PFF grades are stacking up at every position?
Remember, sample size matters. Players from the SEC are not included here because they have yet to play a game, and the vast majority of the guys listed below have played in just one game against weak competition. That said, here are the five highest-graded players at every position as we look forward to Week 3 of college football action.
Editor's note: Die-hard college football fans, NFL draft enthusiasts and avid college football bettors can now subscribe today to CFB Grades+ or CFB Premium Stats+ to get access to PFF's player grades, advanced stats and NCAA betting dashboard.
QUARTERBACK
Grant Wells, Marshall
Trevor Lawrence, Clemson
Spencer Rattler, Oklahoma
Jarret Doege, West Virginia
Kenny Pickett, Pittsburgh
Yes, sample size and strength of opponent matters, but I'm going to go ahead and take a victory lap on Jarret Doege after he confirmed everything we thought of him heading into the season. Doege produced an incredible 93.7 PFF grade against Eastern Kentucky, taking his career grade as a Mountaineer up to 90.2. Keep an eye on this one.
Trevor Lawrence once again showed that he was the best quarterback in college football with a superb performance against Wake Forest, while Spencer Rattler lived up to the hype with his first start at Oklahoma. Those two produced passing grades north of 93.0 and led all quarterbacks in negatively graded throw rate. I would not expect those two to drop out of this top five for the rest of the year.
RUNNING BACK
Knowledge McDaniel, Marshall
Tyler Allgeier, BYU
Pooka Williams Jr., Kansas
Michael Carter, North Carolina
Alec Sinkfield, West Virginia
After seeing him produce rushing grades above 88.0 in each of his two years, we already knew Pooka Williams was one of college football's best backs, but he showed us once again this past week.  He broke eight tackles on 12 carries, the highest single-game broken-tackle rate since the first game of his career.
Alongside Javonte Williams, Michael Carter forms a great one-two punch for North Carolina and lands on this list because of the work he did as a receiver against Syracuse. He had only seven carries — though two went for a 10-plus-yard gain — and saw the same number in targets. Carter hauled in six of those seven targets and averaged 14 yards after the catch, earning an 83.4 receiving grade on the day. We had hardly seen Carter get extensive work in the passing attack going into Week 2, but it looks like it might be a good idea to keep that rolling.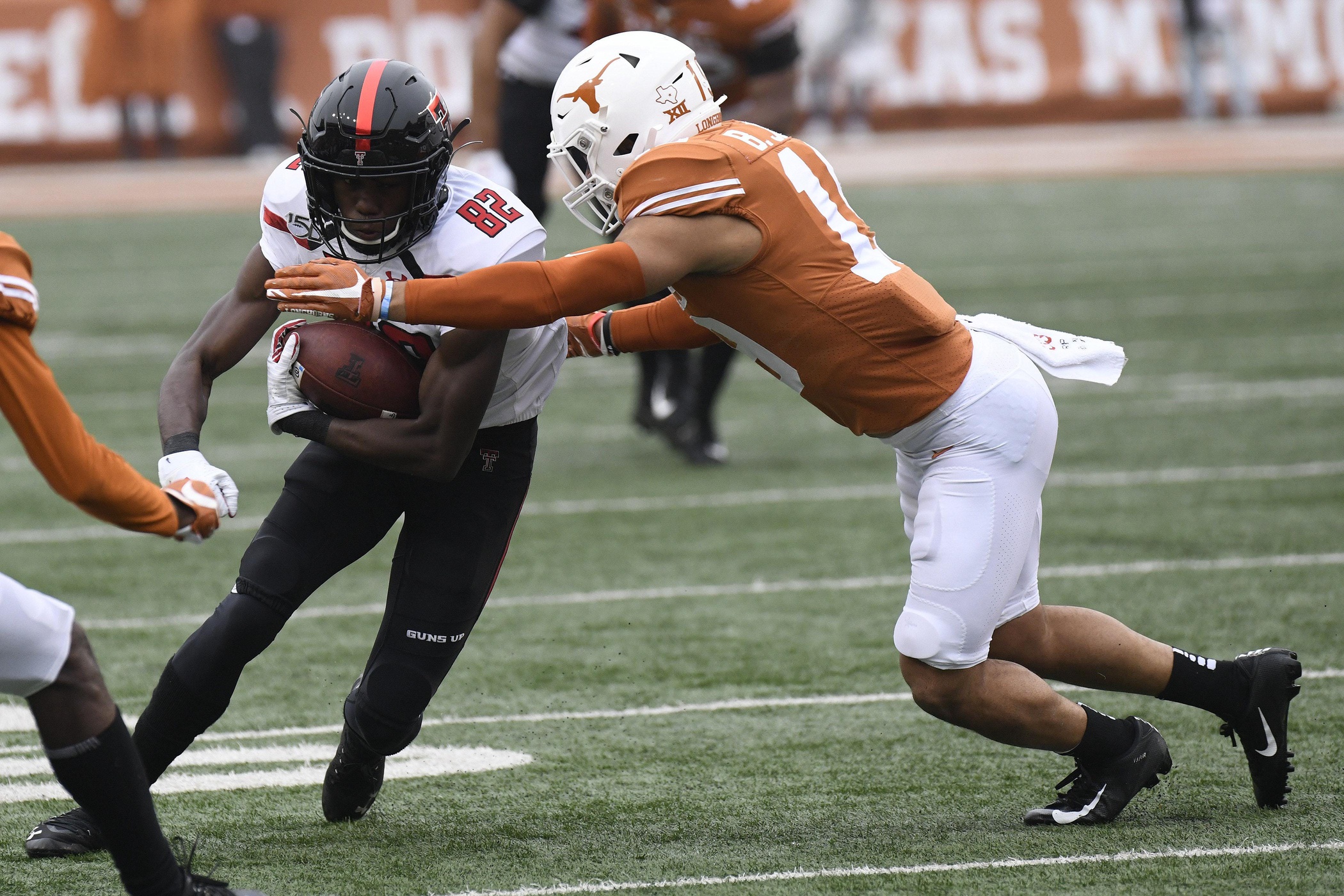 WIDE RECEIVER
KeSean Carter, Texas Tech
Thomas Hennigan, App State
Jonathan Adams Jr., Ark State
Gunner Romney, BYU
Jalen Tolbert, South Alabama
Jonathan Adams Jr. has himself a day in Ark State's upset win over Kansas State. He had two great catches in the red zone — one of which was the game-winner — and he looked a lot better at the catch point than he did in 2019. He hauled in four of his six contested targets on the day and ended the game with an 85.3 receiving grade.
Jalen Tolbert struggled to garner any accurate targets for most of the 2019 season due to South Alabama's poor quarterback situation, but Desmond Trotter came in for the last few games of the year and helped the receiver turn things around. So far, it looks as though things have picked up right where they left off — Tolbert has seen 19 targets through two games, catching 12 for 268 yards and two scores, good for a PFF overall grade of 83.6.
TIGHT END
Sean Dykes, Memphis
Briley Moore, Kansas State
Josh Pederson, UL-Monroe
Tommy Tremble, Notre Dame
Braden Galloway, Clemson
After four years of poor play, Sean Dykes had one more shot at making a name for himself, and he started 2020 with a massive bang in Week 1. He caught 10 of 10 targets for 137 yards and two scores, earning a 92.2 PFF grade in the process. Dykes averaged 4.3 yards per route run, dominating on hitches when lined up inline and winning outside when lined up at receiver.
Tommy Tremble, the heir to Cole Kmet, saw the biggest workload of his college career against Duke and looked as though he would be one of Ian Book's top targets this year. He was targeted on six of his 22 routes and finished the game with a PFF grade of 73.2. He broke a couple of tackles on his five catches, with one being a contested grab.
TACKLE
Brady Christensen, BYU
Jordan McFadden, Clemson
Jackson Carman, Clemson
Liam Eichenberg, Notre Dame
Samuel Cosmi, Texas
The best tackle of the year thus far has been none other than Brady Christensen, as he recorded a 91.1 PFF grade in his Week 1 game against Navy. This really shouldn't be much of a surprise, though, considering he was the second-highest-graded tackle in pass protection a year ago.
Notre Dame's Liam Eichenberg was a key reason why Notre Dame took home the PFF Offensive Line of the Week award. He and the Irish were able to keep Chris Rumph II, the top pass-rusher in college football entering the year, relatively quiet for most of the game — of his 16 pass-rushes, he had just three pressures (with one being a cleanup). Two of those three were hurries while one was a hit on Book on a slick counter-inside spin.
GUARD
Clark Barrington, BYU
Tristen Hoge, BYU
Cain Madden, Marshall
Jake Kradel, Pitt
Aaron Banks, Notre Dame
The best play at guard thus far has come from two more BYU Cougars in Clark Barrington and Tristen Hoge, and it isn't particularly close. Those two produced PFF grades of 96.7 and 94.9. For perspective, the next best is over eight grading points lower. Neither lost a rep in pass protection, and they both manhandled Navy in the run game. I'll be looking forward to watching those two play here again in a couple of weeks.
CENTER
James Empey, BYU
Cole Bentley, Louisville
Maurice Smith, Florida State
Cade Stewart, Clemson
Jarrett Patterson, Notre Dame
Yes, we have yet another BYU offensive lineman. Center James Empey has cracked the top-10 in PFF grade at the position in each of his two years on the field before 2020 and has posted the best game of any center this year. He earned a 92.1 PFF grade that game, over 10 grading points higher than any other center. Empey was one of our top centers in college football entering the year, and he certainly played like it.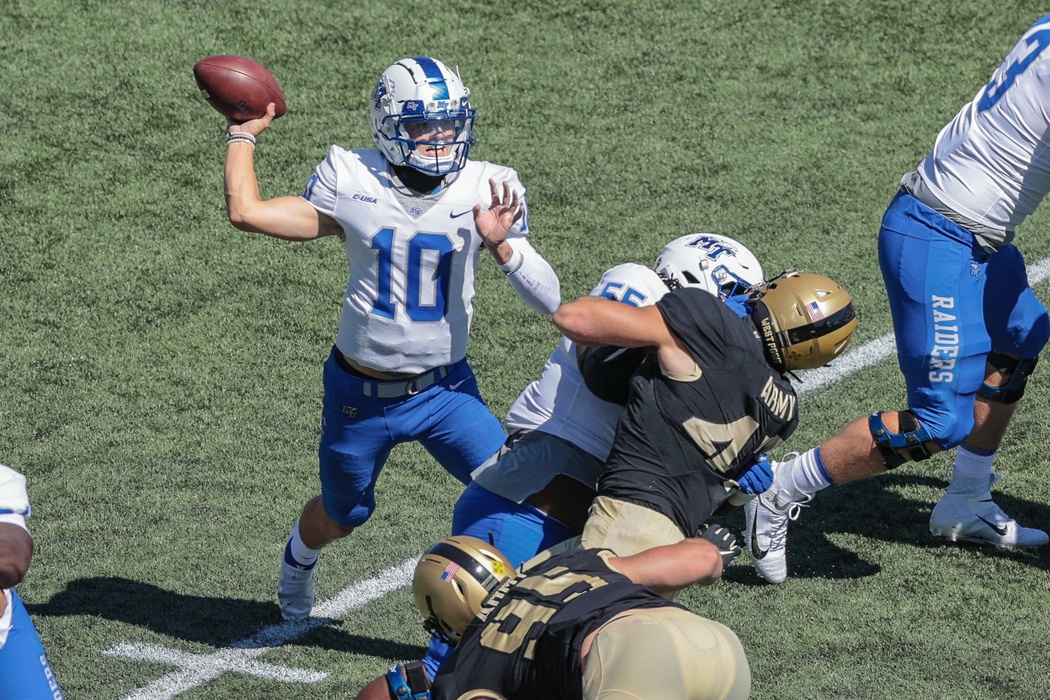 INTERIOR DEFENSIVE LINE
Nolan Cockrill, Army
Dion Novil, North Texas
Dante Stills, West Virginia
Marley Cook, Middle Tennessee
Ta'Quon Graham, Texas
Army's Nolan Cockrill is coming off an insane Week 2 performance that ended with a 98.5 PFF grade. Cockrill did his best work in the pass-rush, where he won a quarter of his reps, forced a fumble and batted a pass down at the line of scrimmage. You won't see many other players at his position come close to that kind of production in any week this season, but Cockrill is an interesting one to keep an eye on as the season progresses.
Dion Novil added another great game to his resume to solidify himself as one of the best nose tackles in the country. He was the second-highest-graded player at the position in 2019 and now ranks first in pass-rush grade at the position in 2020. He won 22% of his reps at nose tackle last week, an absurd figure for the position.
EDGE DEFENDER
Tarron Jackson, Coastal Carolina
Cameron Sample, Tulane
Deangelo Malone, Western Kentucky
Eli Howard, Texas Tech
Jordan Smith, UAB
Jordan Smith bullied Central Ark in Week 1 of the 2020 season, recording nine pressures and a pass-rush grade of 90.1. Miami did a good job of keeping him quiet in Week 2, but he still leads the FBS in total pressures (13) and is poised to put up numbers from here on out. The 6-foot-7 edge rusher has incredible power and can go toe-to-toe with top-tier lineman — just because he had a down game against The U, it doesn't mean he can't face a Power Five line. After all, he did have one of his best games of the 2019 season against Tennessee when he burnt them for nine pressures.
LINEBACKER
Jon Rhattigan, Army
Jimmy Phillips Jr., SMU
Xavier Cullens, Memphis
Brendan Harrington, App State
Amari Gainer, Florida State
Jon Rhattigan had played just 21 defensive snaps in his two years before 2020, but he has looked like a seasoned vet with his play to start the first couple of weeks. Rhattigan produced PFF grades above 90.0 against both Middle Tennessee and UL-Monroe, and he has made plays in every single facet of play. He'll face a little bit more difficult test in a couple of weeks against Cincinnati, and I'm looking forward to seeing if he can extend this streak of elite-level play.
SAFETY
Alonzo Addae, West Virginia
Russ Yeast, Louisville
Paris Ford, Pitt
Kyle Hamilton, Notre Dame
Marquel Broughton, Army
In case you hadn't heard, Kyle Hamilton is a star in the making. Hamilton recorded four interceptions and five pass breakups in 2019, and he started 2020 along those lines by breaking up two passes against Duke.
Alonzo Addae, a transfer from New Hampshire, was one of the secret superstars last week. He recorded a 93.2 PFF grade in his debut with West Virginia, making two impressive plays on the ball (one of which was picked off) on his 11 coverage snaps at deep safety. Addae looked exactly like the player I would want on the back end against Eastern Kentucky. Now, he's just got to show he can do it against a Power Five offense.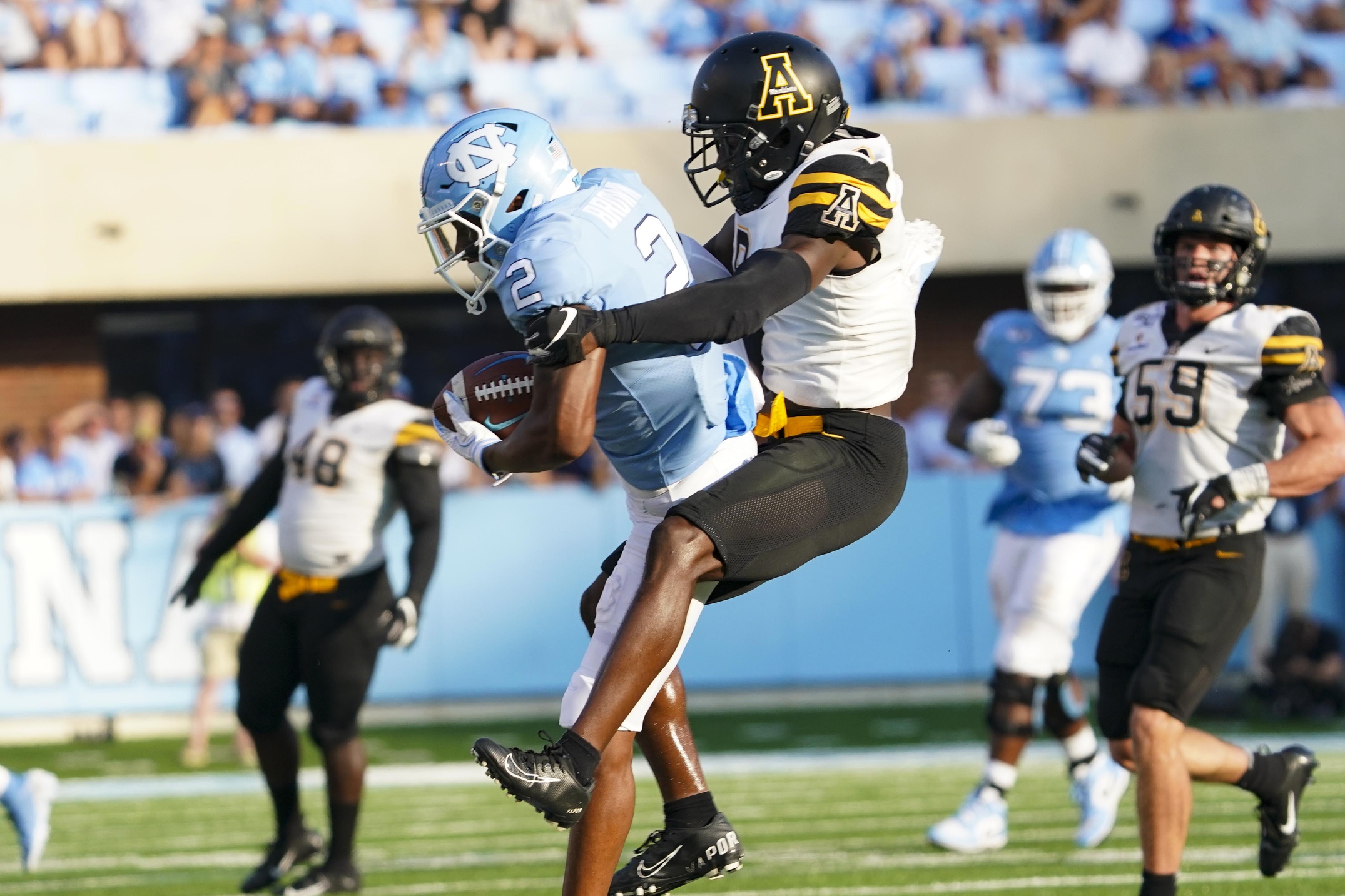 CORNERBACK
Shemar Jean-Charles, App State
Tayvonn Kyle, Iowa State
TaRiq Bracy, Notre Dame
Asante Samuel Jr., Florida State
Brandon Crossley, SMU
App State has one of the best Group of Five cornerbacks in Shaun Jolly, and while he played well and locked down his side of the field this past week, it was his teammate Shemar Jean-Charles who was the shining star. He saw 10 targets across 28 cover snaps when lined up at outside corner as Charlotte tried to avoid Jolly on the other side, and he allowed only three catches for 16 yards with not a single one resulting in a first down. On top of that, he forced four incompletions and had a nice forced fumble.
The most interesting player here is Iowa State's Tayvonn Kyle. He hadn't seen the field until the back half of the 2019 season, and he was uninspiring when he did (64.0 coverage grade). Kyle looked like a different player in his start on the outside to kickoff 2020, though. He earned a coverage grade of 84.4 on the outside last week, allowing just one catch on four targets for five yards, with two forced incompletions mixed in.