While there is a good chance we look back on last year's College Football Playoff as the most talented ever when it comes to producing draft prospects, the 2021 version is no slouch itself.
Of the 10 prospects below, there's an outside chance all 10 will hear their names called in the first round of the 2021 NFL Draft. You can also clearly see by this list why Alabama has been steamrolling teams all season and is the favorite to win it all. The No. 1 player here, however, is the one who can stop them and should come as no surprise.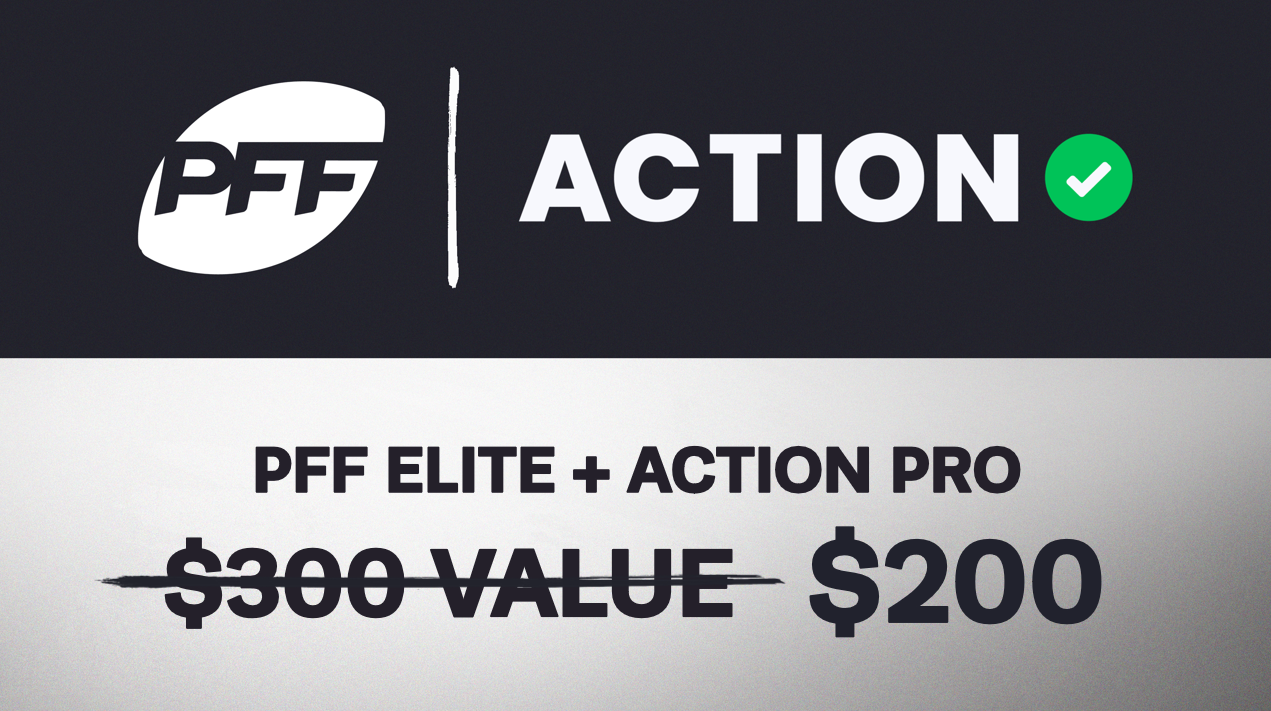 Are we surprised? All Lawrence has left to prove at the college level is legacy. With three College Football Playoffs already on his resume, will he make it three finals appearances and two national championships?
Trevor Lawrence with a DIME????

#3 Clemson (-22.5) has a 38-10 lead????
pic.twitter.com/VIXgo4b4dx

— PointsBet Sportsbook (@PointsBetUSA) December 6, 2020
Lawrence has managed to top his 90.7 and 91.1 overall grades in 2018 and 2019, respectively, with a 92.0 mark this season. I wouldn't bet against him at this point, as he's playing the best football of his career.
Let's not overreact to a couple of ugly games from Fields this season. He's still a special passer. Some 73.3% of his attempts this year have been deemed accurate — the highest of any quarterback in the country. This isn't a screen-heavy, dink-and-dunk Ohio State offense, either. His average depth of target has been 9.7 yards downfield this season. Fields is a franchise quarterback prospect.
Justin Fields, QB, Ohio State:

• Cashing in on deep opportunities
• Out of structure extraordinaire (+)
• Arm strength to all 3 levels (++)
• Extra armor to withstand traffic
• Composure in chaos (+)
• Scrambling to throw first pic.twitter.com/de3tCErO12

— Jordan Reid (@Jordan_Reid) July 7, 2020
If Waddle had been healthy for the whole season, there's a chance he would have been him getting Heisman hype and not DeVonta Smith. In the four games that both played before Waddle's broken ankle, here's how their stats stacked up.
| | | |
| --- | --- | --- |
| Stat | Jaylen Waddle | DeVonta Smith |
| Targets | 29 | 47 |
| Receptions | 25 | 38 |
| Yards | 557 | 483 |
| TDs | 4 | 4 |
| Yards Per Route | 4.68 | 3.63 |
| Passer Rating When Targeted | 158.3 | 129 |
Waddle is also an electric returner with three career return touchdowns to his name and an 18.1-yard career punt return average. While he might just get thrown in the speed receiver bucket, that's selling his skill set short. Waddle has tremendous ball skills, as well, and hauled in all four of his contested-catch opportunities this season.
Jaylen Waddle should be viewed as a top-15 talent despite concerns with his size (5-foot-10, 180 pounds).

Waddle's speed/explosiveness is rare, and his short-area quicks/lateral agility is an even bigger separator for him in the 2021 class. pic.twitter.com/wBFdIUtFnL

— Austin Gayle (@PFF_AustinGayle) December 29, 2020
Surtain's resume at this point is darn-near impossible to argue against early on in the first round of the 2021 NFL Draft. He's been starting ever since he was a true freshman and has allowed only 931 yards in his career on 1,446 coverage snaps. He has prototypical NFL size at 6-foot-2, 202 pounds. Teams will love his physicality and tackling. In his career, he's missed only 11 tackles on 129 attempts. He'll certainly be in the conversation for the first cornerback off the board.
Patrick Surtain II wins SEC Defensive Player of the Year ????
pic.twitter.com/0Ce5JaR74J

— Alabama Diehards (@AlabamaDieHards) December 22, 2020
Smith's weight will be a heavy topic of discussion all spring. We've seen it in recent years with undersized receivers like Marquise Brown, whose game doesn't translate nearly as well when the more physical corners in the NFL get their hands on him.
Alabama WR DeVonta Smith has 7 catches, 219 yards and 3 touchdowns in the FIRST half. This TD grab is jawdropping. pic.twitter.com/3QXdyQQZOw

— NFL Update (@MySportsUpdate) December 6, 2020
My official position, though, is that Smith plays so much stronger than his listed 175 pounds that I'm not too worried. His production is absurd at this point, and he's doing it without the bevy of first-rounders around him to take away attention from opposing defenses.
The lone Irish representative in the top 10, Owusu-Koramoah is everything you could want from a modern linebacker. He's undersized by pure weight standards at 215 pounds, but you'd be hard-pressed to find that being an issue on the football field.
Jeremiah Owusu-Koramoah just rocking dudes. pic.twitter.com/fFv52I5moH

— Greg Brandt (@devywarehouse) October 11, 2020
He is extremely sudden and explosive closing on ball-carriers, forcing three fumbles this season on 51 tackles. He plays the "ROVER" position in Notre Dame's defense, which is a hybrid of slot corner and outside linebacker. Even in such a role where he is often asked to cover wide receivers one-on-one, JOK has earned an 81.4 coverage grade on the season.
Kendrick started his career as a receiver for the Tigers before taking to cornerback quickly as a redshirt freshman in 2019. Now, as an established starter, Kendrick has pretty much locked down his side of the field every week.
Clemson CB Derion Kendrick in 2020 (@PFF_College)

8 targets
0 catches allowed
5 forced incompletions
1 INT
#1 PFF coverage grade

Kendrick was great in 2019 considering he was a WR in 2018, but now he is looking like one of top CBs in the country. pic.twitter.com/1IWtwJVWM0

— Anthony Treash (@PFF_Anthony) October 11, 2020
He didn't allow a catch until his fifth game played this year and has yielded only 105 yards in eight games this season. The College Football Playoff could be massive for his draft stock because he might actually get tested for the first time all season.
The arm strength is middling. The mobility isn't near the guys at the top of the class. The on-field performance, however, has been borderline flawless this season. Mac Jones is burying teams left and right at a clip that top-five pick Tua Tagovailoa never quite reached. His 95.3 overall grade is the second-highest of any quarterback in the country, behind only Zach Wilson.
Mac Jones dime pic.twitter.com/CsYZpmBmWk

— Paige Dimakos (@The_SportsPaige) October 18, 2020
The defenses he's faced aren't quite the murderers' row that Joe Burrow saw in 2019, though. He's got a lot of money riding on how well he plays against a quality defense in Notre Dame — and maybe Clemson or Ohio State.
Leatherwood came into the 2019 season firmly in the conversation for OT2 behind Penei Sewell. If he took as big a leap as we saw switching from right guard to left tackle in 2019, he was a shoo-in. That didn't happen, though.
Alex Leatherwood ????

First thing this morning I had to sprint to the Alabama offensive line tape. These boys destroyed the Auburn front seven @colecubelic @BigDuke50 pic.twitter.com/xwJHemQT2g

— Ben Fennell (@BenFennell_NFL) November 29, 2020
In fact, Leatherwood has regressed mightily. He's already allowed 15 pressures after giving up only 10 all of last season. He's still been solid, but without elite physical tools, he could slip out of the first round.
Etienne's acceleration is at a different level from any other running back in college football. Linebackers simply cannot stick with him one-on-one in space.
Runs of 20+ yards the past two season:

1. Travis Etienne (43)
2. Jonathan Taylor (30)
3(t). Chuba Hubbard (28)
3(t). Darrynton Evans (28)

Still can't believe RB1 came back to school pic.twitter.com/75Ujyr17TD

— Mike Renner (@PFF_Mike) May 6, 2020
While everyone is well-versed with what the now-senior is capable of as a runner, Etienne added a receiving element to his game that was different from past years. His 524 receiving yards this season were the second-most of any back in college football.