Every coach has their go-to player. Sometimes it's for certain situations, like to exploit a mismatch against a specific defense at a certain point on the field. Other times, it can be an entire week's game plan, regardless of who the opponent is and how they play.
In rare cases, coaches are lucky enough to have a player so dominant that it doesn't matter whether the opponent is aggressive or conservative, whether the game is on the road or at home, whether they are playing in conference or out of conference. The coach will run the offense through that one guy, no matter what, because they know how reliable that guy is.
Colorado State has that guy in tight end Trey McBride.
Click here for more PFF tools:
Rankings & Projections | WR/CB Matchup Chart | NFL & NCAA Betting Dashboards | NFL Player Props tool | NFL & NCAA Power Rankings
---
No tight end in the country has more catches, targets, contested catches, first downs and explosive pass plays than McBride through five weeks of the 2021 college football season.
He's second in receiving yards (410), yards after the catch (211) and yards after contact (92). He's at the top of the list for almost every stat at his position, including total snaps played at almost 300 through four games.
"I don't really realize it," McBride said in an exclusive interview with PFF. "I think that's just kind of what I'm used to. I love doing that. I love trying to be that guy and try to bring everyone along with me and do everything I can to possibly win.
This offense is getting me the ball. But, I mean, we have a ton of other guys, which is great. We have so many weapons that a lot of people don't know about because they're so focused on me. And that's what I'm super excited about is when these guys get going, how explosive our offense can really be. It's really cool. I don't really think about it too much, but I love being that mule, workhorse guy."
CSU has completed 81 passes through its first four games, with McBride's 37 catches representing more than 45% of the team's passing offense. The Rams have also passed for 839 yards as a team, 402 (47.9%) of which have come via the big tight end.
Trey McBride's Receiving Stats Through Week 5
| | | | | | |
| --- | --- | --- | --- | --- | --- |
| | Receptions | Targets | Yards | PFF Receiving Grade | PFF Rank |
| Wk. 1 vs. South Dakota St. | 13 | 14 | 116 | 91.5 | 2nd of 198 |
| Wk. 2 vs. Vanderbilt | 9 | 14 | 118 | 83.7 | 18th of 209 |
| Wk. 3 @ Toledo | 9 | 14 | 109 | 87.7 | 9th of 209 |
| Wk. 4 @ Iowa | 6 | 10 | 59 | 76.8 | 25th of 185 |
| Season Total | 37 | 52 | 402 | 92.4 | 4th of 299 |
*PFF rank among tight ends who played during each game week
If you need an even better example of McBride's colossal market share, look no further than Colorado State's Week 3 game against Toledo when the Rams recorded 110 passing yards as a team — and McBride had 109 of them.
"I didn't know that until after the game," McBride said after a laugh. "Someone told me that, and I was like 'holy smokes.' … And then, looking back on it, I was like, 'wow, that might be right.' … I've never seen anything like that, so that was crazy to me."
The 6-foot-4, 260-pound tight end has never been one to shy away from a high snap count, and the reason is simple: he loves it. He loves putting the cleats on and running around. He loves making big catches and big blocks, but he loves doing the little things, too. He's a "big football guy," and his background is a testament to that.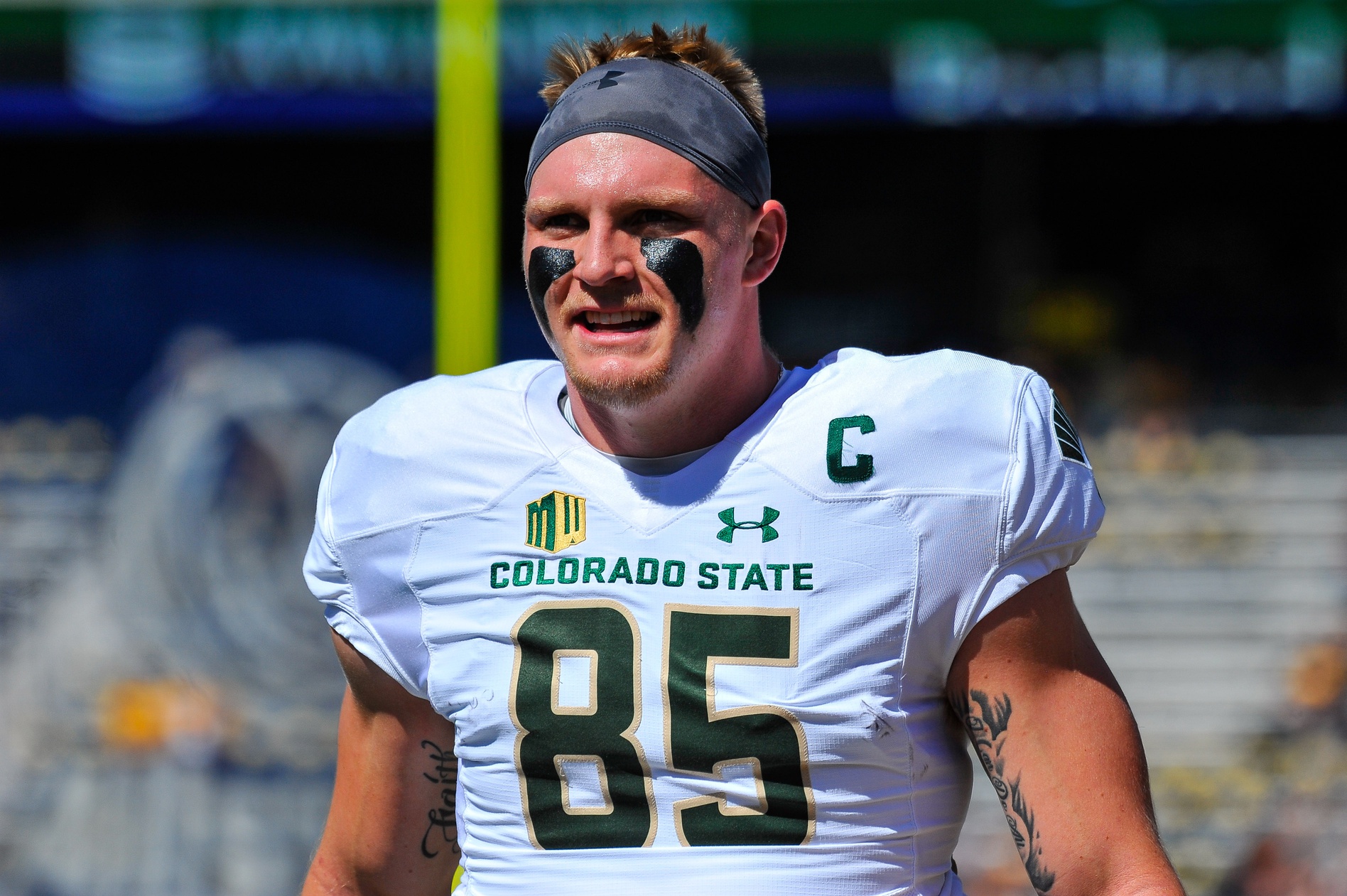 He is quite the sports legend in his hometown of Fort Morgan, Colorado. Not only was he a high school All-State selection as both a junior and senior in football, but he was also a three-sport athlete with records in both basketball and baseball. On the hardwood, he has Fort Morgan High School's record for career points scored. On the diamond, he owns the school records for both home runs and RBIs.
"Where I went to high school, it wasn't a big place, so there wasn't a ton to do," McBride said. "So that's what everyone did. You'd play the football season, and then during the winter you'd either wrestle or you'd play basketball. That's what we did for fun — go to the park and play sports. … Everyone did that, and I loved it. I loved playing three sports. You were busy all year round. You never really had time off, but I wouldn't have traded it for anything."
The recruiting pipeline noticed — as you would expect from a player who made headlines all four years of his high school career in multiple sports — and McBride didn't have to wait long to have an offer on the table from the place he would eventually commit to.
"CSU was the first [school] to offer me," McBride said. "They offered it to me when I was a freshman in high school. That's the moment I realized it. I didn't really ever think about it because my brother was doing it, and I was like, 'well, maybe I have a chance.' Then they offered me when my brother still was in high school. Then it kind of started rolling from there. That's when I really knew, OK, I can do this."

The now-senior has been making a name as a tight end since his freshman year of high school, the best part of a decade ago.
There has been so much growth and progress from the tight end position since about 2012. We've seen a big movement toward not just getting tight ends more involved in the passing game as pass-catchers, but now teams are getting multiple tight ends on the field and finding ways to use them to manipulate the defense. And McBride has been right in the middle of that tight end evolution, and he's been watching how the best have changed the game.
"You watch guys like George Kittle, Travis Kelce and Darren Waller. There's a lot of really good tight ends right now that are really changing the game and making a lot of these guys more of athletes and running more routes, catching balls, scoring touchdowns," McBride said. "These guys are taking over games in the NFL.
It's really cool to see how these positions evolve over the years. A lot of teams never used the tight end, and now every team plays with two of them on the field all the time. It's really cool to see, and I'm really excited to continue to see it evolve and see where it can really go and lead to.
I love watching all those guys. I love watching Mark Andrews. I love watching Austin Hooper, all those really good tight ends in the league. George Kittle is obviously really fun to watch block. You see him block and have these highlights and stuff, so I pride myself on that. Travis Kelce just catches everything, and he's so big. So, it's really cool to watch all those guys and what they're good at and try to learn from them."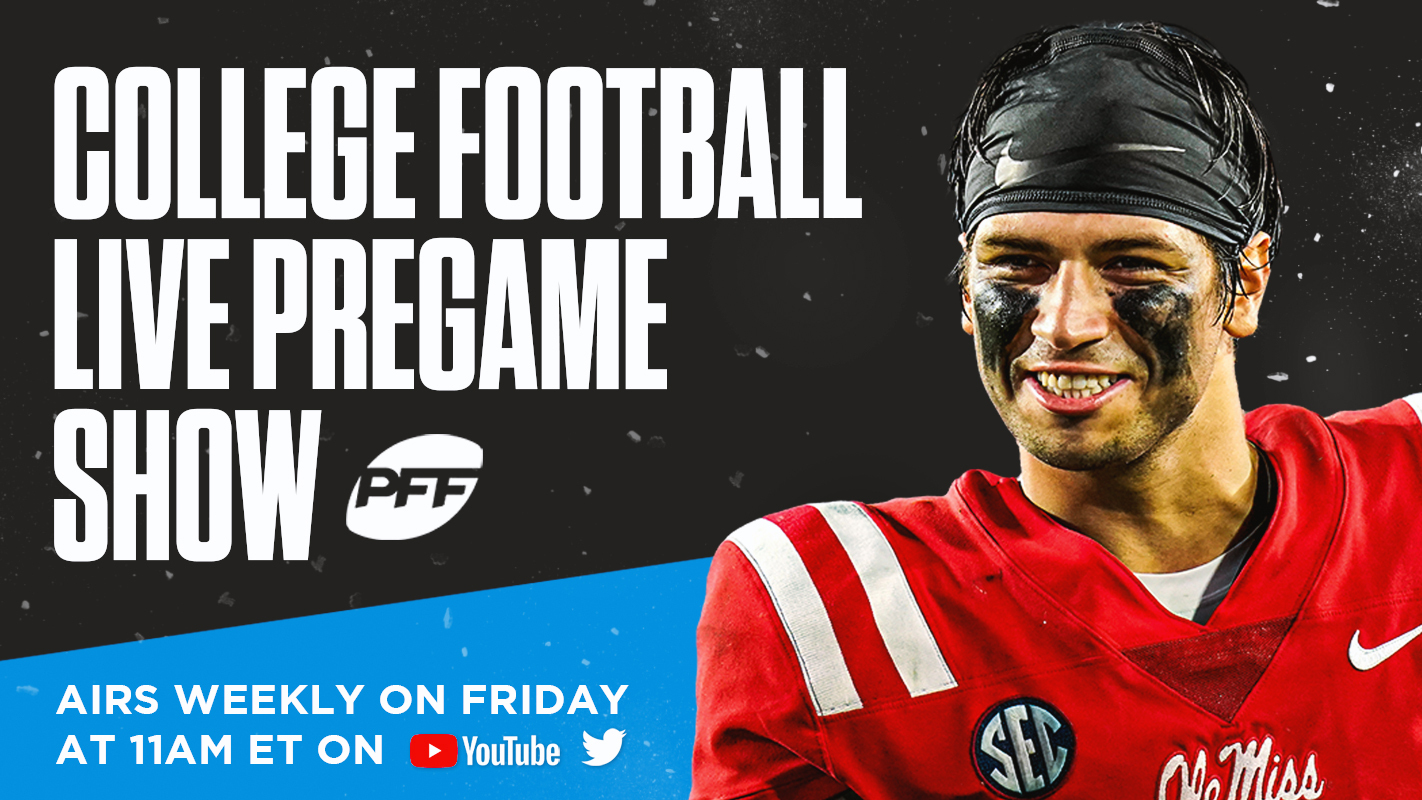 And learn he certainly has. As of right now, no starting tight end in the country has earned a higher PFF receiving grade than McBride's 92.4. His 88.2 overall grade is also top-three at the position, just behind Isaiah Likely of Coastal Carolina and Gerrit Prince of UAB.
McBride has played at a high level since being named a starter during his sophomore season at CSU. As a first-team All-Conference selection in 2019 with over 500 yards and 45 catches, McBride earned an 83.6 PFF grade that ranked ninth in the country. The following season, he improved that grade to 86.2, sixth among players at his position.
With great stats and good recognition already under his belt, McBride had a decision to make last offseason on whether or not to turn pro. Despite the award nominations and leading the team in receiving in 2020, McBride's conclusion to come back for another season was swift.
"I think a lot of it is, I didn't feel like I was ready," McBride said. "I wanted to play a full season, and I thought if I had a full season — if I produced good tape, had a good season and everything seemed right — I really would've considered leaving. But last year, we played four games. Everything just wasn't right, and, ultimately, I really like what coach Addazio is doing. I trust in him and his development, and I wanted to come back and play one more year for him. And I haven't looked back. I've loved every second I've had here at CSU."
Steve Addazio came to Colorado State after serving as the Boston College head coach from 2013-2019. The 2020 COVID-19-affected season was the first he had with McBride. And though their time was short, it was impactful.
The young tight end shined in Addazio's offense, not just to lead the team's tight ends in receptions and yards but to lead all of his teammates in both of those categories. Though it was only four games, that kind of mentality made McBride want to see what the two could cook up in a full season.
"Coach Addazio is just really big on fundamentals and always doing the little things perfect," McBride said. "So, I think that's something that's helped is just trying to be perfect [and] doing every little thing exactly how he wants it. And that's kind of what I've enjoyed in learning how he wants to do anything. Where you're placing your hands and your helmet and all those little things you don't really think about but really do help in the long run."
Tight end usage is at an all-time high. The creativity coaches are showing means the possibilities are endless. As a tight end, when you can reliably catch and block, you're a chess piece. That's where the future of football is going, and that's what makes Trey McBride an ideal candidate to be the next in line.
---