Eleven of the top-15 teams from the AP Preseason Top 25 have taken the field so far in the 2020 college football season. And of those 11, over half have already lost a game (Oklahoma, LSU, Florida, Auburn, Texas A&M and Texas). No matter how big or small, these losses have obviously damaged their chances of securing a spot in the exclusive College Football Playoff while opening up the door for other programs to make a run.
With the race to the College Football Playoff now well underway, we have divided the nation's front-runners into four distinct tiers — Tier 1 being the sure locks to make the CFP; Tier 4 being the teams that will almost assuredly have to wait until next year.
Please note that teams such as Oklahoma, Texas and Michigan will be missing from this ranking, either because of their poor start to the season or because they're working with a depleted roster against a tough upcoming schedule. It's also worth noting that these tiers were not formed by our NCAA simulations or our power rankings. Instead, they were heavily influenced by factors such as offensive and defensive per-play efficiency, PFF grades, returning players in the Big Ten and PAC 12 and remaining schedules/possible conference championship matchups.
Editor's note:  PFF's CFB Premium Stats+ subscribers can view player grades, advanced statistics, positional snap counts and more. Subscribe today for access!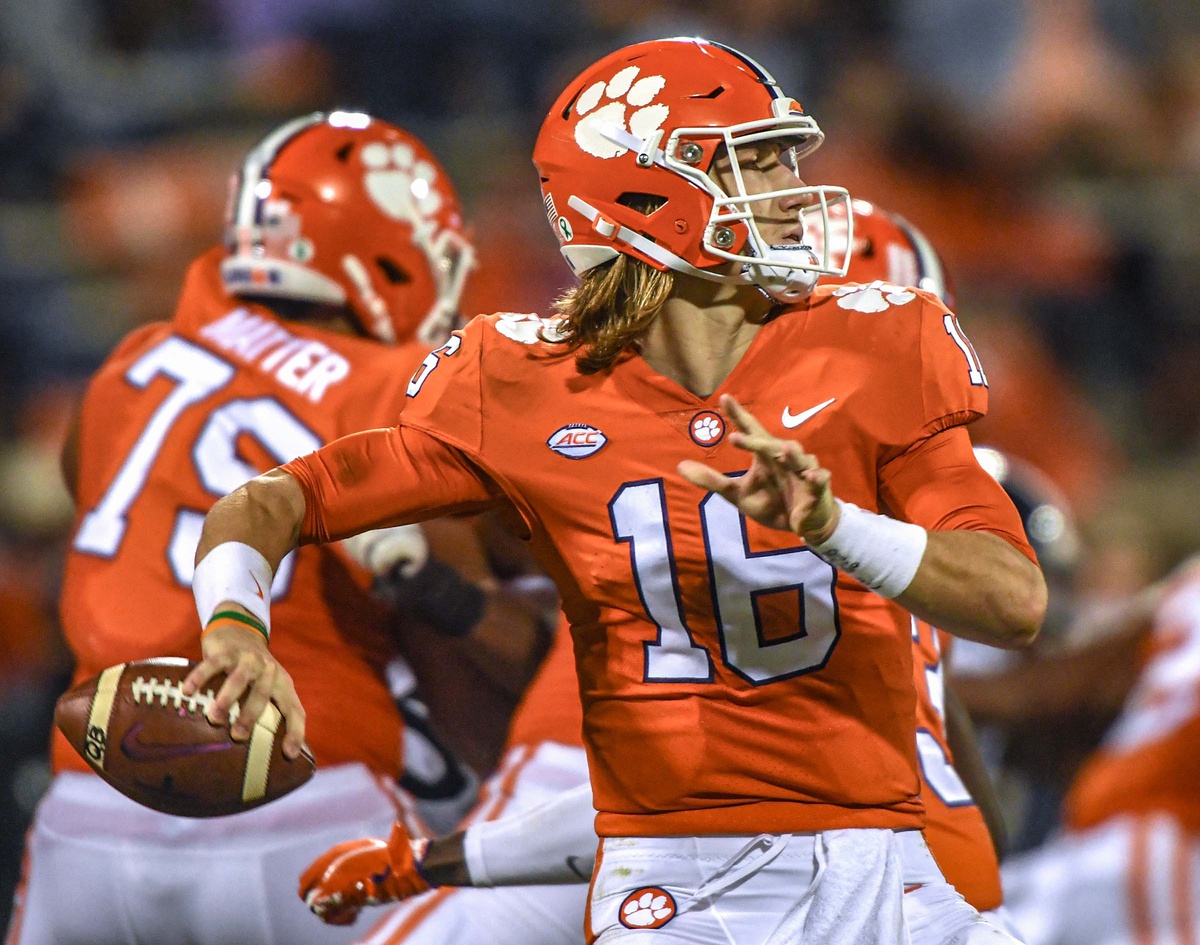 TIER 1: THE COLLEGE FOOTBALL PLAYOFF LOCKS AND FAVORITES
This tier is pretty self-explanatory. These teams are all but guaranteed to be the first three seeds in the 2020 College Football Playoff.
Clemson was the obvious preseason favorite to take home the 2020 National Championship, and they have somehow managed to look even better than expected through their first four games of the season.
Quarterback Trevor Lawrence is off to the best start of his collegiate career, earning a 92.3 PFF passing grade over the first month of the campaign. His downfield passing has been on point, too, as he has produced the highest grade, the lowest negatively graded throw rate and the highest big-time throw rate on passes that have traveled over 10 yards downfield.
On the defensive side of the ball, the Tigers have fielded the highest-graded coverage unit in college football. Cornerbacks Derion Kendrick and Andrew Booth Jr. have been premier outside corner tandems in college football this year. The two have combined for eight combined pass breakups and interceptions while allowing just four catches between them.
The Buckeyes are yet to play a game in 2020, but given that they return the top-three quarterback prospect Justin Fields, one of the best route-runners in the game in Chris Olave, and a promising secondary, putting them in Tier 1 is a safe bet.
Fields was somewhat lost in the shadow of Joe Burrow's historically good 2019 campaign, but his first full year starting at the collegiate level was nothing short of spectacular. It was the 10th-best season we have ever recorded in regard to PFF wins above average (WAA). The promising young quarterback has an elite-level separation-getter to throw to in Olave, who generated the highest rate of open targets against single coverage among FBS wide receivers in 2019.
Meanwhile, the defensive side of the ball is led by cornerback Shaun Wade, who will be flipping from the slot — where he made more plays on the ball than the number of first downs he allowed in 2019 — to the outside. The Buckeyes also have a prime breakout candidate in Sevyn Banks, who will more than likely man the starting spot opposite Wade and has combined for four pass breakups and interceptions while allowing just three catches in his career. 
Before the season kicked off, few would have expected Alabama to find its way into the same tier as Clemson and Ohio State, but the program's performance so far has all but sealed their standing here.
Mac Jones was given the thankless task of replacing the injured Tua Tagovailoa in 2019, and Jones graded fairly well in Tua's absence, managing a very respectable 79.5 passing grade on the year. At no point did it ever look like he would be on the same level as the Bama Heisman finalist, though. The biggest concern was Jones' rate of negatively graded throws from a clean pocket, as he ranked 131st of 150 qualifying FBS quarterbacks in that metric (screen passes excluded). And given that this metric is among the most stable and predictive for quarterbacks, it was a huge concern for Alabama with Jones set to assume the full-time starter role in 2020.
Jones, however, defied the odds and has looked remarkably better in 2020. In fact, he's the highest-graded Power Five quarterback so far at 93.6, and he has improved his negatively graded throw rate when clean rank to first in the FBS. With the help of wide receiver trio DeVonta Smith, Jaylen Waddle and John Metchie III, who all rank in the top 25 at the position this year in PFF grade, as well as running back Najee Harris, Jones has led the FBS' most efficient offense through Week 6 in terms of EPA per play.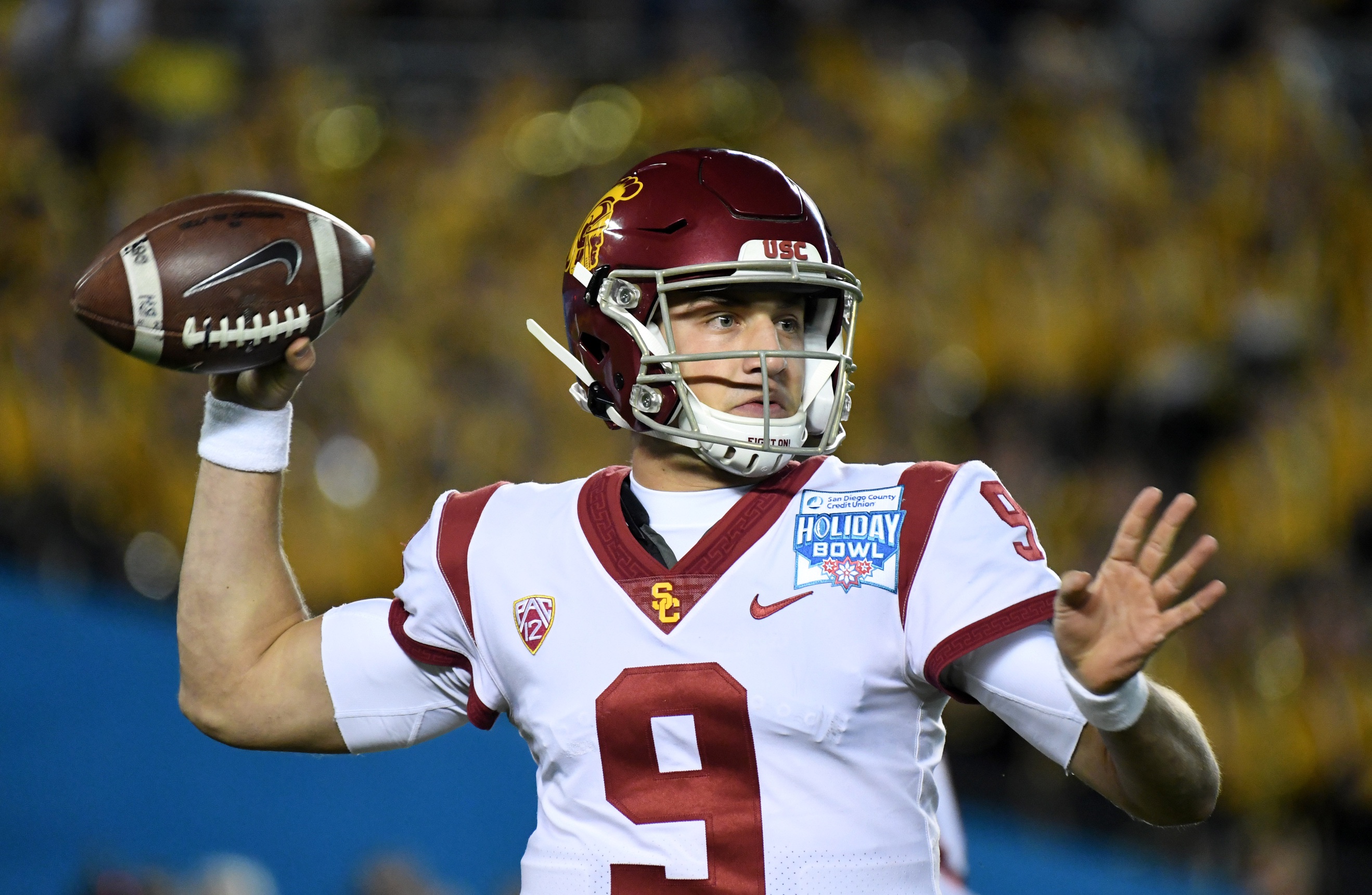 TIER 2: THE FAVORITES FOR THE FINAL SPOT IN THE CFP
These teams are the few that control their own destiny and don't need any outside help to secure a spot. These teams need to stay the course and continue to win games, and if they can do that, we'll have a debate on our hands down the road. 
If Georgia is going to secure the last of the four spots in the CFP, they will have to roll through Kentucky, Florida, Missouri, Mississippi State, South Carolina and Vanderbilt while splitting the two matchups they'd then have against Alabama.
The first matchup against Bama is next weekend, and the other — if they were to beat all the teams listed above — will be the 2020 SEC Championship Game.
Georgia will need a clean, stable game from Stetson Bennett with no slow start this week, which has been his Achilles' heel up to this point. In his three games so far, Bennett has recorded an underwhelming 56.5 passing grade in the first two quarters of game action, the worst in the SEC. But in the second halves of those three games, Bennett has stepped up to produce a 90.9 passing grade, the best in the SEC. Georgia needs second-half Bennett in all four quarters if they want to even hang with Jones and the Crimson Tide.
A PAC 12 team going undefeated and dominating their opponents week in and week out is exactly what the CFP committee's worst nightmare is, and USC has a good chance of doing just that.
Quarterback Kedon Slovis will be looking to build on the incredible true freshman campaign that saw him fall second to only Joe Burrow in accurate-pass rate. He also maneuvered the pocket exceptionally well and made magic on long-developing plays — he even earned a 90.1 PFF passing grade on pass attempts that took longer than 3 seconds from snap to pass, almost 7 grading points clear of the next returning signal-caller.
Sometimes he'd play with fire a little too late in the down, subsequently resulting in more sacks than he likely should have taken, but if he can clean that up, there's no reason why Slovis can't produce at a top-five level this year. Throw in the fact that he has one of the best wide receiver trios in the country in Amon-Ra St. Brown, Tyler Vaughns and Drake London, and you have yourself an offense that will be tough to stop, no matter the competition.
USC also has arguably the easiest schedule of any PAC 12 team, as they won't have to face the likes of Oregon and Washington, the conference's two top defenses. Many are not going to like a 7-0 PAC 12 team in the playoff, and if that happens, it's bound to spark the CFP expansion debate more than it ever has. Don't be surprised if that exact situation arises with the Trojans this year.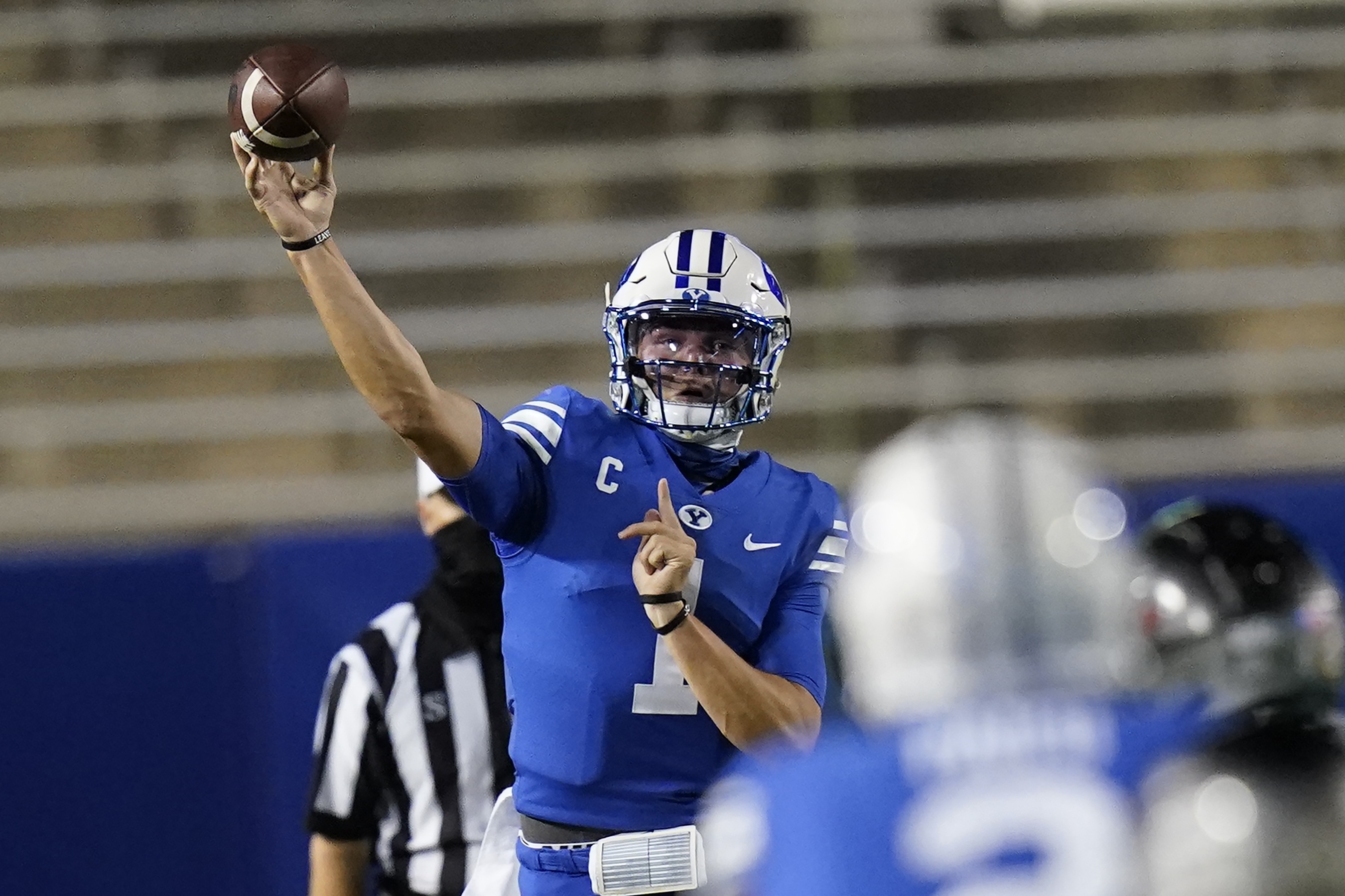 TIER 3: DARK HORSE CANDIDATES FOR THE FINAL SPOT
Teams in this tier are either going to have some things fall in their favor outside of their control or are going to have to accomplish something special to make a run at that final spot in the CFP.
Led by quarterback Zach Wilson, BYU has gotten off to a hot 4-0 start to the 2020 season. And judging by the remaining schedule, there is a very good chance they don't lose a game this year.
Wilson is currently putting up Heisman-worthy numbers and has had four of his five highest-graded games of his career to start the season. Wilson's 95.1 passing grade currently leads the nation, and it's on the path toward breaking the PFF College record. Sure, it has come against weaker competition, but it's impressive nonetheless. 
If BYU wants to sneak into that final spot in the CFP, though, they are going to have to do a lot more than "just" go undefeated for the season — given their relatively weak schedule, the Cougars are going to have to curb stomp almost all of their opponents from here on out. They may be able to get away with a non-blowout win to Boise State and San Diego State, but winning by just one score to low-level teams — as they did last week against UTSA — isn't going to cut it. 
Minnesota is perhaps in the best shape of any team in the Big Ten West, considering their returning talent and relatively painless eight-game schedule. They don't have to go up against the Buckeyes, nor do they have to face the stout Penn State defense; five of their eight games consist of teams coming off a losing record, and those five teams are haven't particularly taken a step forward from 2019.  
The Golden Gophers return one of college football's best QB-WR connections in Tanner Morgan and Rashod Bateman. Morgan is one of the country's very best anticipation throwers, which regularly shows up on the team's patented run-pass option (RPO) slant. The Minnesota quarterback led all college quarterbacks in passing grade on RPOs last year. All told, he completed 60 of his 90 RPO attempts for 1,053 yards and nine scores, ranking third and fourth, respectively, among qualifying quarterbacks. As for Bateman, he is the Big Ten's highest-graded returning wide receiver.
On the defensive side of the ball, Minnesota outside corners Benjamin St-Juste and Coney Durr combined for 19 pass breakups and just two touchdowns allowed last year.
Assuming all hell doesn't break loose with multiple teams collapsing in on themselves, it will take a little bit more than an 8-0 finish for Minnesota to earn that final spot. They'll need to pull off an upset win over Ohio State in the 2020 Big Ten Championship, or, at the very least, give them a close game.
If Notre Dame does crack the CFP, they'll at the very least have to win every game on their schedule and split their two games against the Clemson Tigers — one in Week 10, and the other would be the 2020 ACC Title Game, assuming the Irish win every other game.
The Notre Dame coverage unit has been stellar so far in 2020; it is the toughest Clemson will face in the ACC. The Irish rank fifth in the FBS in coverage grade this year and are anchored by TaRiq Bracy, Shaun Crawford and Kyle Hamilton, three great defensive backs who all rank in the top 15 at their respective positions in coverage grade.
The Irish also have hands down the best offensive line in college football, which has earned a 94.3 PFF grade as a unit, leading all Power Five programs by eight grading points and are on the path to being one of the best in the PFF College era. The Irish rushing attack has taken full advantage of that, too, as the team has produced postive EPA on 58% of their runs, over two percentage points more than any other team in 2020.
Quarterback Ian Book, however, has not. Book has earned just a 66.5 passing grade from a clean pocket, the third-worst in the ACC. He has struggled to get anything going downfield and has just one big-time throw on the year — every other ACC offense has at least four.
This kind of passing offense isn't going to cut it against Clemson. Notre Dame has the roster to go toe-to-toe with the Tigers, but the quarterback may prevent them from pulling off a victory against the conference favorites.
This North Carolina offense had been one of the more disappointing units to start the year. Sam Howell, one of college football's best deep passers from 2019, didn't connect on a single deep ball in the first two weeks of 2020 and lowered his average depth of target by over three and a half yards, falling from the third-highest in the ACC in 2019 to the second-lowest.
While Howell was still conservative overall in Week 6, he finally connected on a couple of deep (20-plus-yard) bombs, both of which put six points on the board. That, along with the 1-2 punch of Javonte Williams and Michael Carter, helped the Tar Heels generate 0.47 EPA per play on the day, the second-best of the week, and well above the 0.06 mark they put up through the first two games.
If Howell and the Tar Heels can be a little bit more aggressive and take more deep shots, this offense can hang with any defense on their schedule — even Notre Dame's. They'll likely need to fend off the Irish as well as D'Eriq King and the Hurricanes to get a shot at Trevor Lawrence and Clemson in the 2020 ACC Title Game, but they are capable of doing so. If the Tar Heels do that and keep it a close one against Clemson, they may sneak on in.
The Oklahoma State Cowboys control their own destiny — if they win out, they are in. That, however, is much easier said than done for the now 3-0 outfit. Their next four games of Iowa State, Texas, Kansas State and Oklahoma will be no easy feat, even if all four have already suffered an upset loss this season. 
Shane Illingworth has done a decent job filling in for Spencer Sanders, producing an 84.8 passing grade in his two starts while generating the second-best grade in the Big 12 on throws of 10 or more yards.
He failed to lead an efficient offense in Week 4 against the Mountaineers, though, as they generated -0.2 EPA per pass — the worst in the conference that week. Illingworth and Cowboys then proceeded to destroy Kansas in Week 5, a game you should never look much into.
Sanders will likely be returning in the coming weeks, but I wouldn't expect a dramatic turnaround for this offense. Sure, Sanders can do some damage on the ground, but his passing ability isn't the sort that will knock you out of your chair. He earned a 58.0 passing grade in 2019 and had just one game in which he earned a passing grade above 66.0. The deep-passing game is virtually nonexistent with Sanders slinging the rock, which is something he'll need to fix if he wants to hang with teams like Oklahoma.
Cincinnati is in a similar boat as BYU — they've raced off to a hot start with an easier slate of games with wins against Austin Peay, Army and USF and have an excellent chance of finishing the year undefeated. Assuming Georgia and USC blow their chances and are out of the equation, the only way the Bearcats will even get a serious look is if they steamroll the opposition for the rest of the year.
The Bearcats' defense is likely to do their part in that quest, as they are the highest-graded unit in all of college football so far this year. The defensive line is loaded with talent and features Elijah Ponder and Myjai Sanders, the first- and sixth-highest-graded edge defenders in the FBS. In the secondary, Ahmad Gardner, Coby Bryant and Arquon Bush comprise one of the top cornerback units in the country and have helped the Bearcats allow the lowest EPA per pass play in the FBS. The trio has combined to allow a 23.8 passer rating on throws into their coverage, which tells you all you need to know. 
The offense hasn't been nearly as dominant. Quarterback Desmond Ridder is off to a rough start, earning just a 63.2 passing grade in his three games and failing to connect consistently downfield despite the numerous attempts. He has thrown an uncatchable ball on 52% of his 10-plus-yard passes, a bottom-three mark in college football. If that persists, there's a chance Memphis, UCF or SMU can end any hopes at a Cincy playoff appearance.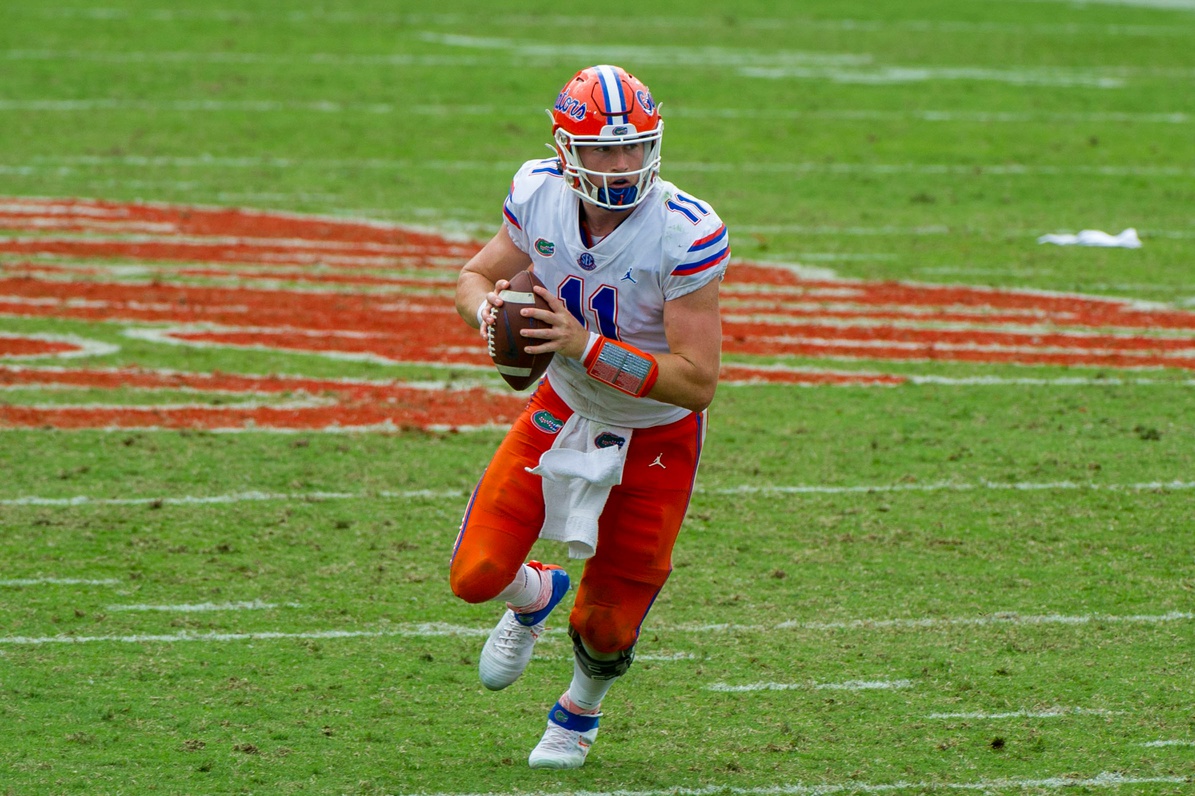 TIER 4: THE CFP IS A PIPE DREAM
None of these teams are technically eliminated from the CFP picture, but they will have to win every single game on their schedule. And in the case of all these teams, it's doubtful that they can do so.
Florida cracked the top five in the AP poll following their wins over Ole Miss and South Carolina, but that was short-lived, as they went on to suffer an upset loss to Texas A&M. While quarterback Kyle Trask looked more like his 2019 self and showed that his elite performance against Ole Miss was more about how bad the defense was, the big reason for the loss was the poor showing from the secondary, which is now the fourth-lowest graded unit in the SEC. Outside of Kaiir Elam, everyone had a bad day against the Aggies, especially Marco Wilson, who gave up seven catches for 132 yards and two touchdowns in one of the outside spots. 
Florida will have to win out to secure a spot in the 2020 SEC Title Game, which means they'll have to beat LSU and Georgia. The Tigers might be 1-2, but Myles Brennan is the fourth-highest-graded Power Five quarterback through six weeks and Georgia has an advantage over the Gators at nearly every position group. And even if they somehow manage to win those two, they still have to beat Alabama in the SEC championship. There was a lot of hype around this Florida team entering the year, but they've turned out to be exactly who we thought they were.
Sophomore Bo Nix looks a lot like freshman Bo Nix. It is a big reason why the Tigers had no shot against Georgia a couple of weeks ago, and it's why they barely scraped by Arkansas last weekend. The former five-star product has produced a 68.3 passing grade on the year, and he once again showed he doesn't have the accuracy to succeed at the position, as he has thrown an uncatchable ball on exactly half of his 10-plus-yard passes, the worst rate in the SEC. This has led Auburn to ranking 11th of the 14 SEC passing offenses in EPA per pass. That being considered, it looks like there are a few more losses on the horizon for Auburn, especially against Alabama in late November.
Even if Jack Coan were healthy and able to take the field as the Badgers' starting quarterback, Wisconsin still would have landed in this tier. The ground game is bound to take a step back after losing Jonathan Taylor to the NFL ranks, but the loss of wide receiver Quintez Cephus and Coan will also be significant for this offense as a whole.
Wide receiver Kendrick Pryor will become the focal point now, though he hasn't shown much to get excited about. He has produced a sub-65.0 receiving grade in each of his first three seasons.
Their WR1, Danny Davis III, was a big play threat back in 2017 as a freshman but has earned sub-70.0 receiving grades in each of the following two years.
Even if QB Graham Mertz can produce at the same level as Coan — which is a generous expectation, considering that he has just 10 career passes to his name — this offense just doesn't have enough firepower to roll undefeated through their eight-game Big Ten schedule. They'll need a big-time year from the former four-star and 65th-ranked recruit of the 2019 class to even get a shot at facing the Buckeyes in the 2020 Big Ten Championship. 
Penn State lands in this tier because they have the great fortune of playing in the same division as the Ohio State Buckeyes.
Star linebacker Micah Parsons may have opted out of the 2020 season, but Penn State still has a defense that resides in the Big Ten's elite tier. Edge defenders Shaka Toney and Jayson Oweh are two of the highest-graded pass-rushers in the conference, and safety Jaquan Brisker is one of the most underrated players in the Big Ten (85.4 coverage grade in 2019, fourth-best). Parsons' replacement, Jesse Luketa, is also a prime breakout candidate based on what we have seen from him in a limited sample. 
This defense is not the problem. In fact, it's more than capable of hanging in with Ohio State. The team's passing attack, however, is another story.
Quarterback Sean Clifford ranked in the bottom half of the Big Ten last year in passing grade at 69.3, and he has been way too inaccurate. Clifford ranked 106th in the percentage of accurate passes thrown beyond the line of scrimmage last year. Considering that, along with the fact that tight end Pat Freiermuth is the only proven, reliable receiver on the roster, it seems unlikely that this Penn State passing attack will be much better than they were in 2019 when they ranked seventh in the conference in EPA per pass play.