If there was any year for an ACC team to get the jump on Clemson and snatch the conference title away from them, 2020 just might be the year.
I do want to be clear here — no one would suggest against picking the team that has won the last five conference championships and has lost just two conference games in that timespan. However, after losing all four starting defensive linemen to the NFL Draft after a 2018 season that saw the Tigers go 15-0 and win the ACC and national championship, there was hope for other ACC teams going into 2019.
Without that ferocious, first-round-caliber pass-rush (three of Clemson's defensive linemen went in the first round while another went in the fourth), the rest of the ACC might have been caught daydreaming about a potential ACC championship of their own while Clemson rebuilt the line. 
[Editor's note: Check out PFF's 2020 Mock Draft Hub, NFL Draft Big Board and NFL Mock Draft Simulator. PFF Elite subscribers can also download the 1,100-page 2020 NFL Draft Guide.]
Unfortunately, we here at PFF love to espouse the idea that coverage is more important than pass-rush when figuring out where resources should be allocated when putting together a pass defense. So, while Clemson lost the entire starting defensive line, they returned some absolute freaks in the secondary.
Isaiah Simmons, Tanner Muse, Denzel Johnson, K'Von Wallace and A.J. Terrell all posted PFF grades over 80.0 in the 2018 season. Brent Venables' gang then returned with another dominant defensive effort in 2019 and an unbeaten run through their ACC schedule. In fact, the Tigers defense even improved their expected points added (EPA) allowed per pass play from -0.242 in 2018 to -0.319 in 2019. Clemson got better. Without the fearsome foursome of pass-rush stars, it was the returning secondary that more than held its own.
Well, all of those guys are gone now. Simmons, Muse, Wallace, Terrell and Johnson will all be NFL players next season. This leaves a big hole to fill in their coverage unit, and while it will inevitably be filled by the blue-chip talent that Clemson recruits, maybe, just maybe, this could be the year that a top ACC passing offense has enough juice in the tank to knock the Tigers from their perch.
Here are the two offenses that could have success throwing the ball against Clemson in 2020. 
Louisville
Under new coach Scott Satterfield, the Cardinals' two-back pistol offense actually finished ahead of Clemson's offense in pass EPA per play at 0.270 and led the ACC.
Micale Cunningham is the presumptive starter at quarterback after posting a 76.6 passing grade in 2019. His 22:5 touchdown to interception ratio looks a lot better than his 10:11 big-time throw to turnover-worthy play ratio, but alas, this Louisville attack still hummed along. 
Of Louisville's 412 passes last season, 12% were screen passes, 42% of passes came off play action and 39% were non-screen, non-RPO, non-play-action passes. The latter category produced their highest EPA per play mark at 0.322.
That alone is pretty good, but when we filter for just targets that went to the slot, the number soars to 1.387 EPA per play. And what, you may ask, drove this surge? Ladies and gentlemen, I present to you: Tutu Atwell.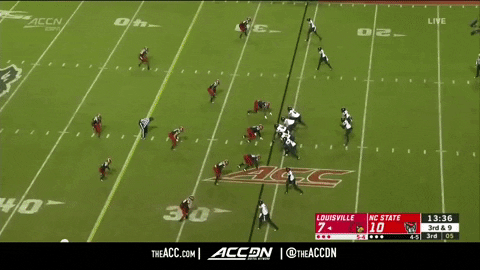 The electric sophomore's 91.4 receiving grade when lined up in the slot was first among players with at least 200 snaps inside, as was his 4.37 yards per slot route run. Tutu is a dynamic player down the field on deep patterns but also shifty with the ball in his hands, as evidenced by his 10.7 yards per route run on jet sweep tap passes.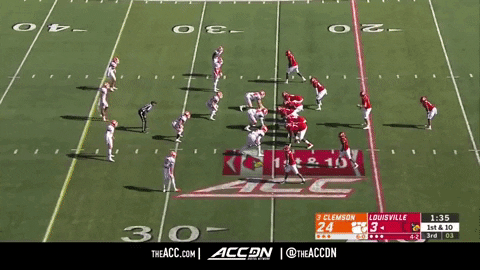 "H-back" Marshon Ford also returns after posting a 90.0 overall receiving grade, although most of his targets came on "slice" routes behind the line of scrimmage as part of Louisville's millennial triple-option attack or schemed open shot plays.
The Cardinals probably need to find another receiver to complement Atwell, as Clemson can always find a way to allocate resources to defending one singular player. Therefore, someone else will have to step up.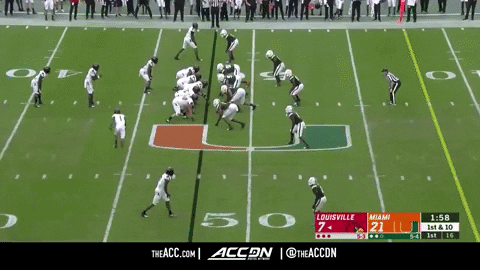 The Louisville passing attack was also very good against the blitz last season — and we can assume Venables will continue to employ the blitz at a high rate this year — turning in a 0.509 EPA per play against heat in 2019 that ranked third among FBS offenses.
There is a lot of buzz about the Louisville program after a wildly successful first year under Satterfield, and they return pieces in the passing game that Clemson could be susceptible to.
North Carolina
Mack Brown returned to Chapel Hill last season after his somewhat short-lived five-year retirement. The 68-year-old brought in Phil Longo as his offensive coordinator to run an RPO-laden attack and found true freshman quarterback Sam Howell to run the offense. The Tar Heels produced an acceptable 0.184 EPA per pass play in 2019, 19th among 130 FBS passing attacks, and the hope is that that number could skyrocket with Howell's development.
Howell's 85.4 passing grade was best among freshmen with at least 100 dropbacks a season ago. Regardless of class, he ranked 20th in the same category, tying with Clemson's Trevor Lawrence and flat-out beating Oregon's Justin Herbert (84.0).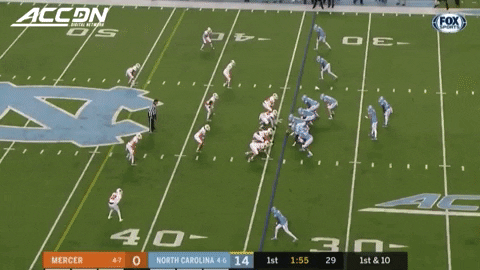 Howell will have to improve on his non-play action, non-RPO dropbacks, but the offense runs through the RPO game — which is where Howell was very good. He was the only quarterback with at least 75 RPO throws not to have a single turnover-worthy throw, and his 84.2 PFF passing grade on such plays ranked fourth among those 23 qualifying FBS quarterbacks. The team led the country in RPO snaps on first down (253) and were rewarded with good play by their quarterback on those plays.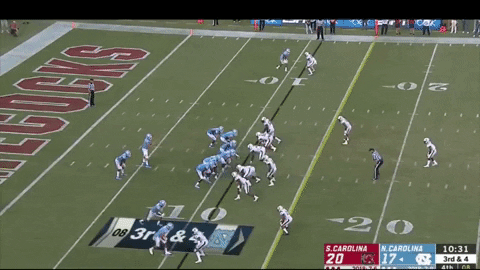 The Tar Heels return most of their skill players, including Dazz Newsome, who put up an 84.7 receiving grade that ranked 30th among the 161 receivers who saw at least 75 targets a season ago. Along with Atwell, he's one of the best returning receivers in the ACC.
Running back Javonte Williams has also shown an ability to create with the ball in his hands, as he put up good numbers on North Carolina's swing-screen concept. 
At the end of the day, Howell must improve as a dropback passer if his team is to have any realistic shot of winning the ACC. He simply looked like a true freshman on those pure-dropback passes last season.
He made it work when he could just uncork a sideline fade or catch a safety out of position and throw a post route down the field, but reading anything was a bit of a struggle. He was constantly late to his reads because of his happy feet in the pocket, and this led to accuracy issues over the middle of the field.
He also has a problem underthrowing receivers. And even his movement strategies to escape the pocket aren't very efficient, as he'll sometimes run into trouble instead of running out of it. All of these abilities can be improved upon, however, though not having an offseason might hinder the process a bit.
Certainly, the tools and makeup is there for Howell, and kudos to him for standing strong behind a porous offensive line that allowed pressure on 17.4% of their pass-blocking snaps, 38th among FBS teams. 
Conclusion
The issue for both of these teams is that unless the quarterback position improves, it will be tough sledding throughout a whole season. Either team is capable of a breakthrough game against any opposition — including Clemson — but to sustain that enough to a.) get to the ACC championship and beat Clemson or b.) potentially beat Clemson twice (in Louisville's case), is challenging enough.
Still, we could see either team pack a punch and at least give Clemson a shootout like the Nathan Peterman-led Pitt Panthers did in their upset victory in 2016.
In 2020, the biggest problem facing Clemson opponents might not be their defense but the quarterback standing on the sideline. Still, North Carolina and Louisville both have the ability to put up points and create havoc in the ACC.