The current COVID-19 pandemic has impacted teams, coaches and players in a way no other season has dealt with, but that is what makes the 2020 college football season one of the most interesting in the sport's history.
Now that the season has almost reached its midway point, let's take a look at some of the bigger disappointments so far — these are talented players and teams that have unexpectedly underperformed. (You can find the five biggest surprises from the 2020 season here.)
Editor's note:  PFF's CFB Premium Stats+ subscribers can view player grades, advanced statistics, positional snap counts and more. Subscribe today for access!
1. LSU fourth in the SEC West 
We all knew the Tigers would be taking a significant step back in 2020 after losing 20 players to the NFL (with a record-tying 14 being drafted). Among their losses: No. 1 overall pick Joe Burrow, star receiver Justin Jefferson and running back Clyde-Edwards Helaire. Passing game coordinator Joe Brady also left to be the Carolina Panthers' next offensive coordinator. To make matters worse, PFF's No. 1-ranked WR prospect in the 2020 NFL Draft, Ja'Marr Chase, opted-out due to concerns over the pandemic. With so much talent making the move to the professional level, head coach Ed Ogeron had a tall task coming off his first national title. 
Due to the roster overhaul, it is not too surprising that LSU is currently fourth in the SEC West with a record of 2-3, but it has still been a disappointing campaign for the Tigers. Quarterback Myles Brennan and receiver Terrace Marshall Jr. have both admirably filled the shoes of Burrow and Jefferson. Brennan has been sidelined with an abdomen injury since their Week 3 loss to Missouri and will likely miss their next contest against Alabama. Even with Brennan in, the Tigers only won one of three games, though much of the blame can be put on the defense, which allowed 40-plus points in both losses. 
There are only three defensive players who have earned PFF grades over 70.0: edge defender BJ Ojulari and cornerbacks Eli Ricks and Cordale Fort. Surprisingly, Derek Stingley Jr. is not among the group — he currently owns a 65.9 grade compared to his elite 91.7 as a true freshman in 2019. Stingley has not allowed a touchdown but has allowed nine receptions on 15 targets for 114 yards and has recorded four missed tackles and one penalty, contributing to his mere average grade. Stingley has not made many major mistakes or blown any coverages but has also not made the incredible plays we were accustomed to last season. 
The pass-rush has been productive, generating a 44.9% pressure rate, which is the second-best mark among Power-5 schools. LSU has also played decently against the run, not allowing chunk gains on the ground. Despite that, the Tigers have conceded 42 passes of 15-plus yards downfield, the fourth-most in the Power-5, and 9.8 yards per attempt, fifth-most. In total, LSU is granting an astonishing 7.3 yards per play, the third-most in the Power-5, after giving up just 5.3 a year ago. 
Things are likely to get worse before they get better in Baton Rouge, as the Tigers will face Nick Saban's dominant Alabama squad this weekend. It's been a down year for LSU, but there is reason for optimism with Brennan and Stingley staying on campus for at least one more year.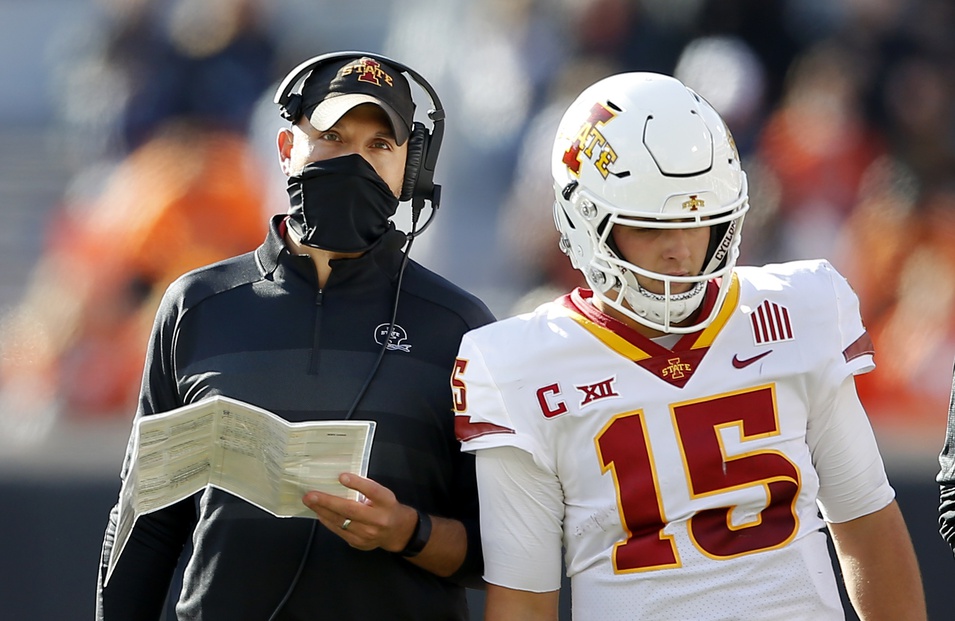 2. Brock Purdy's draft stock plunge
Some ranked Purdy as the third- or fourth-best draft-eligible quarterback entering the 2020 season, but after six games he seems to have played himself right out of first-round consideration. In his 21 career starts from 2018 to 2019, he posted just four games with a PFF grade below 60.0. He owns three such games in six starts to begin this season. It began with one of the worst outings of his career against the Louisiana Ragin' Cajuns in Week 1. He completed just over 45% of his passes (second-lowest) and averaged 4.1 yards per attempt (lowest) en route to a 45.5 passer rating (second-lowest), all bottom-five marks in his three-year career.  
Purdy is known for taking risks and trying to will his team to victory despite a lack of high-level talent surrounding him on the offense — outside of tight end Charlie Kolar and running back Breece Hall. This has resulted in plenty of both big-time throws — PFF's highest-graded pass attempts — but also his fair share of turnover-worthy passes over the past two years. But he always made more positive plays than negative. However, this year he has committed three times as many turnover-worthy plays, with 12 compared to just four big-time throws. 
Purdy has evidently regressed in a few key areas. After being one of the best deep-ball passers of the past two seasons, the Iowa State QB is struggling to connect on anything over 20 yards downfield this year. In 2018 and 2019, he completed over 40% of his passes and owned a passer rating over 110.0. In 2020, he has completed just 24% of his deep passes for a paltry 47.6 passer rating — 42nd among 51 qualifying Power-5 QBs.
Purdy has also declined when kept free of pressure, owning a middling 73.2 passing grade after having elite 90-plus grades in prior seasons. He has missed open receivers, not made big plays downfield and has thrown three concerning interceptions against just five touchdowns when free of pressure.
Yet another stable metric that Purdy has been worrisome in is passing on straight dropbacks. Historically, this has not been an area of concern, as he has recorded grades over 85.0 in each season. This year, he owns a 57.1 grade, which is a direct result of him executing just one big-time throw versus a whopping 10 turnover-worthy passes, sixth-most on such attempts in the Power-5. 
At just 6-foot-1 with average to above-average athleticism, Purdy needs to excel at throwing with anticipation and possess elite accuracy in order to be deserving of a first-round selection. Despite demonstrating these traits over the past two seasons, he has failed to show them this year, causing his draft stock to plummet in the eyes of many draft pundits, college analysts and possibly NFL general managers. To save his season, Purdy must cut down on the ill-advised throws, create chunk gains deep and thrive from clean pockets. Even if he were to complete these over the rest of the season, it may be too late to regain his first-round value.
3. Oklahoma fumbling the Big 12
Since Bob Stoops took over as head coach of Oklahoma 1999, the Sooners have largely owned the Big 12 conference, with few schools competing with them for contention. However, the conference is up for grabs in 2020, with no teams owning a commanding lead. There are four teams currently sitting with a 4-2 record — Oklahoma, West Virginia, Texas and Kansas State — plus Oklahoma State at 4-1. With the Sooners already dropping two games — they have not finished a season with more than two losses since 2014 — we could see the Big 12 have a new champion come season's end. 
No team has a firm grasp on the leading role, though West Virginia, Oklahoma and Oklahoma State have certainly shown far more imposing and consistent play than the rest of the conference — all three own PFF overall grades of 88.0 or higher, compared to the rest of the conference below 82.0. Still, the three top schools are not without their faults, as demonstrated by their two losses each. 
Lincoln Riley has created an offensive powerhouse that is rivaled by few in all of college football due to his schemes and ability to get the most out of his quarterbacks. Since he took over the reigns at Oklahoma in 2017, he has generated Hesiman-level play from all of his QBs: Baker Mayfield in 2016, Kyler Murray in 2017 and Jalen Hurts in 2019. This consistent helped land him Spencer Rattler, the No. 1 pro-style high school QB in the country in 2019. 
After sitting a season behind Hurts, it was Rattler's turn to take over the offense this season. He has been spectacular, earning a grade of 92.7 — third-highest among all QBs in the nation. He is delivering passes downfield with ease with an 79.3% adjusted completion rate, further highlighting his accuracy. Although Rattler seems to be the next great Oklahoma signal-caller, it has not all been perfect. Four of the 11 sacks he has taken this season have been charged to him for holding onto the football for too long or running into the pressure. He also effectively lost both contests for the Sooners, as he threw a game-sealing interception against both Kansas State and Iowa State. Because of the team's record and owning the final turnovers in both losses, many fans do not realize how dominant the true sophomore has been. 
The real problem with Oklahoma, however, is not its offense or quarterback. The Sooners' coverage unit has missed 23 tackles — tied for the 10th-most in the Power-5. They have also allowed 11.5 yards per reception, which is the 11th-highest rate despite not playing many esteemed passing offenses. The defense has been relatively stout against the run, but if they continue to struggle against the pass, pressure will remain high on Rattler and Riley to put points on the board.
Even if Oklahoma were to run the table the rest of the way, it is becoming increasingly unlikely that the team will earn one of the four playoff spots. With Alabama, Clemson and Ohio State nearly locks to make the playoffs, only one spot remains. With BYU, Cincinnati, Georgia and Notre Dame holding strong positions — not to mention any PAC-12 team that goes undefeated — it is safe to assume the Sooners will be on the outside looking in.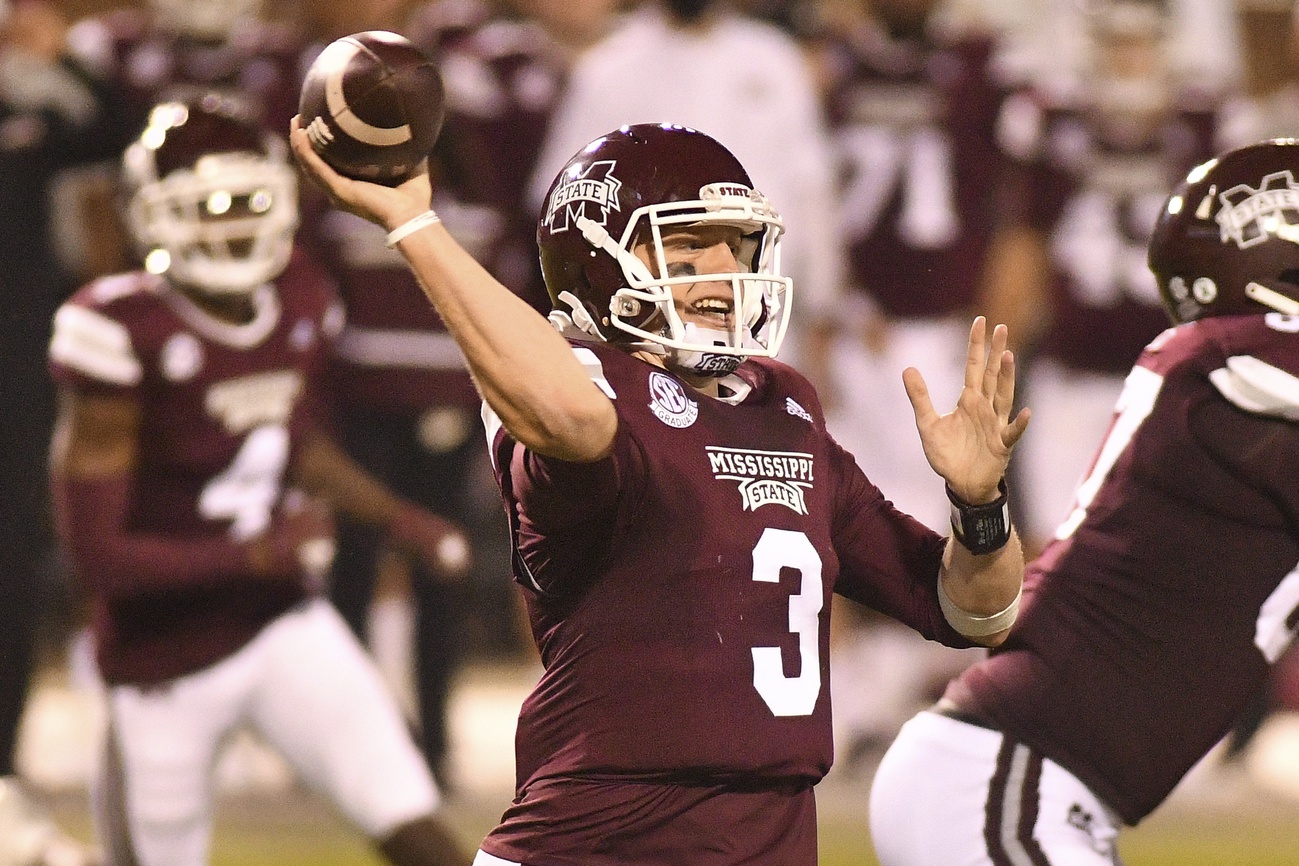 4. K.J. Costello's nosedive after record-breaking start
In Costello's first game at Mississippi State and in Mike Leach's air raid offense, he was able to throw for 623 yards against the defending champion LSU Tigers defense, the most by an SEC quarterback in the history of the conference. Costello finished the game with five touchdowns and two interceptions, averaging 10.0 yards per attempt. Since then, he has been a completely different QB, averaging 4.5 yards per attempt — second-lowest in the Power-5 — and has thrown one touchdown against a staggering eight interceptions.
Costello was pulled from the Bulldogs' Week 7 and Week 8 matchups before leaving their Week 9 bout against Alabama early due to an apparent head injury. Even before exiting the game, Costello completed just five of 12 passes for an egregious 1.6 yards per attempt, with one throw that could have been intercepted. 
Leach stated earlier this week that Costello and freshman Will Rogers are "50-50" and that the starting QB will be a game-time decision. Even if Costello starts, there is little hope he can turn his season around while struggling in every major facet. He possesses the tools to be a competent quarterback and even flashed his potential in his 2018 campaign with Stanford. But after lighting up LSU in his first contest and earning some early Heisman hype, Costello has soundly put those talks to rest and may finish the year on Mississippi's bench. 
5. Louisville knocked out of ACC race early 
The Cardinals appeared to be on the rise in head coach Scott Satterfield's first season, churning out an 8-5 record — a drastic difference from 2018's 2-10 finish in Bobby Petrino's final season. Louisville's trio of offensive weapons manufactured a surprisingly efficient pass and ground attack in 2019, with QB Malik Cunningham, RB Javian Hawkins and WR Tutu Atwell performing well.
Cunningham proved to be a solid dual-threat from the QB position with 19 carries gaining 10-plus yards as well as maintaining a 148.9 passer rating when kept clean, second only to Alabama's Tua Tagovailoa. Hawkins became one of the most elusive runners in college football, forcing 69 missed tackles on runs, 11th in the Power-5. Finally, Atwell was dangerous with the ball in his hands, picking up yards with ease as he averaged 4.3 yards per route run, the best in the nation and the only player over 4.0. 
With all three returning for the 2020 season and in their second years in Satterfield's and offensive coordinator Dwayne Ledford's system, Louisville fans had plenty of reasons for optimism. They won their first bout against Group of Five opponent Western Kentucky, but by a score of 35-21. They then faced a Miami squad with D'Eriq King under center and a plethora of talent on both sides of the field — the Hurricanes flexed their strength and beat the Cardinals in resounding fashion, 47-34. From there, Cunningham and Co. squandered their next three matches before picking up a victory over the flailing Florida State Seminoles. After that they dropped yet another game, this time to Virginia Tech, resulting in a 2-5 record on the season thus far. 
The offense has mostly remained its high-octane self, netting 30 or more points in all but two games this season. That being said, Ledford's unit has faltered in many ways. They have had a difficult time holding onto the football, giving up 13 total offensive turnovers — the fourth-most in the Power-5. Cunningham has been responsible for 12 of his own pressures this year, tied for the second-most on the roster. He has also registered 13 turnover-worthy plays, tied for the third-most in the ACC.
Hawkins has sustained his success but has fumbled three times on nearly 130 fewer carries compared to last season, when put the ball on the ground zero times. Atwell has also continued to prosper but has seen his production drop some, manufacturing 2.38 yards per route run — 51st in the nation. 
Outside some offensive woes, the real culprit for the Cardinals' struggles is the defense. They currently have a 60.7 grade, which is the lowest they have received since PFF started tracking college data in 2014. Their 75 total missed tackles ranks 41st among 52 Power-5 defenses that have played this season, and they've allowed a field goal or touchdown on 44.4% of drives, which ranks 39th.
Louisville has also snatched just four turnovers, which is tied for the 10th-fewest, and combined with their 13 turnovers adds up to one of the worst turnover differentials in college football. Even with pressure upfront, which they've generated at an average rate, the coverage unit has played at a significantly lower level than its peers, earning the second-worst PFF grade when the quarterback is pressured.
The Cardinals began 2020 as a darkhorse in the ACC but unfortunately now see themselves at the bottom of the conference with fans already shifting their focus to the 2021 season.