This week is the calm before the storm. There are only two matchups this week between top-25 teams, and one of them is between the No. 24 and No. 25 schools. Most of the season's big matchups have played out, leaving us with a large number of filler games while we await rivalry week at the end of the month.
This being said, this week's top game is a doozy, and is likely to either completely stabilize the playoff, or send it into total chaos depending on the result.
Here are our against-the-spread picks for Week 11 of the college football season:
No. 20 USC at No. 4 Washington
Line: Washington, -8.5
Under/Over: 62.5
This game is critical to the College Football Playoff, as a win by the Huskies leaves likely means the final four will feature Washington, Alabama, Clemson and the winner of the Michigan/Ohio State matchup. This will be no easy task, however, as the Trojans have gone on a tear since winning just one of four games in September. The only quality victory in that stretch was a home game against Colorado, which was still without starting QB Sefo Liufau at the time (he played just seven snaps).
Washington got bad news this week, as it was announced that top pass-rusher Joe Mathis needs foot surgery and will miss the rest of the season. USC QB Sam Darnold is completing 70.9 percent of his passes and has a touchdown-to-interception ratio of 16-to-2 when he has a clean pocket, thus Washington's loss of the only consistent pass-rusher on the squad could prove to be a big problem. I think the Huskies' offense is clicking enough to carry them at home in this tough matchup, but USC is clearly a major threat to their Pac-12 and national title hopes.
Prediction: Washington 34, USC 32
No. 24 LSU at No. 25 Arkansas
Line: LSU, -7
Under/Over: 46
LSU hung on as long as it could against the best in the country last week, but ultimately it's complete inability to move the ball did in the Tigers versus Alabama. While they are certainly more likely to be able to move the ball on the ground this week, QB Danny Etling has done nothing to instill confidence in his passing ability. While LSU clearly has an excellent defense, Arkansas will still score points with solid QB play and move the ball on the ground with our highest-graded interior lineman, center Frank Ragnow, leading the way.
Prediction: Arkansas 20, LSU 16
Baylor at No. 11 Oklahoma
Line: Oklahoma, -15.5
Under/Over: 80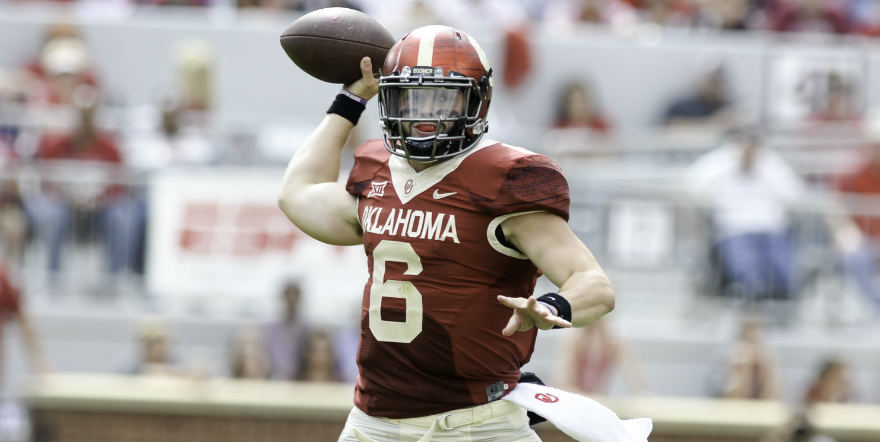 Baylor missed 20 tackles in last week's blowout loss to the previously struggling Horned Frogs. Oklahoma has scored at least 34 points in every Big 12 game this season, and Baylor's poor effort last week does not suggest the Bears will be able to stop the Sooners from continuing their streak.
Prediction: Oklahoma 48, Baylor 14 
No. 17 North Carolina at Duke
Line: North Carolina, -10.5
Under/Over: 59
RB Elijah Hood carried the ball just 12 times last week, but exploded for 168 yards and three scores. The Tar Heels as a whole were impressive on the ground, as QB Mitch Trubisky and the RBs collectively forced nine missed tackles on 35 total rushes. Expect them to approach this number against the Blue Devils as well.
Prediction: North Carolina 33, Duke 13
No. 15 Utah at Arizona State
Line: Utah, -6
Under/Over: 59
RB Joe Williams earned 104 of his 170 yards against Washington after contact, and forced four missed tackles. Arizona State missed 11 tackles in its last game against Oregon, and the defensive line looks mismatched against Utah's strength up front. Take advantage of this line as long as it stays under a touchdown.
Prediction: Utah 31, Arizona State 20 
Boston College at No. 18 Florida State
Line: Florida State, -21
Under/Over: 48.5
Boston College averaged just 2.5 yards per carry against Louisville last week, and while Florida State has a number of injuries on defense, there's little reason to believe the Eagles will be able to move the ball through the air or on the ground against the Seminoles. The spread will be difficult for Florida State to cover, but the under is a strong play this week.
Prediction: Florida State 27, Boston College 7 
No. 16 West Virginia at Texas
Line: Texas, -2
Under/Over: 64
Running back D'onta Foreman was an absolute terror last week, as he forced 10 missed tackles and earned 200 yards after contact on his way to 340 yards and two touchdowns. While he certainly won't come close to matching those numbers against possibly the best defense in the Big-12 (insert funny joke here), the power running of Texas appears to be a huge mismatch against the 3-3-5 defense of the Mountaineers.
Prediction: Texas 37, West Virginia 34
Mississippi State at No. 1 Alabama
Line: -29
Under/Over: 55.5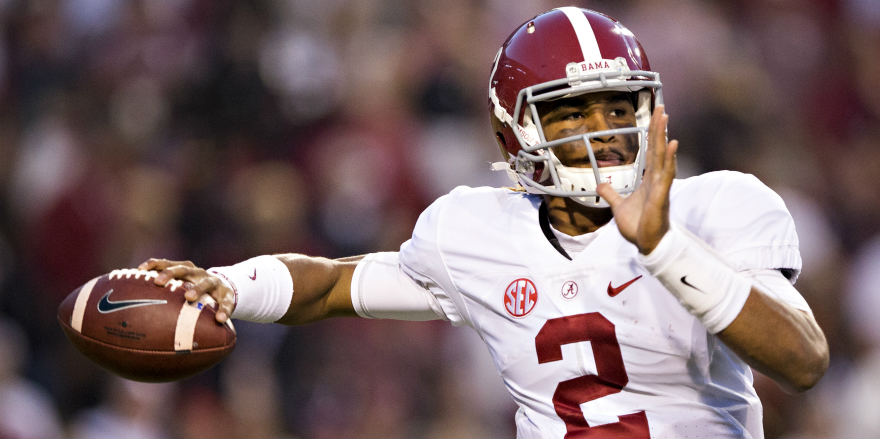 This is a more intriguing matchup than it looks on paper, as Mississippi State QB Nick Fitzgerald has been winning games and terrorizing teams with his running ability, which is a dynamic Alabama has not seen much of this season. This being said, he has completed just nine of 39 attempts at least 20 yards downfield, and if Alabama doesn't have to respect the passing game and can load the box with extra defenders, this one will be over quickly.
Prediction: Alabama 34, Mississippi State 16 
No. 10 Penn State at Indiana
Line: Penn State, -7
Under/Over: 59.5
Indiana QB Richard Lagow exploded for 387 yards passing and three touchdowns against Rutgers last week, but still could not avoid the big mistakes and threw two picks. Part of his success through the air was due to the fact he was pressured on just five of 41 dropbacks, but he can expect to see at least triple the volume of pressure snaps this week.
Prediction: Penn State 33, Indiana 25
Illinois at No. 7 Wisconsin
Line: Wisconsin, -26.5
Under/Over: 39.5
Wisconsin's defense has accumulated at least 17 pressures in each of the past four games, and there's little reason to believe this Saturday's matchup will be any different. Speaking of matchups, this game has a huge one from a draft perspective that's worth tuning in for. Illinois DE Dawuane Smoot has gotten hot, but Badgers LT Ryan Ramczyk has been one of the top edge blockers in the country all season. The game itself won't offer much entertainment level, but the one-on-one matchup will be popcorn-worthy.
Prediction: Wisconsin 34, Illinois 10 
No. 5 Ohio State at Maryland
Line: Ohio State, -29
Under/Over: 57.5
The Buckeyes flipped the switch on Nebraska, and for the first time since September looked like a team fully capable of making a championship run. Maryland got torched through the air last week, in large part due to the secondary missing 10 tackles. This could be an opportunity for QB J.T. Barrett to get Ohio State's passing offense clicking on par with the run game.
Prediction: Ohio State 44, Maryland 16 
Texas Tech at No. 13 Oklahoma State
Line: Oklahoma State, -12.5
Under/Over: 89.5 (!)
If we can embrace Alabama's 10-0 win over LSU as great football, we can come to terms with this game, which is clearly going to be the antithesis. Texas Tech doesn't have a hit or a sack in either of its last two games, and with a complete inability to get to the QB, Mason Rudolph is likely set for an historic output.
Prediction: Oklahoma State 72, Texas Tech 51
Pittsburgh at No. 2 Clemson
Line: Clemson, -20.5
Under/Over: 67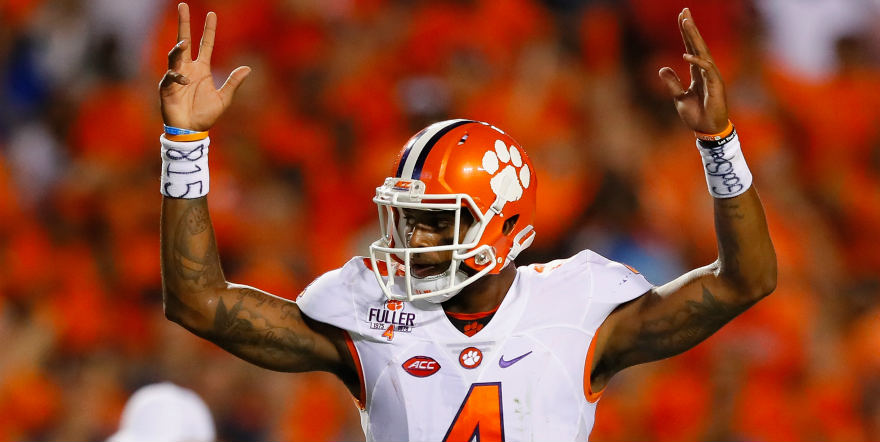 All season, Pitt has proven incapable of keeping teams out of the end zone, thus a road trip to face the No. 2 team in the country appears dire. Miami QB Brad Kaaya completed 81.3 percent of his passes against the Panthers last week when he had a clean pocket, and Clemson QB Deshaun Watson is more than capable of duplicating the feat.
Prediction: Oklahoma State 36, Kansas State 23
Georgia Tech at No. 14 Virginia Tech
Line: Virginia Tech, -14
Under/Over: 55
The Hokies have gotten hot at the right time, led by QB Jerod Evans' 21 touchdown passes to just two interceptions. North Carolina QB Mitch Trubisky torched Georgia Tech both on the ground and through the air last week, and Evans is likely to do the same on Saturday.
Prediction: Virginia Tech 32, Georgia Tech 17
Wake Forest at No. 6 Louisville
Line: Louisville, -35
Under/Over: 54.5
Louisville will win big, but expect Wake Forest DE Duke Ejiofor, who has eight sacks this season, to have a big day against Louisville OT Geron Christian. Christian has yielded 22 total pressures this season, and is averaging three per game in Louisville's last three contests.
Prediction: Louisville 49, Wake Forest 13
No. 22 Boise State at Hawaii
Line: Boise State, -17.5
Under/Over: 63.5
Hawaii has done well against the bottom-dwellers of the Mountain West, but last week's 55-0 blowout loss at San Diego State is a sign of what's to come this weekend. Look for RB Jeremy McNichols to follow up his 12 forced missed tackles from last week with another huge day on the ground, as Boise State should finally be able to cover at home.
Prediction: Boise State 38, Hawaii 13
Ole Miss at No. 8 Texas A&M
Line: Texas A&M, -10
Under/Over: 55
What was certainly an intriguing matchup on paper heading into the SEC season is now an afterthought, as both teams are out of the hunt in the conference and without their starting QBs. Look for freshman RB Trayveon Williams (who has forced 33 missed tackles on just 108 carries) to carry the Aggies to victory in a game sure to see far less than 55 points, barring multiple defensive scores.
Prediction: Texas A&M 19, Ole Miss 16
Minnesota at No. 19 Nebraska
Line: Nebraska, -7
Under/Over: 49.5
This game hinges on the health of Nebraska QB Tommy Armstrong; as bad he's playing, if he can't go then this is a game to pounce on quickly before the line gets pulled. While the Golden Gophers certainly aren't going to put up 62 points on the Cornhuskers, they are solid enough on both side of the ball to compete with Nebraska regardless of who is playing at QB, and the conservative nature of their offense sets them up well to take this one to the bitter end.
Prediction: Nebraska 20, Minnesota 16
No. 3 Michigan at Iowa
Line: Michigan, -21.5
Under/Over: 51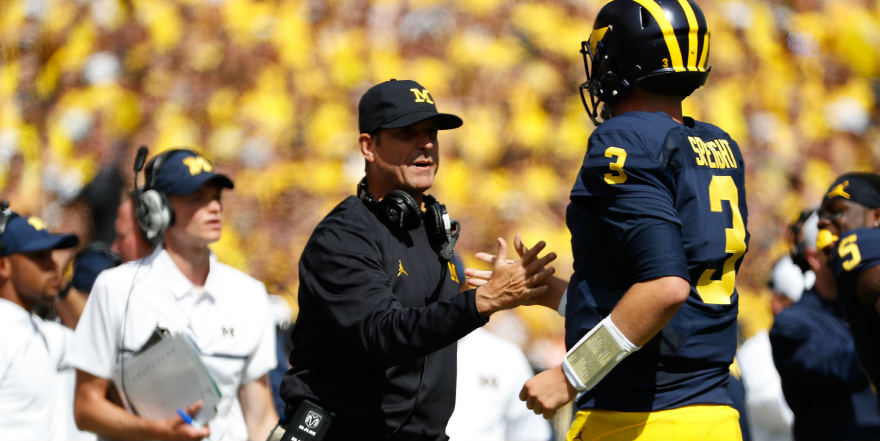 Penn State's offensive line gave up just one sack and one hit against Iowa last week. Considering how well Michigan QB Wilton Speight is playing, Iowa's sudden inability to rush the passer likely means another blowout loss. Speight is averaging 12 yards per attempt over the past three games, thus it's probably a safe assumption that whichever Michigan WR doesn't draw Desmond King is going to have a monster performance.
Prediction: Michigan 41, Iowa 9
No. 12 Colorado at Arizona
Line: Colorado, -15.5
Under/Over: 57.5
In what has to be one of the most absurd stats of the season, Arizona last week gave up 47 receptions on 51 pass attempts by Washington State. While they continue to win, Colorado's offense has struggled the past two weeks against more talented defenses. Arizona does not have that kind of talent on its defense.
Prediction: Colorado 37, Arizona 13
California at No. 23 Washington State
Line: Washington State, -14.5
Under/Over: 83.5
The lowest passer rating an opposing QB has had against Cal the last three weeks is 109.0. With Washington State and Luke Falk on fire, expect that number to be easily surpassed this week. This has the makings of one of the highest scoring non-Big-12 games of the season.
Prediction: Washington State 59, California 32