A locked-in college football schedule with no sudden changes. Tailgates with friends and family. Stadiums packed to the brim. Students storming the streets after a major upset win. It's all coming soon — the college football landscape is returning to normal.
The 2021 college football season kicks off in just under two months, and what better way to prepare than by running through PFF's preseason awards. The 600-page PFF College Football Magazine and PFF Preseason All-America Team dropped Monday, and 10 all-conference teams will be hitting PFF.com throughout the week.
Below is the PFF 2021 Preseason All-AAC Team. The side was selected with the help of PFF grades and advanced statistics, which are now available to PFF's CFB Premium Stats+ Subscribers.
QUARTERBACK
The backbone of Gabriel's success in college has been his downfield touch in a UCF offense chock-full of go balls. He ranked second in the FBS in deep passing yards this past year, with 1,338. Gabriel ranked fourth in the metric the previous year, with 1,316 as a true freshman. He was a top-notch decision-maker in 2019 and lived up to that standard again in 2020, finishing at No. 9 in the FBS in turnover-worthy play rate. He took a big step forward in Year 2, raising his PFF grade from 81.4 to 90.9.
It will be interesting to see how he fares after Josh Heupel's departure, as the former UCF head coach's offense was full of simplistic reads, giving Gabriel a hefty dosage of one-on-one vertical shots down the sideline, screens, RPOs and play action.
Second-Team: Clayton Tune, Houston
Third-Team: Grant Gunnell, Memphis
Honorable Mention: Desmond Ridder, Cincinnati
RUNNING BACK
Carroll produced the highest rushing grade of any AAC running back in 2020 and played a major part in the Green Wave fielding the most efficient rushing attack in the conference last year. Tulane will give him near equal zone and gap carries, but Carroll excels at the former. He was one of the five highest-graded running backs in the country last season on zone runs.
Second-Team: Tyjae Spears, Tulane
Third-Team: Jerome Ford, Cincinnati
Honorable Mention: Deneric Prince, Tulsa
Bentley boasts game-wrecking potential. He proved as much in his 2020 redshirt freshman campaign when he earned an 82.1 rushing grade and racked up more breakaway runs of 15-plus yards than anyone else in the conference (15).
Second-Team: Bentavious Thompson, UCF
Third-Team: Brian Battie, USF
Honorable Mention: Kylan Watkins, Memphis
WIDE RECEIVER
Roberson was on track for the most productive season of his career and would have likely entered the NFL draft last season had he not suffered a season-ending knee injury. In the four games he was able to play, he earned an 80.5 PFF grade and racked up an astounding 4.22 yards per route run. It's no secret that he has special big-play ability. Despite missing most of last season, he still ranks top three in the FBS since 2018 in both deep receptions (29) and yards (1,211). He ought to put up numbers alongside Tanner Mordecai.
Second-Team: Tyler Snead, East Carolina
Third-Team: KeSean Carter, Houston
Honorable Mention: Danny Gray, SMU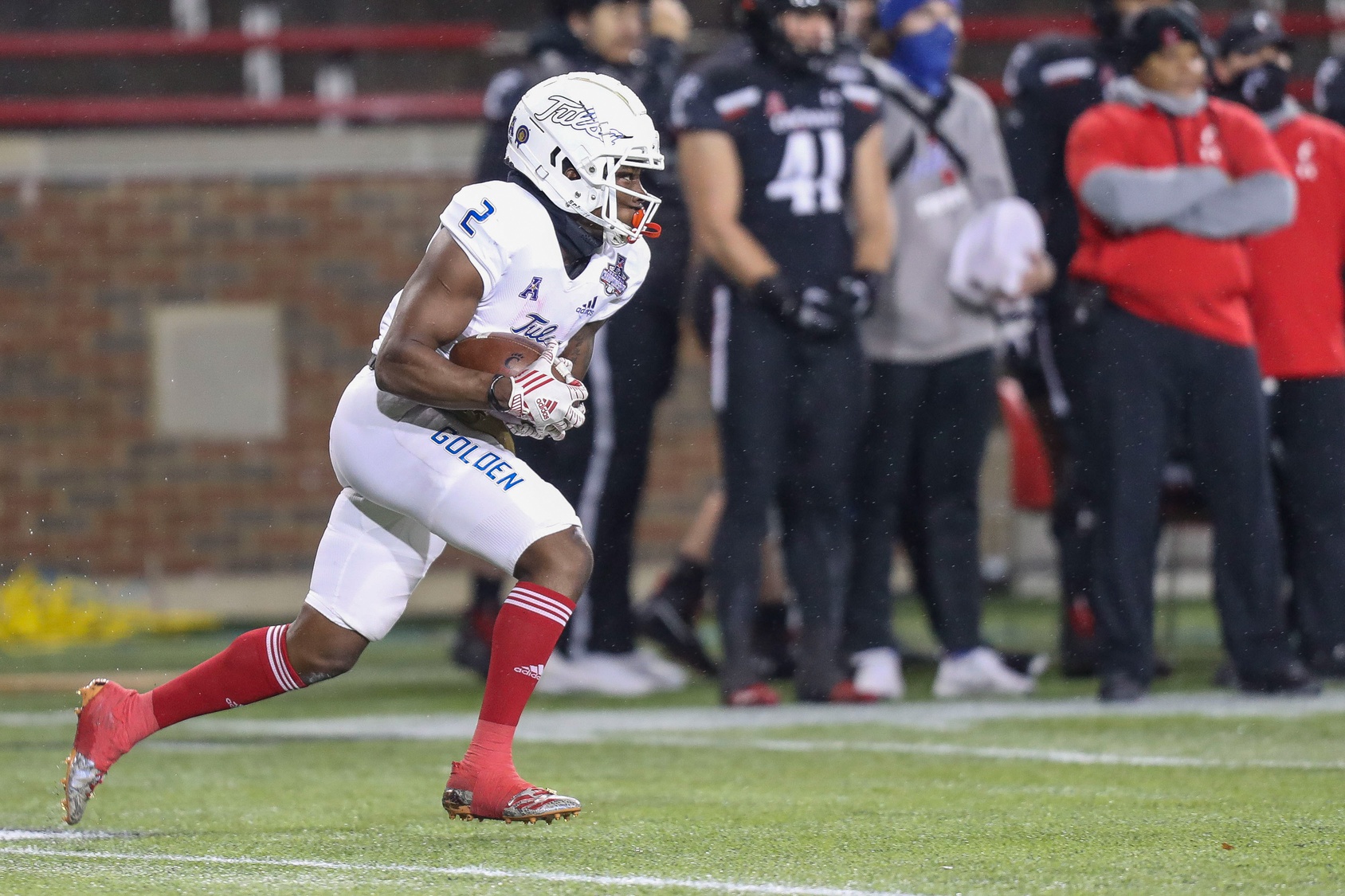 Stokes enters his super senior season fresh off the best year of his career. He earned a 79.2 PFF grade, which was over 10 grading points better than his previous career-high and a top-three mark in the conference. He cleaned up the drop issues that plagued his career prior to 2020 and was stronger at the catch point.
Second-Team: Jha'Quan Jackson, Tulane
Third-Team: Tre Tucker, Cincinnati
Honorable Mention: Omarion Dollison, USF
Austin's quicks and top-end speed are special. They show up both vertically and after the catch. His 21 vertical route catches in 2020 were 10 more than any other AAC wide receiver and led the FBS.
Second-Team: Jadan Blue, Temple
Third-Team: Alec Pierce, Cincinnati
Honorable Mention: JuanCarlos Santana, Tulsa
TIGHT END
Whyle has breakout written all over him after recording a 92.9 receiving grade and 2.94 yards per route run in a rotational role in 2020. He started only a couple of outings and averaged 12 routes per game, but he's bound to be the featured guy in 2021.
Second-Team: Christian Trahan, Houston
Third-Team: Sean Dykes, Memphis
Honorable Mention: Grant Calcaterra, SMU
OFFENSIVE TACKLE
Parham was a decent left guard for Memphis in 2018 and 2019, recording PFF grades above 70.0 in both seasons. He then kicked over to right tackle for the 2020 campaign and really elevated his play. Parham finished his first season at that position with an astounding 90.6 PFF grade, which ranked fourth among FBS right tackles.
Second-Team: Jaylon Thomas, SMU
Third-Team: Michael Niese, Temple
Honorable Mention: Reuben Unije, Houston
Smith flashed some potential in the four games he appeared in during 2019, and he sustained that on a weekly basis as a full-time starter in 2020. He notched an 86.1 PFF grade last season that was anchored by an 88.4 grade as a run blocker.
In pass-protection, he never recorded a game grade that was deemed "poor" (i.e., below 60.0) and didn't allow a sack across 355 snaps on the year. What was most impressive was that two of his three highest-graded games on the year came against Oklahoma State and Cincinnati.
Second-Team: Chris Paul, Tulsa
Third-Team: Donovan Jennings, USF
Honorable Mention: Dennis Bardwell, Houston
INTERIOR OFFENSIVE LINE
Howerton is the best interior offensive lineman in the conference. He has earned 41 starts in four years with SMU at both guard and center, and he's been a consistently sound pass protector over that span. But it wasn't until last season that we saw him produce at a high level as a run blocker. He earned a 73.1 grade in that facet, which was 17 points higher than his previous career-best. He did that while posting an 84.0 pass-block grade and allowing zero pressures in seven of his 10 starts.
Second-Team: Corey Dublin, Tulane
Third-Team: Adam Klein, Temple
Honorable Mention: Vincent McConnell, Cincinnati
Harris has been the same player in each of his three years as a starter for USF: a robust pass protector but an underwhelming run blocker. That's exactly what should be expected in 2021. He has earned an 80.0-plus pass-blocking grade in each of those three seasons along with a sub-60.0 run-blocking grade. Still, that level of pass protection is hard to come by, which is why Harris earns a first-team spot here.
Second-Team: Max Banes, Houston
Third-Team: Avery Jones, East Carolina
Honorable Mention: Bryce Bray, Tulsa
Is Haynesworth the most consistent player? No, but he is set to be the conference's best center this fall. His 2020 campaign was a bit of a wild ride, but Haynesworth did end up finishing with a 71.4 PFF grade that led conference centers and ranked fifth in the Group of Five. That's an encouraging figure for an underclassman.
Second-Team: Kody Russey, Houston
Third-Team: C.J. Perez Jr., Temple
Honorable Mention: Brad Cecil, USF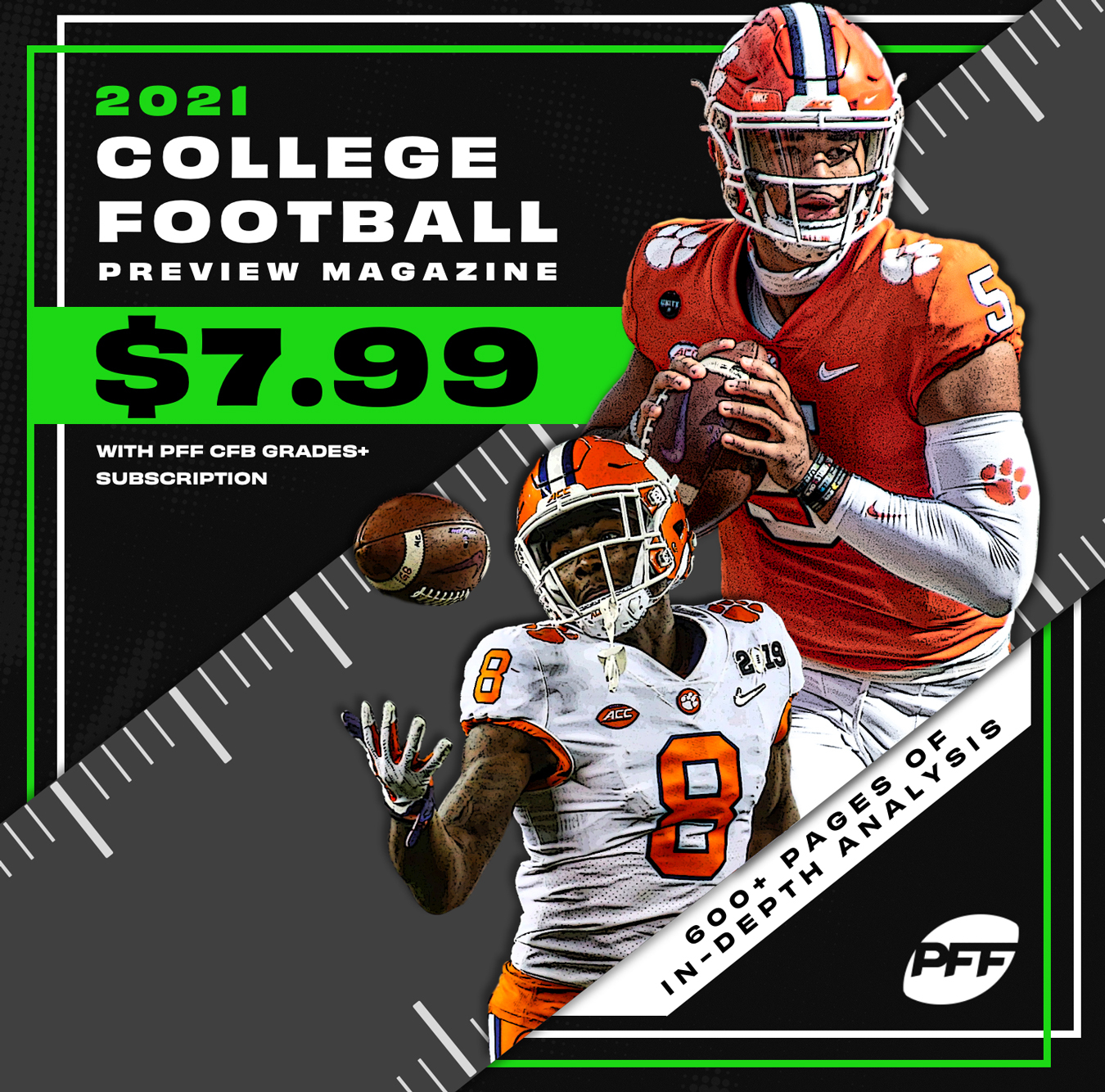 INTERIOR DEFENSIVE LINE
Brooks has been a key cog in the loaded Bearcats' defensive front since first seeing the field in 2017, establishing himself as the model of consistency regardless of where he's at on the line. Brooks has earned a 75.0-plus PFF grade in each of the past four years.
Second-Team: Morris Joseph, Memphis
Third-Team: Ricky Barber, UCF
Honorable Mention: Noah Seiden, Tulane
Hall has high hopes this fall after a breakout 2020 campaign. He packed 20 more pounds onto his 6-foot-6 frame last offseason to get to 260, and that added strength showed up on the field. He earned an 85.6 PFF grade for the season, ranking sixth among all Group of Five interior defensive linemen.
Second-Team: Jowon Briggs, Cincinnati
Third-Team: Cam Goode, UCF
Honorable Mention: Tyarise Stevenson, Tulsa
EDGE DEFENDER
Sanders broke out as a true sophomore in 2019 with an 82.8 pass-rush grade before taking his play to elite status in Year 3. The 6-foot-5, 258-pound speed rusher has quicks for days and posted a 90.1 pass-rush grade in 2020 that featured four or more pressures in all but one of his games.
Second-Team: Jaxon Player, Tulsa
Third-Team: Turner Coxe, SMU
Honorable Mention: David Anenih, Houston
Parish has been an all-around quality outside linebacker for the Cougars. Since 2018, he has logged 916 snaps and produced a grade above 80.0 both against the run and as a pass rusher. That's something only four other AAC edge defenders accomplished in that span, and all of them are now on an NFL roster.
Second-Team: Tre'Mon Morris-Brash, UCF
Third-Team: Malik Vann, Cincinnati
Honorable Mention: Joseph Dorceus, Tulane
LINEBACKER
Anderson went from a two-star recruit to JUCO to one of the top off-ball linebackers in the Group of Five. His run defense was the backbone of his success, leading to a 91.6 such grade in 2020 that tied for the highest in college football. His positively graded play rate against the run was also among the 10 best marks in the country.
Second-Team: Dwayne Boyles, USF
Third-Team: Donavan Mutin, Houston
Honorable Mention: Treyvon Reeves, Tulsa
How about this Tulane duo? While Nick Anderson does his best work against the run, Dorian Williams excels in coverage. He put up a 90.2 grade in that facet last year, his first season as a full-time member of the Green Wave defense after seeing only 77 snaps as a freshman in 2019. Williams came away with 14 passing stops on the year, tied for the second-most in the FBS.
Second-Team: Darrian Beavers, Cincinnati
Third-Team: Diego Fagot, Navy
Honorable Mention: Delano Robinson, SMU
CORNERBACK
Gardner arrived in the Queen City as a three-star recruit in 2019 and earned a 90.2 PFF coverage grade right off the bat as a true freshman, defying the dreaded learning curve at almost every turn. He was seemingly always at the catch point and hardly ever lost. And nothing changed in Year 2.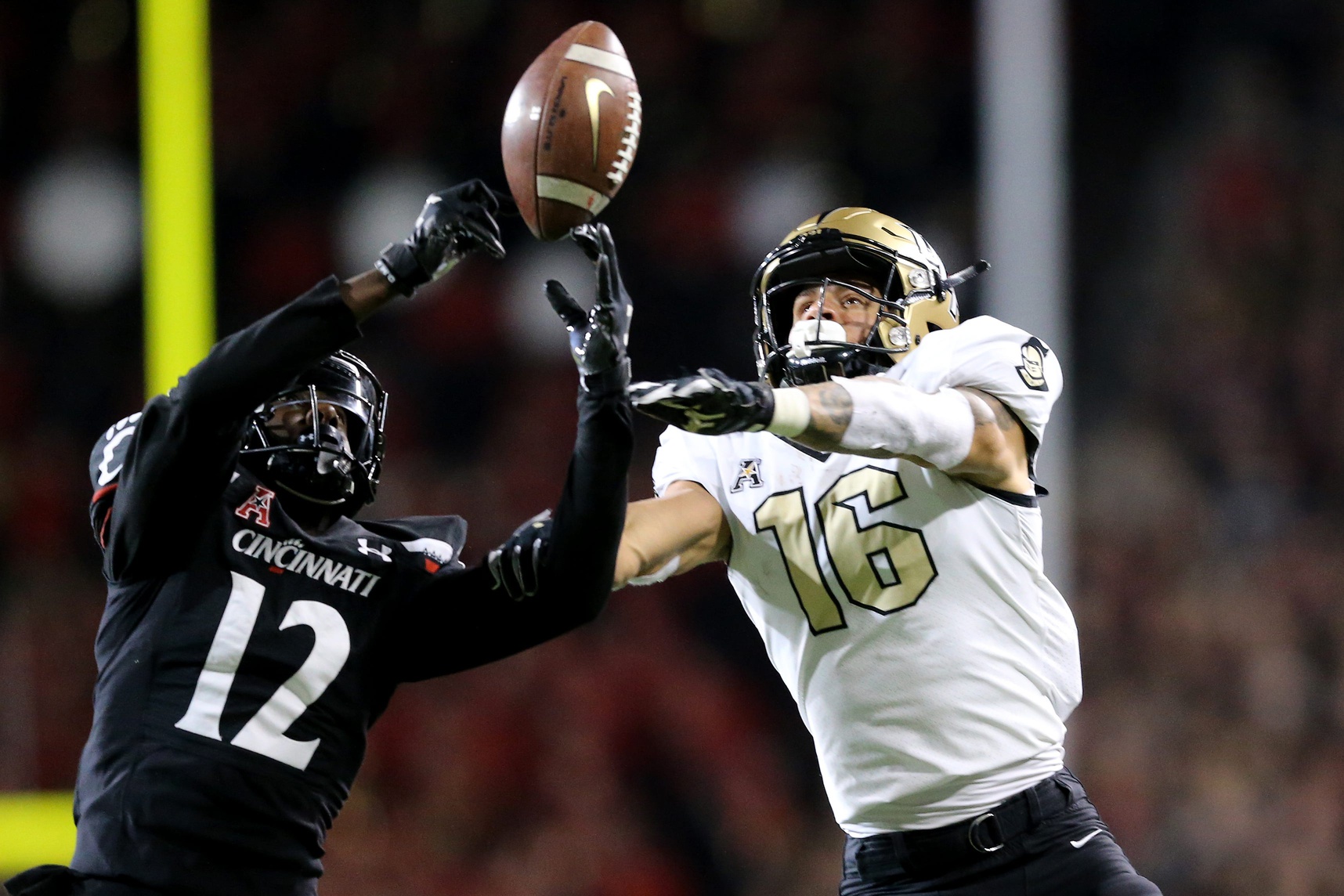 Gardner has developed into one of the best press-man coverage corners in college football over the last few years. The 6-foot-2, 188-pound cornerback has seen 84 targets in press coverage since landing in Cincinnati, and he has allowed just 16 first downs while making a whopping 22 plays on the ball, the most in the FBS over that time. He has yet to allow a touchdown in his college career, with opposing quarterbacks netting a 35.3 passer rating on throws into his primary coverage. Throwing the ball in the grass every play would generate a passer rating of 39.6.
Second-Team: Coby Bryant, Cincinnati
Third-Team: Michael McMorris, Navy
Honorable Mention: Ar'mani Johnson, SMU
Cincinnati's Ahmad "Sauce" Gardner has the title of top Group of Five corner title on lockdown entering the fall, but there's a case to be made for Houston's Marcus Jones after him. Jones earned an 82.0 coverage grade with Troy in 2018, transferred to Houston and then proceeded to produce an 88.9 coverage grade in 2020 while dabbling in the slot. The 5-foot-8, 185-pound corner held his own in press-man and made a ton of plays working back down from off-zone.
Second-Team: Jacobi Francis, Memphis
Third-Team: Damarion Williams, Houston
Honorable Mention: Malik Fleming, East Carolina
SAFETY
Johnson first saw the field in 2019 and has since been one of the most productive players at the position in the AAC. He earned single-season PFF grades of 72.0 in 2019 and 79.4 in 2020. His most recent mark tied with former UCF Knight and current Las Vegas Raider Richie Grant for the best in the AAC.
Second-Team: Derek Gainous, UCF
Third-Team: Ja'von Hicks, Cincinnati
Honorable Mention: Larry Brooks, Tulane
Ray has a chance to establish himself as the top cover safety in the conference this fall. He ranked second among AAC safeties in coverage grade (80.3) last year — his first as a starter. He affected the catch point with the help of his length, notching six pass breakups, and he also tied for the most passing stops among the group (nine).
Second-Team: Amir Tyler, Temple
Third-Team: Cristian Williams, Tulsa
Honorable Mention: Bryan Cook, Cincinnati
FLEX D
McMillian wasted no time getting acclimated to the collegiate ranks, as his grade over the past two years in his true freshman and sophomore seasons ranks in the top 20 among FBS cornerbacks. He has been a true playmaker with the help of his zone awareness, racking up 17 combined interceptions and pass breakups in that span (tied for 18th in FBS).
Second-Team: Macon Clark, Tulane
Third-Team: Brandon Crossley, SMU
Honorable Mention: Arquon Bush, Cincinnati
KICKER
First-Team: Blake Mazza, SMU
Second-Team: Dalton Witherspoon, Houston
Third-Team: Merek Glover, Tulane
Honorable Mention: Zack Long, Tulsa
PUNTER
First-Team: Jonn Young, East Carolina
Second-Team: Andrew Osteen, UCF
Third-Team: Adam Barry, Temple
Honorable Mention: Laine Wilkins, Houston
KICK RETURNER
First-Team: Tyler Snead, East Carolina
Second-Team: Tre Tucker, Cincinnati
Third-Team: Jha'Quan Jackson, Tulane
Honorable Mention: Danny Gray, SMU
PUNT RETURNER
First-Team: Marcus Jones, Houston
Second-Team: Jha'Quan Jackson, Tulane
Third-Team: Tyler Snead, East Carolina
Honorable Mention: Calvin Austin III, Memphis\