As we cross the halfway point of the 2020 college football season with some teams finishing up their year and others just getting started, it's time to give an update on our cornerback rankings.
Below, you will find our top 25 cornerbacks in college football heading into Week 10. How each cornerback has fared in 2020 carries the most weight in these rankings, but we also took previous years into consideration when applicable.
So, with the help of PFF's CFB Premium Stats+, here are the 25 best cornerbacks in college football.
Editor's note:  PFF's CFB Premium Stats+ subscribers can view player grades, advanced statistics, positional snap counts and more. Subscribe today for access!
His 2020 season hasn't been nearly as great as his 2019 campaign, but Stingley is still the highest-graded cornerback in all of college football since the start of last year. He shattered PFF College records and put together the most valuable season we have ever recorded from a non-quarterback in terms of PFF's Wins Above Average (WAA). And he did that as a true freshman. 
This season, Stingley has lowered his coverage grade from 91.7 to 66.8 in four games played. But in two of those four outings, he locked up his opponent by not allowing a single yard and breaking up a pass in each. Despite him not playing like his 2019 self in this small sample, I'm taking Stingley over any other cornerback in college football 10 times out of 10 — it's only a matter of time before we see him return to that elite form.
Surtain shut down his SEC competition in 2018 and 2019 as an underclassman, and 2020 has been no different. He has allowed 25 yards or fewer in five of his six games played while posting an 89.0 coverage grade for the season — the best in the FBS.
In his college career, Surtain has given up just 0.62 yards per coverage snap against SEC wide receivers when lined up at outside corner. For perspective, the FBS average this season for outside corners is 1.1 yards. Surtain has made as many plays on the ball as first downs allowed (seven), including a pick-six last week against Mississippi State. Stingley may be the best, but Surtain is firmly the second-best corner in the country.
Gardner was one of the biggest surprises of the 2019 season — he started out the year as a three-star true freshman with low expectations and ended as the seventh-highest-graded cornerback in the FBS. He allowed a minimal 39.7% catch rate and combined for 11 pass breakups and interceptions.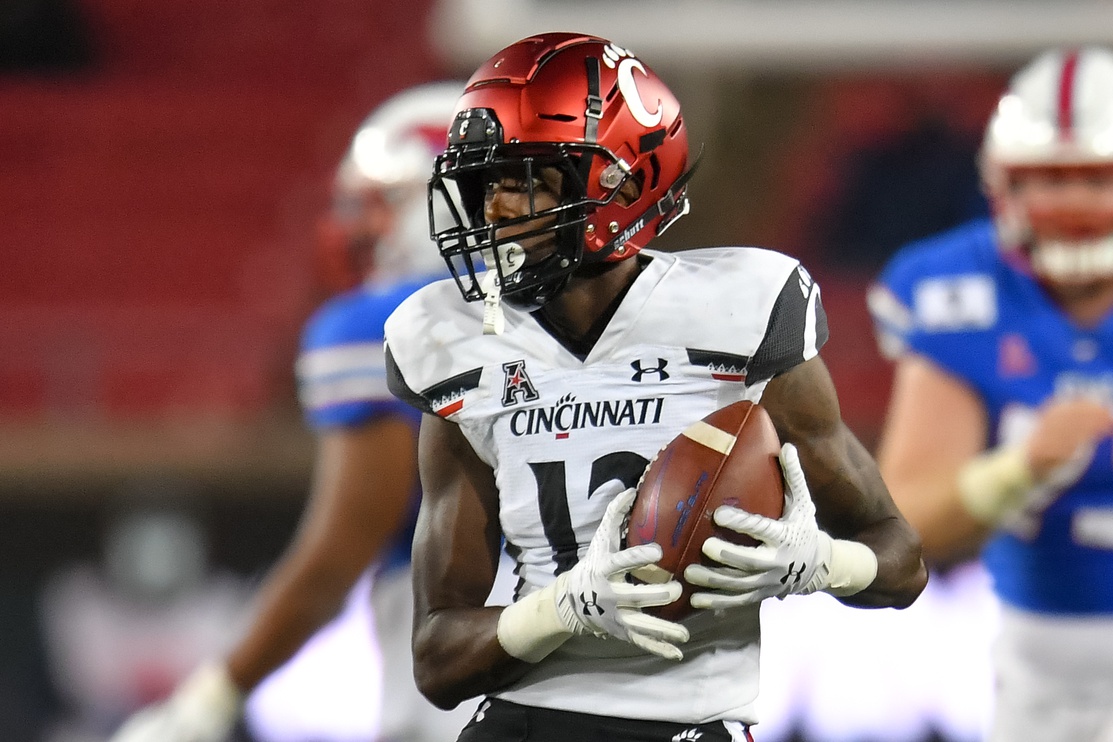 Through five games in 2020, Gardner has allowed just a 36% catch rate, intercepted three passes and forced six total incompletions. That equates to an 11.3 passer rating when targeted, the lowest in the country and well below what the quarterback's passer rating would be by just throwing the ball away every play. Cincinnati is a legitimate candidate for that fourth and final College Football Playoff spot, and Gardner is a major reason why.
Molden has been one of the most productive slot defenders we have ever come across in the PFF College era. Over the past two seasons, he has produced the second-best slot coverage grade and forced 21 incompletions, which are six more than anyone else at the alignment.
He reacts swiftly in coverage, and that helped him rack up 26 passing stops in the slot in 2019, nine more than anyone else in the FBS. Molden still gave up a concerning amount of first downs (21), but his nose for the football outweighs the bad.
Jean-Charles was a quality starter for the Mountaineers in 2019, but no one quite expected him to perform at his current level in 2020. The fifth-year senior has broken up more passes (12) than he has allowed catches (10) through five games this year.
Among cornerbacks with at least 20 targets in 2020, Jean-Charles has allowed the second-lowest catch rate, at 32%. His timing at the catch point is precise, and his 10 forced incompletions on contested targets — the most in the FBS by three — back that up.
Yes, that's right — Appalachian State, of all teams, has two of the six best cornerbacks in college football. Back in 2019, Jolly was second to only Derek Stingley Jr. in coverage grade, at 91.4, and was a playmaker week in and week out.
This year, Jolly does have one bad game on his resume against Arkansas State. The 5-foot-9 Jolly faced off against the 6-foot-3, 220-pound Jonathan Adams Jr. That said, though, it was truly the only bad game of his college career thus far. He allowed fewer than 30 yards in coverage in each of his other four games in 2020 and is the highest-graded cornerback in coverage over the past two years. 
The best player on Auburn's roster has easily been McCreary. He saved the Tigers from near disaster in their 2020 opener against Kentucky with a goal-line interception at the end of the first half, stopping Auburn from going down a touchdown at the half.
On top of that, McCreary broke up a pass and forced a fumble that game with just two total yards allowed in coverage. He tied for eighth in the SEC in PFF grade a season ago and has improved that rank to second in 2020.
We should put an asterisk next to the two interceptions Samuel had against Georgia Tech, as Jeff Sims threw it directly where he was standing. But make no mistake, Samuel is easily a top-10 corner in the game.
He ranks ninth among current FBS cornerbacks in coverage grade since the start of 2019 and fifth in total forced incompletions, with 21. Samuel's size isn't necessarily ideal, but he makes up for it with his quicks.
There were high hopes for five-star true freshman Eli Ricks in Baton Rouge entering the year. While LSU's defense has been a disaster, Ricks is far from the reason — he has exceeded expectations right out of the gate.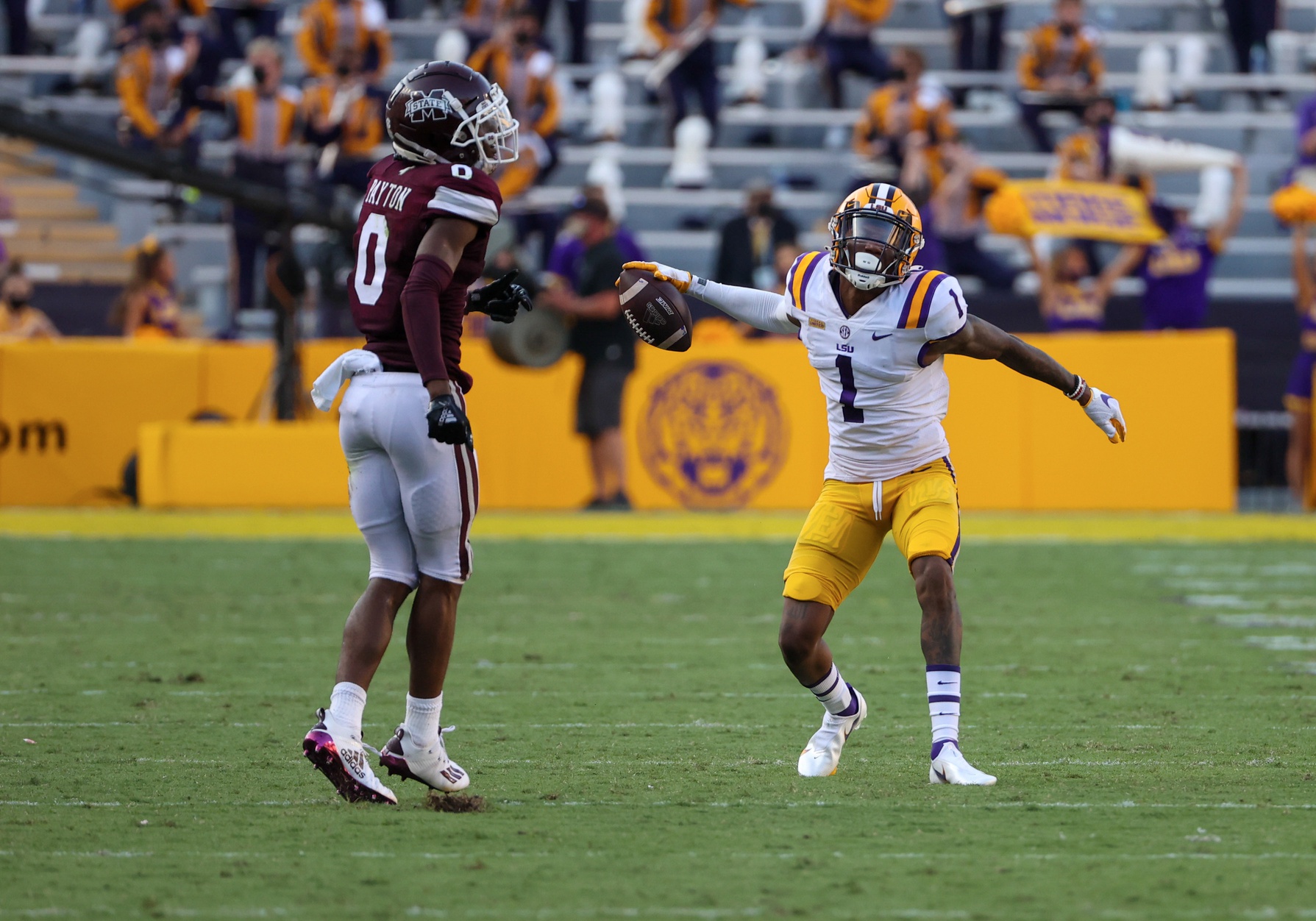 The first-year starter has allowed a minimal six catches in five games while intercepting three balls and breaking up another. Ricks has forced tight coverage on six of his 16 targets, and that's where all three of his picks came. He's looking like the next elite, playmaking cornerback to come out of DBU.
Elam may have played only a little more than 300 snaps in 2019 as a true freshman, but he was the most valuable player on the Gators' roster. He earned an 89.8 coverage grade while making three interceptions, breaking up three passes and allowing just five first downs.
This year, Elam has given up a handful of huge plays when playing zone coverage, but when in man-to-man or in a one-on-one battle with his receiver at the catch point, he has been nearly flawless. With his length, Elam has forced an incompletion on all of his seven contested targets in 2020. That's the most contested targets forced without a catch allowed in the FBS.
Jobe gave us flashes of what he could be for the Crimson Tide in his limited action in the 2018 and 2019 seasons, as he allowed just 11 catches on 27 targets with seven combined pass breakups and interceptions and no touchdowns allowed.
With Trevon Diggs now onto the NFL, Jobe took over the starting spot opposite Surtain and has verified himself as one of the best corners in the SEC. He has allowed a remarkable 0.31 yards per coverage snap, ranking sixth in the FBS, and gathered up seven forced incompletions while allowing only five first downs.
Wright has earned a much larger role in Oregon's secondary after being as great as he was on 306 snaps as a true freshman in 2019. He allowed a minimal 34.8% catch rate (8 of 23) on his targets in coverage en route to an 81.9 coverage grade.
Wright's performance in press coverage, in particular, stood out. On his 91 press snaps, he allowed just three catches on 13 targets (zero for first downs) and made six plays on the ball.
McDuffie was one of several true freshman standouts at the position last year, as he produced a strong 85.4 PFF grade on the year, ranking sixth in the Power Five. He's 5-foot-11 and 185 pounds but hits like he's much bigger — that helped him force a couple of fumbles.
McDuffie's tackling was near-flawless overall — he missed just one of 45 attempts. Perhaps the most impressive thing about McDuffie, though, was how well he handled press coverage for a first-year player. He played the fifth-most coverage snaps in press coverage among FBS corners last year and ranked 11th in coverage grade.
Horn had great ball production in both 2018 and 2019, but he has been on a whole new level this year — a lockdown type of level, that is. Horn has allowed just five catches on 21 targets in 2020, forming the lowest catch rate (23.8%) in the country.
He has intercepted two passes and broken up five total passes, all of which came in Week 7 against Auburn. Horn has been incredibly sticky, forcing tight coverage on 75% of his targets beyond the line of scrimmage — an FBS-leading rate.
One of the biggest breakouts on this list is none other than Oklahoma State's Rodarius Williams, the younger brother of Cleveland Browns cornerback Greedy Williams. The fifth-year senior has been a key cog for the Cowboys in the three seasons prior to 2020 but hadn't quite been a standout performer.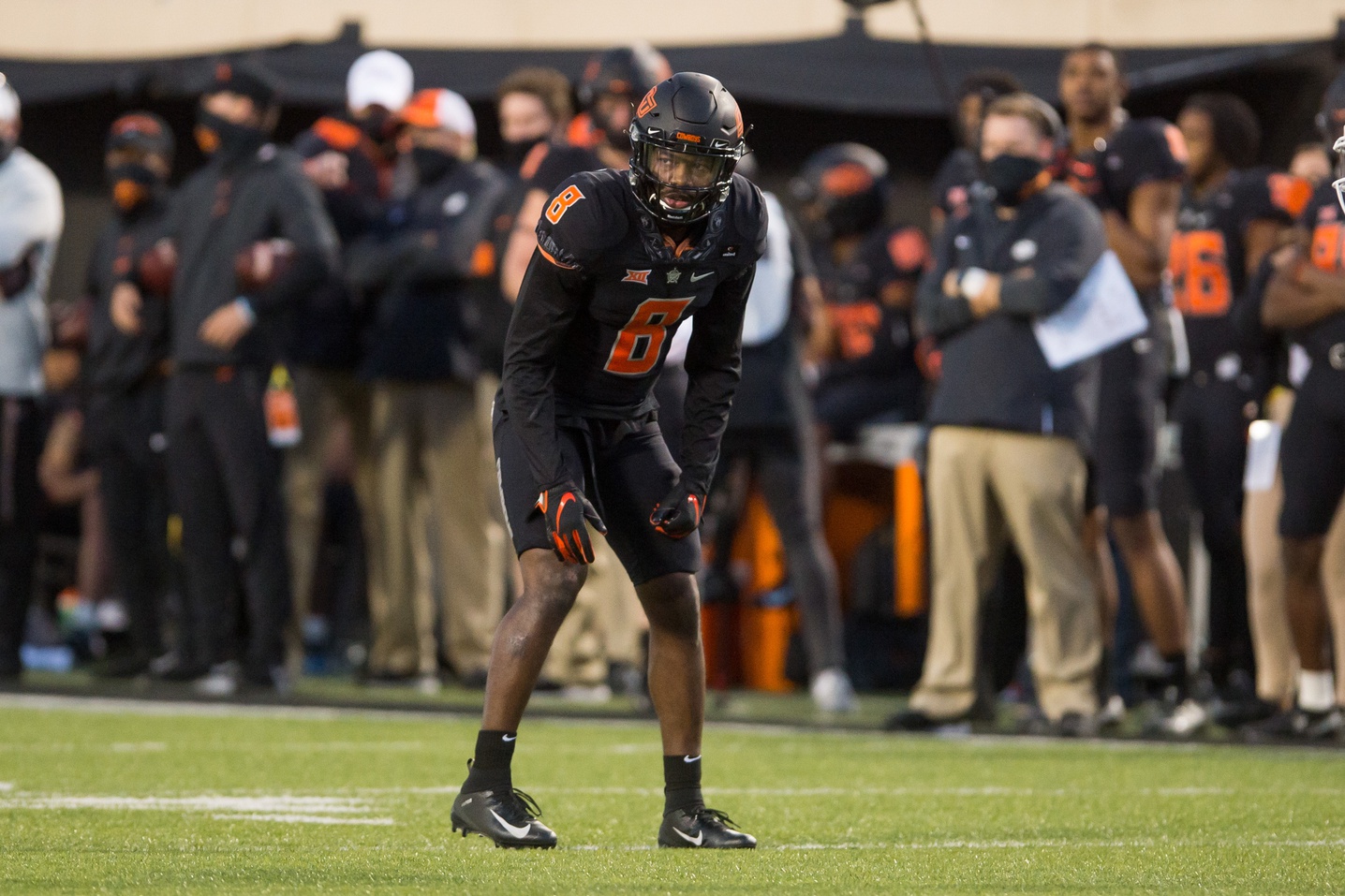 This year, Williams looks like a completely different player and has kept his opponents quiet all season long. Through five games at outside corner, Williams has allowed 0.20 yards per coverage snap — the lowest in the FBS and nearly a full yard lower than the average.
Stokes has been the definition of stingy this season. The Georgia corner has allowed 0.21 yards per coverage snap, ranking third in the FBS and first in the SEC. He has allowed only three first downs on 140 coverage snaps while intercepting two and forcing another two incompletions.
Stokes plays the catch point incredibly well, resulting in the eighth-best forced incompletion rate in the FBS since 2018, at 23%.
After coming to Clemson as a wide receiver and playing the position in his freshman year back in 2018, Kendrick flipped to the other side of the ball at corner in 2018 and wasn't terrible — but he wasn't anything special, either.
This year, though, Kendrick has been something special, vastly improving at the position. In five games, he has played 89 coverage snaps and allowed just three catches while intercepting one pass and forcing five incompletions. He did give up a touchdown and a big 48-yard catch against Boston College, but that's about the only bad play Kendrick has had this season.
Smith might just be the best slot corner in the FBS — he ranks first in coverage grade at the position in 2020 and has yet to allow an explosive play of 15-plus yards in any of his six games. And he hasn't surrendered more than 27 yards in a single game this season.
We haven't seen Smith make nearly as many plays on the ball as he did last year when he was sixth in the Power Five in slot forced incompletion rate, but he is still flashing with eight passing stops in the slot — the most in the FBS.
Duck has played in just two games this season due to injury and will be out again in Week 10 against Duke. But he looked like he was taking those next steps forward in those two games after a strong true freshman season in 2019.
Last year, Duck had the 12th-best PFF grade by a true freshman Power Five cornerback in the PFF College era. In his two starts in 2020 against Syracuse and Boston College, he allowed only four catches on 13 targets for 31 yards with four pass breakups.
Miller started out with two years of JUCO ball before transferring to West Virginia prior to the 2019 season, but he was unable to take the field for the Mountaineers after suffering a season-ending injury in the preseason.
We finally got to see Miller in 2020, and so far, he has exceeded expectations — even with being a former top-10 JUCO recruit. Miller allowed fewer than 20 yards in each of his first five starts, and while he did give up a 35-yard score in his sixth start against Kansas State, he made up for it with five pass breakups.
Oklahoma State has not one but two breakout corners this year who form one of the best tandems in the country. Bernard-Converse gave up far too many big plays in both 2018 and 2019, but he has been as stingy as his teammate Williams in 2020.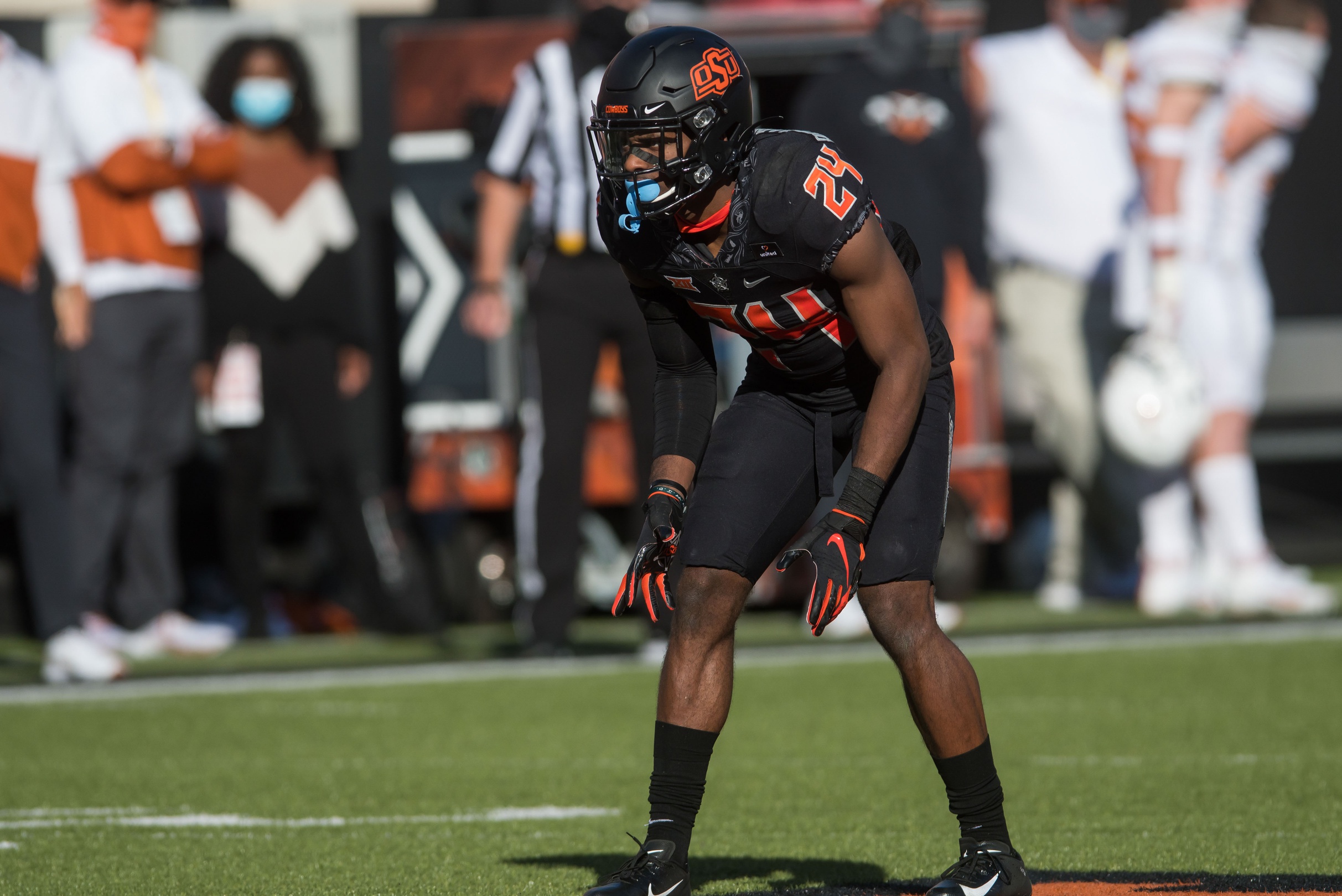 Bernard-Converse has allowed fewer than 10 yards in coverage in four of his five starts this year. And in the one game he didn't, he allowed just 19 yards and broke up two passes. Williams and Converse rank first and second, respectively, in the Big 12 in yards allowed per coverage snap. The Cowboys don't have that stereotypical Big 12 defense with these two locking down their sides of the field.
Melifonwu has still been a little boom-or-bust this year, but it's nowhere near as bad as he was in 2019. He has cut his yards per catch allowed nearly in half, from 18 to 9.4, and has impressed in single coverage.
On such plays, Melifonwu ranks 13th in the FBS in coverage grade and has been near-impossible to beat on contested balls. With his 6-foot-3 frame, Melifonwu has forced an incompletion on all six of his contested targets in single coverage.
From Gardner on the outside to Myjai Sanders and Elijah Ponder on the defensive line, this Cincinnati defense is an incredible one, but the player we aren't talking enough about is Arquon Bush.
Manning the slot for the Bearcats, Bush has allowed just a 32.9 passer rating in coverage and is surrendering a catch on every 19 coverage snaps. The latter leads all FBS slot corners.
Lenoir has been battle-tested in the past couple of seasons by seeing the eighth-most targets of any corner in college football (147), and he has held his own. He forced tight coverage on well over half of those and was near-impossible to beat.
Lenoir allowed only 17-of-66 tight coverage targets to be caught with two interceptions and 28 forced incompletions. We saw Lenoir get off to a hot start in 2019, as he owned a top-10 coverage grade in college football while allowing only 150 yards and 13 catches on 226 coverage snaps through the first eight weeks.
If we see him replicate that over the course of the season with no end-of-season dip like in 2019, Lenoir will certainly hop up a few spots on this list.
Waller has been limited to just one game this season due to injury, but it looks like he is ready to go for the rest of the campaign — which is huge for the Hokies. Waller played fine in his lone game this season, as he earned a 65.6 coverage grade, but when including the large sample of the past couple of seasons, he is more than serving a spot on this list.
Rarely did Waller lose at the catch point in 2019. In fact, he led the entire country in forced incompletion rate that season (31.4%).