College football award watch season has finally arrived, which means it's time for PFF to reveal our preseason picks for the most prestigious honors in the game.
Today, we dive into the Maxwell Award, which is dedicated to the best college football player in America (typically a quarterback, running back or wide receiver). This has become a near replica of the Heisman Trophy as of late, with six of the past seven winners of the Maxwell Award also taking home the Heisman. So, this list will look very similar to PFF's Heisman Trophy watch list.
With the help of PFF's College Football Preview Magazine, PFF grades, advanced stats and, of course, the tape, here is a look at PFF's favorites and a list of other names to watch to be said player by season's end.
Editor's Note: This is a PFF preseason watch list that is in no way affiliated with the Maxwell Award.
Subscribe to
THE FAVORITES
Spencer Rattler took over the Oklahoma starting job as a redshirt freshman last season, hoping to continue the team's run of dominance at the quarterback position under head coach Lincoln Riley. The 6-foot-1, 205-pound signal-caller lived up to expectations, earning a 92.5 mark that not only ranked fourth in the FBS but was also the best grade PFF has ever given to a true or redshirt freshman quarterback.
Rattler has a little bit of Texas Tech Patrick Mahomes in him, both stylistically and situationally. He has an ultra-quick, effortless release to pair with jaw-dropping arm talent and elite playmaking ability outside of structure. The Oklahoma quarterback produced a 91.3 passing grade and a 69.7% accurate-pass rate when creating off structure in 2020, both of which led FBS passers. That passing grade beat out Joe Burrow for the best grade ever earned by a Power Five quarterback.
Rattler is the best player returning to college football and the clear-cut favorite for PFF's rendition (and should be for the actual versions) of the Heisman Trophy and Davey O'Brien Award when the 2021 college football season kicks off Aug. 28.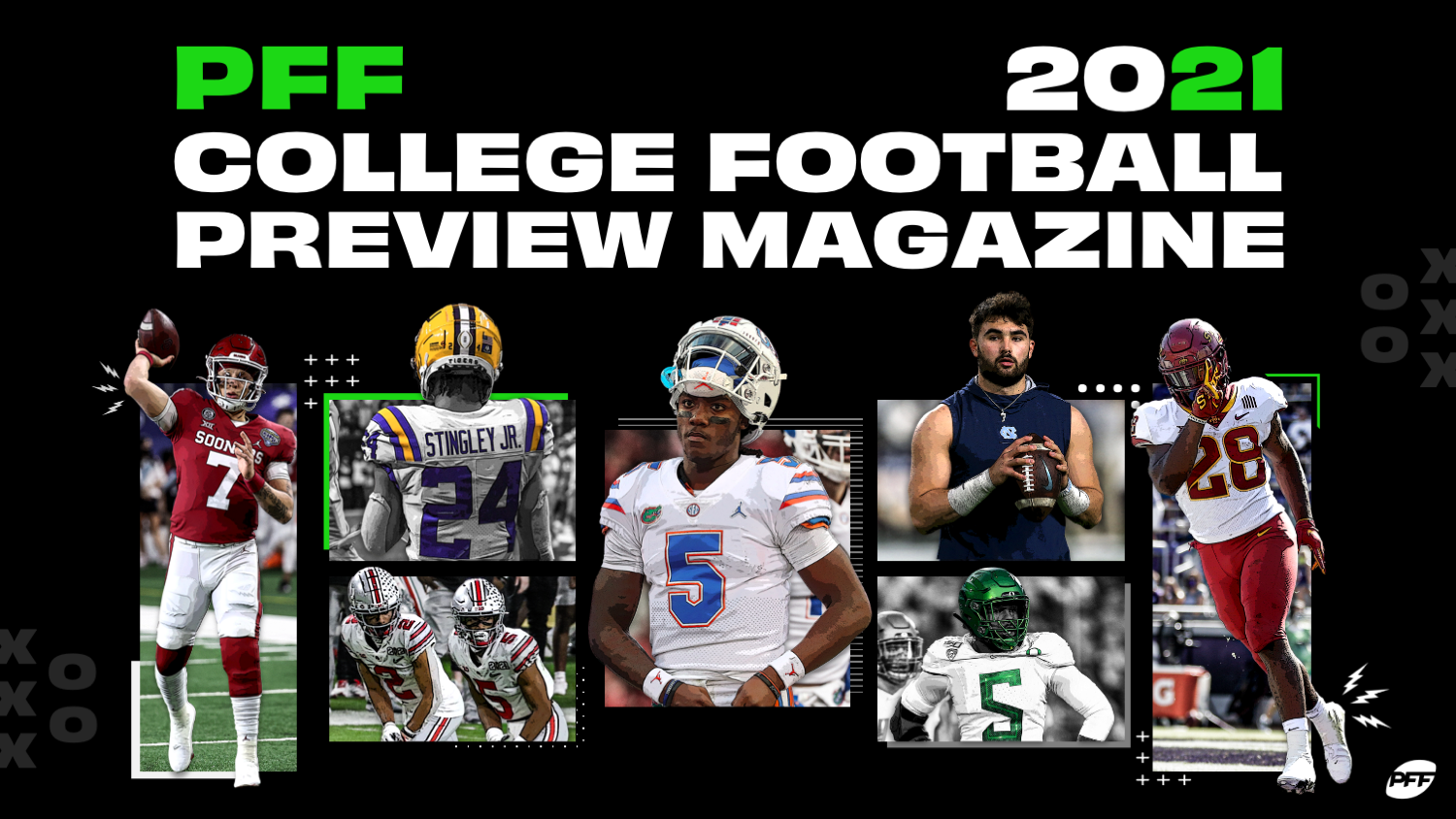 Sam Howell is coming off a true sophomore campaign in which he was the sixth-highest-graded quarterback in college football (92.3). Over the past two seasons, he ranks first in the Power Five in 20-plus-yard completions (66), passing yards (2,654), touchdowns (32) and big-time throws (59 — 15 more than the next QB).
The big question mark with Howell this fall is how he fares without the slew of weapons he previously had in his time leading the offense. His top two targets, wide receivers Dyami Brown and Dazz Newsome, as well as one of the best running back duos of the PFF College era, Javonte Williams and Michael Carter, have all departed for the NFL ranks.
Now, Howell will be tasked with propping up the younger talent within the receiving unit. The Tar Heels ranked seventh in the Power Five in expected points added (EPA) per pass last season, but Howell will have to do a lot of heavy lifting to sustain that mark this fall. If he can lead an even better offense with a much lesser supporting cast in 2021, that might just be enough to take home an award or two by the year's end.
The U was hoping for an elite dual-threat quarterback in 2020, and boy, did King deliver. He made tons of plays both through the air and on the ground in his first season with the Hurricanes, resulting in a 90.6 PFF grade for the season that ranked 10th in the FBS. And now they get him for another year.
On 111 runs — 85 designed and 26 scrambles — King totaled 26 rushes of 10 or more yards. He produced more than 10 yards after contact on 13 of those rushes, the most at the position. The 5-foot-11, 202-pound quarterback also rarely put the ball in harm's way. He consistently made the right decision and came in at No. 3 in the FBS in turnover-worthy play rate (1.7%).
Assuming King fully recovers from the torn ACL he suffered in the Cheez-It Bowl — and all indications are that's the case — the Hurricanes will have one of the most dangerous quarterbacks in the country. If he shows more consistency as a passer from week to week, he'll make the offseason award competitions very intriguing.
THE UNKNOWNS
These four quarterbacks are favorites to take home a variety of awards this season, as they are set to take on a full year as starting signal-callers for contending teams. But three of the four — D.J. Uiagalelei, Bryce Young and C.J. Stroud — have one thing in common: inexperience. The fourth — JT Daniels — has plenty of reps under his belt but not a lot of high-end play.
Let's dive into the pack of unknowns…
Uiagalelei was the lucky outlier of the highly ranked freshman quarterbacks from the 2020 class to see valuable playing time in his freshman campaign.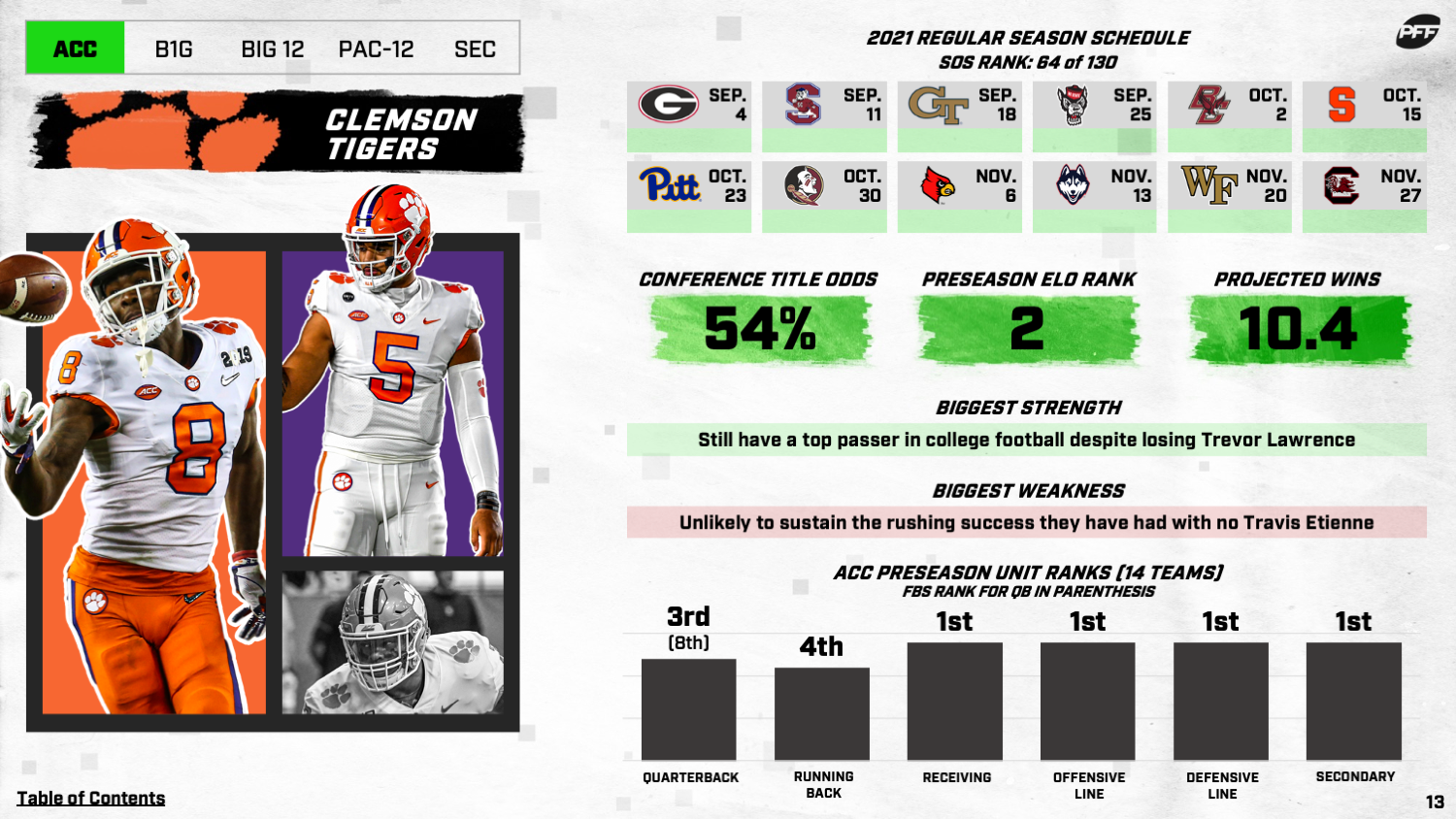 With Trevor Lawrence out due to COVID-19, the 2020 No. 10 overall recruit was thrust into the starting job against Boston College and Notre Dame. While neither ended in an "elite" outing, he proved capable of getting there with the help of the bazooka attached to his shoulder.
He earned an 83.6 passing grade with five big-time throws and zero turnover-worthy plays. Those two games ended up among the Tigers' three most efficient passing offenses of the season. Now, he needs to do that consistently as a full-time starter. Out of the four unknowns, he's undoubtedly the one who should be in the preseason award conversation given what he's shown on his limited reps.
Young didn't get the chance to start last year for Crimson Tide, but he did get plenty of reps in garbage time. The only thing is, the 2020 No. 1 overall recruit didn't exactly light it up. His decision-making was shaky at times, and he took seven sacks while also producing three turnover-worthy plays on 31 dropbacks. That is, however, expected from a quarterback with no experience. Young still got through his progressions and flashed a strong arm while showing an impressive ability to extend plays and make throws when knocked off rhythm.
It'd be an anomaly of a situation if Alabama's offensive output didn't regress in 2021. The only question is: to what extent? For Young to be a legitimate Heisman candidate in 2021 and keep the Crimson Tide's offense as one of the best in college football, he can't be making the same mistakes as last season. As talented as this Alabama team is, Young will ultimately decide its fate.
Stroud — the 42nd-ranked recruit overall and No. 3 quarterback of the 2020 class — didn't see a start nor did he take a dropback his first year on campus. He showcased his running ability on a lone carry that ended up being a 48-yard touchdown, but that's about it.
Stroud is a promising talent with an incredibly high ceiling, but it's going to be a tall task replacing Justin Fields' production over the past couple of seasons. He was college football's most valuable player in both 2019 and 2020, according to PFF Wins Above Average (WAA), and led Ohio State to the second-most efficient passing offense in the Power Five.
His big arm is already a given, and he can threaten defenses on the ground. The potential is there for Stroud to be elite, but can he reach that high ceiling in Year 1 as a starter?
The JT Daniels Heisman hype may need to be tempered just a bit. Yes, he is a former five-star recruit and put together one of the best performances of the 2020 season in his debut as a Georgia Bulldog, but his outputs in the other three outings, in addition to his past play, are cause for concern.
As a true freshman at USC in 2018, Daniels ranked 118th at the position in PFF grade, 127th in turnover-worthy play rate and 129th in PFF Wins Above Average generated. He looked like the same player in the 2019 opener before tearing his ACL. Daniels then transferred to Georgia and didn't see the field until Week 12 of 2020 due to both the rehab process and other players being ahead of him on the depth chart, but he looked markedly better.
Against Mississippi State, he earned a 95.0 PFF grade and made six big-time throws. Yet, Daniels earned just a 68.5 passing grade in his other three outings, including four turnover-worthy plays against Cincinnati in the Peach Bowl.
Daniels did look like a better quarterback in 2020 compared to his USC days, but any Heisman or top-five quarterback talk is still premature. While he appeared more comfortable, his pocket presence was still less than ideal, he put the ball in harm's way and his accuracy waned despite a high completion percentage.
If Daniels were to break out to elite status over the course of a full season, he'd be a true outlier. Among all the quarterbacks to produce a sub-60.0 passing grade in their first season in a starting job — just as Daniels did in 2018 — in the PFF College era, none ended up producing an 85.0-plus grade at any point in their college career.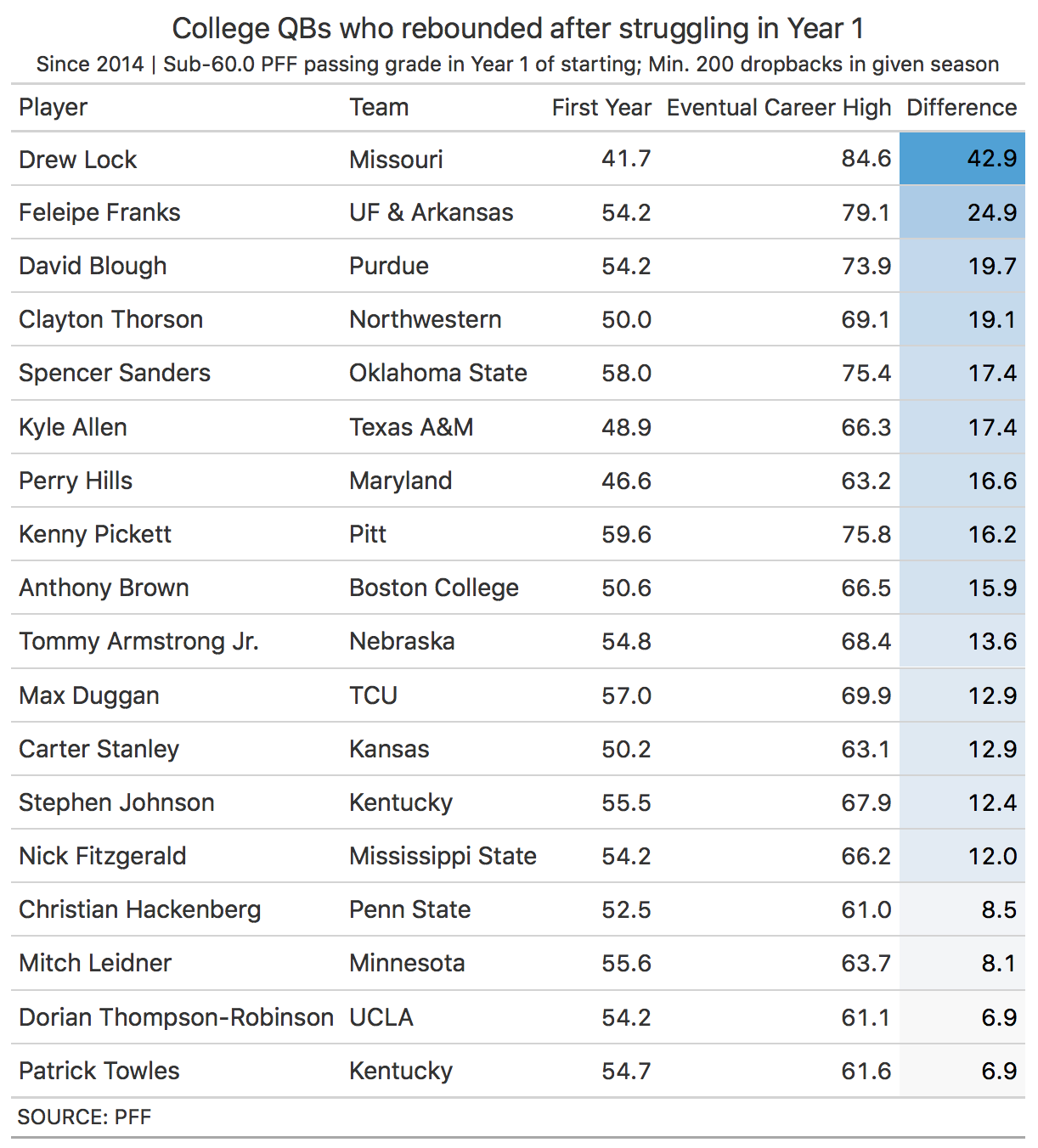 Until Daniels shows he can come close to replicating his outing against Mississippi State, he's not in the top-tier quarterback conversation and remains unproven.
OTHER CANDIDATES (IN ALPHABETICAL ORDER, BY POSITION)
QUARTERBACK
MYLES BRENNAN, LSU
MATT CORRAL, OLE MISS
DILLON GABRIEL, UCF
GRAYSON MCCALL, COASTAL CAROLINA
MICHAEL PENIX JR., INDIANA
KEDON SLOVIS, USC
CARSON STRONG, NEVADA
RUNNING BACK
TANK BIGSBY, AUBURN
KENNEDY BROOKS, OKLAHOMA
JERRION EALY, OLE MISS
BREECE HALL, IOWA STATE
BRIAN ROBINSON JR., ALABAMA
DEUCE VAUGHN, KANSAS STATE
WIDE RECEIVER
TREYLON BURKS, ARKANSAS
ARIK GILBERT, GEORGIA
CHRIS OLAVE, OHIO STATE
JUSTYN ROSS, CLEMSON
GARRETT WILSON, OHIO STATE
OTHER BREAKOUT CANDIDATES TO KEEP AN EYE ON
QB EMORY JONES, FLORIDA
QB CASEY THOMPSON, TEXAS
QB MALIK WILLIS, LIBERTY
WR KAYSHON BOUTTE, LSU
RB ZACH EVANS, TCU
RB BIJAN ROBINSON, TEXAS
---
Dive into PFF's guides to get the most out of the 2021 season, from the 2022 NFL Draft to college football to fantasy football! Get 40% off a PFF subscription with promo code SAVE40