College football award watch season has finally arrived, which means it's time for PFF to reveal preseason picks for the most prestigious honors in the game.
Today, we dive into the Thorpe Award, which is dedicated to the best defensive back in college football each year.
With the help of PFF's College Football Preview Magazine, PFF grades, advanced stats and, of course, the tape, here is a look at PFF's favorites and a list of other names to watch.
Editor's Note: This is a PFF preseason watch list that is in no way affiliated with the Thorpe Award.
THE FAVORITES
Stingley might be the best athlete to take the field this fall. He's such a rare one that even Coach O is thinking about giving him some reps on offense. Coming out of high school in 2019, the five-star cornerback clocked a 4.3-second 40 time to go with a 42-inch vertical. He then proceeded to have the best true freshman season since PFF College's inception back in 2014, recording a 91.7 PFF grade and 0.97 wins above average (WAA), the latter being the best mark among non-quarterbacks all year.
Last year, Stingley saw two fewer targets per game on average, as it quickly became apparent that opposing quarterbacks weren't looking to test him as much as they did in 2019. He was targeted 30 times over his seven outings, allowing just seven first downs while forcing five incompletions, three of which came against Mizzou when he played most of the game with an ankle injury.
Gardner arrived in the Queen City as a three-star recruit in 2019 and earned a PFF coverage grade of 90.2 right off the bat as a true freshman, defying the dreaded learning curve at almost every turn. He was seemingly always at the catch point and hardly ever lost. And nothing changed in Year 2.
Gardner has developed into one of the best press-man coverage corners in college football over the last few years. The 6-foot-2, 188-pound cornerback has seen 84 targets in press coverage since landing in Cincinnati, and he has allowed just 16 first downs while making a whopping 22 plays on the ball, the most in the FBS over that time. He has yet to allow a touchdown in his college career, with opposing quarterbacks netting a 35.3 passer rating on throws into his primary coverage. Throwing the ball in the grass every play would generate a passer rating of 39.6.
LSU landed the very best true freshman regardless of position with Stingley in 2019, and they held that honor once again in 2020 thanks to the standout play from five-star corner Eli Ricks.
The Tigers deployed a healthy dose of man coverage last season, and unlike most first-year corners in the SEC, Ricks handled it like a pro. His man-coverage grade ranked first among all Power Five cornerbacks in 2020, and he allowed just six catches on 19 targets while making seven total plays on the ball when he was tasked with single coverage.
Ricks' physicality at the line of scrimmage and poise at the catch point make him a difficult cornerback to beat outright. It's quite clear he already has an excellent feel for the position. The LSU cornerback duo of Stingley and Ricks is going to be dangerously good in 2021. Godspeed to the SEC wide receivers who have to face these two next year.
Subscribe to
Smith, a three-star recruit of the 2019 class, has recorded the third-best slot coverage grade in the FBS over his true freshman and sophomore seasons while serving as the "spear" in West Virginia's defense. Now, he'll be taking his talents to the Georgia Bulldogs, where he will anchor a secondary that was gutted this past offseason.
Smith's 2020 campaign was a sight to behold. He was targeted 38 times in coverage across 10 games and allowed just 110 yards for the season. He did not give up a single explosive pass play of 15 or more yards while making five plays on the ball and forcing 10 passing stops. At 5-foot-10, 198 pounds, Smith is a physical player who shed receiver blocks and blew up screens like clockwork in 2020. He has great eyes in coverage and was never caught off guard. Keep an eye on Smith next season — he's the real deal.
Hamilton stands at 6-foot-4, 221 pounds, and he is one of the most explosive safeties in the game. His 42-inch vertical may have helped land him on Bruce Feldman's 2020 Freaks List, but he also pairs his physical skill set with great eyes in coverage, making him a certified playmaker.
Hamilton has compiled 16 combined pass breakups and interceptions and 15 passing stops as a true freshman and sophomore. Better yet, he was responsible for only three explosive pass plays of 15-plus yards over that span. The Notre Dame safety has generated the third-most WAA among players at his position over the last two years.
After playing fewer than 100 snaps as a three-star true freshman in 2019, Hodges-Tomlinson struggled to a 45.4 coverage grade in TCU's 2020 opener. But after shaking off the rust, the sophomore went on to post an FBS-high 90.6 coverage grade while allowing just 12 catches on 45 targets. He also came away with 14 pass breakups.
Armed with a mirror ability that is as good as it gets at the position, the TCU cornerback played the ball exceptionally well at the catch point. He forced tight coverage on over 57% of his targets in 2020, the highest rate among Power Five cornerbacks. Don't underestimate this 5-foot-9, 177-pound corner — he's going to play far more physically than his size suggests.
Jobe is a press technician. Of all the Power Five corners who have played at least 200 coverage snaps in press coverage in the last five years, Jobe's 2020 season ranked fourth in yards per coverage snap allowed in press coverage at 0.40 —  not even half of that group's average.
The Florida native has allowed 35 yards or less in all but one of his 13 games played, surrendering only 12 first downs while forcing 10 incompletions. Still, it wasn't without fault. There were several instances of him going overboard physically and getting flagged; he actually drew more flags than any corner in the FBS this past season and was the first Alabama corner of the PFF College era to hit double-digits in that category. Call it an area for improvement in 2021.
Elam gave up a few big plays early in 2020, but he rallied and emerged as the playmaker we saw as a true freshman in 2019. He now has played exactly 600 coverage snaps at the collegiate level and has earned a 90.7 coverage grade in the process. Elam has been responsible for 19 first downs and touchdowns in those two years combined, all while making 21 plays on the ball.
He's at his best at the line of scrimmage playing in press coverage, when he's allowed to rely on his length and physicality. In all, 265 of his 600 coverage snaps have come in press coverage, yet he's given up only 0.47 yards per coverage snap on those reps, the best mark among Power Five cornerbacks who have played at least 250 press coverage snaps in that span. His press performance was an area of focus for Elam last offseason, and it's safe to say the hard work paid off.
After bursting onto the scene as a true freshman in 2019, McDuffie again looked the part in 2020. The 5-foot-11, 195-pound cornerback has earned an impressive 88.3 coverage grade in his college career. He is one of just three outside corners in the Power Five who has generated a coverage grade above 75.0 in both man and zone coverage since 2019.
And McDuffie might also be the best tackling cornerback in college football. He has missed just two of his 64 career attempts while earning a run-defense grade that ranks second among Power Five corners over the past two years.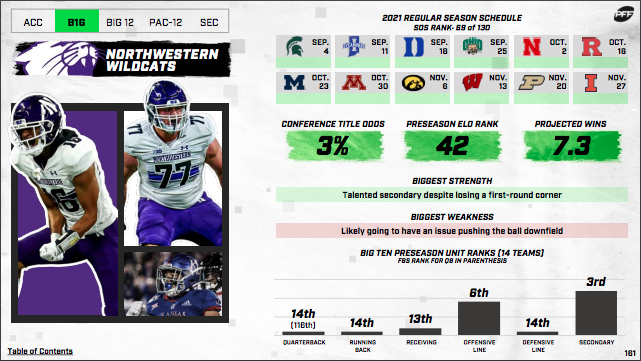 Joseph played only 13 snaps in his first season on campus in 2019 before taking a redshirt, but he exploded in 2020 and established himself as one of the game's top cover safeties. He intercepted six passes while being responsible for only one explosive pass play of 15-plus yards.
It didn't matter if he was playing single- or two-high deep safety or if he was down in the box or manning the slot, Joseph's coverage ability was on full display all season, and it ended in a top-three coverage grade among FBS safeties (88.5).
The 5-foot-10, 175-pound corner has inside-outside versatility and is a ferocious blitzer. He was asked to rush the passer 16 times this past year, and he came away with five total pressures. Mullen is also the proud owner of the highest run-defense grade among cornerbacks since he came to Bloomington as a true freshman in 2019.
And things only get better when looking at his coverage numbers.
Mullen's 22.9% forced incompletion rate since 2019 is the best among all Power Five cornerbacks. The Indiana corner has played 15 or more coverage snaps in 94% of his games at the college level, yet he has allowed more than 40 receiving yards into his coverage just once.
Moore was thrown into the fire and asked to serve in a starting role as a true freshman in 2020. There were some bumps early on, but after that shootout against Ole Miss, Moore turned a corner and was performing at a special level for a first-year player covering the slot in the SEC.
From Week 7 on, Moore put up the highest slot coverage grade in the FBS, and no FBS safety made more plays on the ball (10). And that's even including a rough outing in the SEC championship against Florida, where he played through an injury and allowed five catches for 123 yards and a score.
Outside of Tykee Smith, there's no one better covering the slot in college football.
PLAYERS TO WATCH (ALPHABETICAL ORDER)