The time has finally come for one of the biggest games in the College Football Playoff era: the Ohio State Buckeyes (No. 2) versus the Clemson Tigers (No. 3). In regard to the spread, Clemson is currently favored by two points, and if that holds, it will be the second-closest spread in a CFP game since its conception in 2014.
Sitting on an undefeated record, the Clemson Tigers have been one of the most slept-on teams in all of college football due to their "weaker" schedule. Though in the eyes of PFF, they're still number one in our latest PFFELO rankings.
"It's the first time since 1966 that a team started the season No. 1, went undefeated through the regular season and finished third… OK. So that is history – the first time that has happened, so congratulations on that." – Clemson Head Coach Dabo Swinney to his team after the final CFP rankings
The last time the Ohio State Buckeyes made the CFP back in 2016, they went up against the Clemson Tigers and got shutout 31-0. Safe to say, they're out for revenge. This time, though, the Buckeyes have their best team by far in the PFF College era. Starting quarterback Justin Fields enters the Fiesta Bowl as the second highest-graded signal-caller in the FBS behind only Joe Burrow. Not to mention, he's on pace to be the highest-graded Big-10 quarterback we have ever seen.
So, who is most likely to win? Before we answer that, let's address what you need to know heading into the highly anticipated matchup.
Is Justin Fields or Trevor Lawrence the better quarterback?
Coming to the Ohio State program as a transfer from Georgia, Justin Fields was set to take over the reins of the Ohio State offense after their 2018 signal-caller, Dwayne Haskins, was drafted 15th overall in this past NFL Draft. Fields, a former second overall recruit, exceeded his already lofty expectations for the Buckeye by earning the second-highest grade among quarterbacks in college football.
One of Fields' greatest qualities is his patience and poise and that allows his receivers to get open downfield. Fields' 2.93-second average time to throw this season is the second slowest in college football, and on targets of 10-plus yards, 72.4% of Fields' attempts were to a receiver with a step or more separation. That percentage is over six percentage points higher than second place.
Pressure has been the only demise to Fields' play in 2019, but even then, he's still one of 10 best quarterbacks in the country. He will sometimes hang around for too long and give the opposing defense time to generate pressure; some of these plays end in his favor but some don't, as nine sacks have been attributed to Fields so far this season, which is tied for the 12th-most among all quarterbacks. With that being said, his PFF passing grade under duress is still the ninth best in college football, so while it is a weakness, it's a minor one that most would love to have. With Fields being the highest-graded quarterback from a clean pocket this year, Clemson will have to step up their pass-rushing performance.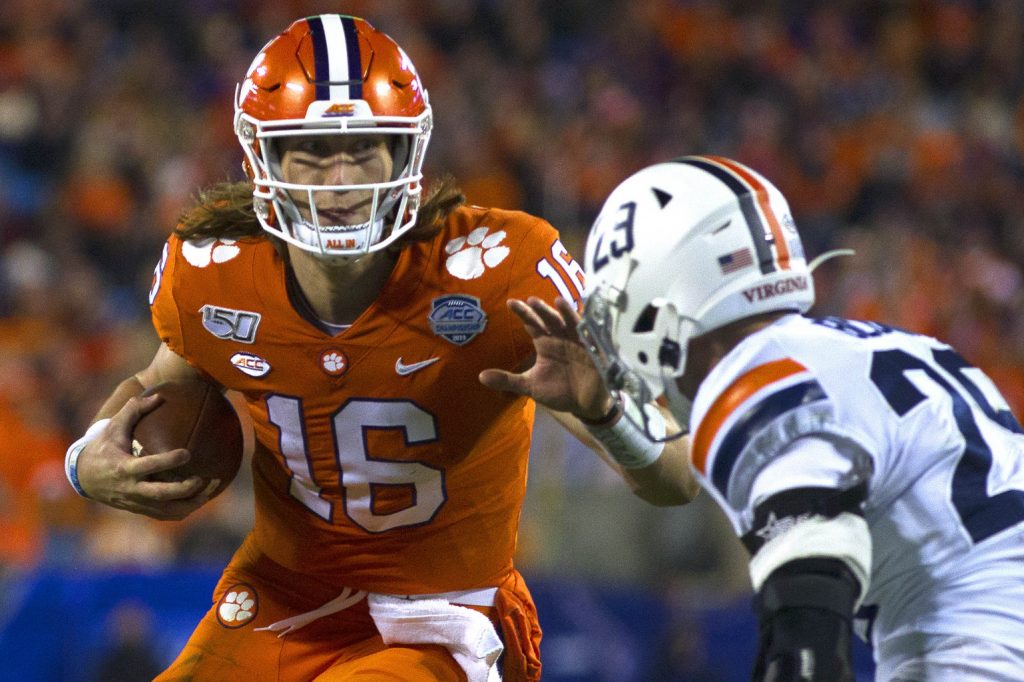 © Joshua S. Kelly-USA TODAY Sports
After leading Clemson to a national title as a true freshman in 2018, all eyes were on Trevor Lawrence heading into the season, with some naming him the best quarterback in college football. Lawrence's start to the season was a slow one, but taking out the first four weeks, Lawrence's 93.4 PFF grade is the highest in the nation. He's been heating up more so over his last five games, with his lowest-graded game in that stretch coming in Week 14 against South Carolina (84.6).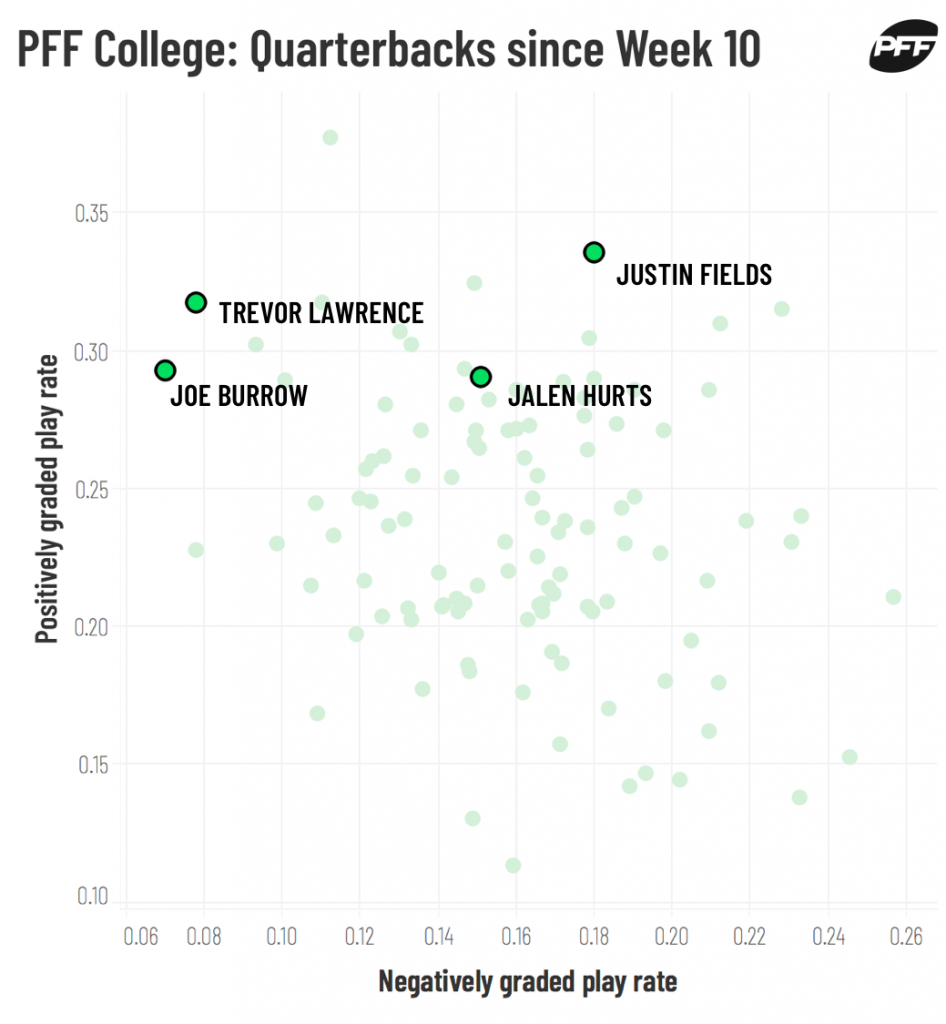 The difference in accuracy for Lawrence was night and day. In his first three games, Lawrence ranked 90th in uncatchable-pass rate at 27.8%, but he has since cut that rate in half to 13.9%, which ranks fourth. He also threw 19 incompletions that were due to a QB error (overthrow, underthrow, etc.) through the first three games, which was the 10th-most in the nation over that timeframe, but over the last 10 games, he produced only 23 QB-error incompletions, which ranked among the 20 best marks in college football. 
While Lawrence has been the best quarterback over the last few weeks of regular season play, Fields has been better on a game-to-game basis. As things stand, Lawrence is just behind Justin Fields in terms of PFF grade, so the edge here goes to the Buckeyes (but it's not by much).
The matchup between Clemson's wide receivers and Ohio State's secondary could very well decide this game
Jerry Jeudy and Ceedee Lamb get all the hype, but Clemson's Tee Higgins has been just as great, as he currently sits fourth among all wide receivers in PFF grade (90.6). He's one of the rare players at the position who is good at both generating separation from defensive backs and producing the goods in contested-catch situations: On targets of 10-plus yards downfield, Higgins has hauled in 75% of his contested catches (nine percentage points higher than the next best Power-5 wide receiver) while he's gained more than a step of separation on over 57% of his targets (nearly 10 percentage points higher than the FBS average).
Clemson WR Tee Higgins has some of the best hands in CFB and an insane catch radius.

He's @PFF's highest-graded Power 5 WR and will likely be a steal in a loaded WR class in the 2020 draft. pic.twitter.com/KP24Iwh2Fj

— Anthony Treash (@PFF_Anthony) December 26, 2019
Opposite of Higgins is Justyn Ross, who is the owner of a solid 80.0 PFF grade entering the matchup. Ross shined as a true freshman in 2018, posting an elite 91.4 PFF grade that ranked second in the FBS to go along with an impressive yards per route run average of 4.98 that ranked first. While the production hasn't quite been the same in 2019, Ross has been heating up as of late — since Week 7, Ross has earned a PFF grade of 84.1 that ranks 12th among the nation's pass-catchers, just six spots below Higgins (87.6).
The Ohio State cornerbacks have been something special this season. Led by Jeff Okudah, who was mocked third overall in PFF's latest 2020 NFL Mock Draft, the Buckeye coverage unit as a whole is the highest-graded in college football. The outside cornerbacks specifically have been on another level and have a strong case to be the best outside unit in the nation. Ohio State's outside corners have allowed a first down on just 18.6% of their targets this season, the lowest mark in college football by over 3.5%. Along with that, they have allowed just one touchdown this season in coverage and are the only unit of the 130 teams to allow one or fewer touchdowns.
Okudah and senior Damon Arnette have the primary outside duties and are improving their NFL draft stock each time they take the field. Okudah has combined for 10 pass breakups and interceptions, leading way to just a 41.6 passer rating allowed in coverage and a surefire top-10 pick in the upcoming draft. As for Arnette, he's been one of the most improved draft prospects this year, skyrocketing up draft boards. Arnette dropped his catch rate allowed by over 20%, yards allowed by 150 and passer rating allowed by nearly 40 points. They'll have their toughest matchup of the year against Tee Higgins and Justyn Ross. Best part about this matchup is that we won't see either be shadowed by one cornerback and will get to see both go up against each other – Okudah will stay on the left and Arnette on the right while Higgins and Ross alternate on any given play.
Can Clemson contain the most dominant defensive player in college football in Chase Young?
We all know by now that Chase Young is the shoo-in second overall pick in the 2020 NFL draft and is one of the most dominant defensive linemen in recent memory. Not only is Young the highest-graded edge rusher in 2019 at 96.7, but he is on pace to be the highest-graded defensive player we have ever seen in the PFF College era. He has racked up sacks and fumbles like none other and has quite literally been a game-wrecker. There's only been one instance of Young being shut down in the pass-rush: Week 8 against Northwestern. That game, they used quick passes and designed rollouts to the opposite side of Young to ensure he couldn't make any noise. They were scared of Young and rightfully so. Clemson certainly won't apply the same timid game plan the Wildcats used, so can their offensive tackles hold their own against Young?
Young never spends an entire game in one location – he'll bounce around from side to side against Clemson. In other words, all tackles will have to prepare mightily for their reps against Young. At left tackle, Jackson Carman gets the starting nod, but Jordan McFadden has been great in filling in for a few snaps. Both have been fairly successful at that alignment, ranking among the top 30 in PFF grade (McFadden sixth, Carman 26th). On the right side, senior Tremayne Anchrum has been the guy and had been a superb pass-blocker. At that alignment, Anchrum is tied for seventh in PFF pass-block grade and in pressure rate allowed.
Regardless of who Young faces to start the game, it'll be a tough task for either party. Neither starter at the tackle position has yet to allow a sack in 2019 and is allowing very few pressures overall. Young has won over 27% of his pass-rush reps against stout tackles in the Big 10.
Does the run game actually matter?
Passing the ball is obviously more efficient than rushing the ball, especially at the NFL level. Though at the college level, while passing is still far superior, running can sometimes generate some value. Among the few teams that are among this group is both Clemson and Ohio State.
Clemson leads all FBS teams in expected points added per rush at 0.261. For perspective on how high this is, that number means they are more efficient rushing the ball than 121 of the 130 FBS teams are passing it. The number one running back on PFF's big board for the 2020 draft, Travis Etienne, is a big reason for that. Etienne owns the second-highest PFF rushing grade in the FBS at 91.6 as well as the FBS high in broken tackles per attempt at 0.46 and percentage of runs going 10 or more yards at 24.9%. Having the eighth highest-graded run-blocking unit to run behind helps too.
Ohio State hangs just behind Clemson in EPA per rush at sixth (0.142). Their success here relies more on the scheme and offensive line than the running back themselves. Head coach Ryan Day has put an even heavier emphasis on a zone rushing scheme. The Buckeyes' rushing attack has maintained their usage of the inside-zone concept at nearly 50% while almost doubling their usage of outside zone to 30% — the latter of which just so happened to be their most successful scheme in 2018. In both zone concepts in 2019, Ohio State has averaged 6.7 yards per carry, which is over 2.5 yards more than the FBS average. Though, the Buckeyes have benefited most from outside zone, as they have produced 0.368 EPA per rush on those plays, the nation's highest mark (second is at 0.257). They've been racking up yards before contact on zone rush concepts (nearly a yard more than the FBS average), which is largely due to their top 10 run-blocking unit.
The most underrated receiving unit against the most underrated coverage unit
The story of the Ohio State wide receiver unit after the departures of Parris Campbell and Terry McLaurin isn't being talked about enough. They're currently the fifth highest-graded receiving unit in the country and have found a gem in Chris Olave.
In his sophomore campaign, Olave has produced a top-20 PFF receiving grade at 87.1 and is dangerous downfield. Olave can get separation better than most with his crisp route running and elite speed that can shred any zone-coverage concept he faces. In fact, no wide receiver has more open targets 10-plus yards downfield than Olave. Going back to what was said earlier, the Buckeyes get separation better than any other receiving unit in the country. Olave, K.J. Hill, and Binjimen Victor all rank within the top four in percentage of targets 10-plus yards downfield having at least a step or more of separation.
Olave is the top dog in this group and will likely get shadowed by Clemson's A.J. Terrell throughout Fiesta Bowl. Terrell has been climbing up draft boards since the start of the season. In his 13 game appearances, he has allowed more than 10 receiving yards in just five of them and has scared quarterbacks away by playing 10.2 coverage snaps per target – the third most among all FBS cornerbacks.
As mentioned earlier, the Ohio State coverage unit has been arguably the best in the country and the one defense to rival them for the top spot is the Clemson Tigers. No other coverage unit has allowed fewer expected points added (EPA) per target than Clemson at -0.450. On targets of 10-plus yards, Clemson takes the honors of being the best. The Tigers have allowed a catch rate of just 30% on those targets (lowest by over 2.5%) and a passer rating of 31.4 (second is at 45.8). A quarterback spiking the ball every play produces a passer rating of 39.6.
Other 2020 NFL Draft-eligible players to watch
LB/S Isaiah Simmons, Clemson: Simmons might be the most versatile player in college football. He has played triple-digit snaps on the defensive line, in the box, in the slot, and at free safety. He's handled this incredibly well too, producing a PFF grade above 80.0 in run defense, in the pass-rush, and in coverage. Not to mention, he's missed just six tackles on 81 attempts. At 6-foot-4, 230 pounds, Simmons will surely stick to linebacker at the NFL level and it's almost a given he'll be at least a first-round pick – in PFF's latest 2020 Mock Draft, Simmons was mocked at 14th overall.
CB Shaun Wade, Ohio State: Manning the slot for the Buckeyes is Shaun Wade, who is among the 10 best slot corners in PFF grade. Wade has flashed great ball skills in coverage, intercepting one pass and forcing seven more for incompletions. Along with that, he has forced 17 targets in tight separation and allowed just four to be caught. While Clemson wide receiver Justyn Ross does line up out wide a considerable amount as mentioned earlier, don't be surprised if he sees some action in the slot – he has ran 57 routes from the slot this season and has seen a target on 25 of them. Wade could have a tough task awaiting for him on these select plays.
S Jordan Fuller, Ohio State: After spending the first few seasons of his collegiate career playing as a hybrid safety, Fuller moved to full-time free safety and went from good to great. When lined up as a free safety, Fuller has produced the seventh-best PFF grade; he is locking down the middle of the field, seeing a target once every 31 coverage snaps, and he's managed to record six combined interceptions and pass breakups on the year. As a result of this, Fuller is climbing up the board and hovering around the fourth round.
OL Wyatt Davis, Ohio State: Sitting at an 81.5 overall grade, third-year sophomore Davis is the second highest-graded right guard in college football. Davis hasn't allowed a single sack or hit all season long and has been an even better run-blocker. His 81.9 run-blocking grade is third among all right guards.
S/SCB K'Von Wallace, Clemson: Playing in the box and the slot, Wallace is having a career year, producing a PFF coverage grade of 89.4. Regardless of alignment, Wallace has gathered eight combined pass breakups and interception while allowing a passer rating of just 47.9 in coverage. A big day on the big stage might just move him up considerably.
The most likely team to come out on top is…
This is about as close as a 50-50 matchup there can be. As talented of a roster Ohio State has that is littered with draft talent, Clemson has the edge here. According to PFF Greenline, Clemson wins this matchup 56.9% of the time. The better quarterback over the season has been Fields, but the better roster from top to bottom is Clemson – and with the news of Fields' knee being 80-85%, Clemson's odds to win could even grow. Now, don't be surprised if Ohio State pulls off the win as the underdog – they still have a good shot with a win probability of 43.1%. With all this being said, Ohio State versus Clemson is set to be one of the best in the College Football Playoff era.