[As a part of our partnership with ESPN, this is a story that was originally published on ESPN+ and can be viewed in its entirety with your ESPN+ subscription – Ranking the 50 best 2020 NFL draft prospects in the College Football Playoff]
The 2019 College Football Playoff is loaded with talent for the 2020 NFL draft. Since PFF started grading college football players in 2014, this is without question the most draftable talent we've ever seen in the CFP.
There are eight prospects from LSU, Ohio State, Clemson and Oklahoma in our top 25 prospects for April's draft, and seven more make our top 100 overall. With so much talent on the field for the two CFP games on Dec. 28, let's do what we do best here at PFF and rank the top 50 prospects.
1. Joe Burrow, QB, LSU
Year: Senior
The Heisman Trophy winner and No. 1 player on the PFF board for the 2020 draft, Burrow is in the middle of the most impressive season we've ever graded from a college quarterback. In his lowest-graded game this season Burrow still went 32-of-42 passing for 321 yards with a score and a pick against Auburn. He played one of the toughest defensive schedules in the country and that's his worst performance. Burrow truly has been unlike anything we've ever seen, and that's why he's in the discussion to go No. 1 overall in April.
2. Chase Young, DE, Ohio State
Year: Junior
The historic nature of Burrow's season also applies to Young's. He's going to shatter the PFF single-season pass-rushing grade record as he currently stands at 96.8 (94.4 is the record). He has had three-plus pressures in all but one game this season despite being the focal point of every single offense he faces. Young, who has 16.5 sacks, is the best edge prospect we've seen in our six years of grading.
3. Jeff Okudah, CB, Ohio State
Year: Junior
Okudah ticks pretty much every box you want from a top-tier cornerback. He has size, speed and length, with off-the-chart production over his career. Now in his second year as a starter, Okudah has allowed a passer rating against of 54.9 for his career. That number isn't even inflated by gaudy pick totals as he has nabbed only three. Okudah has a chance to be the top cornerback off the board if he enters the draft.
4. CeeDee Lamb, WR, Oklahoma
Year: Junior
If it weren't for an utterly loaded receiver class, we'd talk a lot more about how special Lamb is as a prospect. He caught 58 balls this season for 1,206 yards and 14 touchdowns. More impressively, Lamb broke 25 tackles after the catch — second-most in the nation. There's not much about the position Lamb doesn't do at an elite level.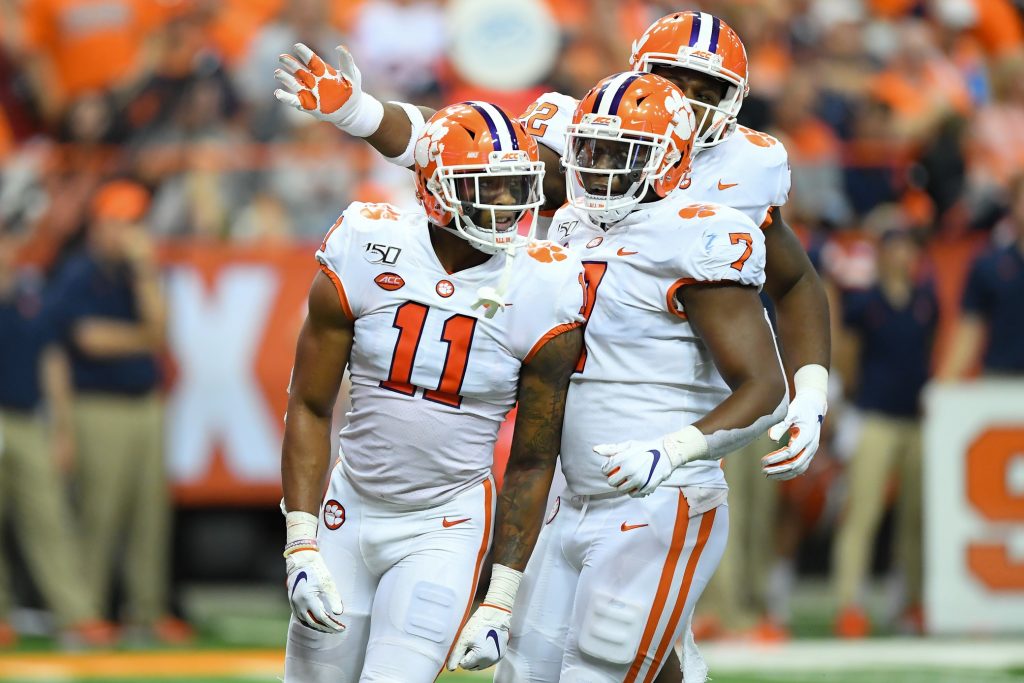 © Rich Barnes-USA TODAY Sports
5. Isaiah Simmons, LB, Clemson
Year: Junior
We listed him as a linebacker, but he has been more of a safety in the Tigers' defense. Of his 650 snaps this season, 230 have come over the slot, 107 have come as a deep safety, and the rest have come in the box. Oh, and he has been outstanding in that multifaceted role with an 86.0 overall grade on the season. At 6-foot-4, 230 pounds, Simmons probably will play linebacker at the next level.
6. Kristian Fulton, CB, LSU
Year: Senior
Fulton matching up with Lamb is going to be must-see TV for fans and scouts alike. It could very well be two top-10 2020 draft picks going head-to-head. At minimum, it's likely to be two first-rounders. Fulton graded better than teammate Greedy Williams — a 2019 second-round pick last season — only to return to school and be the highest-graded SEC cornerback this season. Multiple years of elite play is the type of grading profile we love to see. Man or zone, Fulton is a complete corner.
7. Grant Delpit, S, LSU
Year: Junior
Delpit's 2019 season hasn't gone exactly as planned as he has missed over a quarter of his tackle attempts so far. Injuries haven't helped on that end so we can toss out some of his tape. The coverage ability and versatility he showed as a sophomore, though, is rare as he racked up 12 combined picks and pass breakups last season. Even in a "down" year, Delpit has given up only nine catches in his coverage.
8. Tee Higgins, WR, Clemson
Year: Junior
There's Higgins' ball skills and then there's everyone else's in the draft class. He has dropped only five of his 116 catchable passes the past two seasons and put together a highlight reel on par with anyone's in the country. At 6-4, 215 pounds, Higgins averaged 20.8 yards per catch. In a loaded wide receiver class, Higgins has a chance to be a top-15 pick.
9. Travis Etienne, RB, Clemson
Year: Junior
Etienne has game-changing speed, and he is the top running back on our board for the 2020 class. The junior broke more tackles than any other running back in the country (84) despite ranking 47th in rushing attempts (181). He's a home run waiting to happen.
10. A.J. Terrell, CB, Clemson
Year: Junior
Teams have realized that throwing Terrell's way is futile. On 313 coverage snaps this season, he has been targeted only 30 times and allowed 15 catches for 192 yards for a passer rating of 53.8. He made a name for himself with a handful of beautiful plays against Alabama in the national championship game last season, including a pick-six.
11. Creed Humphrey, OL, Oklahoma
Year: Third-year sophomore
For a season and half to start his Oklahoma career, Humphrey played elite football. He has shown some cracks of late, however, and is coming off the worst game of this career. Bravvion Roy and the Baylor defensive line just put up five pressures on Humphrey. The center will need a big bounce-back game against LSU.
12. Neville Gallimore, DL, Oklahoma
Year: Senior
Gallimore dropped weight in the offseason and became one of the most disruptive pure nose tackles in college football. He earned a pass-rushing grade of 83.3 and run-defense grade of 86.2 this season. He is still a bit of a work in progress, but his physical tools are NFL-caliber.
13. K'Lavon Chaisson, Edge, LSU
Year: Third-year sophomore
Chaisson has high-level reps that make you think he could be special someday. He won the edge in the SEC championship game against future top-10 pick Andrew Thomas — a feat we almost never saw this season. His game-to-game consistency leaves a lot to be desired. He could stand to add some strength to his frame, and he could return to school.
14. Shaun Wade, CB, Ohio State
Year: Third-year sophomore
Wade mans the slot role in the Buckeyes' defense, but at 6-1, 195 pounds, he might be best suited for the outside in the NFL. His physicality is his calling card, and he has been exceptional as a tackler in his career. Wade has only six misses on 70 career tackle attempts.
15. Justin Jefferson, WR, LSU
Year: Junior
Jefferson switched from primarily an outside receiver last season to almost exclusively from the slot this season, and it has done wonders for his production. He has superb ball skills, hauling in eight of his nine contested catch opportunities this season. Jefferson also broke 19 tackles on 88 catches after breaking only five last season.
16. Kenneth Murray, LB, Oklahoma
Year: Junior
Blessed with some of the freakiest athleticism you'll see at the linebacker position in college football, Murray has looked like a different player the second half of the season for the Sooners. Plagued by bad angles and an out-of-control playing style, Murray missed 20 tackles last season. This year though, he has missed only 11 all season and has upped his stops from 51 to 64.
17. Wyatt Davis, OL, Ohio State
Year: Third-year sophomore
The guard has skyrocketed up our board with his play. He was named first team All-Big Ten by PFF after not giving up a sack or hit all season. Davis might very well be our favorite Ohio State offensive line prospect since Taylor Decker.
18. Damon Arnette, CB, Ohio State
Year: Senior
Arnette has made himself some serious money with his play this season. After allowing a completion percentage of 67.4% last year and 434 yards, Arnette has dropped those figures to 45.1% and 279 this season, respectively. And has done it all with a cast on his right hand all season.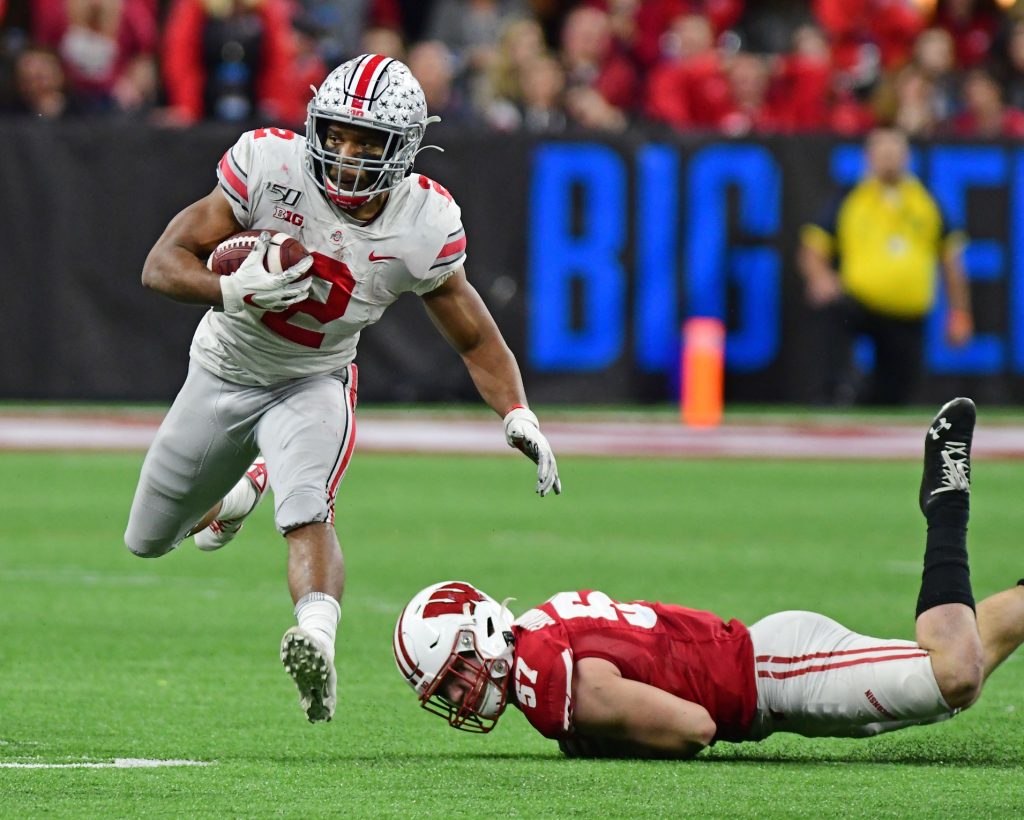 © Thomas J. Russo-USA TODAY Sports
19. J.K. Dobbins, RB, Ohio State
Year: Junior
Dobbins isn't near the tackle-breaker that Etienne is with only 68 broken tackles on 283 attempts, but he possesses great burst and vision. He's a decisive runner whom you won't see pattering his feet too often in the backfield. That's a great trait to have when projecting to the NFL.
20. K.J. Hill, WR, Ohio State
Year: Senior
Hill was a Dwayne Haskins favorite but has fallen out of favor in Ohio State's offense in 2019. After being targeted 98 times last season, Hill has gotten only 64 this season. He's a clean underneath route-runner though, with some wiggle after the catch. He has broken 31 tackles over the past three seasons.
21. Jalen Hurts, QB, Oklahoma
Year: Senior
The stats are eye-popping, but he has not been as good as Baker Mayfield and Kyler Murray before him in our grades. Hurts has been limited throwing down the field with only 15 big-time throws on the season (51st in college football). Still, his legs and ability to protect the football are traits you can win with in the NFL, though he's likely to be a midround pick.
22. Davon Hamilton, DL, Ohio State
Year: Senior
Ohio State doesn't let its defensive tackles get overworked and as such, Hamilton has managed only 313 snaps this season. Expect to see more of him in the CFP though, as the Buckeyes ramped up Hamilton's playing time to a career-high 45 snaps in the Big Ten title game against Wisconsin. The senior rewarded them with an impressive five-pressure outing. Unlike many Ohio State DTs in recent years who have been well undersized by NFL standards, Hamilton has prototypical size and length at 6-4, 308 pounds. His 77.7 pass-rushing grade this season is a career high.
23. K'Von Wallace, S, Clemson
Year: Senior
Wallace has been overlooked because of some of the big names on Clemson's defense in recent years, but all he has done is earn overall grades over 80.0 starting each of the past three years. This year he has taken it to another level, allowing only 16 of 33 targets for 163 yards with two picks and six pass breakups. He's listed as a safety but takes the majority of his snaps over the slot, where he has excellent short-area burst.
24. Jordan Fuller, S, Ohio State
Year: Senior
Fuller's role in the Ohio State defense underwent a complete overhaul this offseason and now he's having far and away a career year. He has taken 601 of 679 snaps as a deep safety for the Buckeyes this year after lining up deep on only 270 of 849 snaps last year. As a result, he has given up only 76 yards in his coverage all season and has locked down the back end of their defense.
25. Parnell Motley, CB, Oklahoma
Year: Senior
Motley put up one of the best statistical seasons we've ever seen from a Big 12 cornerback this season. I know that's not saying much for that conference, but it was a massive leap from what we saw from him in 2018. After giving up 770 yards last season, Motley gave up only 20 of 47 targets for 232 yards this season. He's tremendous in press coverage and his 282 snaps in press were the seventh-most of any corner in the country.
26. Tremayne Anchrum, OL, Clemson
Year: Senior
As an undersized tackle, Anchrum's future is probably at guard in the NFL. It bodes well for him, though, that he has been exceptional at tackle in the meantime. He has given up only seven pressures all season long and against the vaunted Syracuse edge defender Alton Robinson, Anchrum didn't give up a single pressure.
27. John Simpson, OL, Clemson
Year: Senior
Simpson is one of the more explosive guards in the country. He'll send linebackers and safeties flying at times pulling around on power. He also has been solid in pass protection over the past two seasons with only eight pressures allowed in each.
28. Clyde Edwards-Helaire, RB, LSU
Year: Junior
Edwards-Helaire has made big strides as a runner. He broke 30 more tackles this season on only 49 more carries. The real impact to his draft stock came in the passing game, where he hauled in 50 balls for 23 first downs and broke 12 tackles.
29. Jashon Cornell, DL, Ohio State
Year: Senior
We love Cornell's quicks off the line and hand usage as a pass-rusher, but it's difficult to see exactly where he'll fit in at the next level. Listed at 6-3, 285 pounds, Cornell probably is too small for an every-down defensive tackle and not quite athletic enough to think he could project to the edge. Still, his 87.1 pass-rushing grade this season is impressive and leads Ohio State's interior defenders.
30. Malik Harrison, LB, Ohio State
Year: Senior
Harrison is the enforcer at the second level for Ohio State. He'll never be spectacular in coverage and is often protected in their scheme, but he'll come downhill and deliver the boom. His 36 stops in the run game this season are 14 more than anyone else on the Buckeyes' roster.
31. Damien Lewis, OL, LSU
Year: Senior
All Lewis has done for a starter at right guard for LSU the past two seasons is provide solid play in both the run and pass game. He has earned pass- and run-blocking grades over 75.0 this season and last season. Lewis has been playing his best football down the stretch here with only two pressures allowed in his past four games.
32. Kennedy Brooks, RB, Oklahoma
Year: Third-year sophomore
All Brooks has done over the past two seasons is earn the fourth-highest rushing grade in the country (93.8). Only Etienne, Jonathan Taylor and Zack Moss have graded out higher — some pretty good company for the Oklahoma back. He has exceptional balance on contact and will pinball off leg tackles as if they didn't happen.
33. Robert Landers, DL, Ohio State
Year: Senior
Landers is well undersized for the position at 6-1, 285 pounds. He has been one hell of a college player though, with pass-rushing grades over 70.0 and run-defense grades over 80.0 each of the past three seasons. With that heavy defensive line rotation though, Landers has never played more than 400 snaps in a season.
34. Saahdiq Charles, OT, LSU
Year: Junior
Charles has been starting at left tackle since his freshman year in 2017. Though he has been solid, he never has quite made the leap to top prospect. He has the athleticism for the position, but his anchor needs work still. Charles got exposed for two sacks and five total pressures earlier this year against Alabama.
35. Trey Sermon, RB, Oklahoma
Year: Junior
Sermon was lost for the season in the Texas game but has shown in three years at Oklahoma that he is one of the most difficult backs to tackle in the country. For his career, he has broken 113 tackles on 336 attempts. For comparison, Boston College's A.J. Dillon had 317 attempts this year and broke only 79 tackles. Though Sermon won't play in the CFP, he could still enter April's draft.
36. Patrick Queen, LB, LSU
Year: Junior
The junior has had himself a nice breakout campaign in his first year as a starter. He's built closer to a safety at 6-1, 227 pounds, but the good news is he moves like one as well. While the run game is still a work in progress, Queen has been terrific in coverage with a 79.7 grade this season.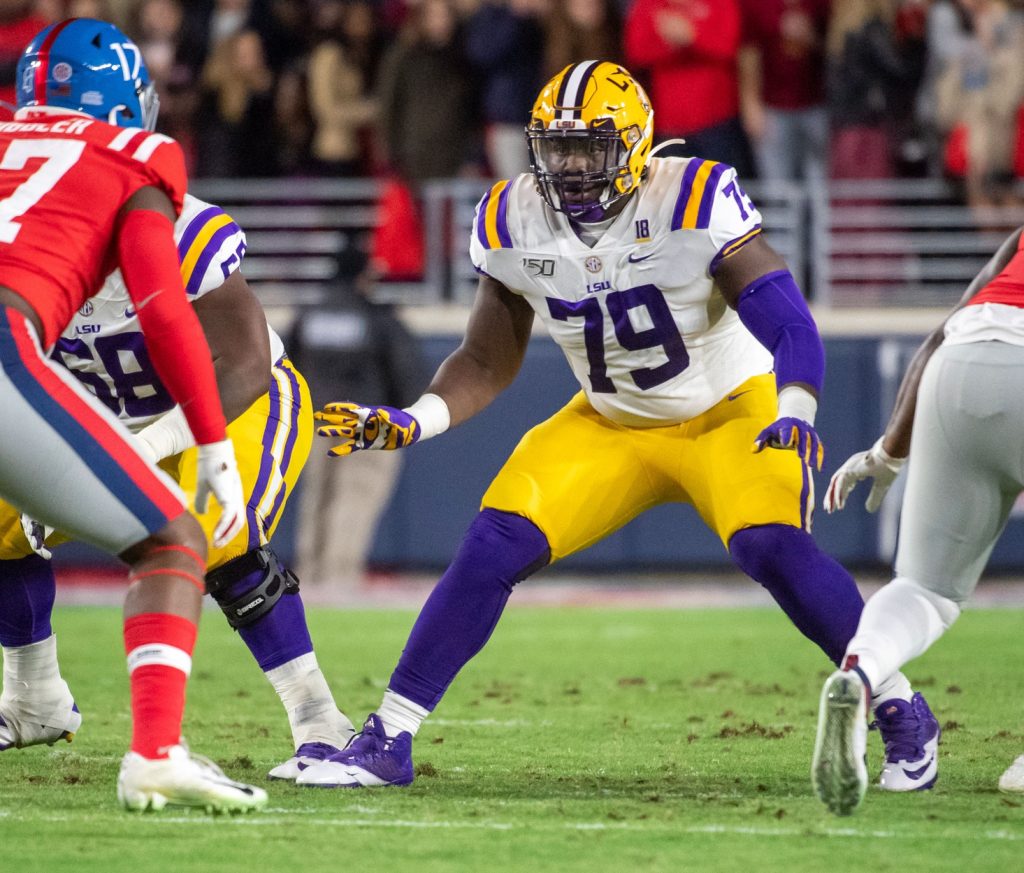 © Vasha Hunt-USA TODAY Sports
37. Lloyd Cushenberry III, OL, LSU
Year: Junior
Cushenberry was one of our favorite interior offensive line prospects heading into the season because of his raw power and people-moving ability. It's safe to say, though, that his performance this year hasn't been up to the standard he set in 2018. After giving up eight pressures all last season, he already has given up 27 this season.
38. Binjimen Victor, WR, Ohio State
Year: Senior
Victor has been buried on a deep receiving corps over his career, but he has been getting quality snaps for three years now. This year has been easily his most impressive with 10 broken tackles on 32 catches for 535 yards. Not a lot of 6-4 receivers offer that type of ability after the catch. He's still on the skinny side, though, and struggles with physical corners.
39. Tuf Borland, LB, Ohio State
Year: Junior
Borland is an assignment-sure linebacker, but his physicality and athleticism don't get us too excited. He has been getting playing time since his redshirt freshman year in 2017, but his 66.6 coverage grade this season is his career high.
40. Tanner Muse, S, Clemson
Year: Senior
Muse has been a mainstay in the Clemson secondary for the past three seasons and is in the middle of a career year. He has four picks and three pass breakups. He's a tad stiff to consistently hold up at deep safety in the NFL and his future might be at linebacker.
41. Rashard Lawrence, DL, LSU
Year: Senior
Lawrence came on our radar when he impressed with a 79.8 overall grade in 2017 as a true sophomore. He hasn't been able to build upon that since though, and he has graded out worse the past two seasons. Dealing with some injuries this season, Lawrence managed only 13 pressures on 239 pass-rushing snaps.
42. Jonah Jackson, OL, Ohio State
Year: Senior
Jackson has been one of the best pass-protecting guards in the country over the past two years with only 17 pressures allowed over that span. He has some balance concerns though as he ends up on the turf far more often than you'd like from an offensive lineman.
43. Adrian Ealy, OT, Oklahoma
Year: Third-year sophomore
Ealy flashes tremendous raw power at times, torquing defenders to the ground with his upper body. His technique leaves a lot to be desired in pass protection as he has a noticeable consistent bend at the waist. He has gotten the job done well though, with only 13 pressures allowed on the season.
44. Tyler Shelvin, DL, LSU
Year: Third-year sophomore
Shelvin isn't your typical 346-pounder. He can make plays sideline to sideline with more quickness than you'd expect. Still, he's far from a polished pass-rusher and has only five pressures on 273 pass-rushing snaps this season.
45. Pete Werner, LB, Ohio State
Year: Junior
Like many on Ohio State's defense, Werner has taken a massive step forward after he was more liability than playmaker in Ohio State's defense last year. He was often the overhang player for the Buckeyes last season but is playing far more traditional linebacker this season and looks more comfortable. Werner has allowed only 16 of 32 targets for 158 yards on the year.
46. Mark Jackson Jr., Edge, Oklahoma
Year: Senior
While undersized at 6-1, 238 pounds, Jackson had a handful of eye-catching pass-rushing snaps in 2018 when he started for the Sooners. He earned an 85.4 pass-rushing grade and collected 28 pressures last season. He fell out of favor with the coaching staff over the offseason, though, and after playing 562 snaps in 2018, he played only 17 this season. The talent is there, but he could redshirt to try to regain his playing time in 2020.
47. Stephen Sullivan, TE, LSU
Year: Senior
Sullivan was one of the more curious Senior Bowl invites this year as he's not a starter for LSU and has been on the field only 268 snaps this season despite being healthy. He has caught 11 of 12 targets on those snaps for 121 yards. He's a tweener for the tight end position yet has athleticism that more closely resembles a wideout.
48. Neil Farrell Jr., DI, LSU
Year: Junior
Farrell has been clogging up running lanes with the best of them in college football this year. He owns the nation's highest run stop percentage at 13.6%. The junior is part of a heavy defensive line rotation and has played only 362 snaps this year.
49. Jeremiah Hall, TE, Oklahoma
Year: Third-year sophomore
The Sooners haven't used the tight end position all that much this year, but when Hall has been on the field, he has graded out extremely well at 88.0 overall. He has hauled in 15 of 16 targets for 164 yards and three scores. He's more H-back than tight end at 6-2, 246 pounds, but he has proven capable with the ball in his hands.
50. Erik Swenson, OT, Oklahoma
Year: Junior
After sitting behind two midround draft picks in Orlando Brown and Bobby Evans for three years, Swenson finally got the left tackle job for the Sooners this year. He has been solid with a 72.1 pass-blocking grade but still plays upright and gives up the edge far too easily. With another year of eligibility, he is likely to return to school.