The old adage at Ohio State was that they would spend a little bit of time preparing for Michigan every day: no matter what part of the summer, no matter who they were playing, they would always have an eye on Michigan.
The college football landscape has changed drastically in the days since the infamous 10-Year War, but almost as a homage to those glory days, Ohio State head coach Ryan Day seemed to have used the same plan for Clemson last week.
Day and the Ohio State offense had the Clemson defenders' heads spinning from the first snap of the game in the College Football Playoff Semifinal, showing them things they hadn't seen on tape before. Maybe it was a payback for all the surprise designed quarterback runs that Clemson ran in the 2019 National Championship game, but Ohio State still fooled Clemson every step of the way.
First, they huddled, supposedly to stop Clemson from stealing their signals. Second, they aligned with their best receivers isolated for the first time this season:
me, last week: Ohio State should go trips and isolate olave or wilson — they've only done it 6 times the whole season
ryan day, last week: ????
ryan day, yesterday: let's isolate olave and wilson 20 times of the 39 trips snaps we play

— seth galina (@pff_seth) January 2, 2021
Third, they stuffed a lot of their receivers onto the short side of the field for the first time this season:
OSU used twice as much formation into boundary (FIB) against Clemson as they did in conference play. The Buckeyes went FIB on roughly 25% of plays which ranks in the 93rd percentile on a game level. Clemson D ranked 36th among 64 P5s in yds/play vs. FIB (5.7) prior to the semis.

— Bryce Rossler (@btrossler) January 5, 2021
When you can get away with not showing all your cards for most of the regular season, as Ohio State can do as the level boss of the Big Ten, you can deceive the better teams you come up against later in the season. Clemson got them with it in 2019, and the Buckeyes returned the favor in 2020.
Looking toward the national title game, the Tide defense has been good cumulatively throughout the season, though some weak games have been mixed in there. They allowed a ton of points and yards to Ole Miss and Florida, and Ohio State comes in with enough talent to score on Alabama, you would think.
So, going into the 2020 National Championship Game against Alabama, it may be the Ohio State defense that will have to pull a rabbit out of the hat to win the title.
Ever since Ryan Day's ascension as head coach, Ohio State's defensive scheme has been pretty basic. Offenses know exactly what Ohio State will do on defense; they just have trouble beating them because of the talent superiority they play with in almost every game.
They are the Legion of Boom Seahawks when they have talent in the secondary and the 2020 Seahawks defense when they don't. This year's version seems like the latter. The Buckeyes' defense finished second in expected points added (EPA) allowed per play in 2019 but stumbled to just 24th in that same metric this season. The scheme didn't change (even though the coordinator did), but the loss of Jeff Okudah, Damon Arnette, Jordan Fuller and Shaun Wade's subsequent move away from his natural position inside to outside cornerback has led to shaky results at times for this season's version of the team.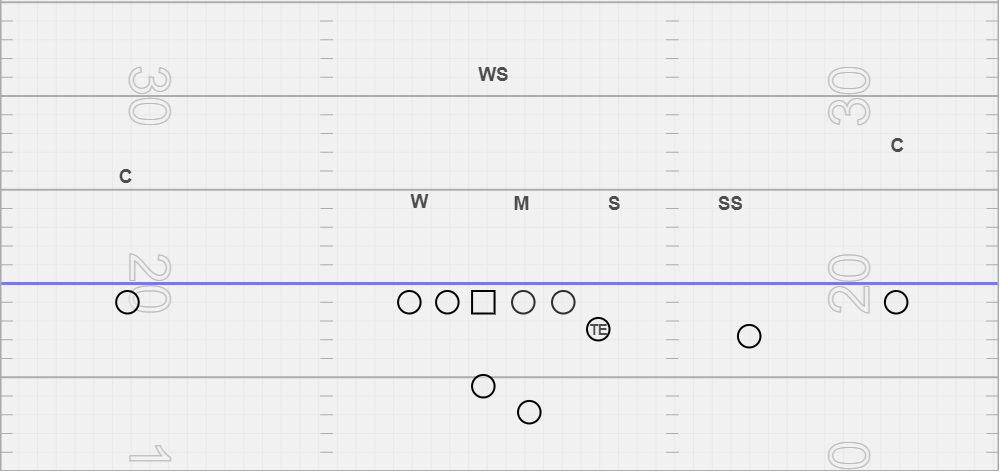 That (above) is what the Buckeyes are going to show you, as 70% of their snaps (excluding goal-line plays) are in this exact look. That's the sixth-highest usage rate in the country this year, with former Ohio State defensive coordinator and current Boston College head coach Jeff Hafley pipping them by a couple of points. And when you add in all the snaps where they ended up in that look post-snap after lining up with two high safeties before rotating one down, the number goes up to 88%.
When you play single-high, you can really only play two coverages: Cover 1 and Cover 3. The Buckeyes know that you know they are going to play those coverages, and they still feel like they can stop you.
By playing with a loaded box at all times, Ohio State keeps its defensive line and linebackers from having to think too much. Everyone has a gap, and although they will stunt players around a bit, they just exchange which player has which gap.
In a two-high world, coordinators have to find ways to cheat because they don't have enough guys in the box. Ohio State doesn't have that problem. The goal is simple: line up and smash face.
They also help themselves in the box by playing with a "Sam" linebacker instead of a nickelback for the majority of their snaps.
The football meta right now is to match 11 personnel (three receivers, one tight end, one running back) with five defensive backs. Ohio State does not do this. The Buckeyes are 109th in the country in the percentage of nickel snaps they play against 11 personnel, and overall, they play with a Sam linebacker on the field 72% of the time, the 17th-highest rate in the country. This limits what they can do defensively, as well.
Against Clemson, defensive coordinator Kerry Coombs felt like a post-snap rotation to either Cover 1 or Cover 3 was their best bet. They rotated from two-high to single-high 31 times in that game, by far the most in any game that season. This plays into the deception that Ohio State used against the Tigers from earlier. Still, with the amount of base personnel they play on the field, they can really only spin into the same look they've shown the whole season.
Because the Sam has to stay attached to the tight end for matchup purposes, they have to rotate the field-side safety down and outside of the Sam in order to insulate him: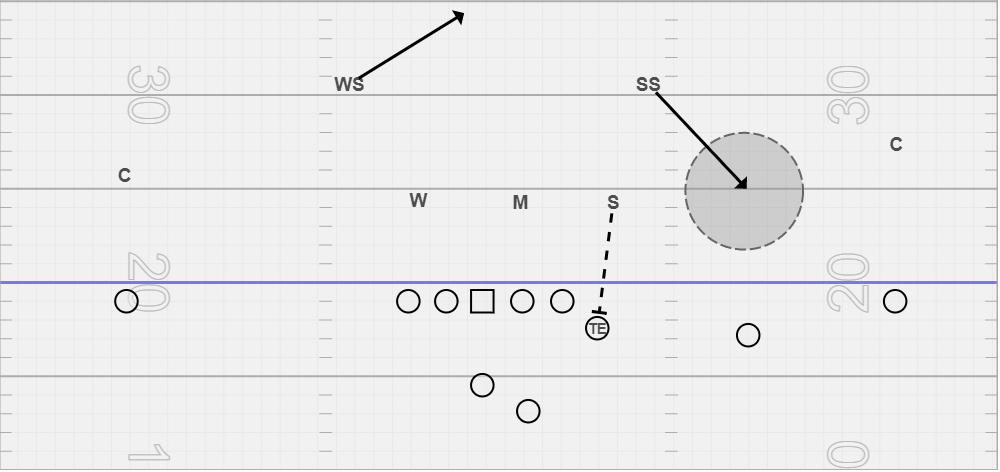 If the safety rotates down inside to the tight end, the Sam is lined up against a slot receiver. But on Monday night, that slot receiver will be DeVonta Smith, who just won the Heisman Trophy. Smith plays about 22 snaps in the slot per game for Alabama, but the threat posed from the inside could also stem from super-slot Jaylen Waddle coming back from injury. It's not a good look.
With the Sam on the field, Alabama knows where the rotation is going.
Again, just like the Seahawks of old, this is great when you have the talent on the back end, but this has not been the case for the 2020 Buckeyes. In both Cover 1 and Cover 3, your outside cornerbacks are isolated against outside receivers. The techniques might be slightly different, but when that receiver pushes vertically, it often becomes a man-to-man situation.
Both Shaun Wade and Sevyn Banks have had their issues: Wade has allowed 33 catches on 51 targets this year, while Banks has allowed 20 on 42 targets. It doesn't seem like either of those guys will follow in the footsteps of former Buckeyes corners Damon Arnette and Jeff Okudah, who were both selected in the first round of the NFL draft.
Ohio State can play this defense that they've shown all year and hope the two cornerbacks can hold up against one of the best passing attacks of all time, or they can switch things up. They have several options in front of them, but here are the two main ones.
The first is to either play more nickel or more two-high safety coverages. It's a simple enough concept, but when you practice doing one thing for so long, it's almost impossible that you will be as good doing some new thing right away. Is the element of deception enough to warrant some possible mistakes?
We don't have a lot of relevant data on Ohio State's nickel defense this year. They played it 112 times, but most of that was either on third downs or in the fourth quarter of blowouts, both of which are pass-heavy situations for the offense.
In fact, OSU has only played nickel on first or second down within the first three quarters 13 times the whole season — that's about twice per game, and even then, most of those are in two-minute, no-huddle situations at the end of the first half. Last year's team played it about six times per game, again mostly in the same situations. We just don't know how they would play their nickel stuff in neutral situations.
Should they decide to play nickel, it changes how they can rotate into Cover 1 or Cover 3. Unlike the Sam being attached to the tight end, the nickel can play over the speedier slot receiver. Even if you still want to rotate the field-side safety down, he can become the "hook" defender in a Cover 3 zone.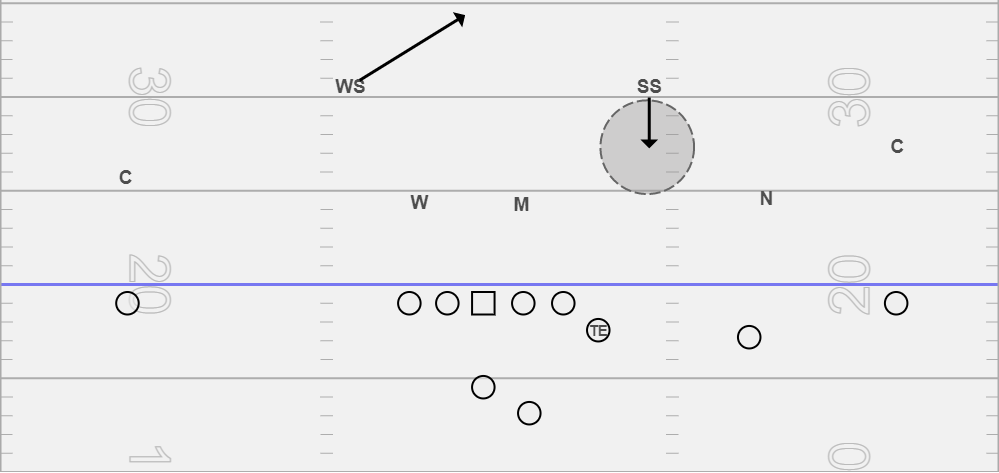 Some people call this a "staggered hook" alignment. With the safety coming down late, you create a staggered alignment between the zone defenders to that side, and it helps to muddy the reads for the quarterback.
Having just two straight banks of zone defenders, a low four-man line and a deep three-man line, allows for space in between the lines. Staggering it helps.  Against Alabama, a player in this spot could look for the deep crossing routes coming from the other side of the field.
The second thing they could do is rotate to the weak side if they play nickel. If the weak safety is the one coming down, it pushes the Mike linebacker out a bit to the wide side of the field. The Mike on a tight end is not a terrible matchup, although Jahleel Billingsley might be one of the freakier tight ends in college football. Rotating weak also allows you to deal with the single-receiver-side RPO that Alabama loves to run with its Heisman Trophy winner.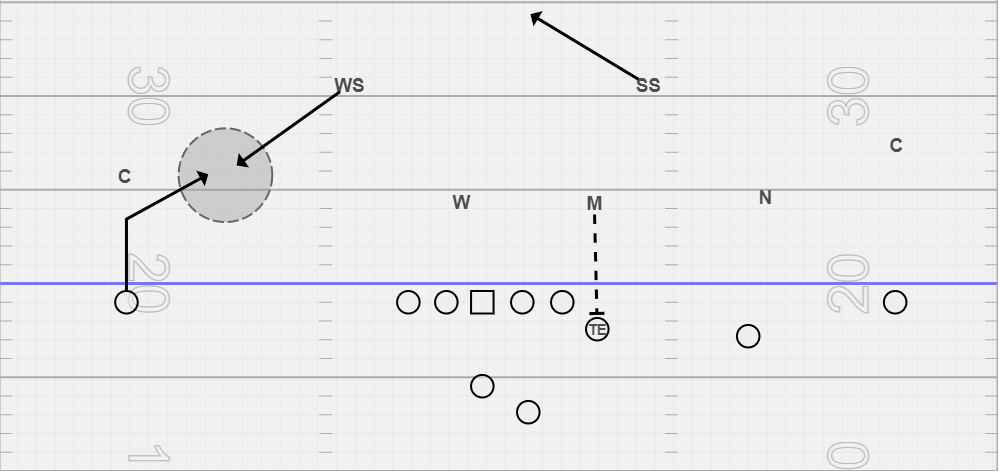 By rotating strong, the weak safety is opening up the window for the slant or glance route. By rotating weak, the weak safety can stay in that window long enough to force Mac Jones to give the ball to the running back.
The main idea here is that you can be a little more "multiple" when you play nickel, even if you still want to end up in single-high defense. The problem is that you still end up with one-on-ones down the field against Alabama's star receivers. The answer to that would be to play more two-high safety defenses where you can allocate more resources to the pass.
The one changeup that Ohio State has shown this season is Cover 2. They do have some boutique coverages in that sometimes they'll blitz a corner or play the middle-of-the-field safety low once in a while, but their only real two-high coverage is Cover 2.
They don't run it often, but there is a great example of them baiting Indiana into a bad throw by disguising it:
— Seth Galina's Burner (@burner_seth) January 6, 2021
With the way the two cornerbacks have played this year, you might want to give them some help and squat them in the flat once in a while and hope Shaun Wade doesn't miss a tackle like that.
It's not the most exotic coverage ever created as a changeup, but I still believe that they'll have to use it more than they have all year.
And yes, by doing this, it's going to mess around a bit with how they play the run. As mentioned, they can fit up the run easily in their single-high safety looks. So, the defensive line simply has to win their one-on-one matchups.
There is no more Chase Young or Davon Hamilton anymore, but the Bucks' defensive line played at a high level against Clemson's offensive line in the semifinal, and this is the key to the whole game. Being able to get pressure with four guys on early downs when Alabama tries to pass the ball off play action will be so important. The interior defenders were able to squash the Clemson QB-run game and not allow the Tigers' numbers advantage to play out. Now, they'll have to do the same against Alabama. Mac Jones can't be allowed to sit back in the pocket and find John Metchie or whichever uber-athlete they want on a deep crossing route.
Ohio State was able to get through the Big Ten and semifinal slate even though they allowed some big plays to outside receivers. Jahan Datson, Ty Fryfogle and Cornell Powell all made big catches against Ohio State's Cover 1 and Cover 3 looks. Now comes the Heisman Trophy winner.
It's the biggest test for Ohio State defense, structurally, in a long time. Are they going to live in their same base world playing single-high defenses, or do they have some tricks up their sleeve to slow down Mac Jones and the Alabama passing attack?